7 Simple Ways To Make Hair Silky, Long, And Soft
Easy solutions for your tresses that you can try out in the comfort of your home.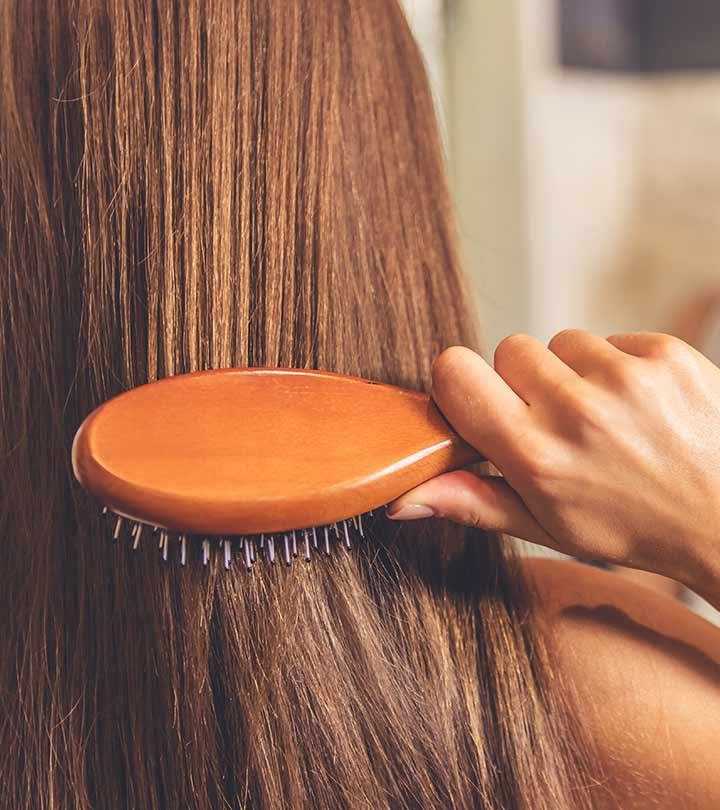 When you see someone with long, beautiful tresses, it is difficult not to feel envious, more so when you learn that they were born with beautiful hair while you are saddled with dull and scratchy hair. That is why you need to learn how to make your hair soft and silky. Hair that is frizzy, unruly, and lackluster is typical among women all over the world. However, many women are unaware that this is a problem that can be resolved. You can also get silky hair and make heads turn with the correct hair care routine in place. Here is a list of 7 basic hair nourishment treatments that may help you improve the health of your hair and make it silkier, softer, and longer. Check them out to learn how to make your hair silky permanently!
How To Make Your Hair Silky, Long, And Soft
1. Aloe Vera
You Will Need
Aloe Vera Leaf
2 tbsp Water
Spray Bottle
Prep Time
5 minutes
Treatment Time
5 minutes
Method
Slice an aloe vera leaf and extract two tablespoons of gel using a spoon. Ensure that you're only extracting the clear gel and not the yellow.
Blend this gel until it gets to a smooth consistency.
Add two tablespoons of water to the gel and mix well.
Pour this liquid into a spray bottle and shake well.
Spray your hair with the aloe vera solution after it has been washed and dried.
Leave it on like you would leave any hair softening spray.
How Often?
3-4 times a week.
Why This Works
Aloe vera is an abundant source of proteolytic enzymesi  XEnzymes made by animals, plants, fungi, and bacteria that help break down proteins in the body to reduce inflammation. which repair the damaged cells present in your scalp (1). This allows it to improve follicle health and boost hair growth. The moisture content of this ingredient helps with hair hydration and keeps your tresses conditioned throughout the day. This will ensure a smooth texture with minimized frizz.
Dulcedelecher, a blogger, shares a unique remedy for dry ends – aloe vera juice. She writes, "Because the aloe left my hair with that plasticy-stringy feel that I get when my hair is too squeaky clean, I decided a few days later to dilute it by a third with oil and honey, some distilled water so there'd be some moisture to transport into my hair shaft, and a squirt of my Aubrey conditioner… This combo works better than any conditioner I've ever used, doesn't have any cloying fragrance, and I can also use it to shave my legs. My ends feel like virgin hair, and the effect lasts (i)."
2. Hot Oil Massage With Coconut Oil/Olive Oil
You Will Need
Prep Time
5 minutes
Treatment Time
45 minutes
Method
Take 2-3 tablespoons (depending on the length of your hair) of your chosen oil and heat it for a couple of seconds until it is slightly warm.
Massage the warm oil into your scalp and work it through the length of your hair.
Massage your scalp for about 15 minutes and then leave the oil on for an additional 30 minutes for hair softening.
Cover your hair with a hot towel while you wait.
Wash your hair with a mild sulfate-free shampoo and finish with conditioner.
How Often?
Twice a week.
Why This Works
Hair oil treatments or massages can help stimulate your hair follicles, boosting hair growth, and promote hair strengthening. These deep conditioning treatments also help fight issues such as dandruff and itching. Hair softening coconut oil treatments help nourish your strands with their rich triglyceridei  XA type of fat your body makes that gives you energy and is stored in your blood. content. It also has the ability to penetrate deep into your hair shaftsi  XThe visible part of the hair that projects out of the skin. , allowing for optimum nourishment. Olive oil is packed with antioxidants, fatty acids, and vitamin E, which help condition your hair while preventing and repairing hair damage (2).
3. Curd
You Will Need
1 cup Curd
2 tbsp Amla Powder
Prep Time
2 minutes
Treatment Time
30 minutes
Method
Combine the two ingredients until you get a smooth mixture.
Apply these ingredients onto your scalp and hair.
Once your hair is completely covered, leave the mask on for about 30 minutes.
Wash your hair with a mild sulfate-free shampoo.
Finish with conditioner.
How Often?
1-2 times a week.
Why This Works
Curd contains vitamins B5 and D which are essential for hair health. It helps strengthen your hair shafts from within while also fighting off issues such as dandruff. The amla in this mask helps give your scalp a vitamin C boost, aiding hair growth. So, if you are looking for hair softening deep treatments with any of these benefits, this hair mask is for you!
4. Eggs
You Will Need
1 whole Egg
1 tbsp Olive Oil
1 tbsp Honey
Shower Cap
Prep Time
2 minutes
Treatment Time
30 minutes
Method
Whisk the ingredients together to get a well-combined mixture.
Apply this mask onto your scalp and your hair.
Once your scalp and hair are completely covered, wait for 30 minutes.
Cover your hair with a shower cap while you wait to avoid a mess.
Wash your hair with cool water and a mild sulfate-free shampoo.
Finish with conditioner.
How Often?
1-2 times a week.
Why This Works
Eggs are one of the most abundant protein sources. It helps provide your hair with nourishment and shine while also improving its texture. It helps repair hair damage and adds life to dull hair. Regularly using hair softening hair packs with eggs will help strengthen and condition your mane while making it more manageable.
5. Fenugreek Seeds
You Will Need
¼ cup Fenugreek Seeds
1 cup Water
Prep Time
12 hours
Treatment Time
30 minutes
Method
Soak fenugreek seeds in water and leave it overnight.
In the morning, blend the seeds adding a little bit of the water that it was soaked in to get a smooth and consistent texture.
Apply this paste onto your scalp and hair.
Leave the fenugreek paste in your hair for about 30 minutes.
Wash your hair with a mild sulfate-free shampoo.
Finish with your favorite homemade hair conditioners.
How Often?
Once a week.
Why This Works
Fenugreek seeds are rich in protein, iron, vitamin C, potassium, and lecithini  XA naturally occurring substance used as an emulsifier, antioxidant, and flavor-protector. (3). These essential hair nutrients work together to prevent hair loss, dandruff, damage, and graying while promoting hair thickening and strength. So, if you are planning to get any hair softening protein treatment, try this natural remedy.
6. Onion Juice
You Will Need
Juice from a Large Onion
3-4 drops Lavender Essential Oil
Prep Time
2 minutes
Treatment Time
10-15 minutes
Method
Mix the ingredients until you get a well-combined solution.
Apply this solution onto your scalp while massaging it gently with your fingertips.
Leave the onion juice on for about 10-15 minutes.
Wash your hair with a mild sulfate-free shampoo.
Finish with conditioner or hair masks for softness.
How Often?
Twice a week.
Why This Works
Onion juice helps curb hair fall, boost hair growth, and also regrow hair (4).
This is probably owed to its high sulfur content which helps boost blood circulation, allowing for better nutrition. It is also a rich source of nutrients such as biotin, manganese, flavonoids, vitamin C, phosphorus, folic acid, and copper, all of which help restore health and shine to your hair.
A biotin deficiency can cause hair fall and hair breakage. A study found that most people in Western countries consume between 35 to 70 mcg of biotin per day, and only 1 in 112,271 individuals suffer from a severe biotin deficiency. Partial biotin deficiency is more common, affecting 1 in 129,282 people.
7. Apple Cider Vinegar
You Will Need
1 tbsp Apple Cider Vinegar
1 cup Water
Prep Time
2 minutes
Treatment Time
5 minutes
Method
Dilute the apple cider vinegar with a cup of water and set it aside in a jug.
Wash your hair with a mild sulfate-free shampoo.
Proceed to condition your hair.
After you've conditioned your hair, pour the diluted apple cider vinegar through it.
Do not rinse your hair any further.
How Often?
Once a week.
Why This Works
This treatment helps get rid of dirt, oil, grime, and buildup from your hair. It clarifies your hair without the use of harsh chemicals, leaving it feeling soft and looking silky.
Before using these natural remedies for hair, make sure they are suitable for your hair type. Let's take a look at a few additional tips you can use to get soft and silky tresses.
Additional Tips
1. Maintain A Balanced Diet
Ensuring that you are providing your hair with enough nutrition is key to having healthy hair. What you put on your hair does not matter if your hair is not nourished from the inside. Make sure that you are getting your daily dose of healthy fats, proteins, and nutrients for natural hair strengthening. Also, make an effort to keep yourself hydrated.


Quick Tip
Eat foods rich in protein and fat like fish, nuts, avocados, eggs, and chia seeds.
2. Choose The Right Products
Using natural or herbal shampoos that don't contain harsh chemicals like SLS and sulfates can go a long way when it comes to your hair's health. This is because sulfates are harsh on your hair and strip away all of your natural oils. It would also be a good idea to invest in a good hair conditioner that is free of silicones. While silicones help add shine to your hair, they also create build up which ends up weighing your hair down.
3. Oil Massage
Give yourself (or get someone to give you) a nice and relaxing oil massage at least once a week. Hair softening deep treatments like oil massages not only help relieve tension, but they promote blood circulation ensuring that your follicles are well-nourished. Coconut and olive oil are some hair softening oils that are perfect for a pre-shampoo massage.
4. Invest In A Wide-Toothed Wooden Comb And A Boar Bristle Brush
A wide-toothed wooden comb will prevent static and hair breakage. This is the ideal comb to use while detangling your hair. Once your hair is detangled, a boar bristle brush will help pull down the oils from your roots, ensuring that your hair is well nourished and protected. It is also important to avoid combing your hair while it is wet as this is when your hair is more vulnerable to breaking.
5. Never Skip Conditioning
Conditioning is extremely important when it comes to maintaining the health of your hair. Never skip using hair-softening conditioners after you shampoo. It would also be a good idea to use deep conditioning hair masks on your hair at least once a week with ingredients like shea butter or aloe vera. If you have extremely dry hair, it would be a good idea to invest in a good leave-in conditioner.
6. Always Wash With Cool Water
Cool water helps seal your hair's cuticles, ensuring that your hair is smooth and silky. This also helps prevent the loss of moisture from your hair and promotes hair revitalization.
7. Trim Regularly
Trimming your hair every 6-8 weeks is vital. This will help get rid of any split ends, preventing the damage from moving further up your hair shaft. Less damage will also make hair detangling easier and reduce breakage.
8. Stop Using Hot Styling Tools
Heat styling can cause some serious damage to your hair with regular use. If you are addicted to your straightener, it would be a good idea to look up some no-heat hair styling techniques and take a hiatus from using heat. For the occasions where you have to use a heat styling tool, use a hair protection spray to minimize heat damage.
9. Do Not Over-Wash Your Hair
Washing your hair more than thrice a week can make it dull, dry, and lifeless. Stick to washing your hair 2-3 times a week. Try investing in hair softening shampoos with natural hair softeners like aloe vera.
10. Let Your Hair Air-Dry
Instead of using a blow-dryer, let your hair air-dry. Do this by gently squeezing out the excess water from your hair with a towel and leaving it open until it dries. Do not rub your hair vigorously with the towel as this will cause damage. Once your hair is semi-dry, follow up with your favorite leave-in hair serum for softness.
Krysta Biancone says, "A microfiber towel is much more gentle on your hair than a regular towel, and it can help to reduce the amount of friction that causes frizz. Additionally, it can absorb more water from your hair, which helps to reduce the drying time."
11. Sleep On A Satin Pillowcase
Sleeping on a satin pillowcase is believed to have several benefits for hair. The smooth surface of satin reduces friction between the hair and the pillow. This may prevent tangles and breakage and potentially allow it to grow longer over time. It also helps preserve the hair's natural oils and moisture and makes hair softer and smoother.
Additionally, satin pillowcases are gentle on delicate hair, like thin, curly, or frizzy hair. They may minimize damage and maintain the hair's natural texture. While individual results may vary, many people find that sleeping on a satin pillowcase helps make hair more manageable and healthier.
Infographic: 9 Best Foods To Include In Your Diet For Hair Health
Having the right nutrients through diet is as important as external hair care routines as they contribute to hair health by keeping the strands strong and growing. Check out the infographic below to find out which foods you should include in your regular meal plans.




Quick Tip
Use a microfiber towel to squeeze out the excess water and prevent frizz and hair breakage.
So, you have learned about the ingredients and care tips on how to make your hair silky. With this treasure of knowledge, you can transform your lackluster locks into flowing, healthy tresses. Nourish your hair with aloe vera, fenugreek, coconut or olive oil, curd, onion juice, eggs, and apple cider vinegar. Scroll up to learn each ingredient's benefits and how it can transform your hair. Pair these remedies with proper maintenance tips, such as eating a balanced diet and using the right hair products, to see your hair blossom and come into its own beautifully.
Frequently Asked Questions
Can yogurt help you get silky hair?
According to Krysta Biancone, "Yogurt is a great way to moisturize your hair; it can help give it a smooth and glossy finish. You can apply yogurt to your hair as a mask or use it as a conditioner. It contains lactic acid, which is a natural cleanser that can help remove the buildup of dirt and oil from your scalp. It also contains proteins that can help strengthen your hair and make it more manageable. Additionally, the probiotics present in yogurt can help promote healthy hair growth."
How do hairdressers make your hair shiny?
Hairdressers make your hair shiny by using a good shampoo, conditioner, hair serum, hair softening keratin treatments, and the right tools suitable for your hair type and texture.
What happens if I don't rinse out the conditioner?
The conditioner can clog your hair folliclesi  XTube-like structures found in the outer layers of the skin from where the hair projects out. if not rinsed out completely. This can lower sebum production, make your hair oily and heavy, and lead to hair fall.
Which cream is best for soft hair?
You can use hair straightening creams to control frizz, reduce hair damage, and give you soft, smooth, and shiny hair. Choose creams with argan oil, vitamin E oil, or coconut oil to nourish and add shine to your hair.
How do you make your hair shiny with glass?
Make your hair shiny with glass by keeping it moisturized with natural oils and safe during styling with a heat protectant.
Key Takeaways
A hair care routine that includes regular oil massages, conditioning, and trimming is necessary for maintaining good hair.
A balanced diet that is rich in vitamins, healthy fats, proteins, and minerals is necessary for healthy hair growth.
Avoid frequent use of heat-based styling stools and products with harsh chemicals to prevent hair damage and split ends.
Home remedies involving natural ingredients, such as aloe vera, curd, coconut oil, onion juice can promote silky, long and soft hair.
Discover the best hair mask for super shiny and silky hair. Watch this video to learn how to get the perfect hair you have always wanted!
Personal Experience: Source
i. Aloe Vera Juice For Dry, Rough Hair
https://no-poo.livejournal.com/308179.html
Sources
Articles on StyleCraze are backed by verified information from peer-reviewed and academic research papers, reputed organizations, research institutions, and medical associations to ensure accuracy and relevance. Check out our
editorial policy
for further details.
The following two tabs change content below.