15 Simple Ways To Grow Your Natural Hair Grow Faster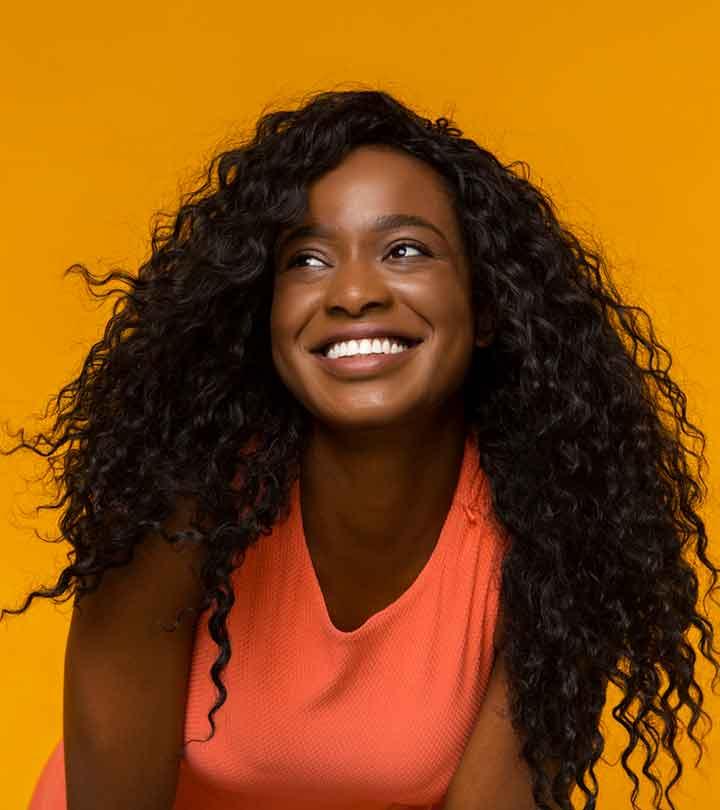 Long, healthy, and beautiful hair is everyone's dream. But those with natural hair may find that dream a little harder to realize. From scalp problems to fragile curls and slow hair growth rate, multiple factors can affect the overall health of natural hair.
However, it is easy to grow your natural hair with proper care, retain its length, and maintain healthy locks. Scroll down and check out the 15 essential tips to enhance your hair health.
How To Grow Healthy Natural Hair
1. Co-Wash To Prevent Dryness
Natural hair is fragile and breakage-prone, and as a result, it can be challenging to retain its length. Co-washing (conditioner-only technique) can keep it moisturized for longer, especially in colder climates. Co-washing also helps you maintain the hair's natural texture and curl definition.
2. Shampoo When Needed
Frequent shampooing can strip the natural oils, while an infrequent hair washing routine can cause buildup and hair fall. The key is to strike a balance. Wash your hair once a week and co-wash in between. This will help maintain a clean and healthy scalp, which is crucial for your hair health.
3. Go For Deep Conditioning Treatments
For strong, soft, and shiny curls, weekly deep conditioning is a must. A good deep conditioner replenishes moisture and nutrients, minimizes hair breakage, and helps your hair grow longer.
4. Detangle Carefully
Do not use your hair brush as a weapon against those knots and tangles. Aggressively detangling dry and unconditioned hair can damage the strands, make them frizzy, and cause breakage. Â Always use a detangling brush and start from the hair ends, working your way up. Ensure that your hair is moisturized and conditioned while detangling. This is crucial to maintain long and healthy natural hair.
5. Say No To Your Cotton Towel
Drying your hair with a cotton towel can be harsh for fragile type 3 and 4 hair. Rubbing your curls causes friction, frizz, and breakage. Instead, use a microfiber towel to squeeze out extra water and pat your hair dry.
6. Avoid Excessive Heat Styling
Excessive heat styling can make your hair brittle and dry. Avoid using heat styling tools like hair straighteners, curling irons, and blow dryers. If styling is necessary, apply a heat protection spray or serum and use the lowest heat setting.
7. Protect Your Baby Hair
The edges are more prone to damage. Make sure you protect your edges and care for them too. Limit using chemical edge control products and switch to DIY gels to keep the baby hair strands nourished and healthy.
8. Go For Regular Trims
Although this tip may seem counterintuitive, trimming your ends will help your natural hair grow longer. Regular trims eliminate split ends and knots and promote healthier and faster hair growth. Trim your hair every 4-5 months to keep your Afro-textured hair looking healthy.
9. Follow The LOC Method
The liquid, oil, and cream (LOC) method is a way to prevent moisture loss and keep the hair smooth and soft. It involves using a leave-in conditioner or water-based product to hydrate the hair, followed by hair oil application to lock in moisture and applying a cream-based product to close the hair cuticles. This method reduces frizz and makes your hair soft and manageable.
10. Switch To Protective Styling
A protective hairstyle prevents unwanted hair damage and is the best option when you are trying to grow your hair. Pick a hairstyle according to your hair type. You may go for box braids, cornrows, and bantu knots. However, get them done professionally to avoid rough handling and breakage.
11. Use A Satin Scarf Or Pillowcase
Satin scarves and pillowcases minimize friction while you twist and turn in your sleep. This minimizes hair fall and breakage.
12. Use Nourishing Hair Products
Shampoos and conditioners that contain silicones, SLS, and parabens can weigh your hair down, hinder its growth, and affect its natural texture. Avoid products that contain these ingredients. Instead, opt for products that contain plant oils, keratin, and ceramides. Understand which components work for your hair type and read the ingredient list before buying any product.
13. Pre-Poo Your Curls
Pre-poo involves massaging your scalp with a nourishing hair oil before shampooing. This pre-treatment makes your hair softer and prevents excess moisture loss while shampooing. Use nourishing oils like coconut, castor, and argan oils to strengthen your hair shaft.
14. Opt For ACV And Beer Rinses
If your hair is starting to look dry or lacks enough moisture, you can use beer or apple cider vinegar as a post-wash rinse. Â They help maintain the scalp pH, clean product buildup, and add shine to your hair. However, always dilute the ACV with water before using it.
15. Follow A Balanced And Nutrient-Rich Diet
Your hair health is related to your overall health, and a nutritious diet can help boost faster hair growth and maintain healthy locks. Â Consume foods rich in iron, biotin, fatty acids, vitamins A, D, and E, folic and amino acids, niacin, antioxidants, and proteins to prevent hair loss (1)
. These nutrients and antioxidants regulate scalp moisture and reduce oxidative stress to maintain hair health. You may consume foods like green leafy vegetables, seafood, poultry (eggs and chicken), nuts and seeds, and whole grains. You may take supplements after consulting a doctor.
Closing Thoughts
Growing your natural hair demands consistent effort, and you have to pay attention to its needs to maintain a proper growth rate. Â Follow the tips mentioned in the article to keep it strong and healthy. Also, take care of your diet as your internal health reflects on your hair.
Frequently Asked Questions
How long does it take to grow natural hair?
Hair grows about half an inch each month. It may take several months to about a year to see noticeable hair growth.
Recommended Articles
References:
Articles on StyleCraze are backed by verified information from peer-reviewed and academic research papers, reputed organizations, research institutions, and medical associations to ensure accuracy and relevance. Read our editorial policy to learn more.
Diet and hair loss: effects of nutrient deficiency and supplement use
https://www.ncbi.nlm.nih.gov/pmc/articles/PMC5315033/
The following two tabs change content below.