How To Wear Off-Shoulder Tops – Tips & Outfit Ideas
Learn how to style this trendy piece with the staples in your wardrobe to spice up your look.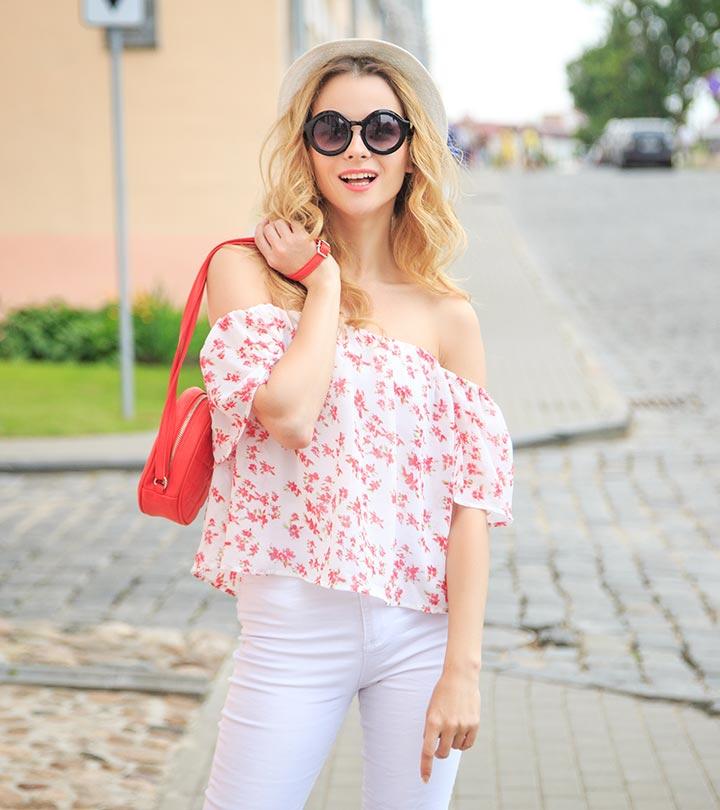 Thanks to the existence of off-shoulder tops, we can create a dressy look almost effortlessly, all while flaunting our sun-kissed, bare shoulders. If you want to hit the pub, go on that special date, or attend a get-together, grab an off-shoulder top, and you are all good to go! And the best part is that they come in so many different colors, fabrics, prints, and patterns that you can style them in many different ways. So if you want some tips for the same, then scroll down and find out. Come on!

Ace The Look
Occasion: An off-shoulder top or dress is ideal for a casual outing or a beach party, while an off-shoulder gown is perfect for a formal event or night party.
Hairstyle: Choose a short or top knot hairstyle to go with an off-shoulder top to create a flattering style.
Accessories: A long pendant chain, oversized hoop, or statement earrings create a balanced look.
Body Type: An off-shoulder top looks best on women with small to medium busts and narrow shoulders. People with pear, athletic, petite, and hourglass body shapes can pull off this look effortlessly.
How To Keep Off Shoulder Tops In Place
Off shoulders are effortlessly stylish, except they can get really annoying and uncomfortable if they are not worn the right way. You might feel this discomfort particularly with tops that come with an elastic. Here's a workaround that helps you keep that off shoulder in place.
Gather Your Supplies
Two safety pins for each side, so you will need 4.
Two plain black hair ties.
How To Do It
First, attach two of the safety pins on either side of the hair tie.
Do this with the second hair tie too – one for each side.
You need to attach these to either side of the inside seam, near the underarm.
Make sure that the safety pins are not visible from outside.
The hair ties will look like dress straps, except they will be inside and not visible when you wear the top.
When you wear it, put your arms over the tie.
Try this, and you will see the difference it makes to your top.

Quick Tip
Choose hair ties that are soft and do not have metal fasteners. You may also use rubber bands if you do not have hair ties, though they may not be as comfortable.
Take A Look At This Video Tutorial
How To Wear Off Shoulder Dress Outfits
1. Off Shoulder LBD
LBDs are a staple in all of our closets. Now, take this sexy-looking outfit and club the off-shoulder style with this. The result? You've taken your LBD's sexiness up a notch and you will look no less than a fashionista! Just wear the off shoulder LBD, color block it with red peep toes and a clutch, and strut around looking hot.
2. Playsuit/Romper
Playsuits and rompers have all been in fashion forever now. So, yes, you guessed it right, throw in the off shoulder style here and make it interesting and fun. Simple tweaks like these are all you need to rekindle your love for outfits you think you have outgrown.
3. Off Shoulder Shirt
Off shoulder shirts are ubiquitous, and we are glad that they are. They spruce up your style quotient and look even better when styled with shorts, denim skirts or jeans.
4. Red Floral Off Shoulder Dress
Short, floral, and off shoulder – a combination to die for! I don't know about you, but it's begging me to wear it this summer. Throw on a casual pair of shoes and a sling bag to go with your feminine attire – your stylish shopping outfit is ready.
5. Off Shoulder Evening Dress
Movie or dinner date? Inch away from the cliched LBD and choose this yellow off shoulder dress with the thick waist belt that cinches at the waist. Match this with a pair of black pumps and a statement clutch, and get ready to sweep your date off his feet.
6. Off The Shoulder Bikini
Bikini with off shoulder sleeves? Why not? It's uber cute and utterly chic. Make your beach vacations fancier and more fun in this beachwear. Don't forget to throw in a fedora too, to add a bohemian touch to your look!
7. Off The Shoulder Maxi Dress
Maxi dresses and off shoulders are synonymous. Be it black, floral, printed, plain, straight cut, or slits, you can wear a maxi dress in a million ways without ever getting bored of the off shoulder style. Come spring, pair it with a pair of nude ankle-length boots and statement jewelry – and you are all set to kill it in style.
8. Bridal Dress With Off Shoulder Sleeves
If you think strapless bridal dresses are boring, try the off shoulder sleeves. These will make your dress look dreamy, stylish, and sophisticated. Off shoulders enhance your style instantly, so another way to incorporate the sweetheart neckline is to add a sheer illusion of off-shoulder sleeves. You can also opt for bridal attires with intricate lace detailing, ruffles, or subtle embroidery to add a whimsical touch to your look. Also, with these strapless bridal attires, you can go bare neck or flaunt your necklace in style.
9. Off Shoulder Crop Top
Crop top – check; off shoulder – check. Nothing can get better than this off shoulder crop top because we can never get enough of either style. It goes best with long or maxi skirts. You could also use this as a layer or even as a blouse for a saree.
10. Off Shoulder Jumpsuit
Ok, before you roll your eyes and tell me that jumpsuits are done and dusted, let me tell you something. Jumpsuits are very much in and even back on the runways, plus jumpsuits in off shoulders style are so in. You need minimal or no accessories at all. Just a pair of pumps if you are headed to a party or casual shoes if you want to feel comfortable. Either way, this will be fun.


Quick Tip
This is a great look to elongate your frame and is perfect for petites. To look even taller, wear your hair up in a high ponytail or a high braided bun and wear nude heels or pumps that match the color of the jumpsuit.
11. Off Shoulder Lehenga
The best part about off-shoulder blouses is that you can mix and match them with more than one outfit. They look great with or without the dupatta. Another interesting option is to try the off-shoulder cape top to take it to the next level.
Also, off shoulder saree blouses are the new fad. Get one stitched or just use your plain off shoulder top and make do for a blouse. It's funky, fun, and boho-chic.
12. Maxi Skirt With An Off Shoulder Top
As we just discussed, maxi skirts with off shoulder tops are in, and nothing can beat this style. A plain skirt with printed/striped off shoulders or the other way round will work just as perfectly. Matching sets or a monochrome look with an off shoulder top and maxi skirt is dapper too.
Infographic: The Best Off-Shoulder Clothing Pieces
Off-shoulder outfits never go out of style. They are fashionable, comfortable, and just the right amount of sexy. The best thing about this style is that it can be worn on any occasion, be it a casual outing, date, brunch or even a party. You just have to choose the right style to flaunt an off-shoulder outfit anytime, anywhere. Check out the infographic below for some of the best off-shoulder dress outfit ideas.


Now you know why you can always count on off-shoulder tops when you are in doubt. These tops are chic and make you look super elegant effortlessly. They go with anything; you can wear denim with them, maxi skirts, culottes, and shorts. So, now that you know how to wear an off-shoulder top turn your chic mode on by adding one to your wardrobe. Make sure to try them out before buying, as you would not want to feel uncomfortable with the neckline or fabric. Also, do not forget to wear your confidence!
Frequently Asked Questions
What kind of a bra do you need to wear for off shoulder dresses?
As a general rule of thumb, you need to wear a strapless bra for obvious reasons. Your entire chest and back area will be bare, so unless you are okay with the straps showing, go with strapless, stick-on or bandeau bras.
Will off shoulder sleeves look nice for wedding dresses and sarees?
Off shoulders on wedding dresses are the next big thing. So yes, it is cool to flaunt them. Also, sarees and lehengas with off shoulders are in vogue, so don't think twice and go for it.
Do off shoulder sleeves suit all body types?
Off shoulder tops are an interesting way to steer attention away from any unflattering places. However, they keep the upper portion of the upper body bare, so some may feel awkward while trying to pull this style off. Very broad shouldered people should avoid wearing them unless they balance out their bottom with a flared hem. If you are still unsure, go for the cold shoulder style. It's very similar, yet not so out there.
Are off-the-shoulder tops formal?
Off-the-shoulder tops are ideal for casual lunch or brunch parties, dinner dates, or Saturday night outings. However, they may not be excellent formal wear.
Can you wear off-the-shoulder tops in winter?
Yes, you can wear off-the-shoulder tops in winter, but layer them with a jacket or a cardigan to protect yourself from the cold weather.
Key Takeaways
Off-shoulder tops are popular clothing items that are available in different fabrics and make you look stylish.
To keep an off-shoulder dress in place, you can use black hair ties or safety pins on each side.
The hair ties really look like dress straps if they are not visible when you wear your off-shoulder top.
A casual pair of shoes and a sling bag with your floral off-shoulder dress can make your look stylish.
Learn how to keep your off-the-shoulder tops in place with these quick and easy styling tips! Get ready to look fabulous and neat in no time!
The following two tabs change content below.