Ketogenic Diet: Benefits And 5-Week Plan To Lose Weight
Melt away the fat quickly by being in ketosis and following a solid diet plan.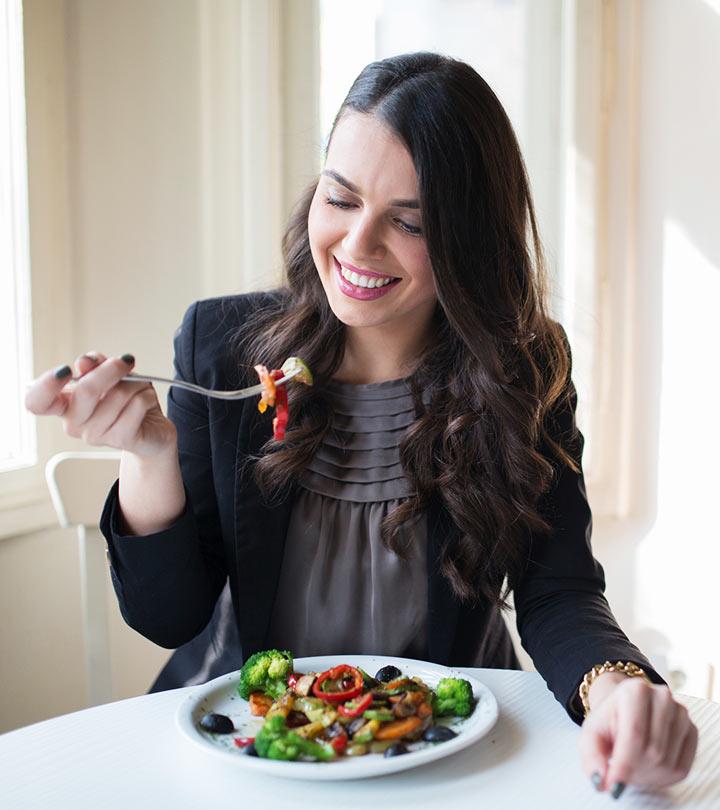 The Ketogenic diet is a high-fat, low-carb diet plan popularly used for quick weight loss. While both the keto and Atkins diet are pretty similar as they both aid in quick weight loss, the fundamental difference lies in the amount of protein intake and carbs one can consume every day. It may help one lose 15-18 lbs in five weeks. While on the keto diet, you will consume 60%-75% fat, 15%-30% protein, and 5%-10% carbs. But how can a high-fat diet aid weight loss?
The explanation lies in the fact that depriving the body of carbs and protein pushes the body into ketosis. To further break it down, carbs and proteins get converted into sugar for providing energy. An excess amount of sugar is stored as fat in the body. But, in the ketogenic diet, the body starts to utilize fat as the energy source as there is a dearth of carbs and protein. Fat cannot be directly converted to glucose. Hence, it is converted into ketones. This process is known as ketosis. Ketones are used as fuel for the body. As a result, the body starts burning fat stores. Once you are in ketosis, you will start shedding the pounds quickly. Adhering to the carb restriction is important for ketosis. Read on to know all about the ketogenic diet, a 5-week keto diet plan, exercise regimen, keto diet benefits, and a shopping list! Scroll down!
A recent study done by Western Kentucky University analyzed the nutritional composition of a standard ketogenic diet and emphasized its high fat percentage and low carbohydrate distribution. The diet, as mentioned earlier, focuses on high fat and protein content, which in turn increases metabolism and efficiently aids weight loss (1).
A survey conducted on 1,200 US adults found that 56% of Americans have tried dieting at one point in their lives to lose weight. It was observed that 19% of participants had tried the Keto diet to lose weight and 85% of them found it effective. Try these most popular keto diets and see the results yourself!
Nutritional Composition Of Standard Ketogenic Diet
Source: The Potential Health Benefits of the Ketogenic Diet: A Narrative Review

Trivia
The ketogenic diet was initially developed by physicians in the 1920s as a treatment for epilepsy. However, it was later abandoned in favor of
anticonvulsant drugs
i
X
A drug prescribed to treat seizures caused by neurological disorders like epilepsy and other medical issues like migraines.
.
In This Article
Types Of Ketogenic Diets
Ketogenic diets can be customized as per individual requirements. However, these are the most commonly followed types (2):
Standard Ketogenic Diet (SKD): A very low-carb diet that recommends 5%-10% carbs, 55%-60% fats, and 30%-35% protein.
LCT Ketogenic Diet: Same as SKD, but focuses on long-chain triglycerides (LCTs) as the source of fat.
MCT Ketogenic Diet: Same as SKD, but focuses on medium-chain triglycerides (MCTs) as the source of fat.
Modified Atkins Diet: A less severe version of the SKD which allows flexibility in terms of carbs, fats, and protein intake.
Low Glycemic Index Treatment: Allows more carbs and less simple sugars than the other versions and not really intended to promote ketosis. Serves as an alternate diet for people with epilepsy.
Let us now explore more about how we can chart out weekly ketogenic diet plans.
1. Ketogenic Diet Plan Week 1
Early Morning (7:00 am)
Options:

Warm water with lemon
Warm water with 1 tablespoon Triphala powder

Breakfast (8:30 am)
Options:

1 boiled egg + kale smoothie
Coconut milk chia pudding topped with coconut and walnut
Smoothie made with almond milk, greens, almond butter

Lunch (12:30 pm)
Options:

Vegetable soup
Mushroom and lettuce salad with high fat dressing
Chicken, carrot, bell pepper, and green beans salad with high-fat dressing

Post Lunch (2:30 pm)
1 cup Greek yogurt and 2 almonds
Evening Snack (5:00 pm)
1 cup green tea with a dash of lemon
Dinner (7:30 pm)
Options:

Shrimp and zoodles
Avocado and steamed broccoli with a drizzle of olive oil
Mushroom and cream soup
Why This Works
In the first week of the ketogenic diet, there is a greater loss in weight as eating a low-carb diet expels excess water from the body. Excess sodium is also flushed out from the liver. This leads to rapid weight loss. The extra ketones produced in the body are not stored but excreted in the form of waste through urine. Have six meals per day with lots of proteins and good fats to help boost your metabolism and burn fat. You will be on a low-carb diet and obtain micronutrients from veggies, fruits, and nuts. This diet plan for week 1 will prevent your body from going into the starvation mode, and you will have more energy to move about and work.
Tips For Week 1
Join a gym to get the best results from your diet plan.
Precaution
Do not eat eggs, nuts, or shrimps if you are allergic to them.
Keto Diet Substitutes Week 1
Here is the list of substitutes for ingredients for week 1 of the ketogenic diet plan:
Lemon – Apple cider vinegar
Egg – Bacon
Kale – Spinach
Swiss chard – Bok choy or spinach
Asparagus – Celery
Chicken – Turkey, legumes, fish, or ground beef
Yogurt – Flavored yogurt
Herbal tea – Black tea
Shrimp – Tuna, salmon, or crab
Lamb liver – Chicken liver or bacon
Keto Recipe Week 1
Grilled Lamb Liver
What You Need
100 gm lamb liver
½ cup chopped kale
2 tablespoons butter
1 tablespoon olive oil
½ teaspoon dried rosemary
½ teaspoon freshly ground black pepper
2 tablespoons lime juice
Salt
How To Prepare
Prepare the marinade by mixing the butter, lime juice, black pepper, olive oil, and rosemary in a bowl.
Add the liver and chopped kale into the bowl and marinate for 10-15 minutes.
Preheat the grilling pan on the stovetop and add the liver. Cook for 2-3 minutes each side.
Take the grilling pan off the flame and add the chopped kale.
Toss and turn to mix well with the butter, rosemary, and lamb liver juices.
2. Ketogenic Diet Plan Week 2
Early Morning (7:00 am)
Warm water with 1 tablespoon apple cider vinegar
Breakfast (8:30 am)
Options:

1 cup bulletproof coffee + 1 cream cheese pancake with organic maple syrup
1 whole boiled egg and a glass of milk or soy milk
1 cup bulletproof coffee + Crispy cauliflower fritters

Lunch (12:30 pm)
Options:

Lettuce taco with avocado and tomatoes
Asian style stir-fried chicken and veggies
Grilled lean beef with broccoli and green beans with good high fat sauce

Post Lunch (2:30 pm)
1 small bowl of flavored yogurt
Evening Snack (5:00 pm)
2 flaxseed crackers + 1 cup bulletproof coffee/spiced chai latte
Dinner (7:30 pm)
Options:

Grilled fish with carrots and greens
Butternut squash soup with fresh cream
Lentil soup with bottle gourd and cauliflower
Why This Works
Similar to week 1, you will eat six meals per day and have bulletproof coffee twice a day. Bulletproof coffee is made by adding butter, coconut oil, and cream to your regular black coffee. It contains medium-chain triglyceridesi  XUnused or excess calories get converted into triglycerides, a fat that is used to maintain energy in between meals. that help you lose fat. These medium-chain fatty acids get converted into ketone bodies, which give us more energy. Make sure you get a good amount of proteins through meat or legumes. A minimum amount of carbohydrates is also required, so do not ignore veggies totally as they will provide you with beneficial micronutrients.
Tips For Week 2
Stay hydrated. Drink a lot of water (add a pinch of salt to a bottle of water).
Also, take time to drink the bulletproof coffee. Gulping it down at one go may make you feel sick.
Precaution
Do not have more than 6 macadamia nuts as they contain a good amount of carbs.
Keto Diet Substitutes – Week 2
Apple cider vinegar – ½ lime
Bulletproof coffee – Black/herbal tea
Eggs – Bacon
Pumpkin pancake – Kale and celery smoothie
Lettuce – Spinach, kale, Chinese cabbage, or bok choy.
Avocado – Cheddar cheese, cream cheese, or goat cheese.
Chicken – Turkey bacon, mackerel, shrimps, and tuna.
Chives – Spinach
Bamboo shoots – Celery
Yogurt –  ¼ cup ricotta cheese
Macadamia nuts – 4 kernels of pistachios
Black tea – Bulletproof coffee or herbal tea
Cucumber – Zucchini
Full-fat cream – coconut milk
Mackerel – Shrimp, scallops, haddock, or bass
Mayonnaise – Yogurt
Keto Recipe – Week 2
Stir Fried Chicken
What You Need
75gm chicken
1 clove garlic
½ cup bamboo shoots
1 tablespoon butter
1 tablespoon olive oil
1 dried red chili
Chives
Salt and pepper
How To Prepare
1. Heat olive oil in a frying pan.
2. Add the garlic and fry till it turns brown.
3. Add the dried red chili and bamboo shoots and cook for about 3 minutes.
4. Add the chicken, pepper, and salt. Stir and cook till the chicken for about 7 minutes.
5. Toss in the chives and cook for 2 minutes more.
6. Add the butter and let it sizzle for 1 minute.
7. Plate the chicken and bamboo shoots.
3. Ketogenic Diet Plan Week 3
Early Morning (7:00 am)
Warm water with lemon and 1 tablespoon organic honey
Breakfast (8:30 am)
Options:

1 cup green tea + 1 boiled egg + spinach smoothie
1 cup green tea+ 3 pancakes with a generous amount of whipped cream and organic honey
1 medium bowl of quinoa with vegetables cooked in ghee

Lunch (12:30)
2 almonds or 1 cup Greek yogurt
Evening Snack (4:30 pm)
1 cup green tea
Dinner (7:00 pm)
Options:

Grilled chicken salad with good high fat dressing
Soy chunk wrap (use wheat flat bread)
Ground beef (lean cut) and grilled sweet potatoes
Why This Works
Week 3, though similar to the first two weeks, is significantly different based on the number of calories you intake. The post-lunch meal is omitted this week to help you digest and use the stored energy from the heavy breakfast. A good protein-rich dinner will help fill you up and re-energize you.
Tips For Week 3
You may experience headaches and fatigue. This is actually good news as these are the primary signs that ketosis has kicked in.
Drink enough water.
Precaution
Have chicken instead of crab if you are allergic to it.
Keto Diet Substitutes – Week 3
Apple cider vinegar –  ½ lime
Green tea – Bulletproof coffee
Eggs – Bacon
Spinach – Kale
Bulletproof coffee – Black tea
Avocado – 4 macadamia nuts
Bacon – Tuna
Chicken – eggs or fish
Celery – Zucchini
Crab – Mackerel
Zucchini – Cucumber or celery
Kyle, a blogger, shares his experience of going on a ketogenic diet and the results in her personal blog. He was on this diet for 3.5 weeks before he reached his desired weight. He lost about 8.5lbs and said, "I haven't done immense research on brain activity on ketones vs. glucose, but I noticed a very comfortable attitude. This made the diet very EASY, I did not want to deviate, I was highly motivated by my results (i)."
Keto Recipe – Week 3
Crab And Zucchini Casserole
What You Need
100 g crab meat
½ cup sliced zucchini
4 asparagus
1 teaspoon olive oil
1 sprig of fresh rosemary
½ cup shredded cheddar cheese
1 clove crushed garlic
Salt and pepper
How To Prepare
Blanch the zucchini and asparagus in a boiling pot.
In a frying pan, add olive oil, rosemary, and garlic. Fry till the garlic turns brown.
Add the crab meat, salt, and pepper. Cook for about 2 minutes.
In a baking dish, add the zucchini first, then add a layer of crab meat. Then place the asparagus on top.
Add the shredded cheddar cheese on top of the asparagus and bake for 20-30 minutes at 180 degrees C.
4. Ketogenic Diet Plan Week 4
Early Morning (7:00 am)
Warm water with lime juice and flax seed powder
Breakfast (8:30 am)
1 cup green tea or black coffee
Lunch (12:30 pm)
1 apple or 1 glass buttermilk
Dinner (7:30 pm)
Options:

Chicken soup + fruit custard
Mashed cauliflower with spinach, garlic, sour cream, and parmesan + flavored yogurt
Smoked turkey bacon + veggies + 1 medium-sized chocolate brownie
Why This Works
Week 4 requires you to eat good high-fat, high-protein, and low-carb meals. You will lose a lot of weight during this time as ketosis will help you burn the fat. This is the week when regular exercisers will benefit the most.
Tips For Week 4
If you cannot follow the diet plan for week 4 as it is, you may follow the week 3 diet plan.
Stay hydrated, take rest, and workout. Take supplements (if needed) only after consulting your doctor or nutritionist.
Precaution
You might feel very weak and want to munch on unhealthy snacks. If you do not stay hydrated, you may give in to your hunger and eat high-carb snacks.
Keto Diet Substitutes – Week 4
Lime juice – Apple cider vinegar
Green tea – Black tea or bulletproof coffee
Bulletproof coffee – Black tea
Eggs – Boiled chicken
Turkey bacon – eggs or chicken
Cream cheese – Full-fat cream
Yogurt – Sour cream
Tuna salad – Shredded duck breast with swiss chard
Chicken liver – Turkey meat
Bok choy – Spinach
Salmon – Tuna
Broccoli – Celery or bok choy
Duck – Chicken or fish
Avocado – 4 macadamia nuts
Spinach – Asparagus
Keto Recipe – Week 4
Grilled Salmon With Broccoli
What You Need
100 g salmon fillet
½ cup broccoli
2 teaspoons butter
½ teaspoon dried rosemary
½ teaspoon dried thyme
½ teaspoon garlic oil
2 tablespoons of mayonnaise with chili oil
Salt and pepper
How To Prepare
1. Mix 1 dried rosemary, dried thyme, 1 teaspoon butter, garlic oil, salt, and pepper in a bowl.
2. Rub it on the salmon fillet.
3. Preheat the grill and grill the salmon and broccoli for 6-7 minutes.
4. Add 1 teaspoon butter on top of the salmon.
5. Sprinkle salt and pepper on broccoli.
6. Serve the grilled salmon and broccoli with mayonnaise-chili oil dip.


Quick Tip
You can substitute rosemary and thyme with cilantro, dill, or oregano. Additionally, you can use cauliflower instead of broccoli for your grilled salmon dish.
5. Ketogenic Diet Plan Week 5
Early Morning (7:00 am)
1 cup green tea or black coffee with lime juice
Breakfast (8:30 am)
Options:

1 banana + 1 glass of milk/ Keto banana nut muffins
Scrambled eggs+ 1 toast/sausage and egg breakfast bowl
Stuffed cinnamon roll

Lunch (12:30 pm)
Options:

Homemade chicken/tuna sandwich with lettuce and tomato slices
Vegetable soup with roasted pumpkin seed powder
Grilled salmon with chives, garlic, and 1 teaspoon butter

Evening Snack (5:00 pm)
1 cup green tea or black coffee
Dinner (7:30 pm)
Options:

American beef or chicken chilly
Spinach stuffed wheat bread with cucumber and tomato in curd
Asian style stir-fried chicken (with skin)
Why This Works
Week 5 will help your body to come out of the intermittent fasting phase. A good heavy breakfast followed by a light lunch is the way to go when you are in the last week of the ketogenic diet. Eat a balanced amount of proteins and fat for dinner to feel energized and build muscle mass.
Tips For Week 5
Scramble one whole egg. Egg yolk has more cholesterol, and contains essential nutrients. If you want to eat only egg whites, you may have to take vitamin supplements (check with your nutritionist).
Prepare your lunch the night before. You can also take the leftovers for lunch.
Take out a little time to cook dinner at home. Keep working out.
Precaution
The last week of the diet plan is exciting as you have lost a lot of weight. However, this can also trigger your carb cravings, and you may eat foods as a "reward" for losing so much weight. It's a trap – do not fall for it. You will regain the weight soon, and your weeks of endurance and patience will go down the drain. Stay motivated until the end of the 5-week keto diet plan.
Keto Diet Substitutes – Week 5
Green tea or black coffee – Bulletproof coffee
Avocado – 2 almonds
Spinach – Kale
Egg – Bacon
Macadamia nuts – Almonds or hazelnuts
Chicken/Tuna – Eggs or duck breast
Chive – Rosemary
Cucumber -Zucchini
Mayonnaise – Full-fat cream
Spinach – Swiss chard
Celery – Bok choy
Keto Recipe – Week 5
Spinach Stuffed Egg Pockets With Celery
What You Need
1 cup spinach
2 eggs
¼ cup finely chopped celery
½ teaspoon garlic paste
2 teaspoons butter
2 tablespoons grated cheddar cheese
1 teaspoon dried oregano
Salt and pepper
How To Prepare
1. Add a pinch of salt and pepper to the eggs and whisk it.
2. Place  a frying pan over medium heat. Pour 1 teaspoon butter, and allow the butter to melt.
3. Add the garlic paste and fry for 30 seconds.
4. Add the spinach, celery, salt, and pepper. Cook for about 30 seconds.
5. Remove the spinach and celery from the frying pan and add 1 teaspoon butter.
6. Add the whisked eggs and fry it like an omelet for 2 minutes over medium flame.
7. Add the sauteed spinach-celery and cheddar cheese.
8. Sprinkle oregano on top and wrap the omelet to cover the spinach, celery, and cheddar stuffing.
9. Let it cook until the cheese melts.
10. Eat while still hot.
6. Ketogenic Diet – What To Shop
Before you start the ketogenic diet plan, it is important to know what to buy at the supermarket to keep away from high carb food and attain your weight loss goals in five weeks. Shop according to your diet plan. Do not buy things that will put you off the track. Here are a few rules that you must follow while grocery shopping:
Always shop from the grocery, vegetable, and meat aisle.
Check the labels of the products to know if they have any additives.
Do not buy condiments as they contain a lot of sugar and preservatives.
Avoid the carb isle totally.
Buy a pack of good, organic green tea.
Avoid fruits as they contain fruit sugar and carbs, which you totally want to avoid on the ketogenic diet.
7. Ketogenic Diet Foods To Eat
Fats – Olive oil, coconut oil, coconut butter, canola oil, rice bran oil, soybean oil, ghee (clarified butter), peanut butter, butter, avocado oil,macadamia oil, and MCT oil.
Protein – Salmon, trout, tuna, bacon, chicken breast, lamb, veal, pork, lean turkey, soy chunks, mackerel, sardines, shrimp, crab, cod, mussels, eggs, and liver.
Nuts & Seeds – Almond, walnut, macadamia nuts, hazelnut, peanut, pumpkin seeds, flaxseeds, chia seeds, hemp seeds, pistachios, pecan nuts, and sunflower seeds.
Dairy – Milk, cottage cheese, cheddar cheese, ricotta cheese, mozzarella cheese, plain Greek yogurt, plain yogurt, flavored yogurt, sour cream, buttermilk, and probiotic drink.
Vegetables – Broccoli, green beans, asparagus, cucumber, spinach, lettuce, greens, leek, bok choy, zucchini, celery, bell peppers, Brussels sprouts, arugula, eggplant, and kale.
Fruits – Tomatoes, avocado, blackberries, raspberries, blueberries, strawberries, coconut, lemon, and limes.
Herbs & Spices – Coriander leaves, basil, mint leaves, cloves, rosemary, thyme, oregano, fennel, fenugreek, cumin, coriander powder, turmeric, pepper, salt (very less amount), sage, parsley, and cayenne pepper.
Sweeteners – Stevia and erythritol.
Beverages – Bulletproof coffee, green tea, black coffee, and water.
8. Ketogenic Diet Foods To Avoid
Diet Soda – Diet soda contains artificial sweeteners and might seem fine for you to drink while you are on the ketogenic diet. Hold that thought. Artificial sweeteners can also increase your blood glucose levels and lead to weight gain if taken in unlimited amounts. Also, too much of carbonated drinks can make you bloated.
Fruits – Fruits contain sugar, which can increase your blood glucose levels. Since the idea of the ketogenic diet is to minimize the sugar intake, it is better to have 2-3 servings (1 serving = size of your palm) of vegetables and keep yourself fed, rather than munching on 1 fruit.
Spices To Avoid – Certain spices contain carbs, and you might want to avoid them. Avoid onion powder, garlic powder, bay leaves, allspice, and cardamom.
Pepper – Though they are nutritious, avoid eating yellow and red peppers while you are on the ketogenic diet as these peppers contain more carbs than the green peppers.
Packaged Condiments Or Canned Food – Packaged condiments, such as tomato ketchup, tomato puree, barbecue sauce, etc., contain high amounts of sugar, artificial flavor and color, carbs, and preservatives. These are all red flags when it comes to buying packaged condiments or canned foods. Avoid buying these from the supermarket. If you do buy, check the label. The lesser the ingredients, the better.
Medicines – Most medicines, especially the syrups, contain a high amount of sugar. Tablets are also sometimes coated with sugar. Antipsychotic drugs and antidepressants contain chemicals that hinder weight loss. Explain your weight loss goals to your doctor so that he or she can prescribe another medicine that will not hinder the weight loss.
9. Role Of Exercise
Many people who follow the ketogenic diet are happy about the fact that you do not have to exercise when on this diet. Even when you are asleep, the diet helps your body to burn calories. The diet is good for people who are extremely obese or have any disability that prevents them from exercising.
But if you are the kind of person who feels that exercise can help to recharge your mood, then go ahead. Here is a 5-week keto exercise plan that will speed up your weight loss, help you build muscle mass, and tone your body. During Week 1–Week 3, you may go for rigorous weight loss exercises such as running, walking, stairs running, aerobics, etc. Slow down a bit when you are in Week 4. The fourth week is the toughest as per your diet plan. You will be mostly on a liquid diet. Hence, it is best to go for power yoga, meditation, stretching, and walking. However, if you feel energetic enough, you may carry on with Week 3's exercise plan. In Week 5, you will exercise for weight loss and build muscles. Hence, opt for spot jogging, running, yoga, and strength training.
| | |
| --- | --- |
| Week 1 Exercises | Warm up+ spot jogging+running+jumping jacks+rope jumping |
| Week 2 Exercises | Warm up+rope jumping+ squat+ push ups+ scissor kicks+aerobics |
| Week 3 Exercises | Warm up+Staircase running+push ups+scissor kicks+cardio |
| Week 4 Exercises | Warm up+yoga+walking+meditation |
| Week 5 Exercises | Warm up+spot jogging+running+yoga+strength training |
10. Keto Diet Supplements
a. Spirulina To Lower LDL Cholesterol
Spirulina is a blue-green algae, and there are two main species, namely Arthrospira patensis and Arthrospira maxima. It can make its food via photosynthesis and is mostly composed of proteins.
Low-Density Lipoprotein transports cholesterol produced by the cells and the liver. LDL moves slower than HDL (High-Density Lipoprotein) in the bloodstream and gets oxidized by the free radicals. The oxidized LDL settles on the walls of the arteries. This triggers inflammation and an anti-inflammatory response by the white blood cells. It has been found that taking spirulina supplements significantly lowers the LDL cholesterol in the blood. Therefore, spirulina helps to reduce the risk of cardiovascular disease and non-alcoholic fatty liver (3).
b. Fish Oil To Reduce Blood Triglyceride Levels
Omega-3 fatty acids are healthy fats and are found in the form of alpha-linolenic acid (ALA) in foods such as walnuts, chia seeds, soyabean oil, etc., and in the form of eicosapentaenoic acid (EPA) and docosahexaenoic acid (DHA) found in fish oil supplements and fatty fish. Due to poor food habits, we do not get enough omega-3 fatty acids that help to reduce the blood triglyceride levels (4).
c. Sodium And Potassium Supplements
Sodium and potassium help to maintain the blood pressure, growth, and acid-base pH of the body, and regulate water levels in the body. Since you will lose a lot of water while on the keto diet, you will also lose a lot of sodium and potassium from the body. This can lead to depletion of insulin, insulin resistance, stalling of growth, reduced rate of metabolism, etc. Therefore, it is important to take sodium and potassium supplements. Add salt to your water or detox drink. You may opt for low-sodium salt options as well. Meats, soups, and eggs are high in sodium content. Please check with your doctor before taking the sodium and potassium supplements.
d. Magnesium Supplement
Magnesium acts as a cofactor for a host of reactions. It regulates blood pressure, maintains muscle and nerve functions, regulates blood sugar, and helps to synthesize proteins. Since the keto diet demands the dieters to be on a low-carb diet, many magnesium-containing foods are avoided by dieters. Low magnesium levels lead to muscle cramps and fatigue. Therefore, vegetables that contain fewer carbs, such as green leafy veggies, nuts, and seeds, should not be avoided. Also, take magnesium supplements on a daily basis while you are on the keto diet. However, do not forget to consult your doctor before taking any supplement.
e. Vitamin D Supplement
Vitamin D not only helps to maintain bone density but also helps in the absorption of magnesium. It helps in muscle growth, aids weight loss, and boosts immunity. Since the ketogenic diet is a low-carb and a moderate protein diet, it is best to include vitamin D supplements if you do not get at least 10 minutes of sun exposure every day. Do consult your doctor before taking vitamin D supplements.
11. Lifestyle Changes
People often starve themselves to lose weight. However, not everyone is successful. The secret lies in your body type, metabolic rate, and the energy expended. If you have an endomorphic body type and start to eat fewer calories per day, your body will go into the starvation mode and store everything in the form of fat. Therefore, eat healthy and on time to lose weight.
Build Your Social Support
Social support is one of the most important factors for you to lose weight. If you are on a weight loss plan, and people around you do not appreciate or respect your mission, it is more likely that you will falter and never reach your ideal weight. Hang out with people who are more into fitness and lead a healthy lifestyle. Let your spouse know how important losing weight is to you so that you can help each other to eat healthy and workout regularly.
Yes, this is one lifestyle change that will not only help you eat healthy but also give you the mental satisfaction of creating healthy and tasty food. Of course, it will take some time and experimentation to know what tastes better with which ingredients. However, the joy of cooking good food and making healthy cooking choices will fill you with positive emotions.
Join An Extracurricular Class
Stress and emotional eating are the major reasons for weight gain. Doing what you have always wanted to do and indulging in activities that make you happy will lower your stress levels and help you lose weight, especially in the belly region. Join an extracurricular class, meet new people, and try out things that you have always wanted to.
The best way to get rid of tiredness is to sleep on time and for seven to eight hours a day. Sleep deprivation is one of the causes of obesity. Less sleep also puts you at the risk of diabetes and cardiovascular diseases (6).
Working out regularly will help to keep your weight in check. Also, there are numerous health benefits of exercising such as staying fit and active, preventing heart disease, being more sensitive to insulin, reduction in stress, depression, anxiety, and also stopping uncontrolled cell proliferation (6).
12. Keto Diet Result
So, does the ketogenic diet really work? Many men and women around the world have taken up the ketogenic diet to lose weight.
This video of a popular keto diet vlogger, who lost 100 pounds in a year, is truly inspiring and motivating. Check her weight loss journey that transformed her physically and mentally:
13. Keto Diet Benefits
The body stores fat in various places: subcutaneous fat (under the skin) and visceral fat (in the abdominal cavity). The second type of fat is dangerous as it lodges around the organs. It leads to inflammation and metabolic dysfunction. The ketogenic diet helps to shed this harmful fat from the body.
Reduces The Risk Of Heart Disease
Fat molecules known as triglycerides are elevated due to high carbohydrate consumption. This can be reduced considerably with a low-carbohydrate diet, which in turn cuts down the risk of heart disease.
To have a healthy heart, it is important to have a healthy HDL level. The HDL carries cholesterol from the rest of the body to the liver to be excreted. The ketogenic diet increases the HDL level (7).
The ketogenic diet is known to improve the sugar and insulin levels in the body. Foods high in carbohydrates are broken down into simple sugar, and this increases the blood sugar levels. The hormone insulin helps to store glucose in the cells. This gives rise to type II diabetes. The ketogenic diet helps to treat and can even reverse this kind of diabetes.
Many studies show that a low-carbohydrate diet reduces blood pressure. This helps to prevent many kinds of diseases, like the stroke, heart diseases, kidney failure, etc.
Reduces The Blood LDL Levels
A high carbohydrate diet often leads to LDL cholesterol floating in the bloodstream. This can lead to heart diseases. A low-carb diet helps to cut down the number of LDL floating in the bloodstream, and protects the heart (8).
Useful For Treating Brain Disorders
The ketogenic diet is good for many brain disorders like Alzheimer's and Parkinson's disease.
Useful For Treating Epilepsy In Children
The ketogenic diet was created to treat epileptic children. This diet is recommended for patients who are unresponsive to other anti-seizure drugs or treatments.
Improves The Health Of Cancer Patients
The ketogenic diet is also helpful for cancer patients. Cancer cells use sugar as the main source of energy. A diet that is low in carbs, high in good fats and moderate in proteins has shown to improve the health of even those who are in the advanced stage of cancer (9).
14. Keto Diet Side Effects
You may feel dizzy and weak initially.
You might feel the urge to urinate frequently.
You may experience sweating palms and chills in the feet at night.
You might experience mood swings, confusion, and poor brain function.
It is important that the diet should not be followed for a long period. Following the diet for a short time claims to bring about significant weight loss. Following it for a long period may lead to mineral and vitamin deficiency.
15. Ketogenic Diet Tips
Processed or packaged food is a complete no-no. To achieve the weight loss goal, eat home-cooked food, which is the key to losing weight on the ketogenic diet.
Eat colorful food that is full of nutrients and minerals. Eat limited amounts of broccoli, sweet potatoes, and berries. Avoid eating cakes, milk chocolates, and bread.
Eat your meals early to stick to your diet. This will also help to accurately track the intake of protein, carbohydrate, and fat, which, in turn, will lead to weight loss.
The ketogenic diet brings about a complete lifestyle change. Instead of walking into a coffee shop for a cup of coffee and a sandwich, you can make coffee and have eggs at home.
A low-carb diet flushes out the excess water from the body. Hence, it is important to drink sufficient water. Increase your water intake to 10-11 glasses.
Once on the diet plan, you need not weigh yourself daily. The weight loss may not be uniform. Water intake and absorption can be different on different days, and this may result in varying degrees of weight loss.
Concentrate on the health benefits and weight loss will follow.
The first few days of the diet can be a little difficult. There can be cravings. A little distraction can help to overcome these cravings. Gradually, the cravings will be reduced as the ketogenic diet itself acts like an appetite suppressant.
The ketogenic diet helps you lose all that extra fat piled on over the years. It is easy to follow and needs you to be careful about the things you eat.


Fun Fact
Celebrities like Halle Berry, Megan Fox, Kim Kardashian, Alicia Vikander, and LeBron James have done the keto diet to help them achieve healthier and fitter bodies.
Infographic: Who Should Avoid Ketogenic Diet
The Keto diet is one of the most trending low-carb diets. It helps you lose fat quickly and without exercising.
While you may experience a few health issues due to the sudden shift in the diet pattern, it will get better after a week. However, in some cases, it may not be healthy and cause serious health issues.
Check out the infographic to know who should not follow a ketogenic diet.



In short, the ketogenic diet sends your body into a ketosis state because it eliminates carbs and proteins from your diet. This forces your body to use the fat stored up for energy, leading to weight loss. The key to this diet is staying on track and sticking to vegetables, meats, and healthy fats. You need to avoid fruits, carbs, and sugary and processed foods. The best thing about this diet is that your body burns calories even when you sleep, so you don't need to exercise much. However, to keep the weight off, it is recommended to stay active. Scroll up to look through our keto diet plan, and stay healthy!
Frequently Asked Questions
Is the keto diet safe?
Yes, the keto diet is safe if you want to lose weight over a period of one to two months. However, consult your doctor or nutritionist to know if this diet plan is apt for you.
How much weight can I lose by following the keto diet?
You may lose about 8 pounds over a period of 5 weeks with a proper exercise routine.
I am on the keto diet for three weeks, and I have not lost any weight. Please help.
There are various reasons for not losing weight while on a low-carb diet, like eating too many low carb treats in a day, snacking on too many fruits, not exercising enough, eating too much or too less proteins, too many cheat meals per week, too much fat consumption, stress, hormonal imbalance, and not getting enough sleep. Record what you are eating, your exercise routine, and your daily activities for three days. You may show this to your trainer or doctor to know if you are strictly following the keto diet plan.
Can the ketogenic diet be recommended for epilepsy patients?
The ketogenic diet is recommended by doctors for children suffering from epilepsyi  XA nervous system disorder where abnormal activity in the brain causes seizures, confusion, or loss of consciousness and control of bodily functions. when other treatments fail. If you are suffering from epilepsy, check with your doctor to know if you can follow this diet plan.
What is the ideal ketogenic diet bodybuilding meal plan?
If you are interested in bodybuilding, you first have to lose the fat and then build muscle. The ketogenic diet plan mentioned above is a low carb, high good fat, and moderate protein diet plan. To lose the fat, you should start with the 5-week ketogenic diet plan. Once your fat burning process is initiated, and you have lost a good amount of fat, you may start having a high-protein diet along with vitamin, mineral, and protein supplements (if required). I recommend that you consult a physician and a trainer who can make sure that you are not harming your body.
Can I be on the ketogenic diet to lose weight post-childbirth?
Right after childbirth, your baby will need nutrition, which will come from what you eat. Eat enough proteins, good fats, and carbs so that your baby remains healthy. You may start dieting after two months. Start by reducing the carbs gradually. Also, consult with your physician to know whether the ketogenic diet plan would be the best diet plan for you to lose weight.
Will eating so much fat really burn the fat?
Yes. The ketogenic diet plan includes good fats. Fats (saturated, monounsaturated, and polyunsaturated) are good for your health till you eat them in equal proportions. Also, make sure to include omega-3 fatty acids in your daily diet. These will help lower the cholesterol levels and also aid weight loss.
Is alcohol consumption allowed?
You may consume one small glass of wine once a week. Avoid all other types of alcohol as they are full of carbs and will only interfere with your weight loss goals.
Do I have to take supplements?
If you are new to a low-carb diet, you may feel weak and may experience muscle cramps. Avoid condiments, and consume multivitamin, magnesium, and calcium supplements. Talk to your nutritionist or doctor before taking any supplements.
I am experiencing constipation. Please help.
You should drink more fluids (water, fresh fruit juice, buttermilk, milk, etc.), tea, coffee, and veggies that contain a good amount of fiber.
How can I measure ketones?
There are many devices in the market to measure the ketones, such as Ketostix. You may buy them online or from the local pharmacy. Read the instructions carefully before using.
How many days will it take to enter the ketosis stage?
It can take anywhere from three days to a week to enter the ketosis stage, depending on your adherence to the low-carb diet plan and exercise routine. The more you adhere to the low-carb diet plan and exercise, the sooner you will enter the ketosis stage.
How can I be on a low-carb diet as I don't get time to cook at home?
Avoid high carb foods such as pasta, bread, hot dogs, etc. Talk to the waiter or the chef and explain your food requirements. While going out for dinner or lunch with colleagues or friends, order low-carb foods, avoid condiments, and drink fresh fruit juice. Lastly, I suggest that you shop for veggies, wash them, chop them, and put them in ziplock bags on the weekends. This will reduce the food prep time. You can come back from work or school, toss in some veggies, add dijon mustard, olive oil, and lemon juice for a filling and nutritious salad.
Your body will take at least three days to enter the ketosis stage. You may use Ketostix to know whether your body has started producing ketones. Purple and pink colors on the stick indicate that your body has entered ketosis. A darker color indicates that your body is producing more ketones and is dehydrated. Drink enough water to prevent your body from becoming dehydrated. Remember that Ketostix is mostly an inaccurate indicator of ketosis. To get an accurate report, you may use a blood ketone meter. It will measure the amount of blood ketones, which is not affected by dehydration or hydration. Here is what the readings can mean:
High Ketosis – 1.5-3.0 mmol/L (perfect for weight loss)
Medium Ketosis – 0.9-1.4 mmol/L
Light Ketosis – 0.5-0.8 mmol/L
Can I eat a good amount of proteins on the ketogenic diet?
A limited amount of protein is allowed on the ketogenic diet. Avoid a high-protein diet as the body converts protein into glucose. This will prevent it from entering into ketosis. Instead of burning fat, your body will use the protein reserves, convert them into glucose, and use this glucose for energy.
Is it normal to urinate a lot while on the ketogenic diet?
Yes, it is perfectly normal to urinate a lot while on the ketogenic diet. This is one of the indicators that you are in ketosis. You will lose a lot of water weight in the first week, so make sure you stay hydrated.
How to replenish the electrolytes?
As you will be losing a lot of water and electrolytes as well, they should be replenished. Try to take magnesium and potassium supplements and multivitamin supplements. Drink two cups of bouillon daily, add a pinch of salt to your drinking water or detox drink (do not add salt if you are suffering from high blood pressure, heart disease or diabetes), or use low-sodium salts such as Lite Salt, LoSalt, SoSalt, and AlsoSalt.
What is keto flu?
Keto flu is a typical indicator of ketosis in the body. It is the body's way of reacting to a low-carb diet and the initial stage of utilizing ketones as the energy source instead of glucose. You will experience the foggy brain syndrome for a few days initially. You will also lose a lot of water and electrolytes, so stay hydrated and replenish the electrolytes in your body.
How to calculate the carbs in my food?
You may check online on Nutrition Data website or use online tools such as my fitness pal to calculate the total carbs that you are consuming per day. You can also get familiar with low carb foods to make better choices while buying the ingredients.
What are the healthy fats for the ketogenic diet?
Here are some healthy fats that you may consume:
olive oil, hemp seed oil, flax seed oil, mustard oil, rice bran oil, sunflower seed oil, clarified butter (ghee), flax seeds, sunflower seeds, peanut butter, sunflower seed butter, cheese, fish oil, almonds, walnut, hazelnut, pumpkin seeds, melon seeds, soy, fish, cottonseed, and corn.
What are the weight loss stages in the ketogenic diet?
Typically, there are three stages of weight loss in the ketogenic diet:
Rapid weight loss stage – In this stage, you will lose a lot of water weight and see a visible change in your "bloat areas".
Keto-adaptation stage – Your weight loss will become stagnant, and you may even gain weight. Your body is getting used to the new energy source and depletion of sugar as fuel. This will last for about a week.
Complete keto-adaptation stage – Your body has now learned to use ketones as the main energy source. You will burn more fat. This stage starts in the middle of Week 3 and lasts till Week 4. Some of you may experience weight gain or no weight loss, but that's ok. This is a natural process to gain weight or lose no weight. The closer you get to your goal, the more difficult it will be to lose weight. Make sure to adhere to the plan and exercise regularly.
Key Takeaways
Certain foods should be avoided during the keto diet, such as canned food, and fruits.
Following the first week of the diet plan properly may increase metabolism and promote weight loss.
While a keto diet may be sufficient for weight loss, adding a workout routine can help burn those extra calories.
Vitamin D supplements can aid in muscle growth and weight loss, making it a good addition to the keto diet.
Delve into the fascinating world of the keto diet. Watch this video to understand how this popular diet affects your body, its potential benefits, and considerations.

Personal Experience: Source
i. My experience with ketogenic dieting
https://kyleharpergym.wordpress.com/2012/07/05/my-experience-with-ketogenic-dieting/
Sources
Articles on StyleCraze are backed by verified information from peer-reviewed and academic research papers, reputed organizations, research institutions, and medical associations to ensure accuracy and relevance. Read our editorial policy to learn more.
The following two tabs change content below.