How To Lose Weight With White Pumpkin Juice?
Give this nutritive, pulpy juice a chance to help you reach your fitness goals.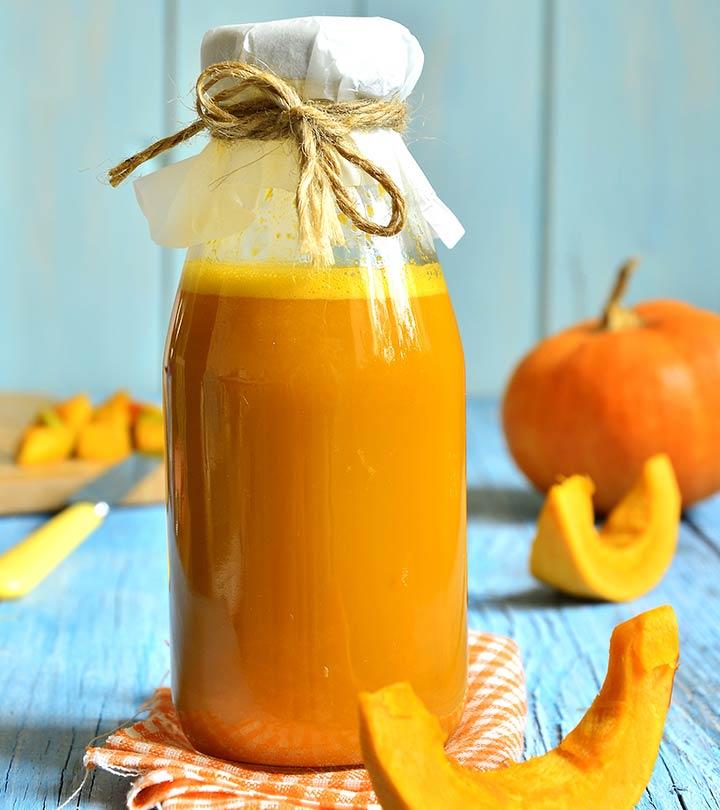 If you have not tried white pumpkin juice for weight loss, it's time you did! It is rich in dietary fiber and nutrients that boost metabolism and health. This post has the best white pumpkin juice recipes you can try.
Drinking fresh white pumpkin juice for weight loss can give quick results. The juice contains vitamins A, C, and E. It is also rich in minerals like potassium and calcium and is a rich source of antioxidants (1). Read on to know how white pumpkin juice aids weight loss and how to prepare it at home. Scroll down!
White Pumpkin Juice For Weight Loss – Top 3 Recipes:
Is white pumpkin good for weight loss? And the answer is yes, it does help overweight people in managing their weight better (1). The following white pumpkin recipes are so delectable that you wouldn't be able to help but rush into the kitchen once you are done with this post!
1. White Pumpkin And Apple Recipe:
White pumpkin and apple juice is an innovative weight loss recipe that offers numerous other benefits as well. A few of them include cholesterol reduction, improved digestion by boosting your digestive health, reduced blood pressure, and increased immunity, hence a better immune system (2). Hang on and explore the amazing way to prepare this slimming drink at home!
How To Make?

Take a white pumpkin and cut it into half.
Make smaller pieces of the pumpkin and remove the peel from each piece.
Cover the pumpkin pieces in an aluminium foil.
Place the covered pumpkin pieces in a baking utensil.
Place the utensil in an oven (preheated to 190 degrees Celsius).
Bake for the next 70 minutes.
Take out from the oven and let it cool.
The baked pumpkin pieces are soft and juicy.
Uncover the aluminum foil.
Drain the juice that comes out in a bowl. Keep it aside.
Take a fresh apple and grind it in a mixer.
Filter the juice from pulp and place it in a bowl.
Mix the two juices together and leave aside for 15 minutes.
Drink every morning on an empty stomach or with breakfast for best results.

Trivia
White pumpkin (also called ash gourd) is a negative calorie vegetable and contain 96% water, which makes it perfect for body detoxification and weight loss.
This amazing health drink helps improve digestive metabolism that in turn leads to the effective burning of deposited fat layers resulting in weight loss
(
3
).

Quick Tip
You may add black salt, lemon juice, and mint to enhance the bland taste of this juice. Alternatively, you may also mix it with coconut water to enhance its benefits.
2. White Pumpkin And Pineapple Recipe:

This super light health drink is an exceptional weight management recipe. It is a boon for people who want to get slim, but can't compromise on taste.
How To Make?

Peel a white pumpkin and cut it into smaller pieces.
Place the pumpkin slices in a strainer.
Place a bowl just below the strainer.
Start working on the strainer to evenly mince the white pumpkin slices.
Collect the white pumpkin juice in the bowl you placed below the strainer.
Leave aside the mashed pulp and further refine the juice obtained in the bowl.
Find a clean cloth and place it over a bowl.
Start dripping the juice slowly on the cloth. Be very careful, as the juice may drip sideways if rushed.
Let the juice completely get filtered.
This final filtering will help in separating any traces of pulp from the juice.
Leave aside the juice you collect, in a bowl.
Take a pineapple and chop it into pieces.
Grind the chopped pieces in a mixer to make juice.
Filter using a cloth to separate juice from the pulp.
Mix the pineapple juice with white pumpkin juice.
Add salt and black pepper to the juice and enjoy its citrus taste.
This amazing white pumpkin juice recipe is a feast for beverage lovers.
3. White Pumpkin And Cardamom Recipe:

This innovative, low-calorie beverage is an ultimate fat killer (2). It leads to eventual weight loss and fat reduction. Incorporate this natural fat burning juice into your nutrition plan and fitness routine to boost overall wellness and maintain optimum hydration levels. Find out the exciting recipe to make this weight management health drink at home.
How To Make?

Peel white pumpkin and cut its pulp into small pieces.
Find a grinder and drop all the pumpkin pieces into it.
Add water and lemon juice to the mixer and grind.
Filter the liquid you obtain in order to separate pulp from the juice.
Place the juice in a glass and add cardamom powder to it.
You can also add honey in order to sweeten your juice.
Mix black pepper and salt with the juice and enjoy the rich flavors of this tempting health drink each morning.
Infographic: 3 White Pumpkin Juice Recipes For Weight Loss
White pumpkin is rich in dietary fiber and nutrients that can help boost metabolism and health. Drinking white pumpkin juice is a great way to detox the body and lose weight. And it's easy to prepare. For your convenience, we have shortlisted the three easiest (and yumm) white pumpkin juice recipes you can start with. Check out the infographic below.


White pumpkin juice for weight loss works because of the high fiber content in white pumpkins and their nutrient-rich profile that can keep you satiated for longer and improve your metabolism. You can combine white pumpkin juice with apple juice, pineapple juice, or cardamom powder for tasty and healthy weight loss juice options. In addition, you may add a little bit of honey to the glass of white pumpkin juice for some extra goodness and sweetness. However, please note that you may also need to incorporate exercise and follow a healthy diet to lose weight.
Frequently Asked Questions
Can we drink white pumpkin juice daily?
Yes, you can drink white pumpkin juice once or twice a day.
Is it safe to drink raw white pumpkin juice?
Yes, it is safe to consume white pumpkin juice daily in moderate amounts. People allergic to pumpkins should avoid consuming white pumpkins.
Can we drink white pumpkin juice at night?
Yes, you may drink white pumpkin juice before going to bed.
Key Takeaways
White pumpkin juice is low in calories and high in water, which helps your body detox.
Apple and white pumpkin juice may help reduce blood pressure and cholesterol and improve digestion and immunity.
Adding honey or pineapple to white pumpkin juice may aid in weight loss.
A healthy diet and regular exercise along with white pumpkin juice can help you lose weight healthily.
Learn how to make delicious and healthy ash gourd juice for weight loss other recipes from the following video. A perfect way to stay fit in winter
Sources
The following two tabs change content below.