How To Make An Oatmeal Bath, Its Benefits, And How To Use It
Gently exfoliate your skin effortlessly with the natural, bountiful goodness of oatmeal.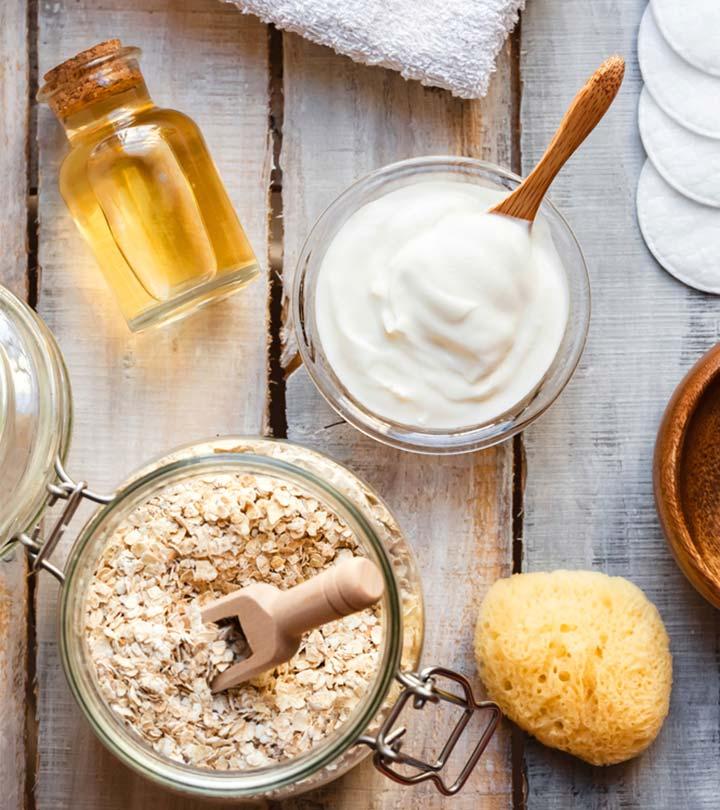 You know how to make a bowl of oatmeal for your breakfast. Now, let's learn how to make an oatmeal bath, one of the natural remedies that not only soothe your skin but also provides relaxation and promote skin wellness. Wondering why all of a sudden we are talking about oatmeal baths? This ingredient is exceptionally beneficial for soothing dry, itchy, and irritated skin. If you are not acquainted with the skin benefits of an oatmeal bath, scroll down to learn how it may benefit your skin, DIY recipes, and how to use an oatmeal bath. Scroll down.

Fun Fact
Oatmeal baths became popular around 1945 when colloidal oatmeal became available. It is a ready-to-use component extracted from the ground and boiled oatmeal.
How To Prepare A DIY Oatmeal Bath
You may add the oatmeal powder directly to your bath or prepare a bath bag with it. Below, we have discussed what you may need to prepare both.
1. DIY Oatmeal Bath Using Powder
You Will Need
1 cup of raw, unflavored steel-cut oats
A coffee grinder, blender, or food processor
Method
Grind the oats until you get a fine powder.
Test the powder by mixing it in a glass of warm milk. If it easily turns into a paste, the powder is ready. If it settles at the bottom, you need to grind the oats for a longer duration.
2. DIY Oatmeal Bath Bag
You Will Need
A large coffee filter or muslin bag, or nylon pantyhose
½ cup of uncooked, unflavored rolled oats
A rubber band
Optional Additives
2 tablespoons of milk powder
1 tablespoon of olive oil
2-3 drops of any essential oil for fragrance
1 teaspoon of baking soda
2-3 tablespoons of Epsom or sea salt
Method
Pour the oats into the coffee filter, muslin bag, or nylon pantyhose.
Add the additives if any.
Secure the bag with a rubber band.
You may make several oatmeal bath bags in advance to plop one directly into a bath.
If you are using a coffee filter, secure it with a mesh laundry bag as the coffee filer may disintegrate in water.
Once you have prepared the oatmeal bath powder and bath bags, here is how to use them.
How To Use An Oatmeal Bath
To Use DIY Oatmeal Bath Powder
Fill the bathtub with lukewarm water.
Add a cup of the oatmeal bath powder and stir to dissolve.
Add any additives (if you wish) like essential oils and bath salts.
Soak in the bath for 20-30 minutes and relax.
Rinse your body with regular water and pat it dry.
Note: Be careful while stepping in or out of the bathtub as the oatmeal powder leaves behind a thin and slippery film.
To Use the DIY Oatmeal Bath Bag
Fill the bathtub with warm water.
Put a bath bag in the water. Wait for 5-10 minutes to let the ingredients dissolve.
Soak in the bath for 20-25 minutes.
You may exfoliate your skin with the bath bag.
Rinse your body with regular water and pat it dry.
Compared to the oatmeal powder, bath bags are less messy. If you are wondering how oatmeal may benefit your skin, read the next section.
Benefits Of An Oatmeal Bath
1. Improves Your Skin Barrier
Colloidal oatmeal (powdered oatmeal) regulates the skin lipids, moisturizes the skin, and improves its natural barrier. It is especially helpful in relieving skin issues like (1), (2):
Rashes
Eczema
Pruritis
Atopic dermatitis
2. Has Anti-Inflammatory Properties
Colloidal oatmeal inhibits pro-inflammatory cytokines (a group of proteins and peptides secreted by the immune system) and soothes the skin. Topical colloidal oatmeal can relieve inflammatory symptoms like (3), (1):
Skin roughness
Scaling
Itching
Dryness
3. May Help Manage Xerotic Dermatoses
Colloidal oatmeal has been used for ages to soothe xerotic dermatoses symptoms (a form of eczema) like dry, itchy, red, and cracked skin. It contains beta-glucan that protects and soothes the skin. It is loaded with phenols that are responsible for antioxidant and anti-inflammatory properties and work as UV absorbers (4).
4. Cleanses Your Skin
Oatmeal contains saponins and has skin-cleansing properties (4). Oatmeal baths and scrubs can effectively remove dirt and grease from your skin and keep it clean. You may use oatmeal if you are looking for a natural alternative to the harsh soaps.
5. May Soothe Diaper Rash
Colloidal oatmeal does not irritate the skin, and you may also use it on your baby€™s skin to soothe diaper rash, dry skin, scaling, itching, insect bites, and other issues. You may also use products containing oatmeal extract (5). However, ensure to do a patch test and consult a dermatologist.


Quick Tip
The soothing effect of essential oil oatmeal baths can help relax all your senses. It can be a great addition to your self-care home spa routine.
Keeping the above benefits in mind, you may use colloidal oatmeal to relieve the symptoms of multiple skin issues. If you are concerned about the safety of an oatmeal bath, find your answer in the next section.
Are Oatmeal Baths Safe?
Colloidal oatmeal is considered safe for topical application (directly or as an ingredient in skin care products). The FDA regulates the use of colloidal oatmeal and considers it to be safe for soothing eczema, rashes caused by poison ivy, oak, or sumac, and other skin conditions (6).
However, if you are allergic to the proteins present in oatmeal, it can worsen your existing skin condition and cause:
In case you develop these symptoms, rinse your skin with soap and water and discontinue oatmeal products and baths. It is better to do a patch test to avoid such adverse reactions.
Infographic: Types Of Oats
Oatmeal baths provide various benefits, such as cleansing your skin and providing relief against issues such as eczema, rashes, and dry skin. Using the right type of oats is essential to make your oatmeal bath relaxing and beneficial. You can check out the different types of oats available in the grocery shop and pick what is suitable for you.
Check out the infographic below to know more.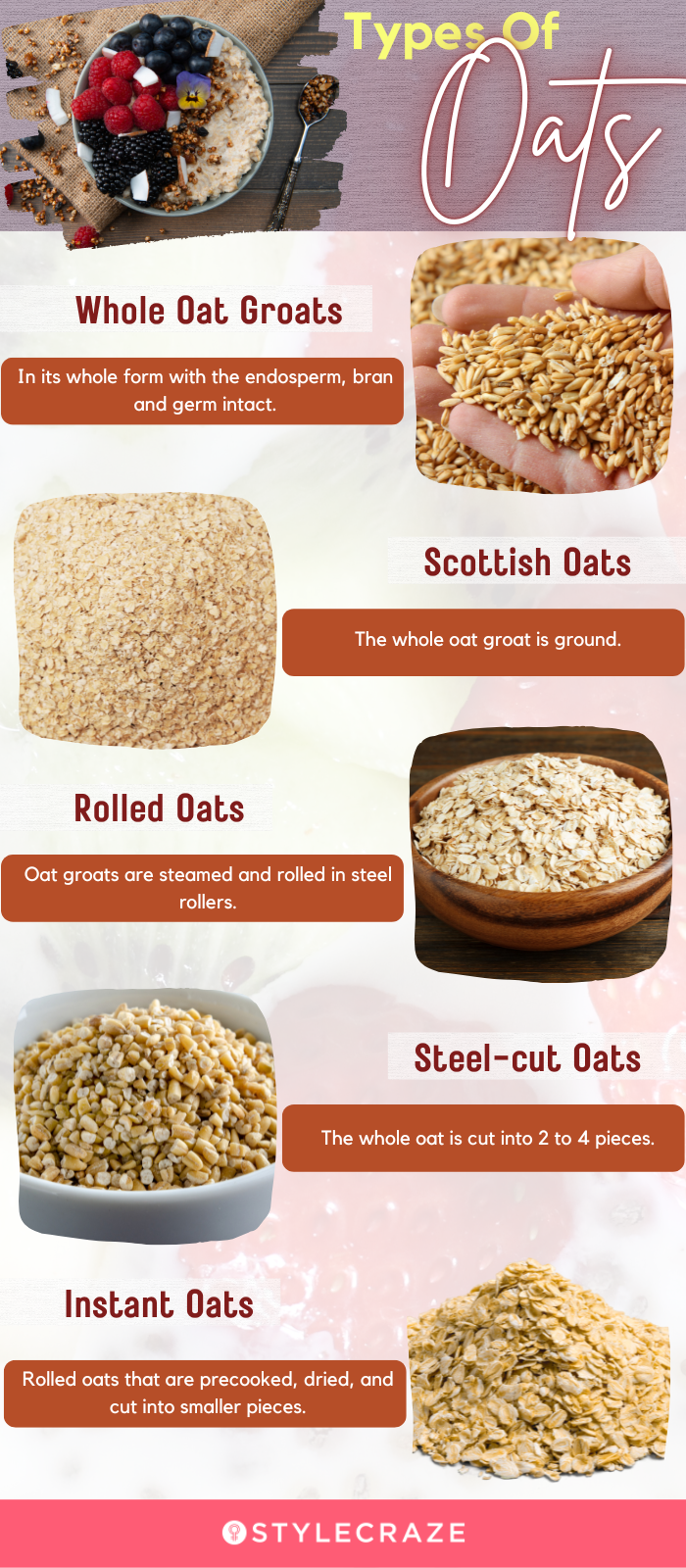 The DIY oatmeal bath recipes discussed in the article are easy to prepare, hassle-free, and ensure that you have a luxurious shower experience. Oatmeal baths can improve skin texture and soothe irritated, itchy, dry, and red skin. You can follow the tips shared in the article, make an oatmeal bath at home, and even customize the recipes and add fragrant oils to enrich them. Oatmeal is considered safe for the skin and is a good home remedy ingredient. However, if you are allergic to proteins present in oatmeal, you may experience some side effects. So, always do a patch test before using it on the skin.
Frequently Asked Questions
How do you take an oatmeal bath without clogging the drain?
You can use colloidal oatmeal instead of regular oatmeal for your bath to avoid clogging the drain. Colloidal oatmeal is powdered and, thus, goes down the drain quickly.
Will an oatmeal bath help a yeast infection?
Yes. The soothing anti-irritation properties of oatmeal can help ease the symptoms of a yeast infection.
How do you clean up after an oatmeal bath?
Oatmeal can leave a slippery film on your bathtub. You can use warm water and a washcloth to rub it off the surface and clean up after an oatmeal bath.
How often should you have an oatmeal bath?
As an oatmeal bath is considered safe for most conditions, you can enjoy it twice daily for 15-20 minutes.
Key Takeaways
You can make an oatmeal bath by adding oat powder or an oat bath bag to your bath.
To effectively use an oatmeal bath, soak in the bath for 30 minutes and then rinse off.
This bath improves skin barrier function, imparts anti-inflammatory merits, and relieves diaper rash, among other benefits.
However, it may cause adverse reactions if you have certain protein allergies.

Experience the benefits of an oatmeal bath with this easy-to-follow video tutorial. Check it out to discover how this simple yet luxurious self-care ritual can soothe your skin and leave you feeling rejuvenated.

Sources
Articles on StyleCraze are backed by verified information from peer-reviewed and academic research papers, reputed organizations, research institutions, and medical associations to ensure accuracy and relevance. Read our editorial policy to learn more.
The following two tabs change content below.