How To Make Brown Sugar Scrub For Scalp? 
Show some TLC to your lovely locks with this sweet and affordable ingredient.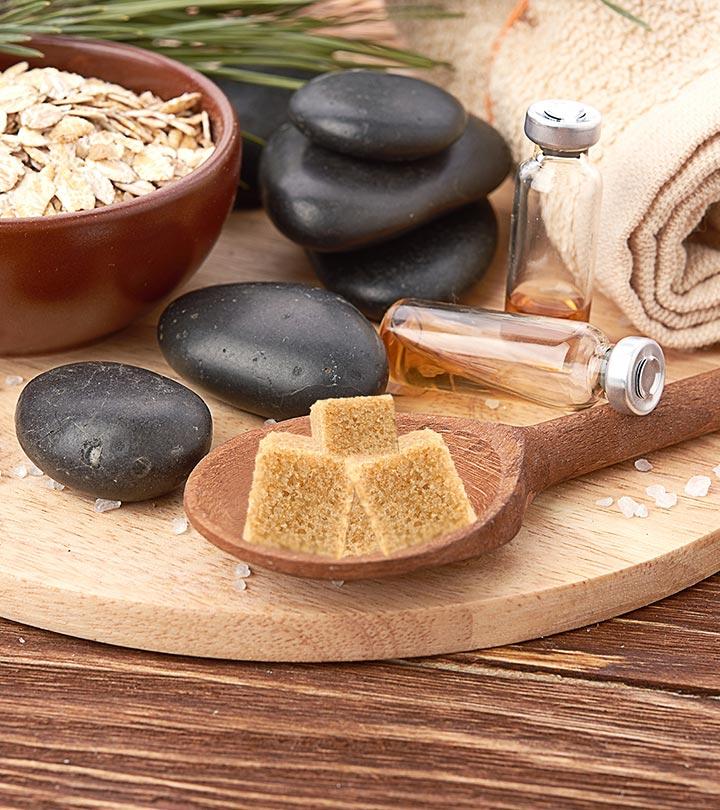 Your scalp care needs a good deep cleansing routine to eliminate all the grime and gunk, depending on the hair texture (from once every two weeks to at least once a month). You can use a natural homemade hair scrub without burning a hole in your pocket. Brown sugar is a natural hair exfoliant that can naturally slough off dead skin cells on your scalp without irritating it.
Go ahead and try one of our homemade brown sugar scrubs for healthy hair and scalp detox. Scroll down to learn more.
Brown Sugar Scalp Scrub Recipes
 1. Oatmeal And Brown Sugar Scrub
Brown sugar and oatmeal homemade scalp scrub successfully exfoliates the scalp, removes clogged dirt and impurities, and boosts the blood circulation of your hair follicles.
Ingredients:

2 teaspoons of brown sugar
2 teaspoons of oatmeal
Small bowl
2 teaspoons of hair conditioner
15 drops of olive oil
Hair conditioner
Steps:

Mix two tablespoons of brown sugar and oatmeal in a bowl.
Add 2 spoons of your favorite hair conditioner to the mixture.
Mix the ingredients using your hands.
Add 15 drops of olive oil. Use a spoon to mix them together.
Your Brown Sugar Scrub is ready.
Interesting fact: Oatmeal helps in fighting heart-related diseases. It removes stress and regulates blood pressure (1).
2. Jojoba Oil And Brown Sugar Scrub
The jojoba oil and brown sugar scrub removes dandruff, treats hair fall, and may act as a hair growth stimulant by moisturizing your hair effectively. This carrier oil also protects your hair against the harmful rays of the sun.
Ingredients:
2 spoons of brown sugar
2 spoons of fresh lemon juice
2 spoons of jojoba oil
1 spoon of sea salt
Steps:

Mix brown sugar and sea salt together in a bowl.
Add jojoba oil and fresh lemon juice.
Mix using a spoon.
Your jojoba oil and brown sugar scrub is now ready.
Interesting fact: Jojoba oil fights wrinkles and signs of aging. It also increases the softness of your skin by 37% (2).
3. Baking Soda And Brown Sugar Scrub
This mixture can be used once a month to remove unwanted bacteria and dandruff. It contains antiseptici  XA substance or chemical used to kill or prevent the growth of harmful microorganisms and reduce the risk of infection. properties that will protect your hair from damage.
Ingredients:

1 teaspoon of brown sugar
1 tablespoon of shampoo
3 drops of tea tree oil
1 teaspoon of baking soda
Steps:

Mix all the ingredients in a bowl.
While massaging your hair, focus on the scalp and roots.
Use a few minutes to do a scalp massage. This will improve blood circulation.
Use warm water to rinse.
Note: If you have color-treated hair, this scrub might not be the one for your scalp treatment.
Interesting fact: Australian tea tree essential oil can be used for a massage therapy as it supplies your body with essential nutrients and keeps your skin toned, beautiful and rosy (3).
Now that you know how to prepare your own brown sugar scrub for hair, go ahead and read the many benefits it has for your skin!
A blogger shared her brown sugar scrub recipe that she uses on her scalp. She mixes blended brown sugar with honey, amla powder, almond oil, and peppermint essential oil. In her blog, she wrote, "My particular scalp scrub includes ingredients that helps to exfoliate, remove buildup, moisturize, conditions my roots and scalp as well as relax and increase blood flow to my scalp (i)."

Quick Tip
Individuals with sensitive scalp should exercise caution as sugar granules may cause mild irritation. Ensure you make the scrub into a thick and smooth paste before applying it to your hair.
Beauty Benefits Of Brown Sugar
1. Beauty Scrub
Brown sugar has often been used as a core ingredient while preparing beauty scrubs. Not only do experts see it as a natural exfoliatori  XA substance or an ingredient that helps remove dead skin cells from the skin surface and keeps skin smoother. , but also emphasize its natural effect. To use brown sugar for scrubbing at home, always begin from the feet and work it up to your neck and scalp. This will boost blood circulation and help your skin balance its pH levels. Wash your body with warm water once you are done. Doing this regularly will leave your skin soft, smooth, and refreshed.


Quick Tip
Use a deep conditioner after exfoliation to keep the scalp soft and hydrated.
2. Promotes Healthier Looking Skin
Brown sugar is also popularly known for promoting healthier and more beautiful-looking skin. It contains glycolic acidi  XA water-soluble alpha hydroxy acid (AHA) (a group of plant and animal-derived acids) made from sugar cane. , which is a must-needed ingredient for all expensive beauty products. This helps in eliminating toxins from the body as it conditions and moisturizes the skin effectively.
3. Fights Acne
Brown Sugar fights acne, pimples, and other skin conditions. It prevents breakouts in the future and a healthy scalp allows your skin to remain happy and vibrant. Add honey and milk to your brown sugar scrub in order to reap the benefits.
Caution: If you notice any redness or irritation after trying a brown sugar scrub, you may need a scalp health check up from a doctor to prevent further inflammation. Always be gentle when using sugar on your scalp and skin.
Infographic: 3 Brown Sugar Scalp Scrub Combinations And Their Benefits
Brown sugar is a natural exfoliant, and there are various scalp-friendly ingredients that can be added to it to increase its effectiveness. The below infographic covers some of the ingredient combinations that you can try and their benefits. Scroll down to check them out!


The brown sugar crystals exfoliate the scalp, removing any dirt and other impurities from the scalp. They improve blood circulation and restore the skin's pH levels. These crystals moisturize the skin and improve hair hydration while removing toxins from the body. Pairing brown sugar with other ingredients such as oatmeal and jojoba oil works fine as a DIY scalp scrub and improves scalp and hair health and appearance. Improving your hair and scalp health may aid hair loss prevention. The natural ingredients and hair vitamins in honey provide additional hair care benefits such as moisturization, antiseptici  XA substance or an ingredient that helps remove dead skin cells from the skin surface and keeps skin smoother. and anti-dandruff properties, managing hair fall, and protecting the hair from damage. So, now that you know how to brown sugar scrub for scalp health, add it to your hair care regimen at least twice a month and see the difference for yourself. Owing to all these benefits this natural scrub deserves to be in your hair care routine.
Frequently Asked Questions
Is salt or sugar better for scalp scrub?
Each ingredient has its own benefits. Salt can help with deep scalp cleansing, but too much salt may leave your scalp and hair dry. Sugar scrubs can exfoliate your scalp and promote blood flow, which may stimulate hair growth.
Do you use scalp scrub on wet or dry hair?
A scalp scrub should be applied on wet or damp clean hair.
Should you do a scalp scrub before or after shampoo?
Many people prefer to use a scalp exfoliant after they wash their hair with shampoo.
Which brown sugar is best for sugar scrub?
Organic brown sugar is the best for making sugar scrubs.
Key Takeaways
Brown sugar is an organic exfoliant that may get rid of dead skin cells without irritating your scalp.
You can combine brown sugar with different ingredients like oatmeal, jojoba oil, baking soda, and tea tree oil to make homemade scalp scrubs.
Brown sugar contains glycolic acid which may help promote smooth and healthy-looking skin.
You can also use brown sugar scrubs to balance your pH and prevent future acne.
Discover the ultimate sugar scrub for your scalp that goes beyond mere exfoliation. Watch this video to learn how to deep clean your scalp and promote healthy hair growth.
Personal Experience: Source
i. DIY Scalp Scrub
https://maicurls.com/2014/05/05/diy-scalp-scrub/
The following two tabs change content below.