How To Make Curly Hair Not Frizzy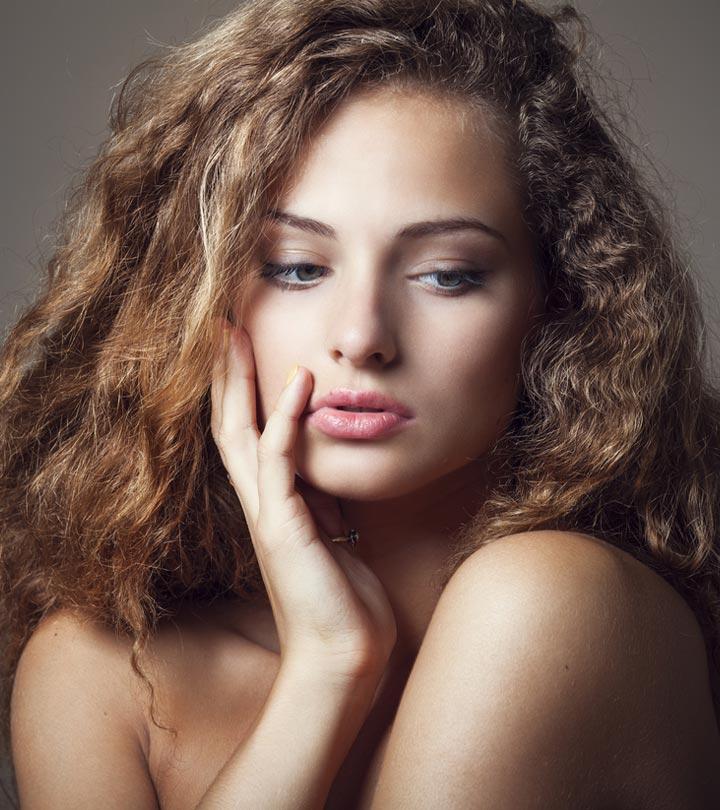 Whether it is brunch with friends or an office party, you probably want frizz-free and ultra-sleek curly hair for the occasion. However, for some reason, you cannot seem to get rid of the excess frizz.
It is quite understandable how frustrating that can be for people with curly hair. When brushing does not seem to settle the frizz, you wonder, "How can I make my curly hair less fizzy?" Before laying down the possible solutions to remove frizz from your curly hair, let us understand why you may be facing this problem in the first place!
Reasons Why Your Curly Hair May Be Frizzy
While small amounts of frizz can give your hair some extra volume, too much of it may not be too pleasing. The following could be some reasons behind your frizzy curls:
Use Of Aggressive Shampoos
Shampoos are typically composed of cleansing agents, conditioning agents, additives for comfort, and special care ingredients for specific conditions such as dandruff. However, what may be causing the frizz is the use of aggressive shampoos that do not have these ingredients in appropriate compositions (1).
Moreover, you may face difficulty in untangling your strands. Some shampoos contain allergens like propylene glycol, formaldehyde-releasing preservatives, and parabens. These allergens are known to cause contact dermatitis and attrition (loss of hair strength) in certain individuals (1).
If you are facing such a problem, consult a dermatologist before replacing your product.
Uncontrollable Hair Syndrome
This condition usually develops between infancy and three years of age. However, in some cases, it may affect the person even up to the age of 12 years.
With Uncontrollable Hair Syndrome, it becomes very tedious to comb the curly hair flat, thereby resulting in extra frizz. But, the good news is this syndrome improves with age for most people. It means they can achieve close-to-normal texture after adolescence (2).
You should avoid using cotton pillowcases if you have curly hair. It is because the friction generated due to the pillowcase's rough fibers may contribute to the frizz.
It may become even more challenging to remove frizz from curly hair if your sleep schedule is disturbed. A sound sleep means you will not toss and turn around the whole night, thus reducing the probability of friction.
If you have thick, curly hair, you already know how frizzy it can get in humid weather. However, fret not – you can control the frizz with these handy tips:
That said, discuss it with your healthcare specialist before buying a new product, especially if you have a skin condition.
Let us move our discussion to the solution. Learn how to stop your curly hair from frizzing in the next section.
How To Reduce Frizz On Curly Hair
The following are some of the ways you can keep your curly hair from frizzing:
This seems like a simple solution, but a satin or silk pillowcase is said to reduce frizzy, curly hair naturally. The smooth surface of this fabric ensures that your hair glides on it when you turn during your sleep.
By minimizing the chances of getting your hair tangled during the night, your curls become easier to manage when you wake up the next day.
While split ends are not healthy for any kind of hair, they are particularly worse for people with curly hair. They not only invite frizz but also make the hair brittle.
For this reason, you must trim your hair ends regularly. Trimming not only enhances their appearance but also keeps them healthy.
Like any other cells in your body, the hair follicle cells need proper nutrition to maintain hair health. Foods rich in vitamins A, E, and C and biotin – such as nuts, berries, and eggs – boost hair health and may help you control frizzy hair (3).
If you are taking vitamin supplements or living with an underlying condition, it is always important to consult your doctor.
Do Not Wrap Up Your Wet Hair In A Towel
It is not a good idea to twist or wrap your wet hair in a terrycloth towel. Doing so may lead to frizz and breakage caused due to the heavy cotton fibers of the towel.
What can you do instead? The better alternative to reduce frizziness in curly hair is to use a cotton T-shirt or a microfiber towel. Instead of wrapping and twisting, gently squeeze the water out of your hair using the T-shirt.
Manage Your Curls With The Right Cut
Choosing the right hairstyle is critical for the health of your hair. Thick and curly hair should only be trimmed when dry, rather than damp, to achieve the exact shape and length.
One of the ways to remove frizz from curly hair is to consult an experienced stylist. Without a proper cut, your hair may end up oddly-shaped.
Your curly tresses should be thicker at the top and thinner at the bottom, and not the other way round. Besides, regular trims are also essential for managing split ends and the thickness of your hair.
Tweak Your Styling Technique
Did you know that your styling routine can also be a potential culprit behind the frizz?
First off, you should always use products on damp hair. It's one of the best ways to get defined curls. Besides, when your hair is wet, the product spreads evenly through it.
To ensure even distribution, you should apply the hair products in sections. It will help you get rid of frizzy roots and achieve super defined ends.
Do Not Overuse Hair Products
Managing your curly hair can be overwhelming. Due to this reason, many people overuse hair products that ultimately do no good for their hair.
Using 4-5 hair products on a daily basis can lead to an overload of build-up on your hair and scalp, thereby leaving your ends frizzy and roots greasy. That should not be the case.
Choose products that can offer a one-stop solution for your curly hair. Apart from that, they should be free of gluten, sulfates, parabens, and silicones that may contribute to frizz and cause damage to your scalp.
Stress can cause hair follicles to shrink due to inflammation (4). In the dormant stage, the hair strands start breaking off in the middle of the hair growth cycle (5).
Thus, it is important to practice mindfulness to handle stressful situations more efficiently (6). For instance, consider going for outdoor walks and enrolling in yoga classes. Apart from that, you should sleep well, drink enough water, and never skip meals.
You should not hesitate to seek professional help for mental health support. It can help you rewire your thought process and look at things a bit differently.
In the next section, we mention some natural and synthetic hair products that can help minimize frizz.
What Products Are Suitable For Frizzy Curly Or Wavy Hair?
In this section, we have listed important hair care products that you should use to achieve frizz-free hair.
Part of the reason why you may be facing this problem is that curly hair is naturally drier compared to straight hair (1). This is why it is more likely to get unmanageable and frizzy.
Learning how to stop curly hair from frizzing also involves using the right products. Discuss the frizzy hair problem with a dermatologist who may recommend a suitable hydrating conditioner for you.
To avoid greasiness, do not apply it directly to your scalp. Instead, you should gently rub it along the length of your hair.
Remember to moisturize the hair ends for the best results. Some alternatives to a hydrating conditioner include:
Applying a hydrating hair mask twice a week.
Using a moisture-rich leave-in conditioner.
Coconut oil to reduce the frizz in your curly hair naturally (1).
Products with argan oil or shea butter for highly porous and oily curly hair.
You can also add glycerine or honey to your DIY hydrating hair mask.
Anti-Humidity Smoothening Product
If you blow-dry your hair quite frequently, using an anti-humidity cream or smoothening spray may be helpful. It will seal the cuticle, making it less prone to breakage and frizz.
Moreover, you can use a serum that is specially formulated for eliminating frizz before blow-drying your hair. The blow dryer should be directed downward when in use.
How Often Should You Shampoo?
The frequency varies with the type of curls. People who have coarse and thick hair should not shampoo their hair more than twice a week. On the other hand, if your curls are fine and thin, you can shampoo your hair every other day.
Whatever product you choose, be careful that it does not remove the natural oils from your hair. Locking the moisture in is the key to naturally reducing the frizz in your curly hair.
Conclusion
Curly hair is highly-coveted and looks absolutely stunning when cooperative and healthy. However, many factors – such as dryness, humidity, split ends, stress, unfavorable products, and lack of nutrition – can leave it frizzy.
It is necessary to identify the root cause to get your curly hair frizz under control. Always discuss with a hair expert before changing any product. Avoid skimping on experienced hairstylists and trained cosmetologists for good hair health.
Frequently Asked Questions
Can stress lead to frizzy hair?
Yes. Your body releases cortisol when under stress, which causes inflammation. As a result, the hair follicles swell and shrink in size and are more prone to damage.
How can I make my curly hair not frizzy with co-washing?
Co-washing below the roots may help reduce frizz and keep your curly hair healthy, soft, and clean. Nowadays, you can find cleansing conditioners made specifically for co-washing. Just apply the conditioner through the length of your hair and wash it off after 5 minutes with cool water to tame your frizz.
How can I detangle my curly, frizzy hair?
You can detangle your frizzy hair by:
Using a brush that is specially created for detangling hair.
Applying a detangling hairspray while your hair is still wet.
Before brushing your hair, use a wide-toothed comb to remove the knots.
Sources
Articles on StyleCraze are backed by verified information from peer-reviewed and academic research papers, reputed organizations, research institutions, and medical associations to ensure accuracy and relevance. Check out our
editorial policy
for further details.
Recommended Articles
The following two tabs change content below.