How To Make Your Girlfriend Jealous
Because a little bit of jealousy is what can keep the sparks alive in a relationship!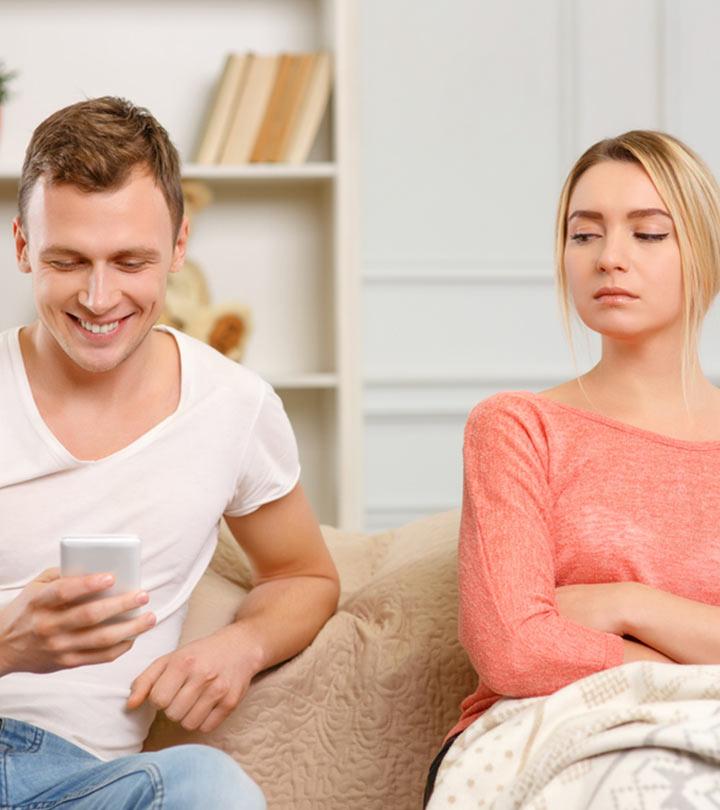 An ideal relationship is built on mutual respect, love, trust, and honesty. But, unfortunately, every relationship loses its honeymoon phase eventually. You may feel your girlfriend is taking you for granted and not paying enough attention. However, a little jealousy can reignite the flame in your relationship.
On the contrary, feelings of envy and unhealthy jealousy such as severe insecurity, suspicion, possessiveness, obsession, paranoia, or being unfaithful can strain your relationship and lead to a breakup. casual, light-hearted atmosphere, which will benefit you both. Here are 10 tips for making your girlfriend jealous. Read on.
10 Ways To Make Your Girlfriend Jealous
1. Compliment Other Women In Front Of Your Girlfriend
This is one of the easiest and popular ways of making girlfriends jealous. When you are around your girlfriend, try to strike conversations with your female friends. Compliment them for their career, social life, and looks.
However, make sure the compliments are subtle and not over the top. Do not let this act of complimenting turn into full on flirting. You just want to grab your girlfriend's attention and make them a little jealous, and not question their abilities.
2. Create A Little Distance From Herap
Are you trying to make your girlfriend jealous? Maybe she has started taking you for granted? Go MIA for a while and ghost her or simply do not participate in daily communication. Your absence might make her realize your importance and be more appreciative of you. However, do not be missing for long and scare her regarding your safety and well-being.


Quick Tip
You can also limit talking about your future together or postpone future plans. Make it appear as though you may not be a long-term part of her plan.
3. Mention About Your Ex Subtly
For every couple in a relationship, the worst enemies are the exes. Try to mention your ex subtly in daily conversations. You can also make your girlfriend think you are still in contact with her. This will spark a sense of rivalry and competition and maybe your partner's protective and possessive instincts will kick in. She might start putting efforts to gain you and your attention back. The fear of losing each other is real, and this fear of hers might work in your favor.
4. Plan A Fun And Enjoyable Day Without Her
Plan a fun day with your friends leaving her behind. Pretend that you forgot to invite her between all the excitement. The idea that you forgot her might hurt her, but it might also help her understand that she needs to invest more time and attention in you. Pretend that you had a great day without her, and she will never leave your side again.
5. Dress Up Nicely When You Meet Your Female Friends
A lot of couples put effort into dressing up nicely for each other. Such small gestures help keep the relationship fresh and exciting. So, dress up nicely when you go out to hang out with your female friends. Let her see your effort to pick a nice outfit, groom your hair, and wear a nice cologne. It might bother her to see the efforts you put for her earlier are being put for somebody else now.


Quick Tip
Mention trying a new fitness program that will help you get in shape faster or start going to the gym. This will cause her to question your motivation for getting in shape, or rather, for whom.
6. Avoid Eye Contact With Her
If you and your girlfriend are chilling with friends, try to ignore her. Talk to everybody, laugh at all their jokes, maintain eye contact with them, but do not acknowledge her. Speak to her only when required and avoid any eye contact. You can also choose a seat far from her to make her jealous.
However, do not be rude to the extent that everybody notices what you are up to –  be subtle about it.
7. Start Using The Gifts From Your Ex
Using the gifts given by your ex will show your girlfriend that you have been thinking about your ex. Do not only use them but express your regret for stopping to use them. Maybe this will remind her how absent she has been from the relationship.
8. Binge-Watch Alone
Binge-watching together is a new, romantic trend for millennial couples. If you want to make her feel jealous and express your disappointment, finish that series you started watching together. Do not wait for or inform her –  just go ahead and finish that series. For the extra effort, say you did a Netflix party with your special friends.
9. Be Extra Friendly And Chatty With Her Best Friend
This method can never go wrong. Be extra friendly and chatty with your partner's best friends, and she will start feeling exactly what you want her to feel. The feeling of sudden comparison and not getting enough attention will surely awaken and work in your favor. You can also inform her best friend about your intentions. If she is game, you both can plot more scenarios to make your girlfriend jealous.
10. Laugh Out Loud While Reading Text Messages
This is where you can display your hidden acting skills. Get your phone and start reading your text messages. Just laugh out loud for no reason, and do not take that grin off your face. She will get curious and ask you why you are laughing. You can shrug it off or say you have an inside joke with your female colleague, which she might not understand.
You can use social media platforms like WhatsApp, Instagram, or Facebook to make your girlfriend jealous.
5 Ways To Make Your Girlfriend Jealous On WhatsApp
1. Post A Status With Someone Else
Hang out with your female friends, click a happy picture, and post it immediately as your status. You can also take a snap in which you and your female friend are looking at each other happily. For an extra effort, write a nice caption for the photo status as well.
2. Change Your Profile Picture
Change your profile picture to eliminate the chance of your girlfriend missing your status. Try to make sure the image is a little intimate, which will make her jealous. However, do not take this too far and ask for your female friend's consent before clicking the picture.
3. Do Not Reply Her Instantly
Take your own sweet time to reply to your girlfriend's messages while chatting with her. You can also try to 'seen zone' her. If she asks why you are slow in your replies, shrug it off or say you are busy with your friends or colleagues.  You can also turn off the 'read recipients' feature in your WhatsApp to bother her more. These actions will let her feel you are hiding something from her.
4. Keep Your Chats Hurried And Brief.
Keep your chats very brief while talking to your girlfriend over text messages. Act cold and let her believe you have lost interest in her. If she asks you why you are behaving this way, say you had a bad day. This will make her feel distant from you, and the fear of losing you will kick in.
5. Hide Your Last Seen
Hide your last seen from your girlfriend to make her feel distant from you like an outsider. If she asks you regarding this act, say you want some space and answer her vaguely.
If you are in a long-distance relationship, you do not have the luxury of meeting each other regularly or living together. Similarly, it can be difficult to make your girlfriend jealous from far. Mentioned below are some tips to make your girlfriend jealous in a long-distance relationship.
5 Ways To Make Your Girlfriend Jealous in a Long-Distance Relationship
1. Say You Bumped Into Your Ex
You live far away from your girlfriend, and she has no way of checking what you tell her. Use this to your advantage and say you bumped into your ex-girlfriend. She might question you, but dodge them or be vague with your answers. Remember adding –  it was great catching up with your ex after so long, and it brought back fond memories.
2. Ignore Her Calls But Be Active On Social Media
Stop taking her calls or responding to her texts. Instead, say you are busy with some work while being active on social media. Post stories on Instagram and WhatsApp or comment on the pictures of your mutual friends. Let her know that you are not busy working but spending leisure time on social media.
3. Invite Others To Your Netflix Party
If you and your girlfriend schedule virtual Netflix parties, invite somebody else in your session one day without informing her. Send messages addressed to your friend and not her in the chat window while watching the movie. Talk to her only when necessary.
4. Avoid Watching The Movie She Recommends
To take it further, do not watch the movie or series your girlfriend recommends to you. Start watching the movie your female friend suggests, and remember to compliment her in the end. You can say she has excellent taste in movie selection. Your girlfriend will definitely feel jealous hearing this.
5. Change Your Facebook Status to single
Couples nowadays validate their relationship by updating their relationship status on Facebook. If your Facebook status says, 'in a relationship,' change it back to 'single' This will grab her attention and make her feel jealous. If she confronts you about it, say it was a daring challenge from a female friend.
Here are a few signs you can notice in your girlfriend if she is jealous.
How To Know If It Worked
She will start stalking you and your female friends online.
She will try to check your phone in your absence.
She might accuse you of cheating.
She will discuss you with her close friends and family.
She will try to grab your attention.
She will try to make you jealous as well.
She will fish for compliments.
She will follow you around wherever possible.
She will confront you with her feelings.
Infographic: Why Should You Make Your Girlfriend Jealous?
Any romantic relationship will eventually lose its luster. Jealousy can inspire us to try harder at times. It can serve as a gentle reminder to respect the relationship or spouse more. Mild jealousy can contribute to a favorable outcome. It can be beneficial as long as it does not cause arguments or become toxic. To know more, check out our infographic below!



If you believe a little jealousy is just what your monotonous relationship needs to reignite that fire, the above tips might help you out. Now that you know how to make your girlfriend jealous, we suggest taking it easy and following a few of these strategies that you think your girlfriend would fall for. Make sure you do not go overboard and consider her feelings as well. You should come clean with her if she is too upset or insecure. Though she may be outraged by learning the truth behind it, you need to convince her why you did that in the first place and why you want to get your romance back on track. We are sure they would understand your pure intentions and be back to showering you with affection in no time. Finally, let her know how much you love and appreciate her with a romantic evening date.
Frequently Asked Questions
Does making a girl jealous work?
Making your partner jealous may sometimes help them realize your value when you feel they're not giving you enough attention. However, this trick may backfire so you should ensure that you do not upset or hurt her. It's always better to be honest in your relationship and have direct conversations with your partner instead of trying to make each other feel jealous.
Why would a man try to make a woman jealous?
A man might try to make a woman jealous to catch her attention, test their relationship and loyalty, feel more confident, have a sense of power, or see what her feelings are for him.
What do you say to a jealous girlfriend?
Have a conversation with your girlfriend and tell them why you tried to make her jealous. Allow her to discuss what she felt. Be supportive and show her admiration and love. It is important to understand that this may crop up from time to time and may take some time to get resolved.
Key Takeaways
Making your girlfriend feel jealous helps you bring back that lost spark in your relationship.
However, your strategy may backfire, and she may break up with you if you stretch this game for far too long.
You can compliment your female friends or play a bit hard to get with your girlfriend to make her feel jealous.
She may get angry at times when you make her feel jealous, so make up for it with some romantic gestures.
Get ready to make your girlfriend go green with envy and get the attention you deserve. Watch this video for some tips and advice.
The following two tabs change content below.