How To Perm Your Hair: Everything You Need To Know About It
Your guide on types of perming and taking care of permed hair at home.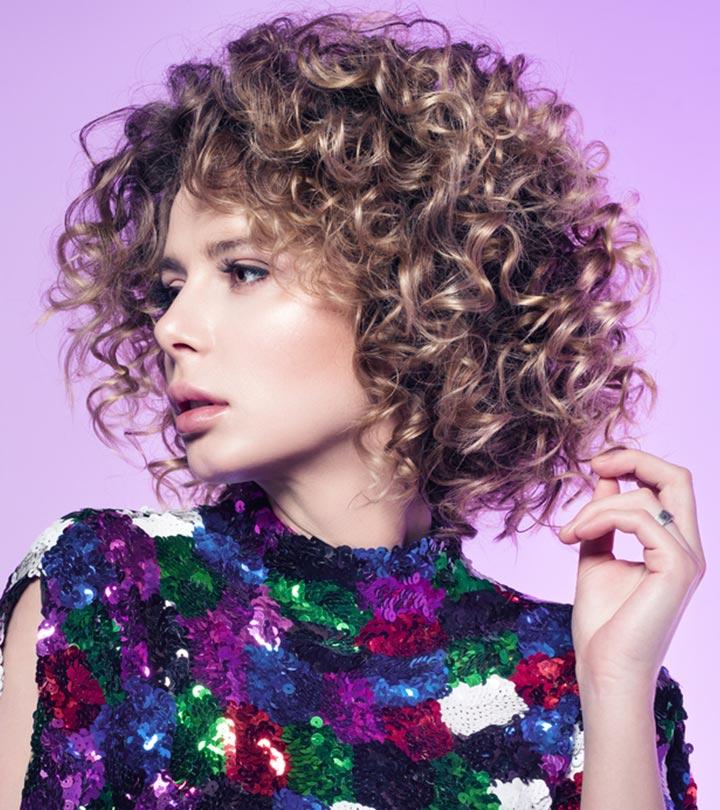 Bouncy and lustrous curls can attract many eyeballs. If you have straight hair and want those curls to last long, try perming your hair. But the question of how to perm hair arises, especially when you are new to the process. Also, does perming cause any damage to your hair? Hair perming is a styling technique that has been there since the 80s. With time, perming techniques also changed, and modern-day perms win the bet over traditional perming methods. This article explores everything about hair perming. Keep reading to know more.
What Is Hair Perming?
Hair perming is a technique that alters the hair texture using chemicals. Perming adds volume and bounce to the hair. There are various types of perms, ranging from wavy to tightly coiled. But before you perm, consult a stylist to know which perm type would suit your face, haircut, and lifestyle.
How is modern perm different from traditional perm? Scroll down to find out.

Did You Know?
The perm was invented by Swiss hairdresser Karl Nessler in 1906 in England where he reportedly used a mixture of water and cow urine to curl the hair.
How Is Modern Perm Different?
Instead of plastic rods, fabric, rollers, or even fingers are used to create various types of curls in modern perm. It enhances your naturally wavy hair, gets curls at the ends, wavy perm, or coiled hair instead of just traditional tight coils or springs.
What kind of hair type is a perm best suited for? Find out in the following section.
What Hair Texture Is Perfect For Perming?
Straight or wavy hair type is perfect for perming. You can either enhance your naturally wavy hair and add definition and volume or curl your straight hair. Long rods are used to create lift and volume from the hair roots to the ends. If you have straight hair that does not hold curls, choose any other type of hair texture (wavy, beach waves, loose curls, coiled, and Afro) to add body and bounce.
While the right kind of perm can amp up your hair game, the wrong kind can be devastating. Let's look at the various types of curls you can choose from if you want to perm your hair.
Different Types Of Perms You Can Choose
Body Wave Perm – If you love loose, tousled, and mermaid-like beach waves, opt for a body wave perm. Your stylist will use long sponge rods to create the "back-from-the-beach" wavy hair without spritzing salt water to add a beachy texture.
Spot Perm – Do you like to sport curls only at certain sections of your hair? Go for spot perm. Perm fiber or sponge rods are strategically placed on specific sections of the hair to create this kind of perm.
Stack Perm – If you have mid-length hair and want to boost volume, stack perm is the way to go. The curls start from the middle of the hair and cascade down to the ends. Sponge rods or fiber will be placed from the mid-length of the hair to create a stack perm.
Multi-Textured Perm – Want to try various curl patterns in one go? Say hello to multi-textured perm. It looks amazing on short hair and creates a stylish, messy, gender-inclusive look.
Root Perm – If you have fine hair that needs volume, lift, body, and bounce – root perm is your calling. This perm type creates wavy or broad loose curls from the roots to the tips.
Spiral Perm – If you want to rock the 80s curls, a spiral perm can make that happen. From telephone wire to Afro coils – just let your hairstylist know, and you can have a head full of fun, bouncy coils.
Pin-Curl Perm – Pin-curl perm helps you get that natural, effortlessly styled look. It is suitable for people with fine and thin hair. This perm type adds volume and lift to the hair without being too loud.
Note: Discuss with your hairstylist to understand which perm will suit your lifestyle, haircut, and face shape.
Now, the question is, will perming cause hair damage? Scroll down to find out.
Does Perming Cause Hair Damage?
Perming uses chemicals to alter the hair texture, which may cause hair damage. It also depends on whether your hair is color-treated and pre-processed. The hair can get damaged if the wrong treatment is used for the wrong hair type. For example, if your hair is virgin and perm chemical for color-treated hair is used, it can damage your hair.
Note: Get your perming done by a professional to avoid hair damage. This will protect your hair and prevent you from spending on hair restoration treatments.
You must take good care of your permed hair to minimize damage. Here are a few ways to take proper care of your perms.
How To Take Care Of Permed Hair
Protect Your Hair From The Sun – Chemically-treated hair can be photo-sensitive and brittle. Wear a hat or use a leave-in conditioner with zinc oxide to protect your hair from sun damage.
Use Shampoo For Curly Hair – There are several products specifically designed for textured hair. Use strengthening or clarifying shampoos to fortify the hair, cleanse the scalp, and prevent the unraveling of the curls.
Use A Conditioner – Perming can dry out the hair strands. To prevent this, use a conditioner to keep your hair nourished, hydrated, and shiny.
Use Permed Hair Care Products – Permed hair care products contain keratin, collagen, silk protein, and aloe vera that protect the curls, keeping them long-lasting, moisturized, and healthy.
–If you are wondering whether you should perm your hair on your own at home or not, keep scrolling for the answer.
Quick Tip
You can use a wide-toothed comb to comb your damp permed hair. Once the hair dries, use a brush made of soft bristles to detangle your hair.
Should You Perm Your Hair At Home?
No, you should not perm your hair at home. Experimenting at home to get the curls you desire may seem cost-effective and tempting. But perming is a technique that gives the best results when done by experts.
Note: Women often think of getting their hair permed when they are losing hair, or their hair is thinning. It is not advisable to do perming when your hair is weak from the roots. The unwanted tension on the strands due to the chemical processing can damage the shafts and lead to more hair loss. You can consider perming once the hair roots and shafts are stronger after the treatment of hair loss. Most often, there are medical reasons for thinning hair and hair loss, which need in-depth attention.
Infographic: Dos And Don'ts Of Perms
A perm can take your hairstyle to the next level. Though this styling treatment originated in the 1980s, today there are modern and unique variations of it. Regardless of whether you get the perm done at a salon or do it yourself at home, you need to follow some tips before and after the treatment for the best results. Check out the infographic below to know more!


Hair perming adds volume and bounce to your hair and helps you achieve wavy to tightly coiled curls. Depending on your face shape, lifestyle, and haircut, you can try different styles. However, since chemicals are being used to perm the hair, there are chances of causing hair damage. Therefore, it is best to get it done by a professional. You may also have to take good care of your permed hair to prevent damage. Following the tips discussed above will help you keep your hair healthy and bouncy after perming.
Frequently Asked Questions
Do you perm wet or dry hair?
You should perm on damp hair to allow the perm solution to penetrate the hair shaft better.
How long does it take to perm hair?
Depending on the hair type and length, a perming appointment can take anywhere from one to three hours.
Why is my hair frizzy after a perm?
Frizzy hair after a perm could result from chemicals that may alter your hair structure, or it may indicate overprocessing.
How often should you wash permed hair?
Depending on your scalp and hair condition, you may wash it once or twice a week to retain moisture and not destroy your perm.
What face shape suits a perm?
Perm looks good on all face shapes. However, you should consult your stylist to determine the best look for yourself.
Can I sleep on my newly permed hair?
Yes. You can sleep on newly permed hair, but you should be careful not to destroy your perm. Use a satin/silk pillowcase and tie your hair in a loose bun or braids to reduce friction.
How many times can you perm?
You can perm your hair as many times as you may need. However, giving a gap of at least 2 months between two perms is essential to let your hair regain its health and rebuild the broken bonds. Otherwise, you may have damaged, frizzy, and breakage-prone hair.
What's the difference between curl and perm?
A noticeable difference between natural curls and perm is that permed hair is more prone to dryness and frizziness. They may also have bent marks if the perm was poorly executed.
Key Takeaways
It is essential to consult a stylist to know which type of perming is suitable for you.
Perming done on straight or wavy hair gives impressive results.
Body wave perm, spot perm, stack perm, multi-textured perm, and root perm are some types of perm.