DIY Hair Toner: How To Prepare Hair Toner Solutions At Home
Learn ways to fade your hair hue easily and protect your locks with some DIY hair solutions.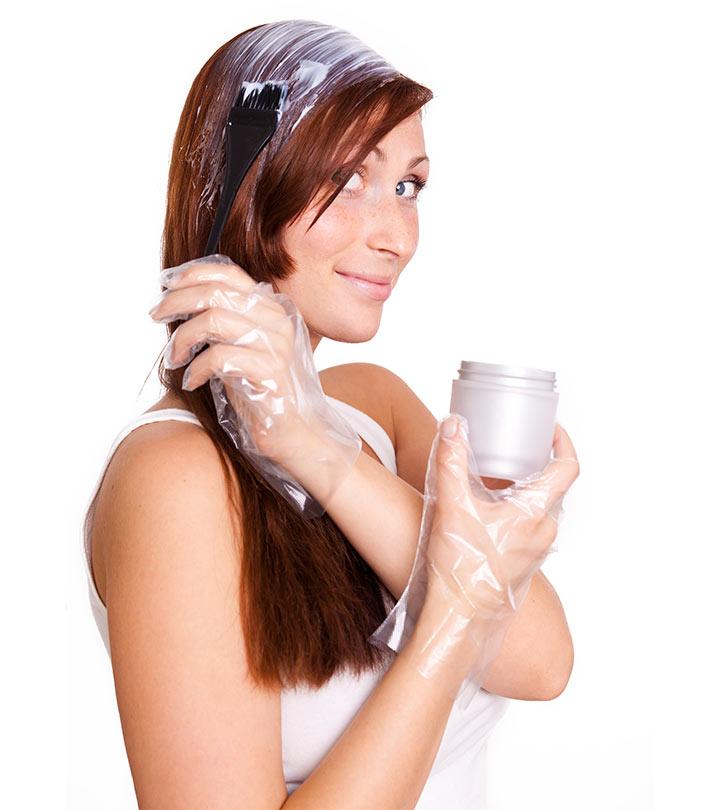 A hair dye job gone wrong can be the cause of great stress. But, fret not. Try using a DIY hair toner to get rid of the brassy hue before trying extreme measures such as chopping your hair or dyeing it in an unflattering box black color. Commercially available toners are expensive and can damage your hair. On the other hand, homemade toners are gentle on the skin and help fade the hair color effectively. Keep reading to learn how to say goodbye to those ugly, jarring yellow and orange hues with different DIY toners to suit your hair needs. Scroll down!
What Is A Hair Toner?
Hair toning sprays and treatments are used to normalize or personalize a hair color by changing its undertone. You can use it to correct an unwanted warm or cool tone or add some pop to your hair color. It is mostly used with bleaching or hair highlighting to achieve the desired shade.
Toners are often used when people want to try out cool-toned hair colors like platinum blonde, gray, or blue. They are also used to attain colors like ash brown and ash blonde.
How Does A Toner Remove Unwanted Warm Tones?
People with dark hair tend to have warm natural pigments, and people with light hair tend to pick up warm yellow tones with the regular use of sulfate shampoos, hair dyes, mineral deposits from water, and product build-up. A toner removes these pigments by using tones on the opposite end of the color spectrum to neutralize the warmth.
Brassy orange hair would require a blue toner and vice versa.
Brassy yellow hair would require a purple toner and vice versa.
If you have light blonde hair that has been picking up yellow tones, a clarifying treatment that removes product and mineral deposits will be the best toner for blonde hair.


Trivia
Hair stylists use a hair color level scale of 1 to 10 when using toners. Level 1 is the darkest black, and level 10 is the lightest blonde.
Things To Know About Toners
Toners change the undertone of the colored hair without lifting the color.
They are primarily used on blonde and bleached hair.
They make the hair look cool-toned and can also add a tint of pop (pink or purple) to the hair color.
A toner can also be used to add dimension to hair color.
Don't wash your hair immediately after toning it.
You'll need to retone your hair every 2-8 weeks, depending on your hair texture.
The more you wash your hair, the more you have to use a toner to define the hair color.
There are three main hair toner products: purple and silver shampoo, hair dye, and ammonia toners.
Once you have toned your hair, protect it from the sun to prevent fading of color.
Limit the usage of styling products on bleached and toned hair.
Bleaching makes your hair thin and dry. Use leave-in conditioners and masks for hair hydration.

Trivia
Toning is always done on damp hair so that it can absorb the color better.
How long you leave a toner in your hair determines how your final hair tone looks. We have elaborated on this aspect in the following section. Take a look.
How Long Can You Leave A Toner In Your Hair?
Here's what you need to keep in mind to better understand the leave-in time of a hair toner.
Always follow the package instructions for the exact leave-in time. Check the processing time in the recipe if you are using a DIY toner.
Healthy hair requires longer processing time when compared to compromised or damaged hair (that may absorb color faster and need less leave-in time).
The longer you keep the toner on, the more intense the results will be.
Monitor your hair as your toner is processing and rinse it out when you achieve your desired result.
Let us now look at some easy DIY hair toner recipes to get perfectly toned hair at home.
How To Make DIY Hair Toners At Home
Precaution: Please do a patch test to make sure your skin doesn't feel irritated or itchy. If it turns red, itchy, or irritated, please consult a doctor before proceeding. Irritation could be an allergic reaction.
Use Ingredients From Your Kitchen
1. Baking Soda Shampoo
Baking soda shampoo makes an excellent clarifying hair treatment. This, in combination with the food color, is reported to remove product and mineral build-up while neutralizing the natural warm tones present in your hair. However, there is no scientific evidence to back this up.
In fact, research shows that products with high pH (like baking soda) can increase the risk of hair breakage, cuticle damage, and frizz (1). Hence, avoid repeated use of this ingredient.
Process
You will need sulfate-free shampoo, two drops of blue and purple food color each, and 1 teaspoon of baking soda.
In a jug, combine the ingredients with a few tablespoons of water. Set it aside and proceed to rinse your hair.
After you have rinsed your hair with water, use the shampoo mixture you set aside to wash your hair.
Leave the shampoo in your hair for 5-10 minutes before rinsing it out.
Follow this up with conditioner (you can add a couple of drops of food color to your conditioner for extra toning).
Do not use this shampoo mixture more than once a week as it can dry your hair. On the other days of the week, you can use a regular sulfate-free shampoo with a few drops of purple and blue food color.
2. Apple Cider Vinegar Rinse
Apple cider vinegar is mildly acidic (2). Dull hair has a higher pH, and ACV can help lower the pH and restore balance to hair. Hence, it can help in getting rid of orange/yellow tones. It also acts as a deep cleanser to remove product build-up. However, there is no research to verify its efficacy.
Process
Dilute 4 tablespoons of apple cider vinegar with 2 tablespoons of water in a jug.
Pour this hair toning vinegar through your hair and leave it in for 15 minutes.
Rinse your hair with lukewarm/cool water.
Do not use this mixture more than 3 times a month as apple cider vinegar can dry your hair.
You can mix chamomile tea to the mixture as well as it helps smoothen the hair.
Angel Stykemain, a vlogger, experimented with an apple cider vinegar mixture to remove yellow tones from her white and gray hair. She sprayed the mixture on her hair, wrapped it in plastic wrap, and let it sit for 30-45 minutes. After washing and drying her hair, she says, "It's still a little bit brassy, but it made my hair so soft and bouncy (i)."
3. Hollyhock Herbal Toner
Hollyhock, like apple cider vinegar, can help remove unwanted warm tones from your hair.
Process
You'll need 2 tablespoons of apple cider vinegar, 2 tablespoons of hollyhock herb, and 1 cup of water.
Boil the ingredients until you get a thick liquid. Set it aside to cool.
Once the mixture has cooled, apply it to your hair.
Leave it in for 10 minutes and then rinse it out using cool/lukewarm water and a sulfate-free shampoo.
Do not use this hair toning solution more than once a week.
You can mix some essential oils, such as rosemary oil, lavender oil, tea tree oil or even peppermint oil, for a fragrant effect.
4. Lemon For Toning
Anecdotal evidence suggests that lemon can help in bleaching hair. Honey has humectanti  XA substance that pulls the moisture from the surrounding environment to help keep your hair hydrated. and emollienti  XAn ingredient or agent that creates a thin barrier on the surface of the hair which helps soften and smoothen the hair. properties, which can help condition your hair (3). Using this mixture a couple of times can tone your hair to make it at least a couple of shades lighter.
Process
Take ¼ cup of freshly squeezed lemon juice in a spray bottle and add ¾ cup of water to it.
Add in 2 tablespoons of honey to the blend and shake the bottle well.
Spray the honey-lemon mixture onto your hair. Ensure that you aren't saturating your scalp with the mixture.
Leave it in for 2 hours.
Try to spend 30 minutes of these 2 hours out in the sun.
Rinse the mixture out with a sulfate-free shampoo and condition your hair.
Do not use this mixture more than 3 times in a month.
Lemon might dry your skin so you can try oiling your hair with coconut oil, olive oil, or avocado oil as well. The vitamin C in lemon can affect hair texture. Hence, oiling is essential to retain moisture. And if you are not a fan of oil, try aloe vera juice.
5. Green Tea For Toning
Green tea was shown to promote hair growth in the dermal papillai  XThin upper layer of the dermis (inner layer of the skin) that provides nutrients to the epidermis (upper layer of the skin). cells of the scalp (4). Its green color is not too strong, which makes it a good toner. Depending on the color of your hair, you can try black or oolong tea as well.
Process
Take 3 bags of green tea and boil it with 2 cups of water.
Wait for it to obtain a light green shade.
Apply it to your hair and wait for about 30 mins.
Keep checking your hair to see if the desired color has been achieved.
Wash it off.
6. Virgin Olive Oil
A study shows that olive oil can not only aid hair growth and prevent hair damage but also enhance the hair color (5). If you had slightly darker hair before bleaching or coloring your hair, olive oil could help darken your hair pigments to balance brassy tones.
Process
Depending on the length of your hair, take some virgin olive oil in a bowl and heat it up.
Massage the oil into your scalp for an hour.
Wash it off with sulfate-free shampoo.
7. Indigo For Toning
The dark indigo color is obtained from the indican substances from the indigofera tinctoria plant. Indigo can enhance the color and shine of your hair (6). This color will help even out brassy orange tones.
Process
Take 1 tablespoon of indigo powder and mix it with 4 tablespoons of white conditioner.
Apply the mix to your hair.
Keep checking your hair color.
Once the desired color is achieved, wash off the mix with water and a sulfate-free shampoo.
Hair Dye Boxes And Food Coloring
1. Ash Blonde Box Dye
Ash-toned box dyes help remove yellow/orange tones. They do this by neutralizing the warm tones with cool ones.
Process
You will need an ash blonde dye box, gloves, a mixing bowl, and an applicator brush.
Following the instructions on the box, mix the dye in a plastic bowl.
Apply the dye to your hair and leave it in for the amount of time specified on the box. (usually 30 minutes.)
Wash your hair with a sulfate-free shampoo and condition.
You will only need to do this once.
2. Purple Dye
Purple and blue are the best color correction toners to tone yellow/orange hair. They are on the opposite end of the color spectrum and help neutralize the warm tones.
Process
You will need 1 tablespoon of purple hair dye and 3 tablespoons of conditioner.
Combine the ingredients in a mixing bowl until you get a lavender mixture.
Apply this to the parts of your hair that need toning.
Leave it in for 30 minutes and then wash it out with a sulfate-free shampoo.
Repeat every time your hair starts to take on yellow tones.
3. Green Dye
If you have brown hair or have dyed your hair brown, this is the toner for you. This toner is suitable to remove orange and red tones from brown or dark hair.
Process
Add 2-3 drops of green food color to your conditioner or 2 drops of green food color and 1 drop of blue food color if you have more orange tones.
After shampooing your hair well, apply the mixture to your hair, and leave it on for 10 minutes.
Wash it off with cool water.
Why Opt For Homemade Hair Toner Solutions?
These toning shampoos and solutions are not likely to get rid of strong orange tones. In such a situation, you can always get a professional to tone your hair. But light yellow tones are easy to tone out without the added expense of getting a salon treatment.
Subtle changes in your hair care routine, such as switching to a sulfate-free shampoo, and regularly using clarifying treatments, go a long way when it comes to keeping warm tones out of your hair. Most of these hair toning masks and treatments are also not as harsh as a chemical toning session would be.
Keeping the warm tones out of your hair takes a bit of work, but the gorgeous color you get at the end of the day makes all the efforts worth it.
Infographic: How To Prepare Homemade Hair Toner Solutions
Hair toners are used to correct unwanted undertones or to add a personalized hue to your hair. To avoid the damage that occurs due to the use of commercially available toners, there are many DIY options. Check out the infographic below to learn how to prepare homemade hair toner solutions.



A hair toner neutralizes brassy hair tones to give you the hair color you desire. They are commonly used for cool-toned hair colors like ash blonde. While you could use store-bought toners, they can be expensive and contain harsh ingredients that might affect hair health. Preparing a DIY hair toner right at home is more cost-effective and a healthier alternative. The ingredients mentioned above do not just tone your hair color, but also possess additional hair care benefits that boost hair health. Some of these ingredients may even stimulate hair growth. However, these natural remedies may not be strong enough to neutralize heavy brassy tones immediately. You will need to repeat the process a few times to eliminate heavy brassy tones and see visible results.
Frequently Asked Questions
How can I tone my yellow hair to ash?
Yes. Use a purple or violet toner to remove yellow brassy hues and make your hair a cooler-toned ash color. You can also use natural ingredients like green tea or olive oil for the same.
How do I get my yellow hair white?
You can use a purple toner to turn your yellow hair white.
How do I get my hair ash blonde from gold?
You can use a purple shampoo or toner to remove warm gold tones and make your hair a cooler-toned ash color.
How do you get snow white hair?
Baking soda or apple cider vinegar are effective in removing brassy hues from gray hair, making your strands white.
Key Takeaways
A hair toner is used to correct an unwanted undertone or add a dash of color to your hair.
Use natural ingredients like apple cider vinegar, lemon, or green tea to make hair toner at home.
You can opt for purple or ash blonde hair dyes to remove yellow or orange hair color.
Use sulfate-free shampoos to help keep the warm undertones out of your hair.
Achieve glowing, spotless, and clear skin the natural way with DIY toner recipes. Watch this video tutorial to discover simple and effective ways to elevate your skincare routine. Tune in now!

Personal Experience: Source
i.Going gray | gray hair transition | toning brassy gray hair with apple cider vinegar + water,
https://www.youtube.com/watch?v=1q7iyW_UqmY
Sources
Articles on StyleCraze are backed by verified information from peer-reviewed and academic research papers, reputed organizations, research institutions, and medical associations to ensure accuracy and relevance. Check out our
editorial policy
for further details.
The following two tabs change content below.