How To Prevent Lipstick From Smudging
Practice and perfect the simple and effortless art of long-lasting and smudge-free lips.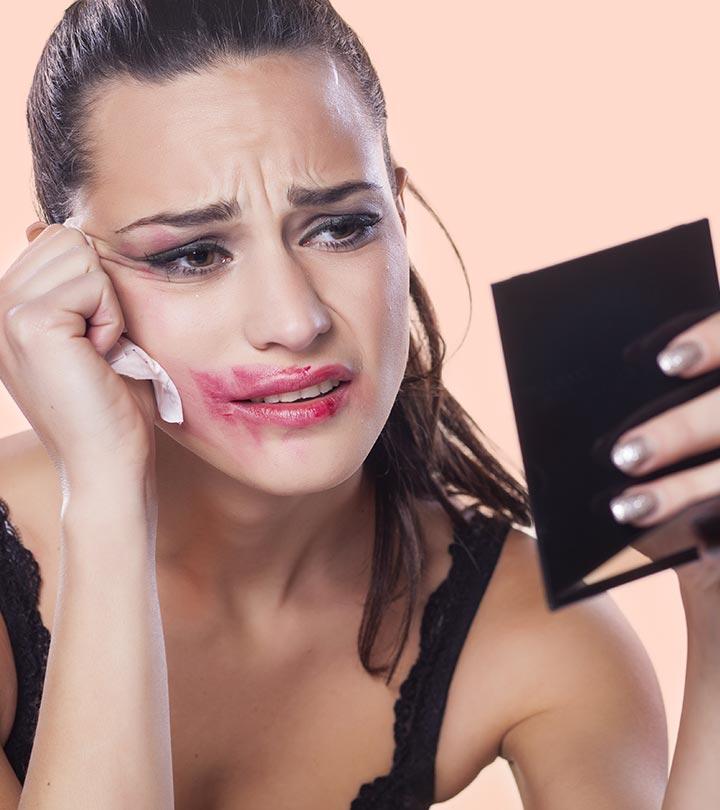 Lipsticks are the most crucial part of every makeup kit and can make or break your look. So, if you are wondering how to prevent lipsticks from smudging, you have landed on the right page. Lipsticks accentuate our facial features like nothing else, whether rosy red or juicy pink. But making it last long without smudging can be a tricky task. While constant touch-ups are annoying, no one wants their lipstick to fade away before entering the party. In this article, we share the secret of making your lipstick long-lasting and smudge-proof. Scroll down for the details!
How To Stop Lipstick Bleeding?
You Will Need
Lip Primer
Lip Pencil
Lipstick
Concealer / Foundation
Tissue Paper/Wax paper
How To Keep Lipstick From Smudging – Step By Step Tutorial
To ensure your lipstick lasts all day (and night), read on…
Step 1: Prepping The Lips
Always begin with prepping your lips by applying a lip balm/lip conditioner. This will make your lips soft and supple, and the application becomes effortless thereafter. Next, apply a foundation/concealer on the lips, and set it with compact or setting powder to create a flawless makeup base. This technique also helps to keep the lipstick intact.
Step 2: Line Your Lips With Lip Pencil
Start lining the lips with a lip pencil. Once you have outlined the lips, fill the entire lip area with the same lip pencil. Now, swipe the lipstick over your lips. In this tutorial, I have used gorgeous bright red lipstick in a matte finish. Place a tissue on your lips and dab some loose powder on top of the tissue with a small fluffy brush after applying lipstick, as shown in the picture. Let it rest for 5 to 10 seconds. I have used a transparent finishing powder here.
Step 3: Blending The Powder
Now, take a small flat brush and slowly sweep the powder all over the lips, till you get the desired matte finish, and then blend.
This technique helps in the prevention of smudges and in sealing the color to the lips.
Step 4: Blotting The Excess Lipstick
Once you are done with Step 3, take a clean tissue paper and fold it into half. Place the tissue between your upper and lower lips. Blot the excess lipstick with the tissue as shown in the image.
Don't worry about this technique making your lipstick appear uneven or faded. You can fix it later by reapplying it.


Trivia
Blotting removes excess oil and color from the lips, thus increasing the longevity of the lipstick.
Step 5: The Final Touch Up
If you are a lip gloss fan, then swipe a coat of lip gloss just on the center of the lips. This will prevent the bleeding of the color around the lip area. Remember, matte lipsticks last longer than gloss on your lips.
QUICK TIPS
The easiest way to prevent smudging of lipstick is by applying a lip primer. It works as a base for the lips, holds the color for a longer time, and also prevents bleeding of the color.

Quick Tip
Apply primer before foundation when you are doing your makeup to make sure your lipstick does not smudge later on.
In case of any unevenness around the lip or jaw area, correct it by using a concealer or a foundation shade that is close to your skin tone.
A lip pencil/liner is a great choice of base to prevent smudging. Choose a lip pencil that exactly matches the lipstick shade or a shade darker to give your lips a more profound shape.
Outlining and filling your lips with a lip liner prior to the application of lipstick helps to increase the longevity of the lipstick, irrespective of the formula or quality.
Always use a thin lip brush to apply the lipstick as it gives you an even application and helps you reach even the corners.
Always carry a lip color in your bag for quick touch-ups.
Infographic: 5 Steps To Make Your Lipstick Kiss-Proof
Are you fed up with regular touch-ups, such as fixing your smeared and faded lipstick? We get you! Lipstick bleeding can turn into a nightmare when it starts to transfer to other areas of the face. If you have tried your hands at those waterproof formulations that promise not to budge and are still not happy with the results, worry not! We are here to help you achieve a transfer-resistant finish. Check out the infographic below to learn about lipstick hacks to get a smudge-proof finish.

We understand the frustration of constantly checking the condition of your lipstick at parties and frequent reapplication to maintain your look. And that is why we curated this list of tips to help you prevent your lipstick from smudging and making it last longer. These tips are quite simple to follow, and with a little bit of practice, you will be able to prep and touch up your lips perfectly for a smudge-proof, long-lasting effect. You can use these techniques before applying any lipstick, and you need not necessarily invest in expensive brands offering long-stay lipsticks.
Frequently Asked Questions
What ingredients make lipstick smudge-proof?
Lipsticks contain ingredients such as castor or lanolin oil that can prevent your lipstick from bleeding.
Is there a lipstick sealer?
Yes, lipstick sealers are clear and glossy liquids that help seal the lipstick on your lips, making it smudge and water-proof.
Why does my lipstick smear?
Factors such as lack of exfoliation and not removing lip balm may make your lipstick more likely to smudge and bleed.
Can you use setting spray on lipstick?
Yes, using a setting spray can lock the color and make your lipstick smudge-free and long- lasting.
Key Takeaways
Create a makeup base for the lips using foundation/lip primer and compact.
Always use a lip liner to line the lips and the first dab of color over the compact. You can use the lipstick over the lip liner.
Apply loose mattifying powder over the lipstick to get a matte finish. Blot the excess lipstick with tissue paper or a blotting sheet.
Use the lip gloss towards the center of the lips.
Use a thin lip brush for even application of the lipstick.