What Is Sun Damaged Skin? How to Deal With It?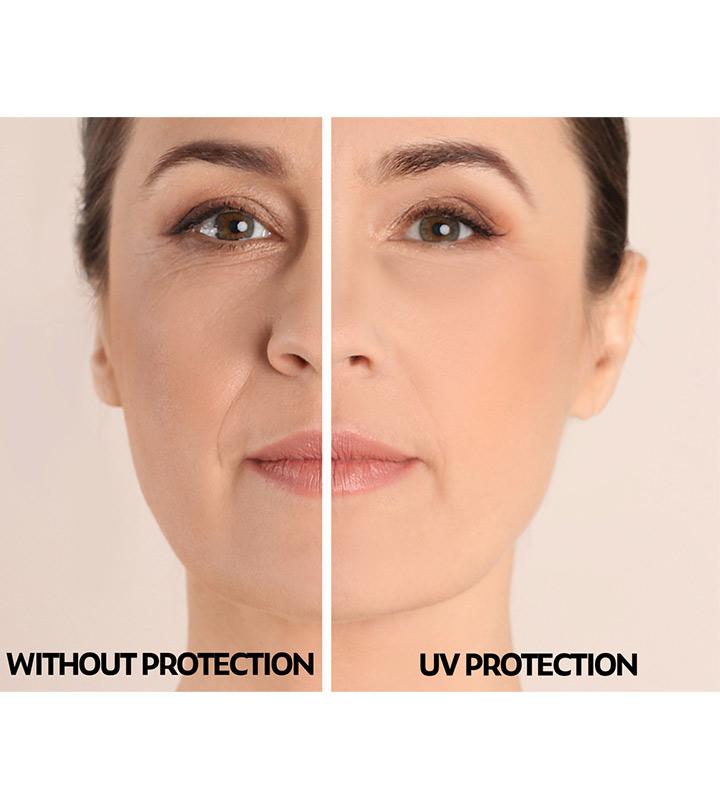 There is an inexplicable joy in being outdoors on a nice sunny day! Lying on the beach, soaking up the sun, sipping on an ice-cold drink, feels just perfect. But, all that sun exposure may be harmful to your skin as you age and may cause something called sun-damaged skin. What exactly is it? Is there a way to prevent it? Keep reading this article and you will find out.
What Is Sun-damaged Skin?
Sun-damaged skin or photoaging is caused due to prolonged exposure of your skin to the harmful UV radiation emitted by the sun. Areas of your body such as the face, arms, legs, and neck are most likely to be affected as they are exposed the most (1).
In most cases, 90% of photoaging is due to UV exposure. However, some studies suggest, UV exposure combined with visible light (VL) emitted from LED devices and other electronic devices might also contribute to photoaging (2).
So, how do you find out if your skin is sun-damaged? Are there any symptoms to look out for? Read the next section to know.
Symptoms Of Sun-damaged Skin
Unlike the chronological aging of your skin that is caused by old age and genetic conditions, photoaging is caused by the severity of UV exposure. Some of the most common symptoms of sun-damaged skin are (1):
Wrinkling of skin
Pigmentation of the skin that causes sunspots and liver spots to appear
Freckling of skin
Dryness and roughness of the skin
Loss of skin elasticity
If you notice any of these symptoms, there is a probability that your skin is sun-damaged. But who is more prone to suffer sun-damaged skin? Find out in the next section.
Who Is ProneTo Photoaging
Research suggests that anyone who is exposed to the sun is prone to photoaging (3). However, a study aimed at exploring if any particular demographic is more prone to sun damage found something interesting. It revealed that people with fair skin, especially fair-skinned men are more likely to experience severe photoaging of the skin (4).
Having said that, if your skin is sun-damaged, what can you do to reverse it? Or is it even reversible? Let's find out.
How To Reverse Sun Damaged Skin
When UV rays damage the skin, they can alter your DNA and cause melanoma (a type of skin cancer) which is irreversible (5). Reversing sun damage on the skin is not easy, it requires a lot of time, patience, and use of specific skincare products. It might or might not work for most people. Here are a few products that you can try and use to reverse sun-damaged skin.
Research suggests that topical application of niacinamide may help in reversing the effects of sun damage on the skin. It may help remove fine lines and wrinkles that are caused by photoaging (6). Niacin, a type of niacinamide, is readily available as an ingredient in certain serums and creams that can be easily incorporated into your skincare routine.
Though azelaic acid is commonly used to treat acne, some research suggests that it may also help reverse photoaging of the skin (7). Studies on mice suggest that azelaic acid in concentrated form might be able to inhibit melanoma cells and reduce pigmentation caused by them (8).
Studies suggest that the topical application of vitamin C-based skincare products might be able to reduce and prevent your skin from photoaging. Vitamin C is also known for its photoprotective, antioxidative, and anti-aging properties. It can also help improve collagen production and make your skin look younger (9).
Alpha Hydroxy Acids (AHAs)
Research indicates that AHAs might help increase the thickness of your epidermis and make it less susceptible to photoaging and potentially reverse its effects (10). Using sunscreens and creams that contain AHAs or glycolic acid can be added to your skincare routine to help reverse the effects of photoaging.
Skincare products that contain retinoids may help reverse photoaging of the skin. Research suggests that they may be able to reduce pigmentation that causes dark spots. Among the various retinoids, tretinoin is considered to be most potent in reversing the symptoms of photoaging (11).
Reversing sun-damaged skin must be your last resort, preventing sun damage or photoaging should be your primary focus. After all, prevention is better than cure and is cost-effective as well. Let us find out how you can prevent your skin from being sun-damaged.
How To Protect Your Skin From Sun Damage
Protecting your skin from sun damage is easy. Follow these simple tips and you should be good to go.
1. Using sunscreen every day, regardless of the weather outside is crucial in protecting your skin from sun damage (12). Apply it 15-30 minutes before you head outside.
2. Choose a sunscreen that provides protection against both UVA and UVB rays and is at least SPF-30.
3. If you have an infant at home, it's best to keep them away from harsh sunlight as they have very sensitive skin.
4. Try and reduce the amount of time you spend out in the sun. If possible, avoid sun exposure between 10 a.m. to 4 p.m, as UV radiations are the most intense during this time.
5. Wearing long-sleeved shirts and trousers minimizes the amount of skin exposure to the sun. Also wearing dark-colored clothes may help in blocking the harmful rays of the sun. Research suggests that colors like navy blue, black, and dark red absorb more UV rays and offer better protection (13). If possible try and use UV protective clothes for better effect.
6. For the head and neck areas, you could use scarves, or hats to block the sunlight. You could also use photochromic sunglasses or ones with UV protective lenses.
Try these simple tips and you might be safe from the harmful UV rays that damage your skin. However, following these tips every time may not be feasible for all. Certain professions that require you to be out in the sun for long hours, inevitably increase the risk of sun-damaged skin.
In the next section, let us find out when you require medical assistance for sun-damaged skin.
When To See A Doctor
Minor symptoms of photoaging like dryness of skin, fine lines, and wrinkles would not require medical assistance. However, in some of the following cases, you will need to see a doctor or a dermatologist.
This is a common skin condition that is caused by prolonged exposure to UV rays, which may develop into squamous cell carcinoma (a type of skin cancer) and other skin issues. These appear as rough, scaly, and bumpy patches near your arms, hands, ears, and neck (14). The treatment for this condition will vary from person to person.
Similar to actinic keratosis, this skin condition is also caused by exposure to UV rays. It is also known as "sailors lip" and commonly occurs on the lower lip. This is considered to be a high-risk form of skin cancer and should be diagnosed at the earliest to manage and treat it better (15).
This is another skin condition that is caused by prolonged UV exposure that causes lesions to appear on the skin around the neck area. The affected area feels itchy and may also cause a burning sensation (16). This condition can be treated with a pulse dye laser.
In conclusion, sun-damaged skin or photoaging is caused due to prolonged exposure to UV rays. As a result of photoaging, the appearance of sunspots on the skin, along with freckles, fine lines is common. Sun-damaged skin is unavoidable and inevitable as anyone who is exposed to sunlight is prone to photoaging of the skin. However, you can reduce the signs of photoaging by applying sunscreen, wearing long-sleeved clothes, and avoiding the sun between 10 a.m. to 4 p.m. Excessive sun exposure may cause skin issues like actinic keratosis and actinic cheilitis which might further develop into skin cancer. It is essential to get yourself examined by a doctor or dermatologist in the event of such skin conditions.
Key Takeaways
Excess sun exposure and lack of proper sun protection may lead to signs of sun-damaged skin like wrinkles, freckles, hyperpigmentation, or loss of skin elasticity.
The face, arms, neck, and legs are commonly affected by photoaging.
Niacinamide, azelaic acid, vitamin C, and retinoids based skin care products can help reduce the effects of sun damage, but it needs some time and constant effort before you can see any visible changes.
Keeping your skin protected from the harmful UV rays with appropriate sunscreen and clothing can help prevent further sun damage.
Frequently Asked Questions
What's the best treatment for sun-damaged skin?
For minor cases like fine lines and wrinkles, products that contain AHAs can be used in treatment. For major cases like actinic keratosis and actinic cheilitis, medical assistance is required.
Does the Sun permanently damage skin?
Yes, it does. UV radiation can damage your skin cell and cause melanoma which is irreversible and permanent (5).
At what age does sun damage show?
Sun damage can occur at any age based on the severity of sun exposure.
Is coconut oil good for sun-damaged skin?
Coconut oil is a good moisturizer and may help your skin recover from sun damage for the short term. It may help reduce itching and peeling if you're sunburned. However, remember to always use a good sunscreen as coconut oil is not the best option for prolonged sun damage.
How can I get rid of sun damage on my face naturally?
You could use aloe vera extracts on your skin as it contains aloin that helps break down melanin and reduce pigmentation of the skin (17), (18).
How can I heal my damaged face fast?
There is no quick fix. Healing of the skin takes time.
Is it too late to reverse sun damage?
No, it is not. However, it is a long process and may not yield results for everyone.
How long does it take for the sun to damage your skin?
It depends on person to person and varies with skin color. People with fair skin can experience UV damage in a span of 5-10 minutes (19).
Sources
Articles on StyleCraze are backed by verified information from peer-reviewed and academic research papers, reputed organizations, research institutions, and medical associations to ensure accuracy and relevance. Read our editorial policy to learn more.
The following two tabs change content below.