10 Steps To Quit Vaping Once And For All
A guide on helping you let go of this damaging habit one step at a time.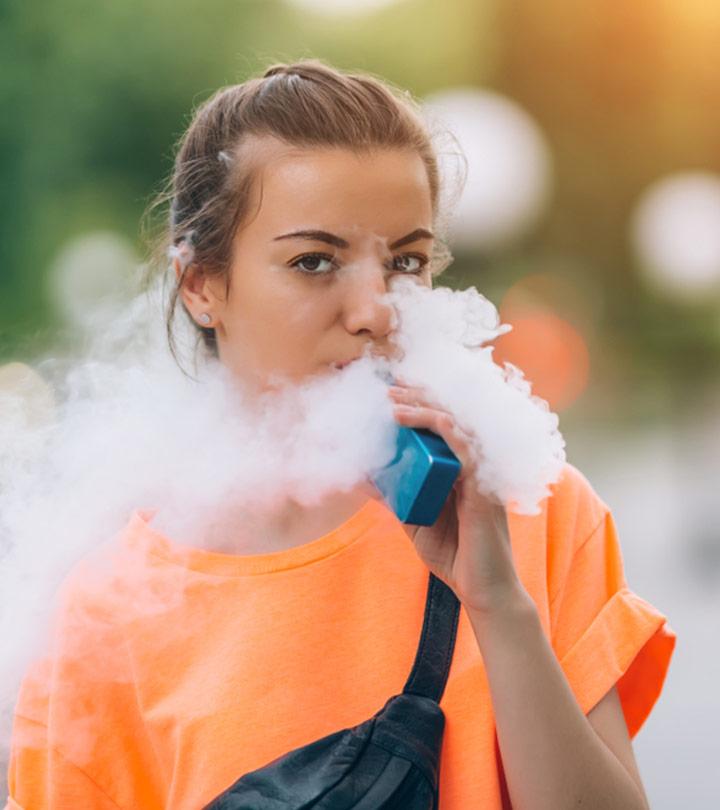 Many people start vaping to quit smoking. But the hidden dangers of vaping have come to light in recent research studies. You need to learn how to quit vaping for a variety of reasons. First, vaping is NOT a healthier alternative to smoking, as previously thought. Second, it leads to health complications in adults and teens, who unknowingly pick up the trendy e-cigarettes of different flavors.
According to the Canadian Student Tobacco, Alcohol and Drugs Survey 2018-19, 20% of students (approximately 418,000) out of 2 million students had used an e-cigarette in the year 2018-19, almost a 10% increase from the year 2016-2017. The use of e-cigarettes between male and female students was 21% and 19% respectively, but it was higher overall amongst students from grades 10-12 (29%) than from grades 7-9 (11%).
This post tells you exactly what to do in order to curb the need to vape. Read on to get expert insights and take a step towards a healthier lifestyle. Scroll down!
How Did Vaping Become Popular?
Vaping is considered to be a breakthrough alternative for smoking. The first vape was reportedly invented by Herbert Gilbert, a scrap metal dealer, back in the 1960s. The process of using an e-cigarette device – that comes with a liquid tank, a mouthpiece, a heating element, and a battery – is known as vaping (1). "Vaping is considered safer than smoking because it heats nicotine along with other chemicals to create the aerosol or smoke that you inhale. Compared to cigarettes, which have thousands of toxic chemicals, vaping exposes you to fewer ones. However, it does not imply that vaping is safe at all," says Dr. Debanjan Banerjee, a geriatric psychiatrist at Doctor Spring.
The vaping liquid does not have to be a nicotine-containing product. It could be volatile organic compounds, as well (2). This quickly made it popular amongst teenagers and those who want to quit smoking. However, Dr. Patricia Folan, DNP, RN, CTTS, and the Director, Northwell Health Center for Tobacco Control, warns that "Vaping is not necessarily considered safer than smoking." She adds, "With combustible/traditional cigarettes, we have decades' worth of data and research documenting the harm that results from the use of tobacco products. Unfortunately, we do not have long-term data on the potential health effects of vaping. In addition, vaping products were brought to market in the US without regulation. What was known or understood about vape products came largely from the manufacturers, advertisers, and eventually social media. As more research has been conducted, we know more about vaping products."
This graph reflects the findings of a survey published in the New England Journal of Medicine as part of a study that observed that 25 percent of 12th grade students had tried nicotine vaping products within 30 days of the survey, marking a sharp increase from the same poll two years previous when only 11 percent of 12th grade students were reported to have vaped within the same time period.
Increased Vaping Trend Among Teens In The US
Source: Statista

Did You Know?
Between 2011 and 2016 11.8% of high school and middle school students used e-cigarettes. The percentage further increased in 2019 to 27.5% and 10.5% respectively (
3
).
So, what are the ill effects of vaping? Let's find out in the following section.
New research shows that vaping could be as dangerous as smoking. In August 2019, the CDC declared an outbreak of the E-cigarette or Vaping product use-Associated Lung Injury (EVALI). It caused several deaths in the young population (4). Moreover, the FDA does not approve the use and sale of e-cigarettes as it contains diethylene glycol, nitrosaminesi  XOrganic compounds in cigarettes that may lead to cancer of the esophagus, oral cavity, and pharynx. , and other harmful contaminants (5).
Dr. Folan points out that vaping increases the risk of "nicotine addiction (in teens), which can lead to harm to the developing brain; reduced lung capacity and function; increased likelihood of smoking traditional cigarettes in the future; lifelong use of tobacco products (the earlier one starts using nicotine products or smoking, puts them at risk for greater addiction, less likely to quit, more likely to develop significant health problems). Nicotine used early in life can result in attention and learning disorders, as well as addiction to other substances."
She further elaborates, "Ingredients in the vape products can cause lung damage. The flavors in e-cigarettes seem harmless (candy, fruit, and menthol flavors) but are not safe to inhale into the lungs. The ultrafine particles found in the aerosol of vape products are inhaled deep in the lungs, causing damage. Cancer-causing chemicals and toxic metals have been found in many e-cigarettes, leading to increased fatality which lead to increased fatality. Over 450 different vape products are on the market, making it difficult to know which ingredients are in each one. Research has also demonstrated that vaping can have a harmful effect on the cardiovascular system. In addition, people who are interested in tobacco cessation may try e-cigarettes but often become dual users (cigarettes and vape products) rather than quitters."
Here's what scientific studies have revealed about the hidden dangers of vaping:

Quick Tip
Malfunctioning devices also pose a serious risk. Over 2,000 cases of explosions and burn injuries linked to e-cigarette use were documented between 2015 and 2017 (
3
).
Now, before we get to how to quit vaping, it is important to know the common triggers of vaping. It will help you identify your trigger and make a conscious decision the next time you want to use your e-cigarette. Scroll down to learn more.
What Are The Common Triggers Of Vaping?
Dr. Banerjee says that the most common triggers are "stress, nicotine dependence, and social pressure." Dr. Folan adds, "With vaping, it is often easy to use discreetly and frequently, especially the JUUL or puff bars. For teens, being with friends who vape can be a trigger. Also, symptoms of nicotine withdrawal can trigger increased use."
Keeping these points in mind, here's your list of smoking cessation aids to help you for good! Scroll down.
10 Steps To Quit Vaping Permanently
1. Identify Your Trigger
What is triggering your need to vape? Is it anxiety, stress, social pressure, or anything else? It could be a mix of a few triggers. The best course of action is to opt for smoking cessation counseling. They will help you identify the root cause of the triggers and the triggers themselves. It is the first step to understanding your need to vape. Then, you can move forward with a detailed plan on how to quit vaping completely.
2. Use Nicotine Replacement Therapy
"Like with cigarettes, addressing the nicotine withdrawal, when trying to stop vaping, is very important to the quitting process. Using nicotine replacement therapy or other smoking cessation medications that are FDA-approved can be very effective in stopping cigarette smoking and/or vaping," says Dr. Folan. She adds, "Getting support from your healthcare provider, a local smoking cessation program, or your state Quitline is also helpful. Although the FDA has not approved the use of nicotine replacement products for individuals under 18, the American Academy of Pediatrics does recommend that pediatricians consider off-label use of nicotine replacement for their moderately to severely addicted motivated patients (under 18). For teens, there is also a free text messaging program that was designed specifically to help young people quit. It is called 'This is Quitting.'" (7).
3. Install A 'Quit Smoking' App
What can you not do with an app these days? You can also get help for quitting vaping. Dr. Folan says, "There are some excellent "quit smoking" apps that can help distract from cravings and provide motivation and support while trying to quit. One that we often recommend was developed by the NYC DOH and Mental Hygiene called 'NYC Help Me Quit." Smoking cessation apps or a smoking cessation hotline can be useful tools in the journey towards a smoke-free life by providing support, motivation, and smoking cessation resources to help users quit smoking.
4. Commit To Quit
No one else can help unless you do so. Your commitment will determine whether you successfully curb an unhealthy habit or not. You have to not only think of your health but also the ones in your vicinity. Moreover, if vaping is a coping mechanism for stress and other triggers, you will never be able to quit it unless you address those issues, and your health will also deteriorate over time. So, you have to really want to quit and take your life on a different trajectory.
5. Make Your Plan Known
Let members of your family and your friends know about your plan. Putting it out in the open will prepare others to not engage in behaviors that could disrupt your focus. They will also be better prepared to help you if needed. It will also prevent you from falling back into the old habit.
6. Strategize To Fight Cravings
Slip-ups are a normal part of the process of quitting any unhealthy habit. But you cannot make slip-ups a habit. That's why you need to plan a strategy to curb the craving and learn how to deal with smoking withdrawal symptoms. You could have the following withdrawal symptoms (8):
Headache
Anxiety
Sweating
Insomnia
Feeling tired
Restlessness
Trouble concentrating
Trouble thinking clearly
Hunger
Prepare yourself by doing the following:
Seek your counselor's help.
Keep healthy snacks available.
Keep fresh juice with crushed ice available.
Use nicotine gums if prescribed by your doctor.
Exercise to keep your mind off the urge.
Call a friend or family member you can talk freely to.
A self-development blogger shares the strategy that helped them quit vaping. They break it down, "Two simple methods that I used every day, for about three weeks before my cravings went away. The first was to write down every day that I am not going to vape today. The second was to chew nicotine gum like a madman (i)."
Henry Hoffman, another blogger, also talks about chewing gum being an effective method to distract from nicotine cravings. His main strategy, after a failed cold-turkey approach, was to gradually reduce the amount he vaped. "I did research and found a strategy that involved vaping 3% nicotine pods compared to the normal 5% for a period of two weeks. This tapering tactic was just what I needed (ii)," he says. The withdrawal symptoms, as he quit vaping after two weeks, were convenient to deal with for him, and he could also overlook his urges without falling back.
7. Join A Support Group
Smoking cessation support groups are tremendously helpful for getting help and being on the same page as others. Support groups are non-judgemental and will help you every step of the way. They will listen to you, and you can listen to others' stories and daily struggles to garner the strength to quit an unhealthy habit.
8. Celebrate Small Successes
Celebrating the small victories is very important when it comes to quitting any harmful habit. Set small goals for each day and each week. Also, set a reward for achieving that goal. Once you have achieved your daily or weekly goal, reward yourself. This will help your brain recognize the positive effects of not giving in to urges, celebrating success, and also feeling good about yourself.
9. Exercise And De-Stress
Exercising releases endorphins, the feel-good hormones that improve your mood and sleep quality (9), (10). Exercising not only helps you get to a better physical state but also in a better mental space. You can run, go on walks, lift weights, swim, play an outdoor sport, dance, or go to the gym. You can also practice yoga and meditation to de-stress and improve your focus.
Henry also lists exercise as another tool that helped him in this journey. "I found exercising the most helpful tool that aided my journey of quitting vaping. I understand it's not everyone's favorite activity, but it worked wonders for me. Every time I was studying or at home and was craving nicotine, I would do 10 pushups. Although I can not explain why, after I was finished with my pushups, I would no longer have the desire for my vape," he claims.
10. Stay Away From Negativity
This is often ignored, but it is one of the most crucial parts of being in a healthy mental state. Whether it is your family, work, or friends at school – you need to readjust your priorities and steer clear of the negativity that may be causing you stress. Set clear boundaries so that your mental health is not affected. Have an open discussion to get to a better headspace. Distance yourself from friends who are allowing you to continue vaping. If family members are not respecting your boundaries, it is best to talk to your school counselor and seek help. And, if you are in a toxic work culture, it is in your best interest to start looking for another job immediately.
Do not limit yourself by boundaries set by other people or self-impositions. Quitting vaping is a serious process and doesn't have a 'one-fits-all' timeline. Learn more below.
How Long Does It Take To Quit Vaping?
Quitting vaping requires determination, support, and professional assistance. How long it takes to overcome nicotine addiction varies from individual to individual. The timeline depends on the duration and intensity of vaping, the level of addiction, and the presence of support systems. Generally, withdrawal symptoms may start within the first few hours after quitting. The initial challenging phase often peaks within a few days to a week.
While physical symptoms tend to subside by the end of the first month, psychological cravings might persist. Overcoming the habit becomes significantly easier in the following months as the body and mind adjust to the new life without nicotine. However, certain psychological triggers may cause some individuals to experience occasional cravings even after several months from quitting.
The Final Takeaway
Kudos to you for wanting to quit vaping! Remember, it is not a healthy alternative to smoking. It causes lung damage, heart disease, and even addiction problems in teens and adults. Seek immediate help from a reputed institute and/or a counselor. Follow the steps listed above and all other instructions given by your doctor to quit vaping. Stay committed to yourself and your health. You have the ability to grow through what you are going through. A wise man named Lao Tzu once said, "Great acts are made up of small deeds." Apply it to your life, and you will never have to look back.
Frequently Asked Questions
Is it harder to quit vaping or smoking?
It could be harder to quit vaping, if not as difficult as quitting smoking.
Can vaping cause anxiety?
As per research, vaping can lead to anxiety, ADHDi  XA condition (commonly affecting children) characterized by impulsiveness, restlessness, and unusual hyperactivity. , and panic attacks (10).
Does quitting vaping make you gain weight?
Yes, nicotine withdrawal may result in a slower metabolism and increased hunger. In addition, the absence of an active lifestyle or no exercise can eventually result in weight gain.
Does vaping affect your skin?
Propylene glycol from e-cigarettes, which leads to dry mouth and throat, might also result in dry skin and acne breakouts.
How many vape puffs equals a cigarette?
While it depends on the strength of your vaping device, the size of your puffs and the amount of nicotine usage, about 10 vape puffs are equivalent to 10 puffs from a regular-sized cigarette.
Is it too late to quit vaping?
It's never too late to quit vaping, smoking, or any potentially harmful habit. The day you stop the addiction, you begin to support the health and well-being of your mind and body.
How much vaping is too much?
While it varies from person to person, if you struggle with the side effects of vaping, like dry mouth or trouble breathing, you should rethink your frequency.
Key Takeaways
Vaping can increase the risk of nicotine addiction, which can bring harm to brain development in teens and decrease lung capacity and function. It also has cancer-causing chemicals and toxic metals which can lead to increased fatality.
If you want to quit vaping, then you should start with identifying your triggers, installing a "quit smoking" app, really committing to quitting and strategizing ways to fight cravings.
You should also reach out to your friends and family and let them know about your plans to quit. You can join support groups too to help you in this journey.
An excellent way to distract yourself from your craving is to keep yourself engaged with different activities. You can try exercising as it releases endorphins that improve your mood and sleep quality and helps you achieve a positive mental state.
You should steer clear of any negativity and stress and set clear boundaries with others so that your mental health is not impacted.
Witness the inspiring journey of a 3-year vaper who successfully quit vaping in just 4 days. This captivating video shares the powerful strategies and personal experience that led to a life free from nicotine addiction. Watch the full video here.
Personal Experience: Sources
i. How to quit vaping in 2021
https://truthofaddiction.medium.com/how-to-quit-vaping-in-2021-6669ee392d74
ii. Why You Should Quit Vaping and How…
https://medium.com/@henryghoffman/why-you-should-quit-vaping-and-how-11534c9c779f
Sources
Articles on StyleCraze are backed by verified information from peer-reviewed and academic research papers, reputed organizations, research institutions, and medical associations to ensure accuracy and relevance. Read our editorial policy to learn more.
The following two tabs change content below.