12 Ways To Rekindle Affection And Reconnect With Your Spouse Humans have an innate desire to connect with others. And most romantic relationships bloom when you connect at emotional and physical levels. However, there comes a time when both of you get caught up in busy schedules, different job locations or hours, and taking care of kids and family. As you struggle to take time out to nurture the relationship, you realize it's been really difficult to connect with the person who was once the closest to you. That's why it is important to bridge the gap while there's still time.
The fact that you are here reading this post suggests that you want to make your relationship work. That's the first step forward. The next step is knowing how to reconnect with your spouse. In this post, you will learn ways and gestures that will rekindle the spark and help you both become nesting lovebirds again. Read on!
12 Ways To Reconnect With Your Spouse
1. Act On Their Love Language
According to Dr. Gary Chapman, there are five love languages to expressing it in the best possible way. They include physical touch, words of affirmation, quality time, receiving gifts, and acts of service. You have an idea about your spouse's love language and the way he receives love. Do they respond better when you shower them with gifts or positive affirmations? Does physical touch help them feel connected? To reconnect with your spouse, tap on their love language to get closer to them and reconnect.
2. Cook Their Favorite Meal
Does your spouse love eating or appreciates the art of food? Is "the way to your man's heart is through his stomach?" Then the best way to rekindle your connection is to cook them their favorite meal. No, you do not have to do it every day if you have a busy schedule. But do it frequently so that your efforts are noticed. Cooking them their favorite meal is a great way to say a thousand words without speaking one.
3. Draft Out "Us Time"
Finding time for yourself is tough if you have kids or demanding jobs. By the end of the day, it is natural to feel tired and immerse yourself in your phone before falling asleep. If this has been going on for too long, it could be eroding your relationship.
A smart way of breaking this cycle is to draft out time for the two of you. Block your calendar, set a reminder, put your mobile phone on silent mode, and send the kids for a sleepover or hire a babysitter for the night or day. Whether you choose to sip a little wine and talk, make love, reminisce about old times, or watch a movie together, enjoy the moment and the togetherness.
4. Hum The Songs That You Both Like
Like fragrances, some songs can also remind you of old and special memories. Humming songs that take you back to good times together, the initial days of courtship, and fun times is a great way to subtly make your spouse know that you remember how you both fell in love. Subconsciously, your spouse will also start to respond by being less pulled away. You don't need grand gestures. Doing small things also matters. Singing or humming songs changes the whole ambiance and mood of a house. It feels more home than just scattered gadgets and furniture inside four walls.
5. Go On A Weekend Getaway
Weekends are for relaxing and using the time to unload and unwind. But if you have been only sleeping in or channeling the whole energy into looking after the kids on the weekend, you will barely get to spend the time together. Yes, it can be difficult to leave the kids and go away, but is there a possibility that you both will be able to spend quality time if you take them along? That's why it is best to take your kids to their grandmom's or a friend's place that you can trust. Pack light and go on a weekend getaway with your spouse. You can revisit a familiar place or explore a new one. Relax, talk, hold hands, go on candlelit dinners, explore the place, and just be with each other.
6. Say "Thank You" To Show Gratitude
How often do you say "thank you"? Expressing gratitude by saying these two words is a great way to let your spouse know that you appreciate their smallest of efforts. Do not take each other or your relationship for granted. While you may not think that it is necessary to say thank you every time, subconsciously, it makes a difference when the other person feels respected and valued.
7. Get Them A Book To Read
If your spouse is an avid reader, what's better than getting them a book that will interest them? This works well for couples in long-distance relationships as well. You can read, compare notes, and discuss the book together. Having intellectual conversations can rekindle your spouse's attraction for you. However, it may not be a good idea to give a book that goes against your spouse's beliefs if you have ideological differences. Instead, give them a book that they always wanted to read, or a book that they lost, or a book on certain skills that they wanted to learn for a long time.
8. Play Board Games
Instead of playing on your phone, pick up a board game. It is a date night without the pressure of being on a date. Pour some wine and sit for a good game of scrabble, Catan, carrom board, chess, monopoly, etc. You can ask your kid(s) to join in to have a fun time together. A healthy dose of laughter and competition can set the wheels of romance rolling.
9. Have A Wicked Night Away From Home
How long has it been that you were total wicked in bed? Cannot remember? Well, it's time that you wear your evil coat for the night and show your spouse who's the boss. Having boring and routine sex is also a contributing factor to the small cracks in the relationship. Especially if your spouse's love language is physical touch. It is best that you role play, flirt, and take time with foreplay. Innovate ideas to seduce your spouse, wear unexpected lingerie (or gift one), and have this wicked rendezvous away from home.
10. Go On A Salsa Dance Date
Think your spouse would love a dance date night? Why not go on a spicy salsa dance class date? The sensual salsa moves will reinvigorate your spouse's interest; it will be joyful for both of you as your move your bodies together and learn to coordinate with each other without talking, and diving deep into each other's eyes, sparking the fire with your smiles is definitely going to bridge the gap and get you two closer.
11. Do Something New Together
Couples generally fall prey to routines. Be it going to the same holiday spots or having over the same set of friends for a dinner party. It's time to do something new together. It could be taking pottery classes together or backpacking in Iceland for the summer holidays. Break the monotony in your relationship. There's so much more to the relationship that you are missing out on. Without wasting any more time, list out the things you both have never done together. Filter out the ones that your spouse is not sure of if they want to do (for example, sky diving or honey harvesting). Chalk out the plan and get on with it!
12. Apologize And Work On Issues Together
Anyone can make mistakes. However, mistakes can pile up if you are in a relationship for too long and have never owned your mistakes and apologized. A simple, heartfelt "sorry, I did not mean to hurt you" can change the direction of your relationship. Of course, if the distance between you two has grown too much, you cannot expect your spouse to be all lovey-dovey as soon as you apologize. Be patient and be kind. Put your points of dissatisfaction so that you both can come to a common ground of understanding and respecting each other's boundaries.
Conclusion
Being in love is emotionally and physically fulfilling. However, things don't look so good when you do not appreciate what you have. Before you know it, you have already drifted apart. But such is the power of love and effort to keep it alive that you can shorten the distance with kind gestures and deep understanding. No one knows your spouse or your relationship better than you do. Use the highlights of your relationship, remind subtly why you chose to be together, make your home a peaceful abode for both of you. Soon things will turn around. Take care!
Recommended Articles
The following two tabs change content below.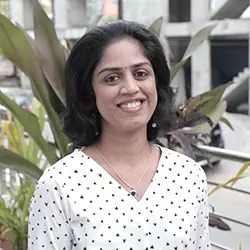 As Chief Editor, Harini sets the tone and editorial direction for StyleCraze to deliver engaging, interesting, and authentic content revolving around women's health, wellness, and beauty. She has over 14 years of experience in content writing and editing for online media. She specializes in the areas of Beauty, Lifestyle, and Health & Wellness and is proficient in Medical Sciences (Biology, Human Anatomy and Physiology, and Biochemistry). Her background in Biomedical Engineering helps her decode and interpret the finer nuances of scientific research for her team. Harini is a certified bibliophile and a closet poet. She also loves dancing and traveling to offbeat destinations.