How To Remove Brassy Tones From Brown Hair
Delve into the nuances of hair coloring to learn to neutralize unsightly undertones.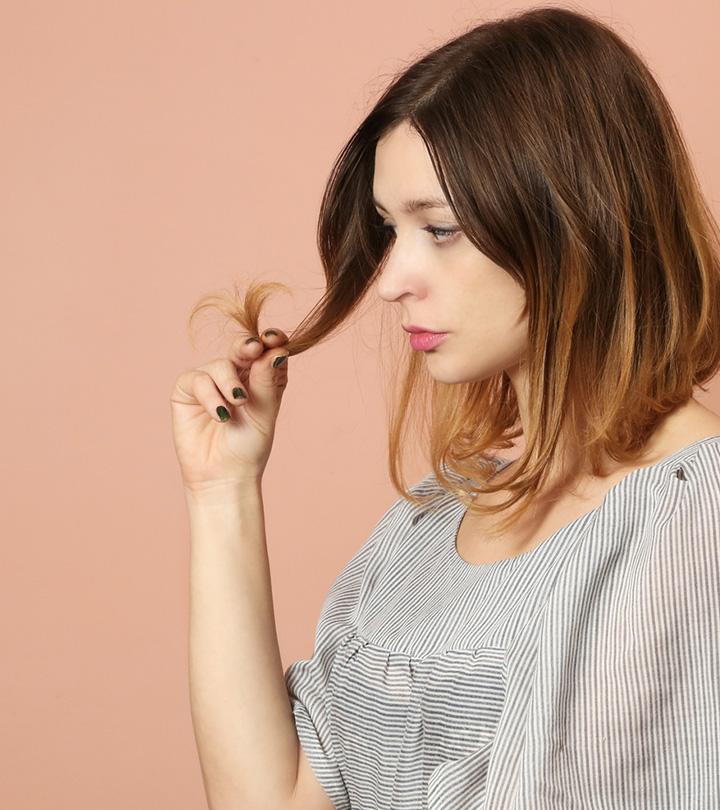 What is more irritating than yellow, red, and orange streaks ruining your highlighted hair within no time? If you can relate to it, it is time for you to remove brassy tones from brown hair.
Of course, you probably feel you wasted time and money in getting the highlights done. Unfortunately, this phenomenon is not limited to a few women and is common worldwide. But the good news is you can completely avoid brassiness in brown hair by taking a few measures. This article guides you through tackling brassy tones if you are a brunette.
Why Does Brown Hair Turn Brassy?
Brassiness is common in color-treated brown hair. Before dyeing, the hair is usually bleached with ammoniai  XAn inorganic compound of hydrogen and nitrogen, ammonia is a colorless gas. It dissolves in water and has a pungent smell. and peroxidei  XIt is a chemical compound where one covalent bond combines two atoms of oxygen. It makes an effective bleaching agent. to lift or oxidizei  XTo oxidize means to alter the hair pigments by exposing the hair strands to chemicals or hair treatments. the melanin pigmentsi  XMelanin pigments are responsible for determining hair color. They are produced in a group of cells called melanocytes. . After bleaching, the artificial pigments in the hair color are deposited into the shafts.
However, sometimes, bleaches cannot oxidize all the melanin pigments in the strands, and eventually, the original hair pigments start revealing themselves through the artificial color pigments. That's when your hair develops a warm tone.
The result? Brassy brown hair!
The intensity of the brassy tones depends on your natural hair color. Light brown hair develops a warm yellow tone, while reddish-orange hair develops deeper brassy strokes.
In a nutshell, the brassy tones are caused by the melanin overpowering the hair dye in your strands.
Don't be sad thinking that your money and color are both washed down the drain. You can easily remove brassy tones from brown hair.
All About Removing Brassy Tones From Brown Hair
There are multiple ways of getting rid of brassiness in hair. If you want to avoid salon hair treatments, you can try the following remedies to fix brassy brown hair at home.
1. Use Apple Cider Vinegar
Apple Cider Vinegar, or ACV, is a popular ingredient in organic hair care routines. It is commonly used as a post-shampoo hair rinse due to its perceived medicinal and hair benefits. It is said to balance the scalp pH and add a natural shine to the hair. People also use it to maintain and preserve their hair color.
Ingredients
1 cup of ACV
1 cup of filtered water
2-3 drops of tea tree oil (optional)
Process
Mix the ACV, water, and essential oil.
Rinse your hair with the solution after shampooing.
Leave it on for about 10 to 20 minutes.
Rinse off with cool water.
2. Apply Baking Soda
The application of baking soda to the hair had started off the "no-poo" trend. This method is not scientifically backed. However, many people use it to avoid frequent hair washes and prevent color fading. It helps to remove dirt and excess oil. However, excess use of baking soda can sensitize the scalp and cause brittle and dry hair.
Ingredients
1 tablespoon of baking soda
1-2 pumps of any sulfate-free shampoo
2-3 drops of blue or purple food dye
Process
Combine the shampoo, dye, and baking soda to make a homogenous mixture.
Massage your hair with the mixture.
Leave it on for 10 to 15 minutes and rinse it off.
Finish it off with a conditioner.
3. Tea And Lemon Juice Toner
This is a DIY brassy brown hair toner. Using this toner 3-5 times a week may help prevent brassy tones.
Ingredients
2.5 cups of water
4 scoops of chamomile tea
Juice of a medium-sized lemon
Process
Steep the tea in hot water for 8 to 10 minutes.
Strain it and mix lemon juice.
Use the mixture as a post-shampoo rinse. Leave it on for 30 to 45 minutes.
Wash your hair with cool water.
4. Use A Blue Or Purple Shampoo
Blue or purple shampoo neutralizes the warm brassy, and yellow tones to restore your hair color. The cool colors like blue and purple are on the opposite spectrum of warm colors like red and orange. They neutralize the effect of the warm shades seen in brassy brown hair. To use a purple or blue shampoo:
Wet your hair.
Apply a coin-sized amount of blue or purple shampoo to your hair. Coat all strands well.
Leave it on for not more than 20 minutes.
Rinse off the shampoo and apply conditioner.

Quick Tip
You can also apply a purple hair mask to tone down the brassy tones in your brown hair.
5. Use A Hair Toner And Conditioner
Hair toners are color correctors that eliminate the yellow, red, and orange undertones in your brown hair. Some toners may deposit pigments directly onto the hair folliclesi  XThe shaft of the epidermis through which hair grows is known as the follicle. It is found in the skin's dermal layer. , while others have activators to penetrate the hair and leave behind a semi-permanent effect.
Hair toning products for brown and brassy hair must be diluted with shampoo or conditioner before application. You can also purchase a toner-enriched shampoo, conditioner, glaze, or gloss.
The following section lists a few measures to take to prevent the recurrence of brassiness. Scroll down for more information.
Ways To Prevent Brassiness In Brown Hair
1. Switch Your Hair Products
Regular shampoos and conditioners fade the hair color faster. Always use color-safe hair products to prevent fading and brassiness.
2. Avoid Excessive Heat Treatment
Excessive exposure to heat styling tools like blow dryers and hair straighteners or curlers on high heat can fade the hair color and cause brassiness. If you cannot avoid using them, coat the hair strands with a heat protectant before styling. Also, limit the usage of heat styling tools and try to air dry your hair.
3. Limit Sun Exposure
Protect your hair from the UV rays, as they can alter your hair color and cause brassiness. Cover your head when you step out in the sun. Use a UV protection hair spray.
4. Use A Neutral Hair Dye
Use a neutral dye to achieve the same effect as blue and purple shampoos. Neutral dark and medium brown hair dyes contain a blend of blue and green dyes to neutralize red, yellow, and orange tones. They also refresh the hair color and impart an envious sheen and glow to your hair.
5. Limit Washing Your Hair
The more you wash your hair, the quicker the color will fade. Wash your hair not more than twice a week to prevent brassiness. Use only lukewarm or room temperature water as hot water can fade the hair color.
6. Avoid Swimming
It is because chlorine exposure can damage your hair. Chlorine has an abrasive effect that may roughen your hair and fade the color. Avoid taking a dip at the beach, as saltwater will have the same damaging effect. If you want to swim, cover your head properly to prevent water exposure.


Quick Tip
The butterfly pea flower is a natural alternative to reduce the brassy tones of brown hair. Boil the flowers in water for 15 minutes and mix this water with your shampoo.
Infographic: Home Remedies To Remove Brassy Tones From Brown Hair
Hair coloring sounds so exciting and fun to experiment with. But the excitement starts to fade away as soon as the color starts fading. It gradually shows brassy tones which can damage your overall hair color and style. And salon appointments are too expensive for you to keep getting color refreshers done. However, there is something you can try at home.
Check out the infographic below for the best home remedies to remove brassy tones from brown hair effectively.



Your brown hair can get brassy when the bleaching agent in the hair dye does not remove melanin from the strands effectively. Light brown hair takes on warm yellow hues, while reddish-orange hair takes on deeper brassy tones. You can remove brassy tones from brown hair with ingredients from your pantry, such as lemon juice and tea, apple cider vinegar, and baking soda. You could also use purple shampoo, hair toner, and toning conditioner. There are some additional tips mentioned above to keep your hair brassy tone-free. Follow these tips to keep your hair color looking fresh and vibrant. You can also head over to your nearest trusty hair salon to correct those brassy tones.
Frequently Asked Questions
How do you get rid of brassy hair fast?
The best way to get rid of and prevent brassy hair quickly is using a purple shampoo. You can also use toner to eliminate the brassy tones from your hair.
Will peroxide get rid of brassy hair?
Peroxide helps in preventing brassy hair after bleaching. Post bleaching, hair stylists usually suggest mixing a little bit of hydrogen peroxide with your toner to reduce the chances of your hair turning brassy.
How do you neutralize brassy tones?
For brunettes, using a blue shampoo and conditioner should do the trick. If you're blonde, a purple shampoo or mask can work well. Another option is to use a hair toner designed to balance the color and neutralize brassy tones.
How can I lighten my brown hair without brassiness?
To lighten brown hair without the brassiness, you can use the blue shampoo and conditioner designed for brunettes. You can also use color-depositing, blue-toning shampoo and conditioner which neutralize unwanted orange and brassy tones in brown hair. While the sun naturally lightens the hair, leading to brassy tones, always use a UV protectant spray or wear a hat when outdoors.
Can brassy tones be removed without damaging the hair?
Yes. One option is to use a blue or purple shampoo and conditioner duo that's designed to neutralize brassy tones. But it is always best to talk to a hair colorist before trying any method to find out which one will work best for your hair type and desired look.
Is it safe to use purple shampoo or other toning products on brown hair?
Yes, you can use purple shampoo or other toning products on brown hair. They work to neutralize any unwanted warm tones in your hair, even if you haven't lightened it. Toners are also safe to use on brown hair and can help you achieve your desired look, but don't leave the product on for too long as it can damage your hair.
Can a hairdresser help me remove brassy tones from my brown hair?
Yes, a hairdresser can definitely help to remove brassy tones from your brown hair. They know what methods and products work best for different hair types and styles.
Key Takeaways
Original hair pigments that are not entirely oxidized by bleaching agents show up as brassy tones
You can remove these brassy tones with apple cider vinegar, baking soda, or chamomile tea with lemon juice.
You can also try blue or purple shampoos, and hair toners and conditioners.
Keep your tresses from gaining a brassy hue by avoiding heat, using the right hair products, and more.
Transform your brassy orange hair into a beautiful brunette! Learn how to get rid of orange tones and achieve the perfect brown hair with the help of this video.

The following two tabs change content below.