4 Ways To Remove Hairspray from Your Hair
Simple hacks that help you avoid the risk of product build-up and greasy scalp.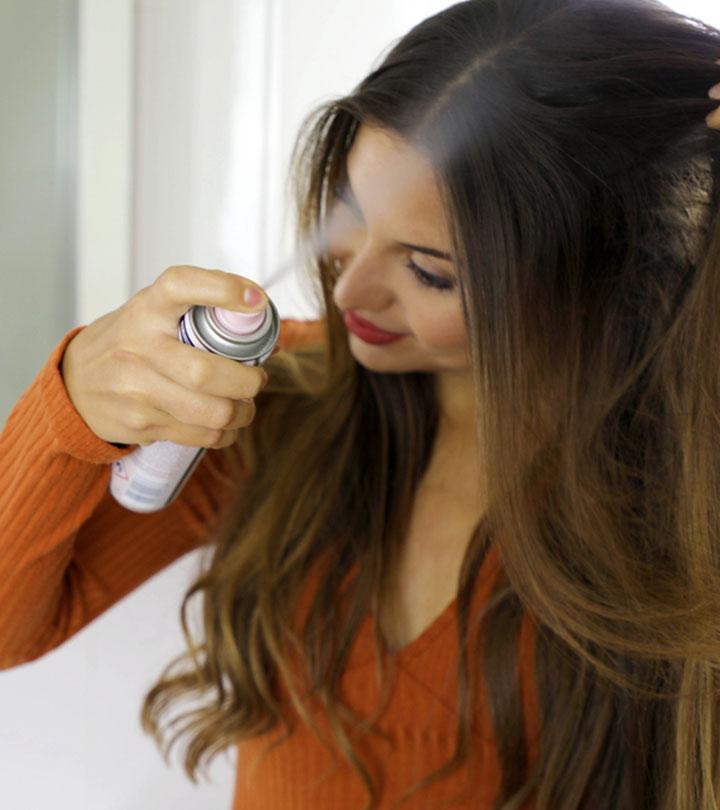 A hair spray is perfect for styling and managing your hair. Just make sure you don't forget to remove hairspray from your hair later. Hairsprays can leave behind a residue on your scalp and hair if you use them too often. It clogs the hair follicles and causes itching and hair loss if not removed. You may also experience greasiness, dullness, and hair breakage. Hence, it is important to remove hairspray buildup for better grooming and there are several different ways to do so. Here are some tips. Scroll down.
4 Ways To Remove Hairspray Buildup Naturally
Here are a few hacks to remove hairspray buildup:
1. Dish Soap
Don't be surprised to see this product top the list. Dish soaps have detergents and can easily remove hairspray buildup. Use a regular dish soap with a mild formula. Spread it on your hair with a comb. Leave it on for at least 15 minutes, and then rinse your hair. For a light buildup, you can also use regular shampoo instead of dish soap.


Quick Tip
Use dish soap cautiously. They are harsh and may strip nourishing oils from the hair and scalp. Moisturize your hair if you ever use dish soap on it.
2. Baking Soda
Your regular shampoo alone may not remove hairspray buildup. Add a tablespoon of baking soda to it and mix well. Spread the mixture on your hair and leave it on for a while before rinsing. You may also rub baking soda directly on wet hair and scalp and wash it off with a shampoo.
3. Clarifying Shampoo
If you use hairspray every day, a clarifying shampoo is the best for removing buildup. Clarifying shampoos contain a high amount of SLS (detergents) that remove any buildup and dirt from your scalp. However, do not use it every day.
4. Apple Cider Vinegar
Apple cider vinegar (ACV) is popularly used as a post-shampoo rinse to maintain hair health. It also helps remove any product buildup or residue. Add a tablespoon of ACV to a cup of water and use it as a final rinse. You can adjust the quantity as per the hair length. Apple cider vinegar also enhances your hair's beauty by making the hair smooth and shiny.


Quick Tip
Apply leave-in conditioner at night and brush your hair to dissolve the spray residue on the scalp. Wash your hair the following day.
If you are using hairspray or any other hair styling product, ensure to wash it off at the end of the day. Leaving it on your
hair for too long may damage it
. Let's find out how.
Is It Bad To Leave Hairspray In Your Hair Overnight?
Yes. Most hairsprays and styling products are oil-based. If you do not wash them out before sleeping, they may leave residue on the scalp. The dirt and grease can clog the pores on your scalp, affect the hair follicles, and cause acne and hair fall if the hairspray is left in for too long.
Infographic: Natural Ways To Remove Hairspray Out Of Hair
Hair styling products may leave behind a residue on the scalp. It can lead to hair breakage and dryness. There are a few methods discussed above to remove hairspray from your hair. However, if you do not like using soap or detergents on your hair, you may check out the infographic below for the natural ways.


If you have greasiness, dullness, or hair breakage, the culprit could be hairspray buildup on your scalp and hair. Hairspray may be ideal for keeping your hairdo in place all day, adding volume, and taming frizz, but excessive use can leave debris on the scalp, drag down the hair, and cause hair fall. To counteract hairspray buildup and keep your scalp and hair healthy, follow the tips in this article. Keep in mind that the majority of hairsprays are oil-based. They may leave a residue on the scalp if not washed out before bedtime. Dirt and grease can block your scalp's pores, impact your hair follicles, and lead to acne and hair loss.
Frequently Asked Questions
What happens if you use hairspray every day?
Dawna Jarvis, a master hairstylist, says, "Continuous use of hairspray leads to a buildup of the product on the hair. This can make the hair look dull. The alcohol used in hairspray also dries your hair, which can be very damaging. It would be best to use a clarifying shampoo every other week to remove build-up, followed by a deep conditioning treatment to restore moisture."
What can I use instead of hairspray?
Dawna advises, "In place of hairspray, you can try using a texture spray."
Will lemon juice remove hairspray from your hair?
Yes, you can wash your hair with lukewarm lemon juice to remove hairspray from your tresses.
Can coconut oil remove hairspray from your hair?
Yes. You can apply coconut oil to your hair, and then wash it off with warm water and shampoo to remove the effects of hairspray from your strands. However, make sure you don't use too much of it as it is heavy and can be difficult to wash out.
Key Takeaways
Just like makeup, it is important to remove hairspray from your hair at the end of the day to prevent residue buildup.
If you use a lot of hairspray, leaving it in your hair overnight may clog the hair follicles and lead to dull, greasy hair.
Common household products like dishwashing liquid, vinegar, and baking soda can come in handy in removing hairspray.