How To Remove Your Makeup Properly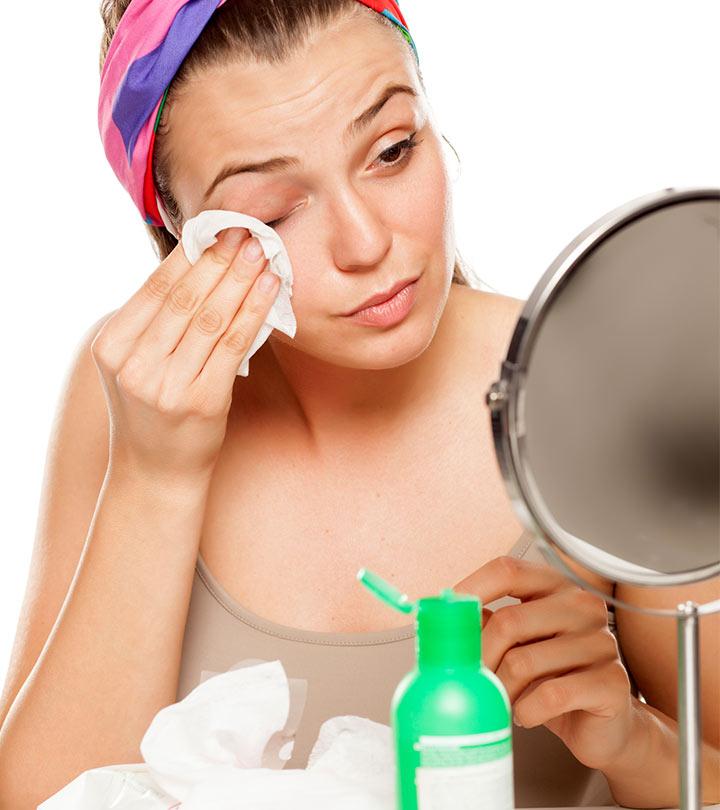 Despite our love for clean, glowing skin, removing makeup is a chore we often neglect. While some avoid it because they are too lazy, others don't know how to remove makeup the right way. But as exhausting as it is, removing makeup is a vital skin care routine.
Dr. Anna Chacon, M.D., a dermatologist, outlines the importance of removing makeup before going to sleep. She says, "You should remove makeup using wipes, creams, and solutions such as micellar water, as makeup clogs your pores, and its ingredients may be comedogenic, meaning that it causes acne." So, if you want to learn more about the right options to remove your makeup according to your skin type and makeup, we are here to help. This article lists different ways to remove makeup flawlessly for crystal clear skin. Scroll down!
Why You Should Remove Makeup At Night
During sleep, the skin renews itself and promotes collagen production, reducing the appearance of aging signs to reveal healthy skin. Sleeping with makeup on stops the skin from breathing and breaking down collagen, making it look dull and tired.
Makeup is made of oily substances, and when left on, it can clog pores and lead to breakouts.
Not removing makeup at night can have harsh effects on your skin as it contains alcohol that dries the skin out.
Leaving on mascara all night can make eyelashes brittle and dry, eventually letting them fall off.
Makeup removal is crucial for overall skin health. It removes cosmetics, pollutants, and dirt from your skin, which may cause irritation, premature aging, and other skin-related issues. Head to the next section to learn about some ways to remove makeup effectively in an eco-conscious manner.
How To Remove Makeup Without Wipes
Oil Cleansing: Oil cleansing doesn't have anything to do with your skin type. Apply oil to your face and lightly rub your skin to gently remove impurities, dirt, and most makeup.
Gel Cleansers: Gel cleansers are often oil-free and non-comedogenic, making them great to cleanse sensitive skin. Use them to remove waterproof eye makeup and reveal fresh and healthy-looking skin.
Cream Cleansers: Cream cleansers are a boon for people with dry skin. The gentle formula exfoliates makeup, grime, and dirt, leaving the skin smooth and bright.
Soap And Water: Nothing beats the old soap and water technique. Get a skin-friendly face soap, rub it on your palms with water, and gently sweep your palms on your skin in a circular motion. A splash of water, and your skin is all clear and shining. Choose a soap that suits your skin and makeup type.
Vaseline Petroleum Jelly: That tiny tub of Vaseline is sitting under all the unnecessary baggage load in your big handbag. Pick it out and apply a small amount all over your face. Let it sit for 4-5 minutes and wipe off gently.
Cold Cream: The classic cold cream can do wonders in removing makeup and moisturizing your skin. Apply a small scoop on your face and gently wipe off with a cotton cloth or pad. Wash off to reveal clear and smooth skin.
Baby Oil: Baby oil can sweep away all the dirt, impurities, and makeup instantly. Take a dime-sized amount on a cotton pad and gently wipe your face with it. And voila! You get a makeup-free face in minutes. It is a gentle and super soft way to remove makeup.
If you don't like hoarding a lot of cleansers, moisturizing products, chemical exfoliators, etc., natural methods of makeup removal are what you need. Ingredients like coconut oil, baking soda, honey, and more from your kitchen counter can help remove makeup effortlessly without the harsh chemicals of cosmetic products. The final result is glowing, fresh, and clean skin. Let's find out how you can use natural items for removing makeup. Read on.
How To Remove Makeup Naturally
Coconut Oil: Believe it or not, coconut oil is the easiest way to remove makeup. Take a pea-sized amount on your palm, rub it all over your face, and massage gently. Rinse the oil off to get smooth, clean, and brighter-looking skin instantly.
Olive Oil: Olive oil is great not just for your body but also for your skin. Massage a few drops of the oil on your face gently, removing traces of makeup. Wash your face with lukewarm water or a cleanser.
Milk: Cleopatra's secret for glowing skin was bathing in milk. While you probably can't do that, soak a cotton ball in milk and wipe it all over your face. Wash it off for squeaky clean skin.
Baking Soda And Honey: If chemical exfoliators bother your sensitive skin, baking soda and honey can come to your rescue. Put some organic honey on a cotton pad and sprinkle baking soda like confetti. Apply to the face gently to unlock healthy, clear skin in seconds.
Cucumber Juice: Cucumbers have anti-inflammatory properties and can help to calm inflamed or acne-prone skin. Purée a cucumber in a blender, add a few drops of your carrier oil, and it's ready to use. This combination calms your skin while removing your makeup.
While removing makeup is a tedious task, it becomes tougher when you are dealing with waterproof makeup. Trying to get rid of waterproof makeup with ordinary wipes or light cleansing formulas is an effort in vain. Instead, you should use a formula that is gentle on the skin and hard on the makeup. Below are a few tips to get rid of heavy-duty makeup without agonizing your skin.
How To Remove Waterproof Makeup
Double cleanse with an oil-based cleanser and follow it up with a water-based cleanser to remove waterproof makeup.
Facial oils, cleansing milk, balms, and micellar water specially formulated for waterproof makeup are also good options.
The eyes are the most sensitive part of the face. Hence, removing eye makeup should be the first step in your makeup removal routine. Always use an eye makeup remover for the purpose. Use a soft cotton cloth or a clean cotton pad on the eyes. Don't rub it rigorously and wipe gently. Wash once makeup is removed.
Note: You should take off waterproof makeup completely and thoroughly to prevent harmful skin reactions or infections.
Heavy, long-lasting makeup is a struggle to get off. It might seem very time-consuming, but knowing how to remove heavy makeup at home can save both your time and effort. Head to the next section for the most effective ways to remove heavy makeup without professional cleansing and exfoliation.
How To Remove Heavy Makeup At Home
• Use natural oils like coconut oil and olive oil to remove makeup and leave the skin feeling nourished and smooth.
• You can also use waterproof micellar water that dissolves intense makeup easily, leaving the skin purified.
• Reusable makeup removing towelettes are another great option for those layers of makeup. Wipe your face with the towelette and follow up with a gentle cleanser.
The most essential step in skin care is not to be well-versed with complex makeup techniques. Instead, it is to be thorough with removing your makeup and deep-cleansing your skin to avoid clogged pores. If your pores do not get to breathe, the grime and impurities will lead to acne, skin dryness, wrinkling, and the appearance of other signs of aging. Therefore, it is fundamental that no matter how tired you are after an exhausting day, you must make time to remove your makeup and go through all the steps of a nice and healthy skin care regimen before calling it a day and going to bed.
This article is a beginner's guide on how to remove makeup and the various products and remedies you can use for the sensitive skin on your face. Be mindful and sincere in your efforts to know your skin type and find products that suit it best. All of this effort goes a long way!
Key Takeaways
Removing your makeup at the end of the day is essential in keeping your skin clean and healthy.
While makeup remover wipes can come in handy when you are short of time or patience, double-cleansing with a waterproof makeup remover is essential for heavy makeup.
Make sure to choose a makeup remover as per your skin type that helps nourish your skin as well.
The following two tabs change content below.