How To Start A Conversation On Tinder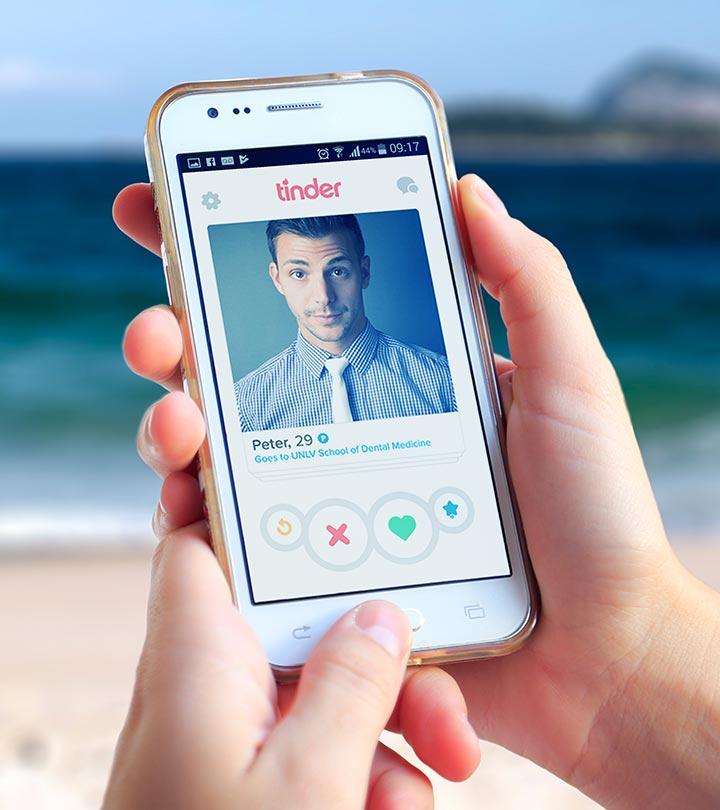 Tinder, Tinder, everywhere, not a boy to date! Yes, we know the struggle. It seems like after all those right swipes, things never get anywhere. After the initial his and hellos, there is complete radio silence from the men. But why? What went wrong?
Nothing princess! It is, most probably, nerves on their part. You don't have to wait around like a damsel in distress, hoping to get messages from him! This is the 21st century, and you are going to take the initiative. But, how, you may ask? Chill, as always, we have the answers for you.
How To Talk On Tinder? We have a list of things that will help you initiate a conversation with your dream boy on Tinder. Go through them and get this thing going.
Best Tinder Conversation Starters
1. Send A GIF Instead Of A Hi
If you guys have already matched, half of the work is done. But if the guy has still not pinged you, there is no harm in getting the ball rolling. Starting a conversation with GIFs is a great way.
When you approach someone new in a different way than the boring hello, your fun personality will shine through. It will also result in an instant bond, and he will be more comfortable in replying to you – maybe with a GIF of his own! Then, after he responds, follow it up by asking an interesting question.
2. Talk About The Thing Most People Love In This World – Food
If you want to boost the chances of him responding, talk about food. The closer you get to guessing his favorite dish, the more favorably he is going to react. In fact, you could give him choices between two kinds of dishes – he is surely going to fall for this!
Also, it will make for a fun Tinder conversation topic and break the ice. For example, you could ask:
Pizza or pasta, salad or steak – what is the way to your heart?
Tea addict or coffee drinker? Please, don't say matcha tea!
This is a super fun way to get the giggles started.
3. Ask Something Personal – But Not Like You Are Interrogating Him
You can also start off with a Good Tinder Questions related to personal. To do that, you will first have to go through his profile and look for something genuine you can question him about. For example, you can ask him something like this:
Did you take your pic at Olive Bistro? I feel I was there that day. I have a faint memory of seeing you take a selfie there! What are the odds?
You have two sisters as well? OMG, you will be able to relate to me so much! Isn't life crazy with them around?
These types of messages get his attention and show that you are actually interested in his profile and not just saying hi and planning to ghost later. When he responds, you can continue from there. Steer clear of questions about his ex and love – it's too soon for that.
4. Pay A Compliment – A Genuine One
Men or women – no one can resist a good compliment, especially if it is genuine. Take a good look at his profile and come up with a compliment that would mean something to him.
For example, if he has stated that he is studying in ISB, you could write something like: "Wow, your profile says you are from ISB. You must have studied really hard to get through, it's not at all easy!"
Or, if he has shared nothing personal on the profile, you can go for something like this:
That jacket you have on is BOMB. You have a great sense of style.
I have never seen someone rock that hairstyle as well as you. It suits you perfectly!
He will be floored for sure.
5. Use His First Name In The Conversation
This shows that you are trying to connect at a deeper level and are committed enough to this to get personal. According to Dale Carnegie, "A person's name is the sweetest sound in any language for that person." Well, it sure does on Tinder!
Including his name in your first message will create an instant bond and a sense of familiarity, and he will be more likely to respond to your message. For example, you could write something like this:
Ryan, you have such a cute dimple. I always wanted one!
Jax, your name is so unique! What does it mean?
6. Message Him At 5 PM
It is more likely that he will get on Tinder in the evenings. Also, people get that 'I wanna go out and have a drink' syndrome in the evenings, more so when they want to chill after work.
If you message him at a time when he is already planning to go out, chances are he will respond to you in the hopes of having a conversation along with a drink. Also, you won't look as creepy as you might if you message him the first thing in the morning!
7. Keep The Questions Coming
This may not work if the guy is not into you at all and is giving one-word answers to all your queries. But if he is the shy type, he may need gentle prodding to open up to you. Ask him questions about him, his likes and dislikes, his schooling, and his family, so the conversation doesn't die off after the initial hi and hello.
Don't come off too strong, though, as that may scare him off. Guys like the attention, but don't give off too obsessed vibes. Also, don't ask him anything about his past relationships, why they broke up, where he stays, etc. as it may turn him off.
8. Don't Be Afraid To Be Funny
Having a great sense of humor is always appreciated, whether on Tinder or not. Tinder is just the new coffee shop or bar, a new place to meet people. Get your funny hat out, and start off with a funny or cute message.
If you guys gel, you will know it from the start that you both are going to make each other laugh. If not, well, wish him better luck for next time.
9. Find Out What's Common Between The Both Of You And Start Off
Skip the introductory parts like hi and hello and chat as if you have known each other forever. Keep it casual, but make sure that it is apparent that you are interested in him. This will ease his nerves, and he will feel more comfortable with you. Virtual conversation or not, the trick is to find something common to talk about.
You can try asking if he has pets or likes animals to see if your Tinder buddy feels the same way as you do. If they do, they will be super excited to tell you all about their pets, and you can tell them all about yours. Or, if you see something familiar in their pictures, you could start off your conversation from there.
10. Introduce Yourself First
No, it does not come across as selfish or self-absorbed. How is the guy to know whether you both are gonna gel or not? Start off by saying something about yourself that he would find interesting. For example:
That's such an adorable cat in your pic! I have two cats too, Mikkie and Millie. Both girls. Is yours a tom?
I really like a good conversation and wine, books too, but I love to yap yap. How about you?
That's more or less what you need to know when you want to start the conversation. However, be aware that it is not always going to have a positive outcome. There may be times the guy may ignore your messages – and there may be multiple reasons for that. He may be taking a break, has already found someone, or is simply not in the mood.
Don't take that as a hit to your self-esteem. It's fine. Get on with your life, and don't obsess over it. Wait for a while, unmatch him, and carry on. It's all about having fun – all the best!
Recommended Articles:
The following two tabs change content below.

Latest posts by Harini Natarajan (see all)

Harini Natarajan
As Chief Editor, Harini sets the tone and editorial direction for StyleCraze to deliver engaging, interesting, and authentic content revolving around women's health, wellness, and beauty. She has over 14 years of experience in content writing and editing for online media. She specializes in the areas of Beauty, Lifestyle, and Health & Wellness and is proficient in Medical Sciences (Biology, Human Anatomy and Physiology, and Biochemistry). Her background in Biomedical Engineering helps her decode and interpret the finer nuances of scientific research for her team. Harini is a certified bibliophile and a closet poet. She also loves dancing and traveling to offbeat destinations.