How To Get Rid Of Static Hair After Straightening
Try our pro tips to avoid untamed flyaways that ruin the purpose of heat styling.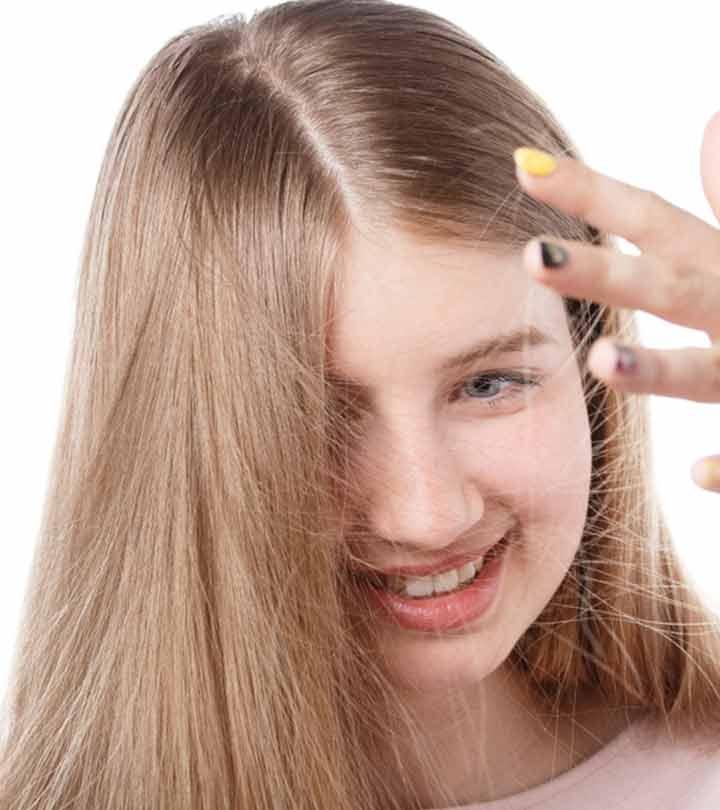 If you frequently use a flat iron, you may notice static hair after straightening your locks each time. It ruins the whole purpose of straightening since the hair gets frizzy and messy eventually. Hair straighteners can help create that flawlessly styled, sleek hair, but the high heat can dry out the strands by robbing them of moisture. Straighteners are indispensable, but dry hair is no fun at all. Read this article to learn how to prevent static with simple changes to your hair care regimen.
Stylecraze Trivia
In winter, hair becomes especially dry and static-prone because of the cold, low humidity, and extreme temperature changes due to indoor heating.
Why Do We Get Static After Hair Straightening?
Dry hair that lacks moisture produces static (1). Flat irons used in high temperatures dry out the hair, leading to static. This makes the hair shafts repel each other, resulting in flyaways (1). The rubbing of a flat iron against the hair strands builds a minute electrical charge due to electron transfer. Thus, it is normal for the hair to experience static while straightening.
Lets find out how to get rid of static from your hair, especially after straightening it.
How To Get Rid Of Static Hair After Straightening
Protect your hair from dryness and replenish its lost moisture with a hydrating shampoo and conditioner. Ensure these products do not contain any harsh agents, such as alcohols, fragrances, and sulfates, which might further damage your hair.
Do not overwash your hair, as that can strip your hairs natural moisture.
Always apply a conditioner after shampooing your hair. Deep condition your hair with nourishing hair masks at least once a week.

Switch to ionic (ceramic or tourmaline) hair dryers as they balance the ions and reduce static. Use hair dryers at least 15 cms away from you to prevent hair damage.
Straighten your hair only when it is completely dry to prevent static. Do not straighten, style, or even tug damp hair as it is fragile. Also, use microfiber towels for taming frizz.

Apply a thermal protectant or hair serum before using flat irons or hot styling tools.
Use wooden or horn combs with natural bristles to minimize static formation. You can use a paddle brush for taming frizz and flyaways.
Follow up with anti-frizz or humidity-resistant sprays after straightening your hair. They act as barriers and prevent moisture loss from your hair. However, use these products sparingly a little goes a long way.
Apply hair oils to restore the natural moisture level of your hair. Hair oils help seal the hair cuticles and lock moisture in the hair.
Avoid clothes, hats, hijabs, and scarves made of synthetic fabrics as they can rub against the hair and create static. Instead, go for natural fibers, such as cotton or silk.
Stylecraze Says
Use a microfiber towel or cotton t-shirt to dry your hair. Gently squeeze the water to avoid friction and static hair.
Hair straighteners dry out your hair and rob off the moisture from the strands, leading to static electricity. It makes the strands repel and result in static hair after straightening. Keeping your hair moisturized, avoiding harsh chemicals, applying hair oils, using wooden combs, etc., may help improve the condition and get rid of static hair. You may also apply thermal protectants to reduce damage, dryness, and static. Following a proper hair care routine and the tips mentioned above can help you achieve soft, smooth, and static-free hair.
Frequently Asked Questions
Does dehydration cause static hair?
Yes. Dehydration makes your hair dry and as a result, it produces static electricity, making your hair frizzy (1).
Key Takeaways
Hair can become static-ky after using a straightening tool because of low moisture content and sudden electrical charge.
There are many tips to reduce static – you can maintain the moisture in your hair, in addition to following other tips.
Sources
The following two tabs change content below.