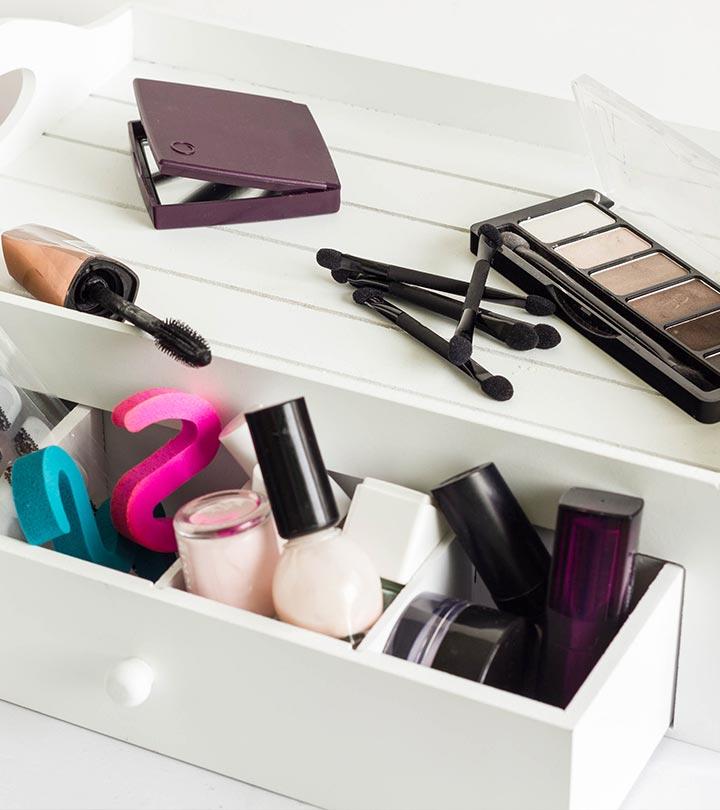 Whether you are a professional makeup artist or an amateur makeup enthusiast, you have one thing in common – your love for makeup. If you still store your makeup collection in one of those big pouches or your bathroom cabinet, let me tell you this – you're making a big, boring mistake. Organizing your makeup can be therapeutic. Want to know the first step to a gorgeous vanity? Dump those old products you haven't touched in two odd years and put your creative hat on!
We have rounded up 18 fun and unique ways to help you store and organize your makeup. If you are convinced that change is good, read on for a whole bunch of makeup decor ideas.
18 Creative And Unique Makeup Storage Ideas
Some of these makeup storage ideas require a good budget, but we also have a few cool and inexpensive DIY ideas to fulfill your aesthetic needs. Decluttering begins here!
1. Sectioned Drawer Dividers
Look at how neat this looks! Depending on the size of your makeup collection, all you need is a drawer with properly set up sections to store your lipsticks, concealers, compacts, mascaras, and all the other products from your vanity. There's also sufficient space for your brushes and sponges. Although this is a basic makeup storage idea, it sure is very practical for those of you who like to keep your stuff stacked away in different drawers. Want to satisfy your OCD? Give this idea a shot!
2. Plastic Sections In Your Vanity Drawer
Don't worry if your vanity drawer doesn't come with sections already. You can simply create your own! All you need is a bunch of plastic or acrylic boxes that you can easily find on Amazon. Make sure you compartmentalize your drawer well with boxes that fit just right. Next, bring out your makeup collection and start sorting it into palettes, lip colors, foundations and other makeup. It not only looks put-together but also makes your life so much easier!
Buy Now: www.amazon.com
3. Ikea Makeup Rack
This rack from Ikea is the perfect display setup for your makeup. I mean, look at how gorgeous everything looks! You can buy a few acrylic cosmetic cube organizers to store your lipstick collection. Find some pretty trays and mugs for your makeup brushes and add a few candles to decorate the rack. Make sure you place the rack in a cozy corner that's close to your mirror, and you're all set!
Buy Now: www.amazon.com
4. Makeup Brushes In Pretty Containers
If you're a makeup brush hoarder, you need to find a decent way to store those precious babies. What you can do is buy a few fancy cut-out containers in different sizes and arrange your brushes in them. It is a good idea to find holders that complement your dresser. Say goodbye to dirty brushes because, admit it, we've all left our brushes in drawers with all the other products we own.
Buy Now: www.amazon.com
5. DIY Artsy Makeup Holder Cups
Are you a sucker for recycling? If yes, this is something you have to try! You can create your own makeup brush organizer using paper towel tubes. You simply need to wrap eight different sizes of tubes with colorful gift wrapping paper and glue them all together on a round base. You can place this organizer on your dresser for easy access to your brushes and other knick-knacks. So, if you're feeling artsy, bring out those art supplies and give this DIY idea a try.
6. DIY Minimalist Makeup Stand
If your makeup stash is small, this stand is ideal for you! All you need is a wall and a few acrylic floating shelves. You can organize your makeup and label each shelf with different categories – lips, face, eyes, and tools – using vinyl stickers. Pretty cool for a minimalist, right? You can easily find these spice racks in a container store or on Amazon.
Buy Now: www.amazon.com
7. Classy Makeup Shelf For Beginners
You know what's special about this classic white shelf and its marble background? It looks neat and hella sophisticated. If you like this aesthetic and don't have marble walls, get a wallpaper! Stack up your makeup as per your convenience, but make sure you don't arrange a lot of products out here. Just your everyday essentials arranged tastefully will look great on this shelf.
Buy Now: www.amazon.com
8. DIY Office Shelf Organizer
You can do some serious makeup organization with the help of an office shelf organizer. Neatly organize all your makeup in each of the drawers and place the organizer on your vanity. There's also space for you to keep a brush holder on top. Doesn't this look super convenient and doable?
This idea is perfect for beginners with a few products.
Buy Now: www.amazon.com
9. DIY Makeup Mason Jars
Everything looks pretty in a mason jar! If you – like me – find them incredibly handy and artsy, give this a shot! All you need is a few mason jars to hold your precious essentials like cotton pads, makeup brushes, and lip balms. Use a Sharpie to create illustrations on the jars (just for a cutesy effect) and create a spot for them on your vanity. Your vanity will look straight out of Tumblr!
Buy Now: www.amazon.com
10. DIY Makeup Brush Holder
This is another simple and pretty way to store your makeup brushes. Find a couple of glass jars and get hold of some plant fillers that you can find in any craft store. You can find these beads in a wide range of colors, so pick one that goes with your vanity's aesthetic. Just pour the beads in the jars and place your brushes in them! Did I mention how easy this project was?
11. DIY Makeup Organizer And Nail Polish Rack
Check out this sleek rack! It's perfect for your eye makeup, palettes, and nail polishes. Also, it won't take up a lot of space. Just mount it on a wall either near your dresser or in your bathroom and arrange your essentials in it.
12. DIY Makeup Sponge Jars
This is one idea every one of us needs to implement. It is also the easiest! You do not want your makeup sponges lying around in dirt, neither do you want to mix the clean ones with the dirty ones. Buy a couple of mason jars with lids and label them. Place your sponges in these jars and never miss out on that scheduled wash you owe your used sponges. Your skin will thank you!
13. Cute DIY Lipstick And Brush Holders
You can make great use of empty cereal boxes and paper towel tubes to create these lipstick and brush holders for your vanity. All you need to do is cut them out and cover them with colorful gift wrapping paper. If you are in the mood for some crafting, this would be the perfect project to start with! These DIY makeup holders also make a cool present for your girlfriends.
14. DIY Hanging Makeup Organizer
This hanging makeup organizer bag is a savior for those who are short on space and also for beginners. It conveniently fits all your stuff in a compact manner. You can either hang it up next to your mirror or in the bathroom when you're getting ready. Pretty neat, right?
Buy Now: www.amazon.com
15. DIY Minimalist Vanity
Isn't this a gorgeous-looking space? The shape of the mirror, the color of the dresser, and just a few essentials on the top add to its sophistication. If you want to create a space like this in your room, make sure you find a spacious spot to set up shop. As you can see, it is easy to pull off. All you need are a mirror and a fancy table. You can buy a few acrylic drawers to store your essentials on top, like lipsticks and eyeshadow palettes. Add a few aesthetically pleasing items as well, like a vase and a beautiful bottle of perfume.
16. DIY Magnetic Makeup Holder
This is a very cool DIY project – a magnetic makeup holder frame! Head to your nearest dollar store and buy a frame and a metal magnet board. Use two plastic holders in any color to store your brushes. Buy magnetic strips and stick them under all your products (or just the essentials you want to arrange on this holder).
17. DIY Glass Jars And Crate Drawers
Find a corner on the top of your vanity to store your brushes and lipsticks. You need a big mason jar with a lid and some uncooked rice to hold the brushes in place. Buy an acrylic makeup drawer and place it next to the jar, so all your essentials are stacked up in the corner neatly.
18. DIY Lip And Eye Makeup Stand
You can also create a DIY stand for your lipsticks and eye makeup. It does take up some time, but it's totally worth the effort. Use one half of a shoe box and cover it up with colorful paper. Make sure you measure the height, width, and depth of the box before you start creating the dividers. Use a cardboard sheet to create horizontal and vertical dividers, join them together and place them in the box. Now, fill up the spaces with your lipsticks.
Ladies, makeup is an art, and you are an artist. Even if you have a small collection of beauty products, you should really consider organizing them with a touch of your personal style. It not only looks stunning but also feels great to have all your things in place the next time you're getting ready. Besides, both makeup and makeup tools are expensive, so why not store them in an orderly fashion?
That was our round-up of the 18 most creative ways you can store and organize your makeup. Are you looking forward to trying out any of these ideas? If yes, let us know what you liked best in the comments section below. Go on, sort out your makeup collection now!
Recommended Articles:

The following two tabs change content below.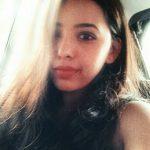 Latest posts by Esha Saxena (see all)