How To Stretch Out Tight Jeans
Wearing your jeans right out of the laundry can be such a nightmare. You try to pull them up your legs, praying that it's not what you think. You are not alone, everyone's first reaction to this is – "how did I put on weight overnight?" Relax, because it is definitely not that. Throwing the jeans in the washer and using the hot water cycle or putting them in the dryer is mainly why they tend to shrink. But, wearing jeans that are too tight can be outright uncomfortable and unflattering – so, what do you do? Don't think that you need to toss them out because there are simple workarounds to get this fixed. Here are a few simple ways in which you can stretch out tight jeans.
Best Ways To Stretch Out Tight Jeans
You can stretch out your jeans in three simple ways. They say that your denim can stretch by an inch if done the right way. Whether it is stretching a new pair of jeans that are a tad smaller, or pants that have shrunk in size because of the washer – stretching is such a life hack that comes handy for all of us at some point. Next time your kid comes running to you complaining, or your husband, or anyone – you would know what to do. Well, here's what you need to do.
1. Spray Lukewarm Water And Stretch
What You Will Need
Lukewarm water
Spray bottle
Measuring tape
The denim that needs stretching (obviously)
Processing Time
Process
Roughly measure the current size of the jeans you are going to stretch; just to be sure that there is a difference.
It does not have to be accurate, but measure the part that you plan to focus on. If it is the waist, first measure it while it is buttoned.
Place the jeans on the floor, and spray lukewarm water on both sides till they are completely soaked.
Identify a spot near your waist, at the front and the back.
Stand on the pockets, and start pulling it from one side first.
Repeat this at least 10 to 15 times, or as needed.
Remember to unbutton the waist; otherwise, it defeats the purpose. Plus, it can rip the buttons off because of the pressure.
Also, do not use the loops as handles because they come off pretty quickly.
If you are trying to stretch it lengthwise, select a spot that is a little below the knee because it's easier and faster to deal with.
Spray the area you want to stretch.
Stand on the drier patch of the jeans, and pull it away from the floor using both hands.
Do this at least 10 times before you measure.
Now take the final measurement, and check if it has changed.
Try it on, and you should see a difference in the way it fits.
2. Water Bath
What You Will Need
Hot water
Bathtub, or shower head with hot water.
Denim you are going to stretch.
Measuring tape.
Processing Time
15 minutes
Process
Make a note of the measurement before you start stretching your jeans.
Wear your jeans and sit in the bathtub for about 10 – 15 minutes. Let the water soak it.
The denim at this point will be more relaxed and comfortable to work with.
Hold it on either side and stretch it thoroughly.
Do the same lengthwise too.
Let the water drip off the pants first, and then, remove them.
Allow the jeans to air dry.
Measure your jeans and try them out.
3. Spray, Lunge, And Stretch
What You Will Need
Lukewarm water
Spray bottle
Measuring tape
Processing Time
45 mins
Process
Spray lukewarm water on the area you want to stretch. You need to do this while wearing your pants.
Stretch it a little on both the sides.
Now, do a few lunges, and then repeat this cycle a couple of times.
Take the pants off and hang them to dry.
Do not put them in the dryer yet because they might shrink again.
Measure to note the difference and try them on.
And, now, do some more lunges.
You are done.
You do not have to wash your jeans very often; and, most of us go weeks, even months, without washing them. And, when you do, if they stretch, you will know what to do. If you think you've put on a few extra pounds, then resort to the lunges method – jokes apart, let us know how this went for you. If you have any more questions on this, feel free to drop in a text in the comment section below.
Recommended Articles:

The following two tabs change content below.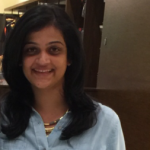 Latest posts by Pratima Ati (see all)