20 Irresistible Ways To Style Your Kinky Twists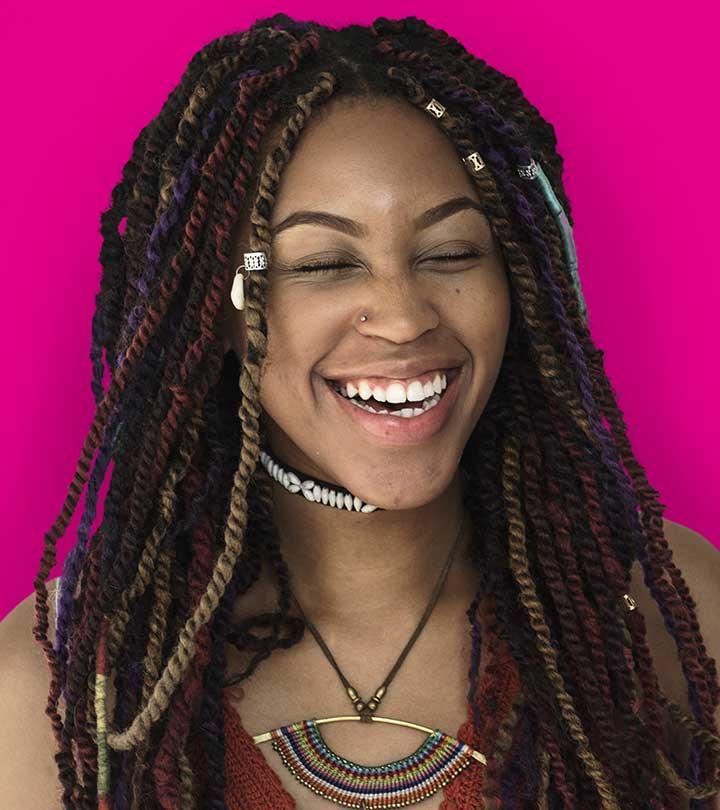 Protective styles have been around for the longest time and it feels like hair stylists are coming up with newer and trendier ones every single day. Kinky twists are one of those adorable protective styles that you absolutely need to try out! This styling technique involves attaching Marley hair to the roots of your hair by braiding them at the very top and twisting them the rest of the way down. You can play around with the length and colors of your hair extensions to create kinky twists hairstyle that's uniquely your own! But before we dive into the best styling ideas, let's first look at how you can do kinky twists in your hair right at home…
How To Do Kinky Twists At Home
What You Need
Hair brush
Rat tail comb
Marley hair extensions
Hair gel
Boiling hot water in a bowl
What To Do
Start off by brushing out all the knots and tangles from your hair.
At the very front of your head, use a rat tail comb to neatly partition and pick up a 1 inch section of hair. You could use some sectioning clips to keep the rest of the hair out of the way.
Apply some hair gel at the roots of this section to give it some hold.
Pick up a section of hair extension and fold it in half. Marley hair extensions are recommended here as their rough texture ensures that your twists stay firmly put in place without unraveling.
Place the folded part around the root of your 1 inch section of natural hair.
With your natural hair acting as the middle strand and the two halves of the Marley hair acting as the side strands, simply braid for about 2-3 stitches to attach the extensions to your hair.
Then, redivide the 3 strands into 2 strands and individually twist them right till the ends in a clockwise direction.
Now, intertwine them with each other in an anticlockwise direction right till the end. You can cut off the excess extensions according to the length that you want your kinky twists to be.
Repeat this process all over your head until all your hair is in kinky twists.
Dunk the ends of all your kinky twists in a bowl of boiling hot water to seal them.
Now, wasn't that so easy! Lucky for you that kinky twists are one of the easiest protective styles to do on yourself. With that out of the way, let's look at the trendiest ways to style your kinky twisted hair!
20 Stunning Ways To Style Your Kinky Twists Hair
1. Sunkissed Kinky Twists
A great way to get ready for the summer is to add some light highlights to your hair to give it the perfect sunkissed look. These kinky twists cut into a short bob have exactly those blonde ends that make her look oh-so-ready to hit the beach! This kinky twists style is also slightly unraveled to give it a more natural look.
2. Tightly Wound Kinky Twists
The best part about getting kinky twists in your hair is that you can go as thick or fine as you want with them. Thin, tightly wound twists like these look delicate and feminine to say the least. But it's the way that it's been styled in a layered short bob that makes it look like a million bucks.
3. Subtly Highlighted Kinky Twists
Subtlety is key when it comes to creating a hair look that is classy. Which is why the golden blonde highlights in this kinky twists style work so well to lend an air of sophistication to this dark toned hair look. Wear these twists long to make for an even prettier look.
4. Brown Kinky Twists In A High Bun
Look and feel like an African goddess with this kinky twists style that is one for the ages. These long and voluminous kinky twists have been tied up in a huge top bun that is nothing if not over-the-top. The mahogany brown hue of the twists only adds to the regal vibe of this look.
5. Jet Black Kinky Twists
Jet black protective styles have a charm of their own that cannot be compared to any other style. And this simple kinky twists look is proof of the same. Styled in a chic short bob, this fine textured kinky twists look is perfect for the modern working woman.
6. Dual Toned Kinky Twists
Now this is a hairstyle for someone who doesn't believe in the concept of comfort zone when it comes to style. Done using Marley extensions in silver white and golden blonde shades, this kinky twists style is a perfect combination of warm and cool tones. The streaky effect of the colors and the short bob style adds tons of whimsy to the whole look.
7. Golden Ombre Kinky Twists
Combine one popular hair trend with another and what you get is a unique hair look that's all your own. The gold ombre effect on this dark kinky twists style works beautifully to brighten up her hair look and make her look like a trendy princess! This colorway and style looks best when done up in a long bob.
8. Kinky Twists With Silver Beads Accents
A simple way to add a magical twist to your basic kinky twists style is to accessorize it in a way that reflects your personality. Strew some silver beads throughout your black kinky twists to add a touch of metallic brightness to your hair look. A half up hairdo will just elevate this style to the next level.
9. Black Kinky Twists With Brown Bangs
There are lots of ways to play around with color when it comes to styling your kinky twists that don't involve ombre or highlights. A quirky way to go would be to style your bangs in a color that is wildly contrasting to the rest of your hair. Side swept bangs in a chocolate brown hue stand out brilliantly against a black base of kinky twists.
10. Kinky Twists With Unraveled Ends
The deconstructed look is all the rage this season, be it in fashion or hairstyles. This slightly unraveled kinky twists look is a perfect example of the same. The loose ends of these twists make them look effortlessly chic without being shabby. Just part your twists down the middle and casually push them back to finish off this trendy look.
11. Golden Brown Kinky Twists
It's good to keep things simple with the cut of your kinky twists if you're going for an unconventional color. So, a simple layered bob looks marvelous when done up in a kinky twists style in a vivacious golden brown shade. This kinky twists style is perfect for anyone looking for a protective style that is unique without being too over the top.
12. Magenta Highlighted Kinky Twists
Little pops of color infused in an otherwise monotone style works wonders in refreshing your whole hair look. These thick kinky twists, for instance, have been given a new lease of life with the help of some subtle magenta highlights added to them. This is also one of those looks that can be sported by anyone regardless of their age.
13. Kinky Twists With Undercut
The word 'badass' gains a whole new meaning when it is used to describe this bold kinky twists look. With long jet black twists flowing down her back and undercuts on both sides that create a stark contrast, this is an edgy look that's definitely not for the faint hearted.
14. Mermaid Kinky Twists
The mermaid color palette has made its way into yet another hair look – and how! Gorgeous caramel blonde, coffee brown, and black and violet kinky twists blend together to create this out of the world hair look fit only to be sported by a mermaid. The beads and colorful thread accents only add to the beauty of this whole look.
15. Blonde And Black Kinky Twists
Combining light and dark shades works beautifully to create a hair look that is dynamic and a wonder to behold. This is further proven by these kinky twists that make use of blonde and black Marley hair extensions that have been blended together flawlessly. Swoop these twists over on one side and rest assured that you'll be the coolest person in any room you walk into.
16. Burnt Sienna Kinky Twists
Now here's a hair color that you don't see around very often. This burnt sienna shade of orange is the perfect warm toned hue to sport your kinky twists in. Keep these twists long to go for that perfect fall-ready hair look.
17. Deep Auburn Kinky Twists
Dark, sexy, mysterious – that is exactly the vibe that you'll give off when you sport this deep toned hair look. The dark auburn hue of this kinky twists style is not the only focal element of this gorgeous hair look. The curled up styling of the twists adds another layer of dimension to this dynamic hair look.
18. Cornrows And Kinky Twists Ponytail
Now here's a way to personalize your hair look if there ever was one! The X factor of this kinky twists has been seriously upped with the curved cornrows done on top. This kinky twists style has been perfectly finished off by being tied up in a ponytail.
19. Dusted With Gold Kinky Twists
Who wouldn't like to have some faith, trust, and pixie dust in their life, huh? Now, the first two may be a little harder to come by (bummer, I know) but you sure can add a pinch of pixie dust to your kinky twists style by going for a few Marley hair extensions in a metallic gold shade.
20. Multiple Browns Kinky Twists
When it comes to hair looks, 50 Shades of Grey are a thing of the past now. What you need is a kinky twists style in gorgeous shades of chocolate, toffee, and coffee brown. Sweep the twists at the front on one side and tie the rest of them at the back in a top knot to create a hair look that everyone will fall in love with.
And that's that! Our rundown of the trendiest ways to style your kinky twists! Comment below to let us know which one matched your sense of style perfectly!
The following two tabs change content below.