Combination Skin: Weekly Skin Regimen And Best Products
Brave through the challenge of caring for this confusing skin type using our expert advice.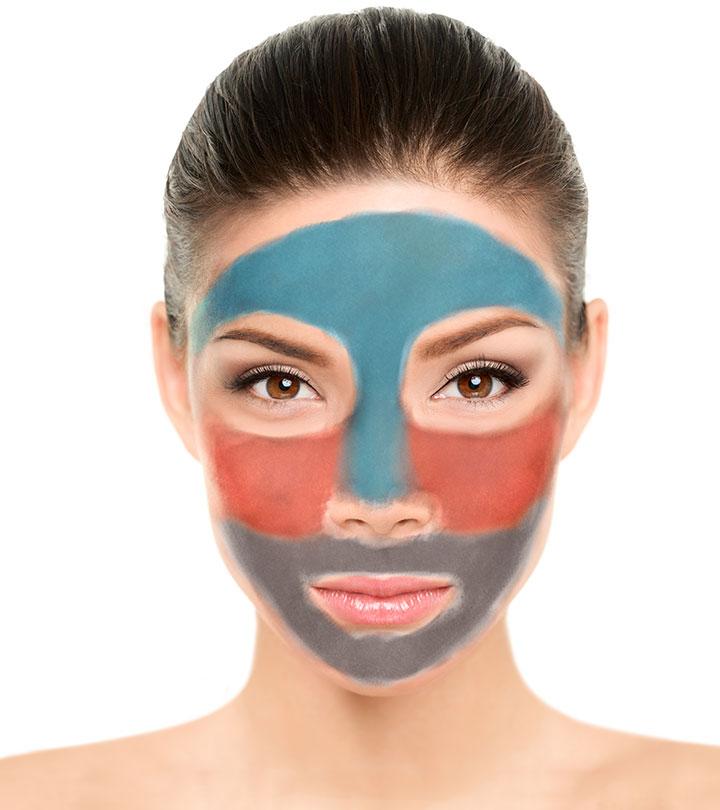 Taking care of combination skin can be tricky. Use the wrong products, and you may end up with excessive oily T-zone or parched and inflamed cheeks!
The key to caring for combination skin is striking the right balance. You need to develop a skin care routine with products that will control excess sebum and grease on the oily parts and hydrate the dry areas to keep them soft and smooth. And we are here to help you with that.
We understand that it may seem a bit fussy, but trust us, once you understand your skin's temperament, it will be a smooth ride. Keep reading to know more!
What Is Combination Skin? What Does It Look Like?
As you can see in the above image, a face with combination skin has parts that are greasier and oilier than the other parts. Usually, the T-zone is oily, and the cheeks are either normal or dry. The oily T-zone can be acne-prone and may also have visible pores. You may even have extremely dry, dull, and flaky cheeks.
You can easily identify if you have combination skin. You are clueless about how to keep away the shine and grease from your chin, nose, and forehead, but the other parts of face skin are fine. Or, you may also have dry cheeks that feel tight and rough to touch while the other parts of your face feel okay. However, if you are still confused about whether you have combination skin or not, there are some tell-tale signs you can look out for.
How To Figure Out If You Have Combination Skin
Here are a few things that you will notice on your face if you have combination skin:
Within 30 minutes of washing your face, you will notice a few parts of your face have turned oily while other parts remain normal.
You have large and visible pores on your nose.
When you use a moisturizer for oily skin, your T-zone feels nice but your cheeks feel dry. And when you use a moisturizer for dry skin, your cheeks are fine but the T-zone feels greasy.
You have dandruff. This doesn't mean that all people with combination skin have dandruff. However, you may have a dry and flaky scalp.
Your T-zone's behavior changes with the weather. For instance, during hot and humid weather, your T-zone turns oily and shiny faster. However, when the weather is cold, it takes longer to become shiny and greasy.
Your face gets both dry patches and breakouts at the same time.
Taking care of combination skin can be tricky. The toughest part is selecting the right products for your face. If you do not use the right skin care products, it might worsen your issues. The wrong skin care products may make the dry parts of your face drier, the oily parts extremely oily, and cause related skin care issues, such as acne or flaky skin. Therefore, you first need to understand what type of skin care products suit you.
What Type Of Skin Care Products Work Best For Combination Skin?
There is no one-size-fits-all approach for combination skin. Picking the right skin care product depends on how dry or oily the respective parts of your face are. Depending on that, you will need to develop a separate skin care regimen for both the areas of your face.
For the oily parts of your face, you will need products that have a non-shiny and matte finish. Such products help in oil control.
Now, if you are using matte finish products on your face, it means the dry parts will need more moisturization. Hence, products (such as creams and moisturizers) containing more emollients will work great for those areas. However, avoid using such products on the oily parts as they will increase the oiliness on those areas.
When picking products for the oily parts, make sure that they are lightweight. Choose products that have a gel-like or watery consistency, and, of course, contain a high amount of effective ingredients and active agents. You can use such products all over your face and then layer the dry parts with moisturizing serums and creams.
Striking the perfect balance is the key, and for that, you need to know which areas of your face you need to layer with the right products. Now, let's take a look at how you should care for your combination skin. We have discussed a complete CTM routine (day and night) for combination skin in the next section. Scroll down.
How To Care For Combination Skin: A Detailed Daily-Care Routine For Your Skin (With Product Suggestions)
1. 'C' For Cleansing
Your skin care routine should start with a mild, gentle, and water-soluble cleanser. It is better if you choose a product that has a gel or lotion-like texture and contains vitamins and antioxidants for exfoliation.
Use the cleanser no more than two times a day – in the morning and before going to bed. Be gentle while applying it on your face and pat your skin dry with a towel after washing it. Do not rub your face with the towel while drying it.


Quick Tip
Maintaining a balance between good skin hygiene and not overdoing it is important. This is because not cleansing properly can result in breakouts, while overdoing it can lead to dryness.
2. 'T' For Toning
Right after cleansing, your skin needs a hydrating, soothing, and non-irritating toner. The right toner for combination skin must contain antioxidants and skin-replenishing ingredients to keep your skin nourished and non-oily at the same time. Also, it should not be drying. Use water-based toners whenever you cleanse your face. Pour a little amount on your palm or a cotton pad and gently pat it all over your face and neck. This helps in better absorption of the ingredients.
3. 'M' For Moisturizing
This is a crucial part of your skin care routine as it provides your skin with essential ingredients and active agents.
During the day, you may use a moisturizing sunscreen or any day cream of your choice followed by a sunscreen.
At night, you can use a moisturizer with antioxidants and active ingredients that keep your skin hydrated and nourished all night. They may also contain ingredients with anti-aging, anti-acne, and skin texture-improving properties.
Moisturize your skin every day in the morning and before going to bed.
Apart from following the daily skin care routine, you also need to use other products once in a while to pamper your skin. That is why you need to do the following things at least once or twice a week to keep your skin healthy.


Quick Tip
Don't forget to exfoliate your skin once a week to remove dead skin cells and reduce skin dullness.
Weekly Skin Regimen For Combination Skin
1. Use An Exfoliator
A gentle BHA exfoliator is a great option for combination skin. Using harsh and abrasive physical scrubber and exfoliators can make your skin rough. A BHA exfoliator smoothens your skin, removes dead skin cells, unclogs your skin pores, reduces oiliness, and keeps your skin healthy.
Use an exfoliator once a week for optimum results.
2. Use A Facial/Sheet Mask
Treat your skin once a week with a face mask. These products serve multiple purposes depending on the ingredients they contain. They hydrate, deeply cleanse, exfoliate, and nourish your skin.
If you have combination skin, you need to be consistent with your skin care regimen. Your commitment to the routine and the products you use will ensure that your skin looks nourished and healthy.
Be it sensitive, oily, or combination skin, taking care of the skin can be quite challenging. First, build a skin care routine that includes products that regulate excess sebum and grease on oily areas while hydrating dry regions to keep them soft and supple. Apart from following your everyday skin care routine, you should also indulge your skin with different products now and then. Follow the tips and tricks listed in the article, follow the routine, and use products regularly to find visible results of hydrated and healthy skin.
Frequently Asked Questions
Is rose water good for combination skin?
Rose water has numerous advantages and is appropriate for all skin types, including combination skin.
Is Vaseline good for combination skin?
Vaseline is considered safe even if you have combination skin. But the thick, greasy feeling of Vaseline may not be what you're aiming for in your skincare regimen, particularly if you have combination or oily skin. Also, note that Vaseline may seal any existing sebum or oil on your skin that may cause acne breakouts.
Is baby oil good for combination skin?
Baby oil is non-comedogenic, which means it will not clog your pores. Hence, you can use baby oil to moisturize the dry areas of your face if you have combination skin.
Key Takeaways
The oily part of your combination skin needs lightweight products with a gel-like consistency while the dry parts need serums.
Start your skin routine with a mild cleanser and follow it with a soothing toner.
Make sure you moisturize your dry and oily areas of the skin.
Use sheet masks or exfoliators once or twice a week for effective results.