How To Apply Concealer: DIY Tutorial + Using It As Foundation
Get the shade, formula, and application right to get that flawless finish.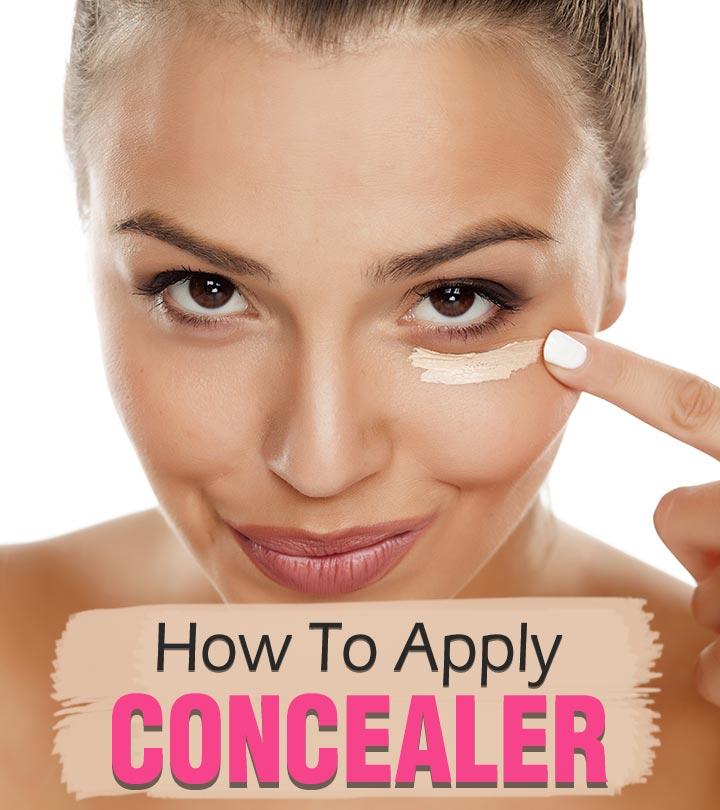 If you want to ace your makeup game, you need to know how to apply concealer. Yes, ladies, it is the most important item in your vanity, and simply rubbing it on the skin does not do the trick. Concealer is the magic ingredient that blurs the imperfections on the skin and helps you create a flawless, glamorous look. Gone are those days when dark circles had the power to ruin your makeup look. The market is now flooded with endless choices of concealers from different brands that hide the fine lines, wrinkles, dark spots, and blemishes perfectly. This makeup item is a must even if you love no-makeup makeup looks and like to keep it simple. But the results depend very much on the application process. That is why we are here to share some hacks to ensure that you blend in your concealer right. Swipe up for the deets!

Keep In Mind
Types: Liquid, stick, cream, balm, powder, and color-correcting.
Finish Types: Matte, satin, radiant shimmer.
Uses: Evens out hyperpigmentation, blurs blemishes, and doubles as eyeshadow base, lip base, contour, and highlighter.
Avoid: Do not apply a concealer over a powder foundation to prevent a cakey finish. You may apply it over a cream and liquid foundation.
Concealer 101: How To Choose Concealer Texture & Shade?
Firstly, your concealer's texture is as important as its shade. Secondly, you're going to need more than one kind of concealer to achieve the complexion of your dreams. The product that you use to cover your under eye dark circles is not the same you use to hide dark spots and blemishes. The area under your eyes will have some purple to it, and to combat that means using a concealer that has orange or peach tones to it. Try the Stila Correct and Perfect All-In-One Color Correcting Palette and the Maybelline Instant Age Rewind Eraser Dark Circle Concealer Treatment for your under eyes. This shouldn't be more than one or two shades lighter than your natural skin tone to avoid obvious white circles in the area.


Quick Tip
If you have dry skin, go for a creamy, hydrating concealer with a thin consistency. If your skin is oily, go for a concealer with a matte finish.
To mask a blemish or dark spots, use a denser formula (that matches the shade of your foundation), and if there's redness in the blemish, a touch of green corrector will help neutralize the area before you go in with it. Try the
M.A.C Studio Finish SPF 35 Concealer
– this one's a full coverage, cult-classic formula.
How To Apply Concealer – Tutorial
Now that you have a fair picture of what you need to achieve a flawless base, here's a simple tutorial on how to apply concealer. Do you put concealer or foundation on first? Remember, if you're going to be wearing foundation, it's best to apply your foundation all over before applying concealer, since it helps cover up a lot of imperfections on its own.
Step 1: Prep Your Skin
Always start with a fresh slate! Cleanse, exfoliate, and moisturize your skin with a hydrating face cream. Dab a thin and even layer of primer to create a smooth canvas and only then move on to your makeup.
Step 2: Cover Up Under eye Circles
How to apply concealer under eyes? Use a concealer that's not more than two shades lighter than your natural skin tone. An easy technique you can try is to brighten the area under the eye by creating two inverted triangles and blending them out using your brush or beauty sponge.
Step 3: Conceal Redness Around The Nose
If you have any redness or discoloration around the nose, the best way to apply concealer is to take a little amount and blend it out thoroughly.
Step 4: Hide Dark Spots And Blemishes
If you have acne scars or blemishes – layering on tons of foundation is not the solution. It's ideal to spot conceal these areas and let the rest of your radiant, healthy skin seep through. Use a small concealer brush and apply the product on to spots and buff over the areas, while blending it in the surrounding skin.
Step 5: Set Your Concealer
It's best to set your concealer using a powder sponge as this will prevent the product from budging. Take a little bit of powder on your sponge and gently pat it in the areas you applied your concealer. For the rest of your face, use a brush and gently apply the powder everywhere else for a natural-looking, matte and even finish.
Voila! Here's the final look!
How To Apply Concealer As Foundation?
You can double-up your concealer as a foundation owing to its versatility! So, if you've forgotten to stock up on foundation, don't panic! Here's how to apply concealer and using it to do your base.
Choose a formula that you like whether it's a cream or liquid concealer. Make sure you have two shades – one that matches your skin tone and one to brighten up key areas of your face.
Use a stippling brush because these brushes don't pick up too much product, and you don't want the face to look made-up and cakey.
Dip it in your concealer and start applying from your under eye area. You're now concealing and laying over your foundation at the same time.
Make sure you have an even amount of product and color all across your face and blend it out thoroughly.
Once you're done with this, use a bit of dusting powder with a brush, and apply it on all the necessary areas (just like how you would set your foundation.)
Now that your base is ready, you can go in with additional products like a blush or a bronzer and finish the look!

Trivia
Max Factor's Erace was the first commercially available concealer. It was launched in 1954.
Tips: Choosing And Applying Your Concealer
Here are a bunch of tips and hacks that will come in handy when you're applying concealer. Also, take a look at how to use concealer to boost your makeup game. Let's take a look!
Foundation first, and then concealer – if you use foundation, apply it first so you won't have a lot of concealing to do. Also, if you apply concealer first, you'll remove most of it while applying foundation.
Never skimp on quality when it comes to concealer. Invest in a good product that will go on smoother and is less likely to dry and cake off. Try Bobbi Brown Creamy Concealer Kit, which is a two-toned concealer, so you get the best of both worlds with one product.
To prevent your eyeshadow from fall-out and fading, use your concealer to prime your eyelids first.
Use a peach-toned concealer for blue or purple under-eye circles. Use a yellow-toned concealer to even out your skin tone. And use a green concealer for red spots and blemishes.
If you want to prevent your concealer from creasing around your eyes, blot the area with a tissue after application to prevent it from settling in the creases around your eyes.
You can also use concealer as a base to make your lipstick shade pop.
To prevent your lip color from bleeding, line your lips with a bit of concealer using a fine-tipped brush. Your lips will also look extra defined after this one simple step!
Infographic: Ways To Use A Concealer
It is impressive how a concealer can double as a foundation for a perfect makeup hack. But you will be surprised to know that concealers are even more versatile. These makeup products can step in as the difference between a good makeup finish and a flawless one! Check out the infographic below to know how you can use concealer in different ways to achieve that perfect look.



Using concealer the right way is crucial to get proper coverage, and we hope that our guide on how to apply concealer can help you master this art. You can use concealer with the foundation or on its own – it is pretty simple and easy. However, ensure to pick a product with the right texture and shade that matches your skin type and undertone. So, what are you waiting for? Learn from the tips and tricks mentioned above and get a perfect and even-toned makeup look.
Frequently Asked Questions
Can I use concealer daily?
Yes. If you have certain features that you want to cover up every day, it is safe to use a concealer daily. However, ensure to remove it and thoroughly cleanse your skin at the end of the day.
Can I wear concealer alone?
Yes. You can wear concealer alone as a lightweight alternative to foundation. However, if you choose to wear it alone, go for a hydrating and long-lasting formula.
Should you let concealer dry before blending?
Yes. Letting the concealer dry on your skin for 10-20 minutes before blending is called "baking." The process melts the products into the skin, making blending easier.
Do you use a brush for concealer?
Yes. A concealer brush helps disguise blemishes and pigmentation, providing precision during application.
Key Takeaways
Concealer blurs all the imperfections on the skin and gives you flawless skin.
Always use foundation before applying concealer.
Apply it with a beauty sponge from the center of the face to the outwards. You can also use it as a base to make your lips stand out.
Set the concealer with powder to prevent creasing and do not over-apply as it may look cakey.
The following two tabs change content below.