How To Use Conditioner For Your Hair – 14 Simple Methods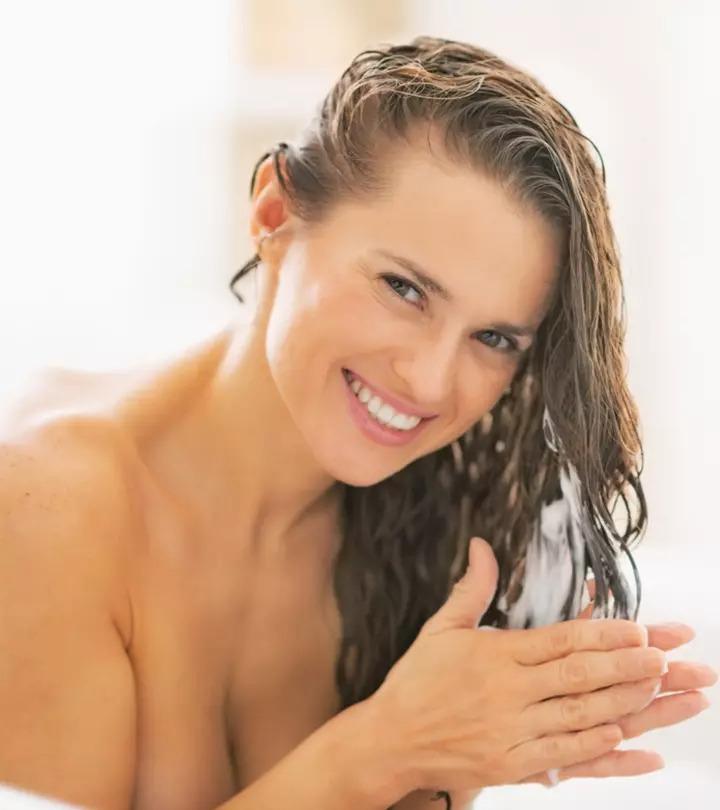 Hair care 101 – it is important to use a hair conditioner and nourish your hair. But many of us are clueless as to the right conditioner etiquette. A recent trend suggests using a conditioner before you wash your hair with shampoo. Some slather it on their hair to gain its many benefits, while others rinse it off seconds after application. While these steps are both incorrect, using a conditioner properly can make your hair healthy and lustrous.
Keep reading to learn the right steps of using a conditioner and how you can make the most of it. We have also included DIY conditioner recipes for smooth, frizz-free, and ultra-silky tresses!
Why And How To Use Hair Conditioner
Constant exposure to pollution, heating styling, dirt, and sweat can strip your hair of its natural oils. Even shampooing rids your hair of sebum and other nourishing oils. Hence, you should use a conditioner and keep the oils and nutrients intact.
Whether you have thin and fine hair, thick and wavy hair, or curly and frizzy hair, conditioning your hair is an absolute must. To find out how to condition your hair, take a look at this routine:
Rinse the shampoo off properly to get rid of sweat, dead skin cells, pollution, and additional hair products.
Take it in the palm of your hands as per the quantity recommended on the bottle. (It generally amounts to the size of a quarter).
Start by applying it to your hair ends. If you have longer hair, apply it from the chin level and move towards the ends.
Next, run a wide-toothed comb through your hair to apply
Leave it on for about 1-7 minutes. (The time frame depends on the conditioner you are using).
Finally, rinse it off thoroughly, preferably with cold water.
Moving on, let us look at the different conditioning methods you can use, depending on your hair care needs.
How To Use Conditioner: Top 4 Hair Conditioning Methods
1. Engaging In A Pre-Conditioning Ritual
This method is ideal for people with long hair. Here are the steps to follow if you wish to pre-condition your hair:
Use lukewarm water to wet your hair.
Apply conditioner.
Leave it on for a few minutes.
Wash it off with a gentle shampoo and condition again.
2. Using Regular Conditioner
A popular method of hair conditioning is to use a regular conditioner after you shampoo your hair. These conditioners help seal the hair cuticles while adding essential nutrients to your strands. Plus, it improves your hair's elasticity and softens the hair fibers.
Make sure to get rid of all the excess water in your hair after your shampoo it. This way, the nutrients can easily penetrate your hair shaft.
3. Using A Leave-In Conditioner And Serum
Leave-in conditioners and serums detangle the hair, tame unruly and frizzy locks, and add an extra layer of luster. They also coat your hair without weighing it down.
You can use leave-in conditioners and serums post-shower if you have thick and unmanageable hair. However, use these products sparingly as over-using them can make your hair greasy and oily.
For more volume, towel-dry your hair first. You can use a leave-in conditioner for curly hair and frizz control by applying it on sopping wet hair.
4. Using A Deep Conditioner
You can use plant oils such as coconut, almond, avocado, or jojoba oil as a natural alternative to chemical-laden conditioners. These choices are safe to deep condition your hair. However, bear in mind three important factors:
Do a trial run for a week and see how your hair responds to this type of deep conditioning.
Be prepared for your hair feeling heavier and greasier than usual.
Make sure to use 100% pure and organic oil.
If you want a balance of the right proteins and moisture, you can ask your stylist to recommend a deep conditioner. Here is how you should apply it:
Use a deep conditioner after shampooing your hair.
Leave it on for 30 minutes.
Steam your hair so that the conditioner gets sealed into your hair shaft.
If you are not short of time, you can wrap your hair in a shower cap.
Set your blow dryer on low speed to let the heat work its magic.
Using hair conditioners made with natural ingredients can ensure your tresses are healthy, strong, and nourished. If you are struggling to find a chemical-free product, try the following DIY conditioner recipes.
DIY Easy Hair Conditioner Recipes
Try these simple hair conditioner recipes made with everyday ingredients for smooth and shiny locks:
Recipe 1:
2 tablespoons of sesame seed oil
2 tablespoons of aloe vera gel
Half a cup of yogurt
1 tablespoon of olive oil
Recipe 2:
Recipe 3:
1 banana
2 tablespoons of honey
2 tablespoons of olive oil/coconut oil
Instructions For All Three Recipes
Mix all the ingredients respectively and apply the mixture to your hair.
Dab your hair with a towel that has been soaked in hot water for 2 minutes.
Leave the mixture on for 15-30 minutes to deep condition your hair.
Wash it off with a natural rinse such as beer or a combination of water and apple cider vinegar.
Before applying the conditioner to your mane, ensure that you are not allergic to any of the ingredients. Do a patch test on your arm, or speak to a hair specialist before you proceed.
Wondering how to choose the right conditioner for your hair? The answer is in the following section.
How To Choose The Right Conditioner For Your Hair?
Start with understanding your hair type and texture. You also need to factor in your styling routines and tend to your locks accordingly.
Here is a quick breakdown of how to choose a conditioner that actually works for your hair:
For Color-Treated Hair
For hair that has been bleached or colored, you need an extra dose of nourishment. So, opt for a conditioner that is specifically formulated for color-treated hair.
For Textured Hair
If you have coarse, thick hair, you can go for a stronger conditioner that can heal, nourish, protect, and deep condition your hair. Conditioners made of coconut oil or shea butter are a good choice.
For Curly Hair
Look for ingredients like coconut oil, olive oil, argan oil, and keratin in your conditioner. People with curly, dry, and frizzy hair need to spread the conditioner more evenly throughout their hair. A wide-toothed comb can help distribute the product.
You now know how to pick the right one for your hair type. But before you start using it in your hair care routine, keep the following tips in mind.
Effective Hair Conditioning Tips To Keep In Mind
1. Apply Conditioner An Inch Away From Your Roots
Start by applying where your hair is the driest and most damaged. Distribute it evenly from the mid-length till the ends. Do not apply conditioner on your scalp or roots as it can make them extra oily.
2. Consider Co-Washing Your Hair With A Conditioner
For people who have extremely dry and brittle hair, using shampoo too often can make things worse. Instead, go for co-washing – a method that involves using just conditioner to cleanse your hair and skipping shampoo completely.
Co-washing maintains your hair's strength, moisture levels, and integrity without making it dry or frizzy. The biggest downside is that it may leave a lot of product build-up in your hair. Therefore, you need to use a gentle clarifying shampoo every 2 weeks to get rid of it.
3. Wash it Off Thoroughly
Any conditioner left behind can lead to hair breakage and damage. So, wash the product off until the water runs clear. You should not see any bubbles or residue.
4. Rinse With Cold Water
Washing your hair with cold water can retain the moisture and nutrients from the conditioner by closing the hair's cuticles.
5. Use A Hair Serum To Complete The Ritual
To get the most out of your hair conditioning ritual, use a hydrating serum after every wash.
Some use conditioner after shampoo, some use conditioner without shampoo, and some do not even use it after shampooing. People use conditioners in different ways. But using a hair conditioner to nourish your hair is an important step in the hair care regimen as it helps improve hair texture and promote hair growth. Following the points mentioned above can give you an idea of how to use a conditioner to reap maximum benefits. With the right method and product, you can attain shiny and lustrous hair.
Frequently Asked Questions
When should I apply hair conditioner?
It is best to apply conditioner after you shampoo your hair as the latter can rid your hair of natural oils and make it dry.
How to use shampoo and conditioner in one?
If you're using a two-in-one shampoo and conditioner, follow these steps:
Rinse your hair thoroughly.
Apply the shampoo-cum-conditioner to your hair, working your way from the ends to one-inch away from the roots.
Gently lather and massage your scalp to get rid of excess build-up.
Rinse with lukewarm water.
You will notice that your hair feels squeaky clean and soft at the same time.
Note: It is better to avoid a shampoo-cum-conditioner and use separate products.
How often do I need to change my conditioner?
Ideally, you should change your conditioner when it does not work despite consistent application. Speak to a hairstylist to get a better grip on the type of product to use. Change the conditioner as per the weather condition. For instance, you need deep hydrating conditioners during winters. Also, if you have color-treated and chemically-treated hair, switch to a specialized conditioner.
Is it best to put conditioner on wet or dry hair?
Avoid applying conditioner on dry hair as this can make it difficult to spread the product throughout your hair follicles.
Can you just put conditioner in your hair?
You can co-wash your hair with a conditioner, but use a gentle clarifying shampoo every two weeks to eliminate excess product build-up.
How much hair conditioner should I use?
You can use 1-2 quarter-sized dollops of conditioner, but it all depends on the thickness and length of your hair.
Key Takeaways
Conditioner helps seal the hair cuticles while adding essential nutrients to the strands.
A strong conditioner can heal, nourish, protect, and deep condition coarse hair, thick hair.
Use coconut, almond, avocado, or jojoba oil as a natural alternative to chemical-laden conditioners.
Apply a leave-in conditioner to detangle your hair after washing it, and deep condition your hair every two weeks.
The following two tabs change content below.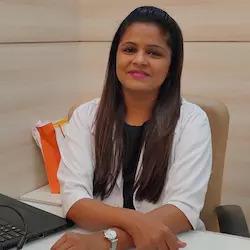 Dr. Shruti Chavan
(MBBS)

Dr. Shruti Chavan is a consulting dermatologist at Dr.Sheth's Skin and Hair Clinic since 6 years. She is a co-committee...

more