How To Use Hair Rollers – A Step-By-Step Guide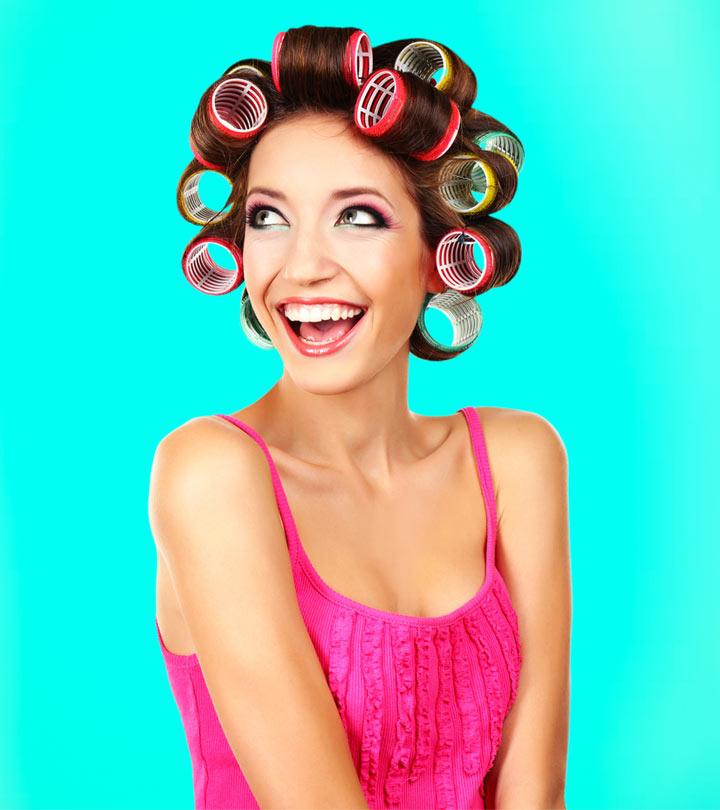 Curled up hair and red lips constitute an all-time classic look. Curled hair has been in fashion for a really long time, and hair rollers have stayed equally popular thanks to their ability to create stunning hair styles. If you are a fan of such hairstyles but do not know how to use hair rollers, we have got your back. This article will teach you how to use hair rollers to get a great hairstyle. Keep reading!
Types of Hair Rollers
1. Velcro Rollers
Velcro rollers help achieve voluminous loose curls with ease. The rollers work well on all hair types. These are especially good for thinner hair as they give it more body.
2. Foam Rollers
Foam rollers are comfortable to use and work great on a variety of hair types. They are a great option if you want to style your hair overnight. The rollers' soft and spongy body protects your head from the outer clips while you sleep. However, keep these rollers loose around your hairline should you plan to use them at night (to prevent hair pulling).
3. Flexi Rods
Flexi rods help you achieve the "ringlets" hair style. These can easily bend into any shape or form. They can also be used without any pins or clips. Flexi rods work great with shorter hair styles and are ideal for stretching out tight curls.
4. Steam Rollers
Steam rollers use heat to curl your hair. They offer gentle and safe heat styling. They help achieve different types of waves and curl patterns.
5. Spoolies
Spoolies are easy to use. They help achieve pin curls without the need for bobby pins.
6. Hot Rollers
Hot rollers probably offer the quickest way to achieve instant curls and style. These rollers work on every hair type.
7. Pillow Rollers
Pillow rollers have a foam-filled interior and bendable padded wires. These help you achieve crimp-free curls.
Almost all hair rollers are used in similar ways. The following guide teaches you how you can use hair rollers the right way to get that hair style you have always wanted.
How To Use Hair Rollers – A Step-By-Step Guide
1. Wash Your Hair
Start by washing your hair with a good nourishing shampoo and conditioner.
2. Dry Your Hair
Towel-dry your hair and brush it gently with a wide-tooth comb. This step preps your hair for the rollers. You may also apply a serum to prevent frizz. Air dry your hair until it is slightly damp.
3. Apply The Rollers
Start by lifting one-inch sections of your hair. Place the roller at the end of the hair section, wrap the hair strands around, and roll towards the roots. Close the roller clip as you reach your scalp. Repeat this process for the rest of the hair.
4. Leave The Rollers In Place
Rollers take about 8 hours to give you the desired results. Hence, leave the rollers in place for that duration. You can use a scarf to prevent any frizz.
5. Remove The Rollers
Remove the rollers slowly. Loosen your curls with your fingers. Keep the curls in place with a hairspray.
Hair rollers help you achieve that classic '40s look you so badly wanted! With the right technique, using them is quite simple. We believe this article has motivated you enough to start using hair rollers today!
Frequently Asked Questions
How long should you leave the rollers in your hair?
Leave the rollers in your hair for at least 8 hours.
Can you use rollers on totally wet or dry hair?
Do not use rollers on totally wet or dry hair. Ensure your hair is damp before you use them.
Recommended Articles
The following two tabs change content below.