How To Use Hair Straightening Cream?
Straighten your hair without worrying about damage because these creams will have your back.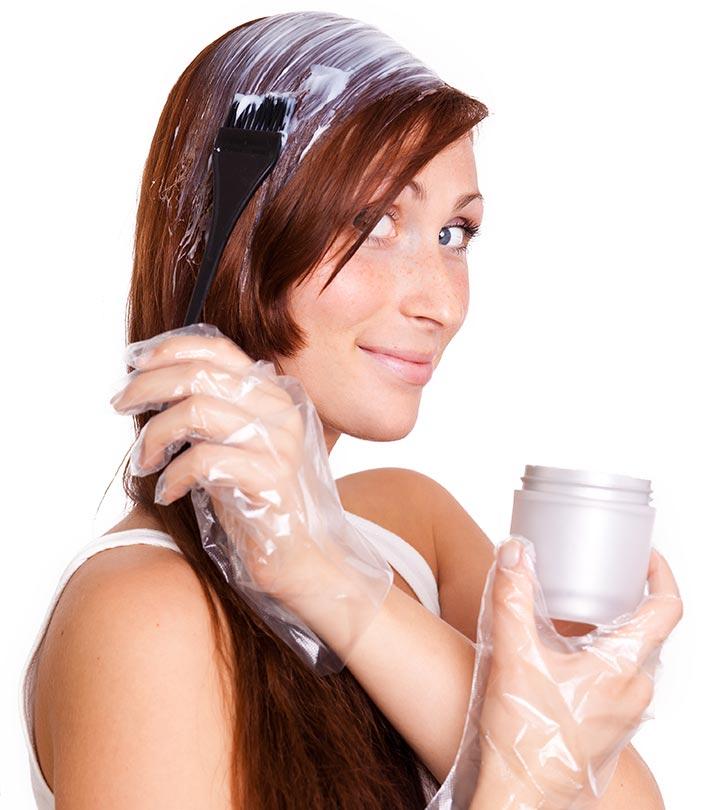 Hair straightening is never out of fashion, whether you go for flat irons or chemical treatments. It has always been the trend since day one. But if you do not have the patience to go for permanent hair straightening and take that extra care, learn how to use a hair straightening cream. This cream is used to achieve straight hair temporarily with a chic, sleek, and smooth finish. Hair straightening cream is heat-activated.
Well, it may sound rocket science, but trust us, it is not. Hair straightening creams are mess-free and easy to apply. Follow the steps mentioned below to master the technique of straightening your hair with creams from the comfort of your home. Scroll down!
How to Use Hair Straightening Cream?
Follow the steps below to know how to use hair straightening cream at home.
Your hair should be clean before using these creams. Take the desired cream used for hair straightening. Wash your hair before applying the cream. Scrunch your hair in a clean towel and remove all the water from the hair. Your hair should be damp and prepared for the cream. Brush your hair lightly to remove all the knots and tangles and make hair free.


Quick Tip

Use a microfiber towel to dry your hair as it is gentler on the hair. It does not snag on the strands, so it prevents breakage. Also, it absorbs water easily.

Take a small amount of cream in your hand and spread it on your palm. Always start with small amounts as you can always build up the product. Start from the head and spread the product to your tips such that the cream is more concentrated on the ends and sparingly on the scalp area. Run your fingers through your hair to spread the product evenly. Apply once again if needed.
Brush your hair using a shampoo brush. This will spread the product more evenly into your hair.
Section your hair into 3-4 sections and secure them with pins. You can do center parting and then convert each half into two more sections and so on.
Start with the lowest part of the section. Place a round brush under the bottom of the hair and start blow drying. As you blow dry roll the brush towards the tips of the hair. Since the cream is heat activated it will set as heat falls on it. This will remove all the frizz and waves from the hair and make them get the shape you desire.
Continue brushing and blow drying until your hair is completely dry. Do the same for the rest of the sections.

Finally, you will have salon straight hair. Isn't it easy?
Quick Tip
You can also apply straightening cream to your hair and then use a flat iron or rollers to straighten your tresses.
Infographic: How To Use A Hair Straightening Cream
Straight hair is a timeless look you can always fall back on. However, the damage from styling tools and chemical treatments don't make them such appealing options for straightening hair. Here's the ultimate solution to get those stunning smooth tresses sans the harm! Cue hair straightening creams to give your tresses a sleek finish and salon-like results.
Check out the infographic below to learn the simple steps involved in using hair straightening cream the right way.


A hair straightening cream smoothens your hair with the help of heat. Remember to wash your hair before you apply the cream to it. Then, dry it partially with a microfiber towel. Apply the cream evenly to your hair and divide it into small sections. Blow dry each section with the help of a hairdryer and a round brush. The heat from the dryer activates the cream, thus smoothing out your hair.
This is a great alternative to using chemicals to straighten your hair. It is easy to try at home, and you are left with silky smooth hair!
Frequently Asked Questions
Is hair straightening cream good for hair?
Straightening creams make hair look shiny and healthy. They contain conditioning ingredients that nourish hair. However, these creams may contain harsh ingredients that might damage or dry out your hair. So, you should not keep the cream on your hair for more than the instructed time.
Does straightening cream damage hair?
They may damage your hair. Straightening creams contain harsh chemicals that penetrate your hair and might make them weak from within. If left on for too long, they can dry out and weaken your hair shafts, causing breakage. They might also make your scalp itchy or red. Before applying them to your scalp, perform a patch test on a small section of hair.
How long does hair straightening cream last?
Most hair straightening creams keep hair straight for 3-4 months. But, it depends on your hair health and how often you wash your hair. If you constantly color or chemically treat your hair, the effects of the cream will be short-lived.
Key Takeaways
Before applying a hair straightening cream, wash and condition your hair.
Divide your hair into sections to make application easier.
Apply the cream to each section evenly, avoiding your hair roots.
Wash your hair every 2-3 days to remove cream buildup.
Maintain your hair with regular trims and use heat protectant products when using heat tools.