How To Use Hydrogen Peroxide To Remove Blackheads?
If you're to use a potentially dangerous chemical on your face, you should know the proper ways.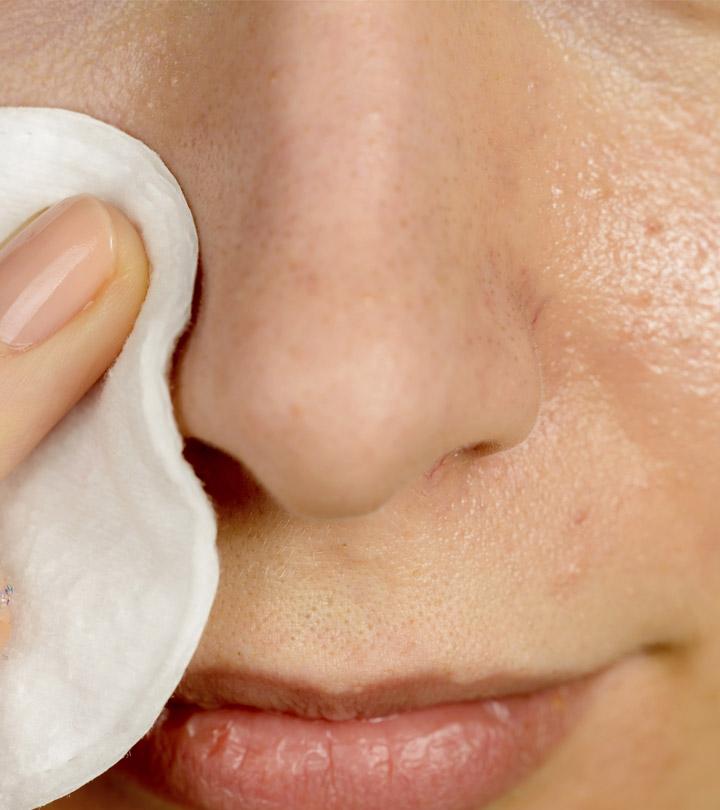 Blackheads are enlarged pores filled with skin debris and oil that have been oxidized and turned black after coming in contact with air. The use of hydrogen peroxide to remove blackheads is quite widespread and has become a common beauty treatment and name in dermatology. Hydrogen peroxide is a mild antiseptic and a bleaching agent and is often used for dermatological and industrial purposes (1), (2). However, as it can be corrosive if not correctly used, you need to understand precisely how to use it safely. Read on to know how to remove blackheads using hydrogen peroxide effectively and safely.
Blackheads – An Overview:
Blackheads are a form of acne caused when oil clogged in your pores gets oxidized (3). Your skin complexion takes on a brownish or blackish color, and thus are often confused with blemishes. The so-called blackhead removal products that you find in the market do not work as they promise to. What you need is a home remedy that effectively helps you remove blackheads and gives you great-looking skin. One such remedy is hydrogen peroxide.
How To Use Hydrogen Peroxide To Remove Blackheads:
Using a hydrogen peroxide treatment to remove blackheads is simple. All you need to do is:
Wash your face with a mild cleanser to remove any excess oil, bacteria and other impurities from your skin. Wash off with water and pat dry.
Next, exfoliate the areas of your skin that are affected by blackheads. You can use a homemade face scrub that is a paste made with sugar and water. It will be mildly abrasive to help in removing the oxidized blackhead surfaces. Rinse thoroughly.
Now it is time for the hydrogen peroxide treatment. Moisten a cotton ball with 3% hydrogen peroxide and gently dab your blackheads with it. Make sure you avoid your eyebrows and hairline as hydrogen peroxide has whitening properties and may bleach your hair.
Topical application of enzymatically generated hydrogen peroxide can help alleviate acne (6). You can also use it to remove acne and blackhead scars (7). All you need to do is exfoliate, and then using a cotton ball, rub the affected areas with a solution of equal parts of hydrogen peroxide and water. Leave it on overnight and wash off in the morning. With time, you will get skin that looks bright and clear.
This study examined the bactericidal efficacy of hydrogen peroxide (H2O2) on Cutibacterium acnes (C. acnes). The minimum inhibitory concentration of H2O2 after 30 minutes was found to be 1% in both saline and water solutions. A topical solution of 3% H2O2 demonstrated superior bactericidal effect compared to lower concentrations. After five minutes of exposure, all H2O2 mixtures showed a reduction in live bacteria, with the topical solution being the most effective. These results support the use of topical 3% H2O2 for five minutes in surgical skin preparation before shoulder surgery to eradicate C. acnes.


Quick Tip
It is safe to use 3% hydrogen peroxide for topical application. If you are using a 35% hydrogen peroxide solution, dilute a teaspoon of it with a quart of water to make a 3% solution.
Tips To Remember:
Never over-exfoliate your skin as it will irritate your skin and remove more stratum corneum than it should. This is a layer of bonded, dead skin cells that prevents your skin from losing moisture and keeps infection away.
If you do not want to use hydrogen peroxide on your skin, you can opt for lemon juice instead. This is another great home remedy for acne and pimples as well as for removing scars (8).
If you prefer, you can use salt instead of sugar to exfoliate your skin. However, remember that salt will make your skin dry. Sugar is a humectant, which means it helps in drawing moisture from the air to your skin (9). It is also a good source of alpha hydroxy acid, which keeps the sebum plugs in your pores soft .
Always be careful to avoid contact with your eyes when you use hydrogen peroxide. If it gets into your eyes, rinse off with water immediately. If you experience any problems, visit a medical professional at once.
Use an exfoliating scrub 1 to 2 times a week. This will work on the pores and prevent blackheads from appearing on your skin.
Always use a mild face cleanser and moisturizer to help soothe and heal your skin. All-natural products are best, especially when you have acne and other skin problems (10).

Quick Tip
Benzoyl peroxide is a safe alternative to hydrogen peroxide for acne and blackhead treatment.
Infographic: 4 Easy Steps To Using Hydrogen Peroxide For Blackhead Removal
Hydrogen peroxide is a mild antiseptic and a bleaching agent that may help remove blackheads and other impurities on our skin. However, it is important to be cautious in its usage due to its corrosive nature. To help you out, we have given a simple step-by-step procedure for using hydrogen peroxide for removing blackheads at home safely. Check out the infographic below to know more!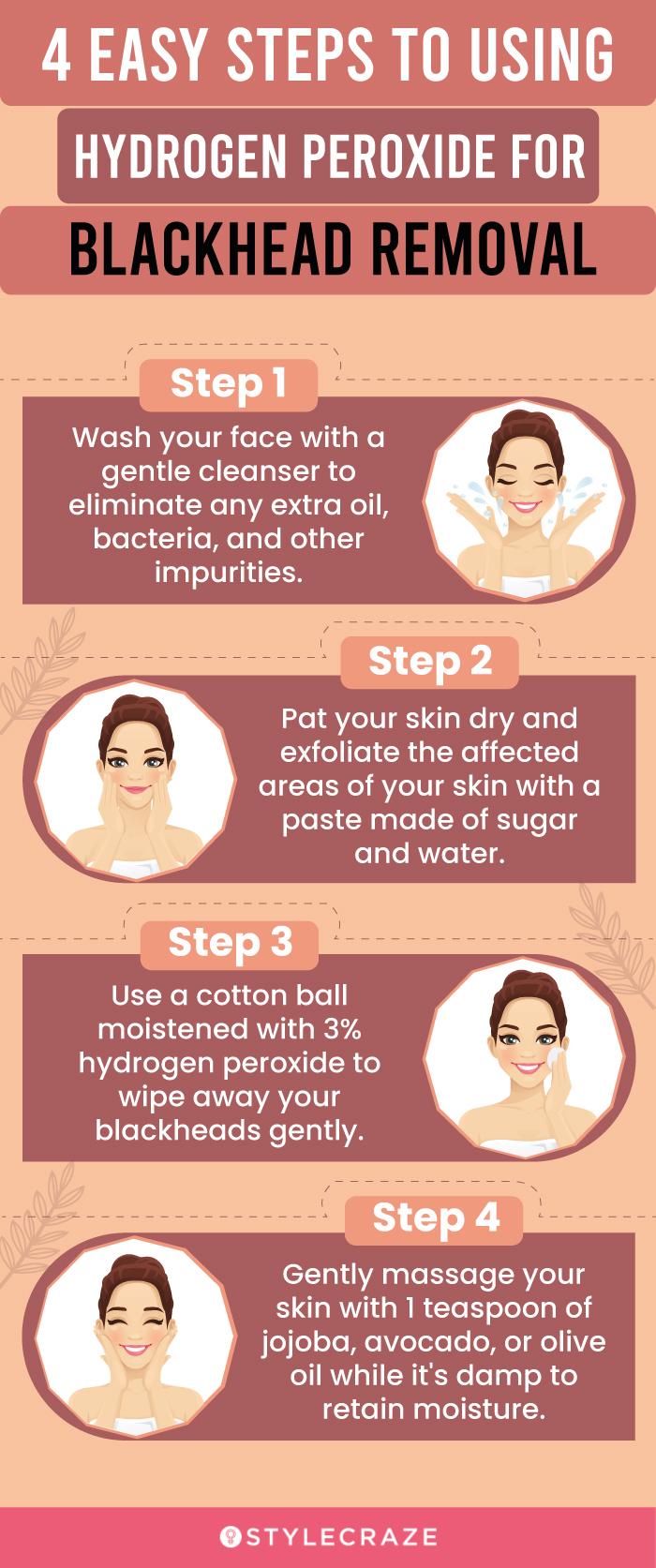 Due to its bleaching properties, using hydrogen peroxide to remove blackheads has been a common practice in skin care circles and is now a fairly known DIY facial treatment. Simply diluting it with water and applying it to the face after cleansing and exfoliating can give remarkable results, from removing blackheads to reducing scars. However, you need to be cautious while using hydrogen peroxide on the face. Make sure it does not come in contact with your eyes. Also, do not apply it to your eyebrows and other facial hair as this chemical can bleach it. So, practice caution.
Frequently Asked Questions
How do you draw out deep blackheads?
You can draw out deep blackheads using physical exfoliants followed by a steam session and a charcoal mask. Then, remove those blackheads with an extractor tool.
What will dissolve a blackhead?
Hydrogen peroxide or salicylic acid may help dissolve a blackhead.
What happens if you don't remove blackheads?
If you don't remove blackheads, they may get infected and inflamed, resulting in acne.
Why did hydrogen peroxide turn my pimple white?
Hydrogen peroxide turns your skin and pimples white because of capillary embolism (the process which blocks blood flow to the capillaries).
Key Takeaways
Hydrogen peroxide is a mild antiseptic that may aid in the unclogging process of pores and thereby help remove blackheads.
You can use hydrogen peroxide on the affected area with a cotton pad after cleansing and exfoliating the skin.
Moisturize your skin with jojoba or avocado oil as hydrogen peroxide can dry the skin.
You can substitute hydrogen peroxide with lemon juice to help remove blackheads and acne scars.
Discover how to use hydrogen peroxide to remove blackheads with this easy tutorial! Check out this video to help you get rid of those pesky blackheads and get your skin looking radiant.

Sources
Articles on StyleCraze are backed by verified information from peer-reviewed and academic research papers, reputed organizations, research institutions, and medical associations to ensure accuracy and relevance. Read our editorial policy to learn more.
The following two tabs change content below.