What Is Micellar Water And How To Use It Effectively?
Pro tips on using this makeup removing agent that has gained popularity in recent years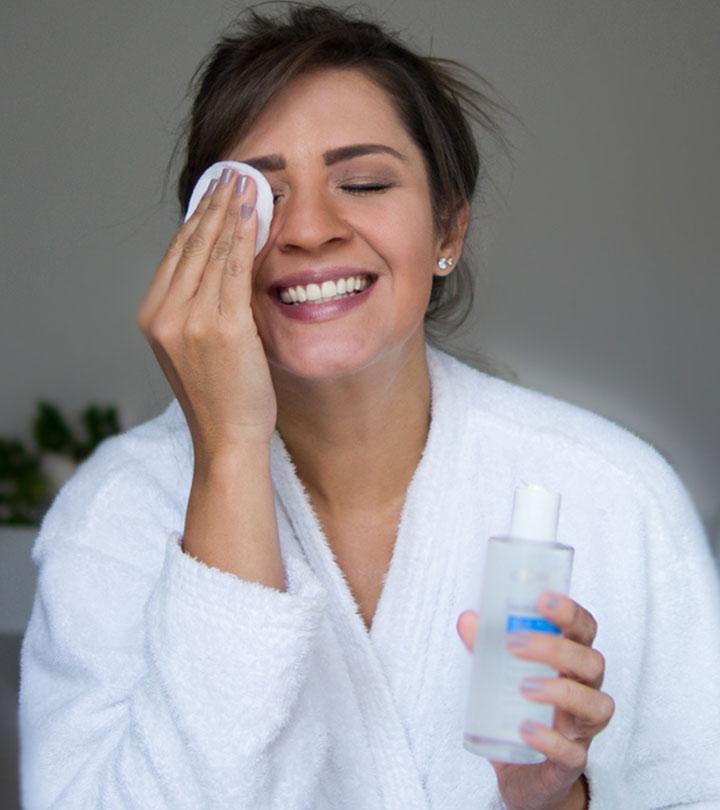 Cleaning your makeup at the end of the day is important, but how do you ensure you have cleaned every bit of it? Using micellar water has made the process much easier. If you are wondering how to use micellar water to enjoy all its benefits, this article can be your guide.
Micellar water is mess-free and easy to use compared to cleansing balms, oils, wet wipes, and other oil-based cleansers. It is gentle on the skin and helps clear the skin pores and remove all traces of makeup. Moreover, it also tones the skin and does not strip the natural oils.
If you are intrigued by this French skin care secret, we can give you enough reasons to switch to micellar water. So keep reading to learn how micellar water can transform your skin cleansing routine, why it is good for your skin, and how to use it.
What Is Micellar Water?
Micellar water is a liquid cleanser that contains tiny micelle molecules that are readily soluble in water and attract oil. This means oil, makeup, dirt, and impurities get attached to it easily in just a few swipes. It contains water, a little glycerin, and a mild concentration of surfactantsi  XCleansing detergent or chemicals used in cosmetic formulations to create lather and clear dirt and oils. that help remove dirt. You don't need to wash your face after using micellar water as it gets fully absorbed into your skin and acts as a toner.


Fun Fact
The use of micellar water in a skincare routine dates back to 1913 in France. It gained popularity in 1991 with Bioderma's product Sensibio H2O micellar water.
But here's the biggest question – is it actually good for your skin? Read on to find out.
Is Micellar Water Good For Your Skin?
Micellar water is mild, hydrating, non-alcoholic, and oil- and chemical-free. It does not contain any heavy duty soaps or cleansing agents that strip off your skin's natural oils, dry it out, or cause breakouts. It is gentle on the skin and does not cause any damage (1).
On the flip side, since it does not contain fancy ingredients, it might not remove all traces of makeup. It works as a pre-cleanse and you may need to follow it up with a face wash, cleanser, or toner.
So, you must be thinking why use it in the first place? Well, there are plenty of reasons why you should use micellar water. Check them out!
Why Should You Use Micellar Water?
It is rinse-free and does not need to be washed off, unlike most facial cleansers that leave behind an oily and greasy layer on top of your skin.
It is non-irritating. It does not contain any chemicals that can irritate your eyes, cause redness, or make your eyes water. The water and glycerine formula is perfect for sensitive skin too.
It is not an abrasive or an exfoliant and does not contain alcohol that dries your skin out or causes inflammation. It is gentle on your skin.
It removes makeup in just a few swipes and without creating a mess. It saves time and does not have to be used over a sink. You can use it in bed and go straight to sleep.
Quite amazing that one beauty product can totally transform your skin care routine, isn't it? Let's see how you can start using micellar water on a regular basis.
How To Use Micellar Water In Your Skin Care Routine
1. As A Cleanser In The Morning
Skin experts say that you need a full cycle of double cleansing twice a day. Once in the morning, and once at the end of the day to remove makeup. But, let's face it – you probably think it is too laborious to follow a strict routine like that. Here's where micellar water comes to your rescue. It gets absorbed into your skin and cleanses it quickly. If you use any serums, packs, or lotions as part of your nighttime routine, clean them up with micellar water the next morning before washing your face.
2. Use It for Toning Your Skin
If you think you need a much stronger makeup remover, use one of your choice and follow it up with micellar water. Micellar water acts as a toner while removing the last traces of makeup.
3. Makeup Remover
Use micellar water for its intended purpose – as a makeup remover. Soak a cotton pad in this liquid and wipe your makeup off. If you have heavy makeup on, do this a couple of times. It is the safest and most harmless way to remove your makeup.


Quick Tip
While micellar water can remove regular makeup, it is not strong enough to remove waterproof makeup.
4. Refresh Or Touch Up
If you feel like there's too much makeup on your face or your skin starts feeling heavy in the middle of a hot day, micellar water comes in very handy. Dip a cotton pad or soft cloth in micellar water and dab it around yourT-zonei  XThe middle (and the oiliest) part of the face comprising the forehead, nose, and chin area. or oily zones. It hydrates your skin instantly and leaves behind a refreshing feel.
5. Clean Your Makeup Brushes
You know how you never have the time or always find an excuse for not cleaning your makeup brushes? We totally get it. Micellar water is the easiest, cheapest, and most fuss-free way to clean your brushes. Soak your brushes in a bowl of micellar water for a few minutes. Dry them with a paper towel or a soft cloth. You are sorted!
6. Cleansing Post Workout
Most of us don't wear makeup when working out and, thus, assume that washing our face directly with a cleanser or a face wash is a great idea. The truth is, a whole lot of sweat settles on the top of your skin and attracts dust. This can clog your pores. Just use micellar water to cleanse your face quickly after working out.
7. Hand Sanitizer
It may sound like a crazy idea, but micellar water can be used as a hand sanitizer when you are in a pinch.
Micellar water is a mild liquid cleanser that removes dirt and makeup from your skin without leaving an oily layer behind. Due to micellar water being non-alcoholic and chemical-free, it is ideal for people with sensitive skin. If you are wondering about how to use micellar water, it is pretty simple. You can simply use it on your skin as a makeup remover, cleanser, toner, or even as a hand sanitizer. What's more, you can use micellar water as a cleanser after your intense workout. All you need to do is use micellar water daily and see the results!
Frequently Asked Questions
Is micellar water oil-free?
Yes. It contains water, glycerine, and a mild mix of surfactants.
What skin types is micellar water best for?
Micellar water does not contain any harsh chemicals. So, it is suitable for all skin types.
What should you look for when buying micellar water?
Micellar water is a pretty safe product to use. However, some brands add humectantsi  XSubstances in cosmetic formulations that draw moisture from the air and create a protective layer to lock in hydration. and alcohol to it, so do your research before making your purchase.
What is the difference between micellar water and toner?
Micellar water is predominantly a cleanser and contains elements that attract dust and grime. Toner, on the other hand, finishes up the cleansing process, closes your pores, and gently exfoliates your skin.
When should you use micellar water?
You can use micellar water to remove makeup at the end of the day. If you think it is too mild, you can use it in a double-cleansing process along with a makeup remover to weed out all the stubborn debris from your face.
Can I use micellar water every day?
Yes, you can use micellar water every day to cleanse your face and remove makeup. You can also use it as a toner.
Can I use moisturizer after micellar water?
Yes, you need to apply moisturizer after using micellar water. If you are using them in the morning, follow up with sunscreen.
Is micellar water good for dark circles?
There is not enough evidence to prove that micellar water helps reduce dark circles.
Key Takeaways
Micellar water can be used as a gentle toner.
It can be used for multiple things like as a hand sanitizer, or after workout to remove sweat.
It is a quick and easy way to clean dirty makeup brushes.
Micellar water doesn't cause any inflammation or redness making it a good cleaning option for sensitive and acne-riddled skin.
Sources