How To Wash Your Hair With Braids At Home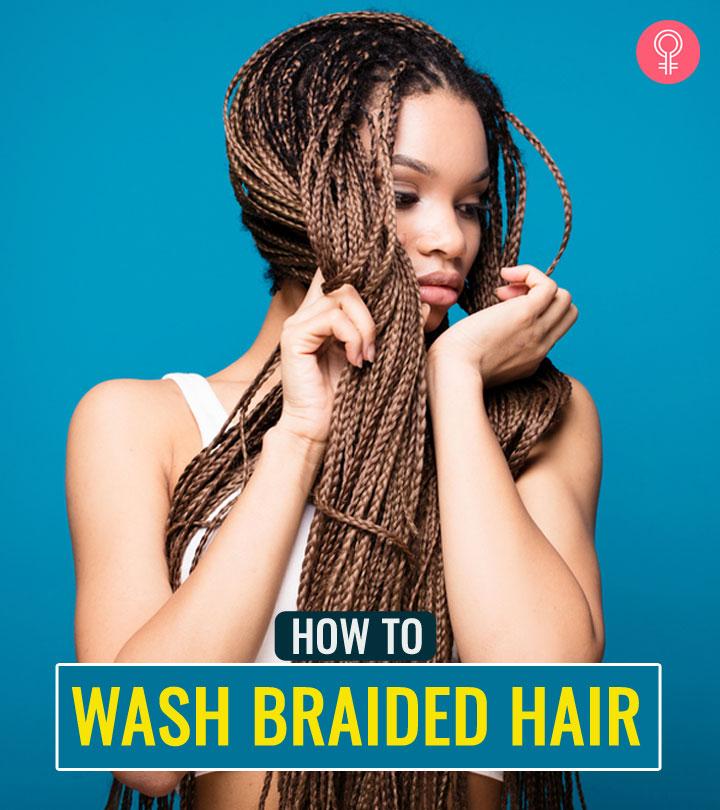 Life is easier with braids. They last for months, protect your hair from dust, sunlight, and breakage, look amazing, and save the time spent on hairstyling. But there's a flipside. Braids catch dust, and sweating causes a smelly scalp, making it dandruff-prone. This is why washing your braids is essential to keep your scalp clean and the braids frizz-free and shiny. Whether you have box braids, twists, microbraids, or crochet braids, you can easily wash them at home and keep them healthy. Want to know how? Read on to find out.
How To Wash Hair With Braids
Washing your hair with braids is a little different from how you would normally wash your hair. Here all the steps to follow:
1. Get A Spray Bottle
Get a small spray bottle from a drugstore near you. You will need this to prepare, spray, and store the shampoo solution.
2. Dilute Your Shampoo
Pour 20 ml of your favorite shampoo into the spray bottle, or you can buy any of these shampoos. Mix the shampoo well with 80 ml of water.
3. Spray On To The Scalp
Hold the nozzle close to the scalp and spray in rows. Work from the back to the front. Be careful not to spray too much near your hairline as the shampoo will drip down your face.
4. Gently Massage
Use your fingertips to gently massage your scalp. Avoid scratching.
5. Rinse Your Hair
Hop into the shower and rinse your hair thoroughly with warm water. Gently massage your scalp to wash off the product thoroughly.
6. Scrunch Your Hair
Hold a few braids together and gently squeeze them to get rid of excess water.
7. Apply A Conditioner
Take a coin-sized amount of a good conditioner, rub it between your palms, and apply it to your braids. Make sure you avoid the scalp. Let it stay for 5-10 minutes.
8. Rinse The Conditioner
After 5-10 minutes, rinse the conditioner off. Run your fingers through each braid to wash off the product thoroughly.
9. Wrap A Towel
Once all the conditioner is washed off, wrap a towel around your head. Gently squeeze your braids to get rid of the excess water. Wear a towel turban and leave it on for 10 minutes.
If you do not have the time, do the following:
Use a blow dryer on a cool or medium setting to dry your braids and the scalp. Use the cool setting if your braids are made of synthetic hair.
Apply a good-quality hair moisturizer to seal the moisture in and protect your braids.
Apply a few drops of argan, olive, or rosehip oil to your braids.
That is how you can wash your hair with box braids, Senegalese twists, micro braids, crochet braids, or braided hair extensions. Applying the hair moisturizer and light oil will keep your hair soft and make it look shiny and healthy. But if your hair is frizzy, scroll down to know how to wash your braids without causing frizz.
How To Wash Hair Braids Without Causing Frizz
Spray water on your scalp.
Saturate the scalp with diluted shampoo and massage it gently.
Hold your braids together, and wash the scalp first.
Once the scalp is clean, rinse your braids.
Do not move your braids too much to reduce frizz.
Apply a conditioner to your braids. Use extra conditioner on the ends of the hair.
Leave it on for 20 minutes.
Rinse your hair. Do not scrub or chafe your braids together.
Gently squeeze your hair to drain out the excess water.
Tie your hair in a bun and wrap a microfiber towel around your head.
Remove the towel and spray a hair refresher on your scalp.
Spray a hair oil on the scalp.
Massage the scalp gently.
Blow dry your hair on a cool setting if your hair is braided with synthetic hair or you have thicker braids.
Apply a hair serum or argan oil to your braids.
There you have it! All you have to do is take care not to move or rub your braids together, use a hair refresher and oil spray, and blow dry your hair to reduce frizz. Up for a few more tips? Scroll down!
Tips To Wash Hair With Braids
If your braids are thick, use a hairband to tie your hair in sections. That way, applying the shampoo to your scalp becomes easier.
Rinse the scalp to wash off the shampoo. Letting the shampoo drip down your hair may trap the product in your braids and damage the hair if not washed properly.
Wash your hair once a week if your scalp is oily and once in 10 days if it is dry.
Do not scratch your scalp while massaging the shampoo.
To reduce frizz, do not move your braids too much or rub them together.
Apply a conditioner and leave it on for at least 5-10 minutes. If you have dry or frizzy hair, leave the conditioner on for 20 minutes.
Use a microfiber towel to soak up the water. Leave it on for 10-20 minutes.
Squeeze the braids to get rid of the excess water.
If your braids are made of synthetic hair, use a cool setting to blow dry your hair.
Wrap a hand towel around the ends of your braids and secure it with a hairband to prevent dripping.
Box braids, crochet braids, microbraids, or twists – all of these braided hairstyles help the hair grow, look gorgeous, and make the hair more manageable. However, product buildup and sweating can lead to itching, dandruff, frizz, and scalp odor. Hence, wash your braids to keep them shiny, moisturized, and healthy for a long time.
Frequently Asked Questions
How often should you wash your hair in braids?
Wash your braids once a week if you work out or have an oily or itchy scalp. If not, you may wash your braids once in two weeks.
How do you dry braids fast?
Squeeze out the excess water and wrap a microfiber towel around your head. Blow dry your hair on a cool setting, and then wrap a hand towel around the ends of your hair.
Why do braids itch so bad?
The chemical used to coat the synthetic hair used for braiding causes itching. Sweat and dust trapped in the braids and scalp make the scalp itchy.
Does washing your braids stop itching?
Yes, washing the braids can help stop scalp itching. Washing helps get rid of the dirt and sweat, which reduces the itching.
Recommended Articles
The following two tabs change content below.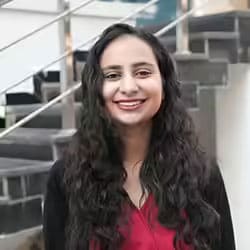 Arshiya Syeda is an editor and certified counselor. Ever the lover of the written word, she served on the editorial boards of her school and college newsletters. Writing articles on hairstyles, hair care, and nutrition helped her combine her love for reading, writing, and research. As an editor, she helps her team members deliver polished and meticulously researched content. Arshiya is fluent in English, Urdu, and Hindi and aims to become a multilinguist by learning German and teaching herself American Sign Language (ASL).