How To Remove Toner From Hair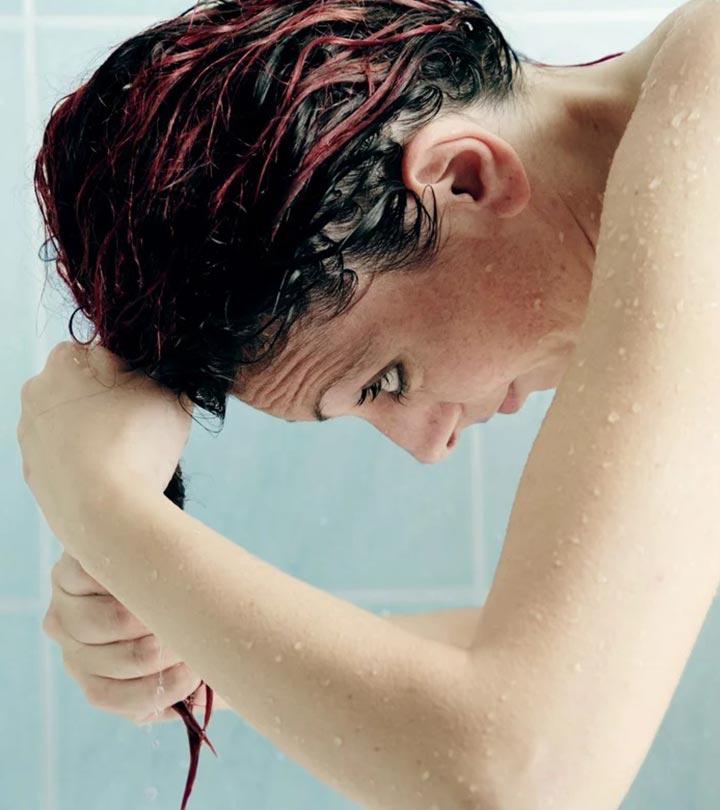 Hair toners help enhance and tone your colored hair. They are excellent for neutralizing brassiness and yellow-orange undertones. However, sometimes, they may mess up your hair color, and you may not feel happy about the results. Do not worry! Toners eventually fade with each hair wash. However, if you do not want to wait for it to fade on its own, you can easily wash out the toner from your hair. This article explains how to do that, along with after-care tips. Keep reading.
Should I Remove Toner From My Hair?
Yes, if you are not happy with the results. It is good to consult a professional hairstylist for the procedure as the toner removal process often makes the hair dry and brittle. You can also do it at home. However, you need to stick to a thorough after-care routine to restore hair health.
Hair toners fade over time, and you can quicken the process by frequently washing your hair. It may take around a month to completely wash out the toner from the hair. If you do not want to wait that long and remove the toner from your hair at home, follow the steps mentioned below.
How To Get Toner Out Of Your Hair: 3 Simple Ways
1. Hydrogen Peroxide And Shampoo
Hydrogen peroxide is a bleaching agent that helps to strip the toner from your hair.
You Will Need
100 ml of hydrogen peroxide solution
100 ml of a mild shampoo
Rubber or plastic gloves
Process
Mix the ingredients and store the mixture in a spray bottle.
Spritz the mixture on your damp hair, focusing on areas with the toner.
Wear gloves and spread the solution evenly on the hair strands.
Wait for 2-5 minutes.
Rinse well with lukewarm water.
Apply a hydrating conditioner and wash off with room temperature water.
2. Baking Soda And Shampoo
Baking soda is abrasive and may help exfoliate the toner from your hair. Mixing it with a clarifying shampoo removes dirt and buildup from the hair and scalp. Dandruff shampoos can keep the scalp healthy and strip the toner off the hair strands.
You Will Need
2 tablespoons of baking soda
10 ml of shampoo (anti-dandruff or clarifying shampoo)
Process
Mix the baking soda and the shampoo.
Scrub your hair gently with this mixture.
Rinse your hair with lukewarm water.
Apply a nourishing conditioner.
Wash off with room temperature water.
3. Lemon Juice And Conditioner
Lemon juice has natural bleaching and oxidizing properties that can help remove the toner. It is a safe and natural option, but you must use it sparingly as it can dry out the hair. Use it within two days of using the toner.
You Will Need
2 tablespoons of lemon juice (adjust the quantity as per your hair length)
15 ml of hydrating conditioner
Process
Mix the conditioner and lemon juice.
Apply it to your hair using your fingers or a wide-toothed comb.
Leave it on for 20-30 minutes. Cover your hair with a shower cap.
Wash your hair with lukewarm water.
Follow these recipes to remove green, blue, and ash toners from the hair. However, to prevent dryness, follow the after-care tips in the next section.
Tips To Care For Your Hair After Toner Removal
Switch to a hydrating and mild shampoo that does not contain drying alcohols and sulfates. Check for ingredients like glycerin, plant oils, and xanthan gum.
Always follow up with a nourishing conditioner.
Use a deep conditioning mask at least once a week.
Massage your scalp and hair ends with nourishing oils like coconut, almond, and jojoba oils.
Avoid dye jobs immediately after removing the toner, as too much chemical processing can damage your hair.
Get regular trims, especially if you notice dry or split ends.
To Conclude
Toners help neutralize brassiness and yellow undertones in your colored hair and enhance the color payoff. However, they are a little tricky to use. Factors like hair color, toner strength, and timing can influence your final hair color. In case the toner has messed up your hair color, do not panic! Follow the tips mentioned in the article to remove it. You may also visit a hair professional to remove the toner from your hair.
Frequently Asked Questions
How long does it take for the toner to wash out of your hair?
It may take about 4-6 weeks for the toner to fade with each wash.
How long should you leave the toner on your hair?
Leave the toner on your hair for not more than 30 minutes or the time specified by the manufacturer.
Does toner damage your hair?
Yes, a toner can dry out the hair and cause breakage.
Can I use shampoo to wash out toner from my hair?
Yes, you may use clarifying and anti-dandruff shampoos to remove toner from your hair.
Recommended Articles
The following two tabs change content below.