How To Wear A Beanie With Any Hair Type And Outfit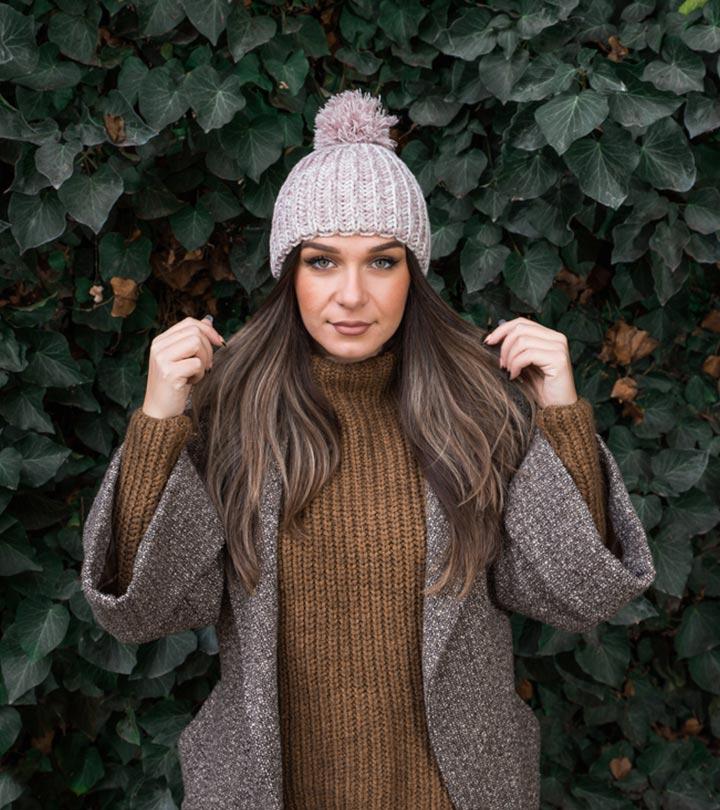 Are chilly winters giving you the shivers? Time to take out your sweaters and warm boots! A beanie is also a cute winter accessory. We are here to show you how to wear a beanie to make it look stylish while keeping your head warm. After all, a beanie goes well with any winter outfit.
Wearing a well-knit beanie keeps you feeling warm, protected, and fuzzy. You can find them in all shapes and sizes. However, styling it right can take your beanie game from 'meh' to fab! Scroll down to learn how to style your beanie and rock it this winter with every outfit you wear. Read on to get the best fashion tips and styling ideas.
Types Of Beanies
Cuffed beanies are classic and traditional beanies. The cuffed edge protects your ears and forehead and adds to your style quotient as you head out for work and errands in the chilly winds.
The fisherman or short beanies are in trend these days. While they do not cover your ears entirely, they look smart and funky with their shallow crown.
The slouchy, lazy beanies are usually longer than the usual beanies. They cover your ears while being baggy at the back. Lazy beanies also look great with overcoats and denim.
Bobble beanies with a cute pompom on the top are a favorite among both children and adults. They keep you warm and make you look effortlessly casual yet dolled-up.
Finally, the high-top beanies are the most fashionable today. They are worn atop the head, leaving room at the back.
With myriad options, we are sure you can find the beanie that goes with your style. Whether you have curly, short, or long hair, we have got you sorted on how to style a beanie with all hair types. Keep scrolling!
How To Wear A Beanie With Curly Hair
Do not pack all your hair inside the beanie. While your tiny ringlets pop all over your forehead, ears, and shoulders, a loose-fitting, cuffed beanie will add more glam to your overall appearance.
How To Wear A Beanie With Long Hair
Utilize your hair's versatility and flaunt your gorgeous tresses in multiple hairstyles that pop from under the beanie. You can make side buns, braids or even leave your hair open. In addition, you can make loose ponytails and one-sided fishtail braids to keep your hair in place while wearing a beanie. And if you have bangs, oo la la! Nothing can stop you, girl!
How To Wear A Beanie With Short Hair
Make a small cuff on your beanie and leave room at the back as you wear it. You can leave your short hair open or make two small buns or a cute ponytail to look the cutest while wearing a beanie.
This versatile accessory doesn't only go with all hair types but can also be teamed up with any outfit. Be it formal wear for office, casual wear for everyday use, or streetwear style for that extra oomph on the go, the beanie has got your back.
How To Wear A Beanie In The Office
If you thought beanies were only for a casual look, you are so wrong! You can slay your office look with a beanie instantly. Slide into your well-ironed formals, pair them with small and sharp black boots, and layer a leather blazer or a semi-formal overcoat jacket. Then, grab your favorite single-colored beanie to complete the look. A beanie with office wear will add dimension to your personality and make you look chic.
How To Wear A Beanie With A Casual Outfit
Beanies go best with casual wear. So, whether you are running errands, shopping for groceries, heading for a brunch, or taking your dog for a run, you can sport a beanie without altering your style quotient. Wear single-tone loungewear, loose wide-legged denim pants with a white top, or a slip-on dress with sneakers. And just top it off with your favorite beanie. Do not forget to play with different prints and colors for your beanie to add that extra oomph to your outfit. We bet you will be showered with compliments!
How To Wear A Beanie Streetwear Style
Ahh! What could be more rocking than wearing a beanie the streetwear style? You can grab any of your baggy, bobble, and loose-cuffed beanies with your favorite winter dresses. Layer with your favorite knitwear sweaters, sweatshirts, or overcoats, as you desire. Finish the look with leather pants or mom denim pants and boots – and you are ready to be the street-style head turner!
While beanies might keep your head and ears warm, they will also amp up your winter game like no other. Indigo, maroon, peach, or yellow – every beanie will add a bling to your personality. Winter's almost here! What are you waiting for? Go slay your look with a stylish and comfy beanie!
Key Takeaways
A beanie helps you stay warm, fuzzy, and protected.
Cuffed beanies, short beanies, lazy beanies, bobble beanies, and high-top beanies are the different types of beanies available.
Whether your hair is curly, short, or long, you can style the beanie with all hair types.
A beanie is a must-have accessory in chilly winters. Besides keeping you warm and protected, it can glam up your winter outfit instantly if styled correctly. The versatile beanie can add a pop of color to your office outfit, take your casual brunch outfit up a notch, or add an extra oomph to your streetwear. Be it cuffed, short, lazy, or bobble beanies, it is important to know how to style this accessory according to your hair type and style. So, take cues from the above-mentioned easy tips to style your beanie the right way and rock your winter attire!
The following two tabs change content below.