How To Wear A Blazer – Outfit Ideas For Women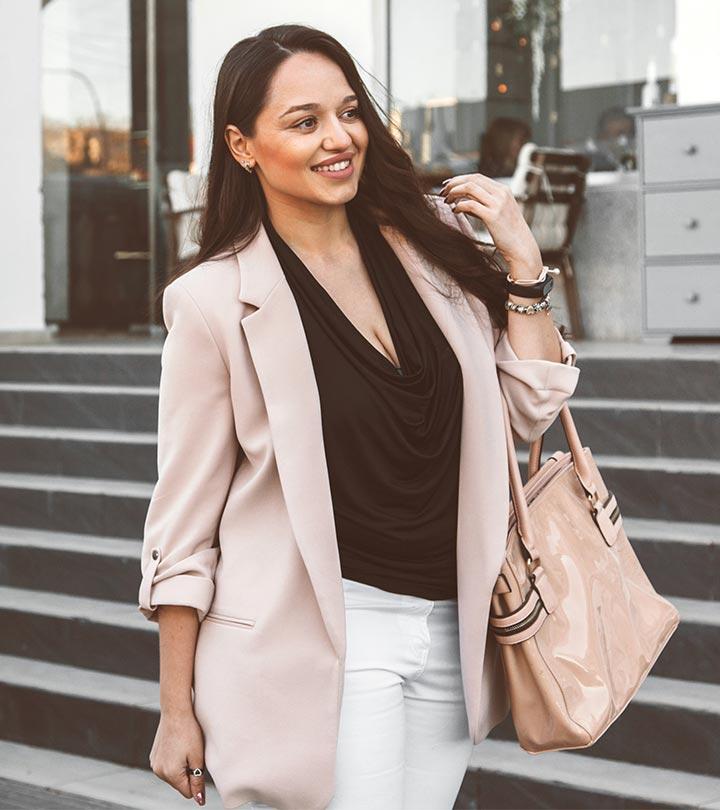 It is time for you to stop wondering how to wear a blazer because you have already landed on the right page, which will provide you with the perfect answers. This article will show you all the amazing ways you can try to rock a blazer and look like a showstopper. With the passage of time, blazers have undergone significant transformations, and you are provided with umpteen options. So scroll down and find them all!
Types Of Blazers 
Blazers come in all colors, prints, cuts, and fabrics, and your options now are practically endless. Whatever it is that you choose to go for, you need to know the basic styles and understand how to buy them. Every brand has its own take on these, but the fundamentals remain the same. Let's take a look at them.
1. Single Breasted Or Buttoned Blazer
A single button or single-breasted suit essentially has one button that connects the sides of your blazer. This style suits all body types and occasions. Choose fabrics and styles that are slightly informal if it's not for work. This style has been in fashion for over 70 years now.
2. Double Breasted Or Buttoned Blazer
Two buttons blazers are extremely formal, and more popular than your regular/single button blazer. It has more fabric and covers your shirt, unlike the single button ones. People are moving out of the single-breasted blazer wagon because the idea of a formal blazer has changed over time.
3. Peplum Blazer
Peplum blazer is incredibly fancy, and takes the shape of the peplum cut. There's something about this cut that makes these look irresistible. You get both elegant and formal variants in these. They look exceptionally good with formal skirts and pencil pants.
4. Waterfall Blazer
Waterfall blazer is not a blazer per se, but this is more blazer than your shrug. It has caught on like wildfire. Officewear, power dressing, work look, etc. are evolving rapidly, and these are getting acceptable at work, and otherwise too.
How To Wear A Blazer
1. Blazer With A Button Down Shirt
Blazers for work used to mean a complete matching suit, but that has changed now. While there's nothing wrong with wearing matching suits, matching separates is the new thing. Pencil skirt and a white button-down shirt with a brown checkered single-breasted blazer looks dapper.
2. Blazer Dress
Now, I'm sure you haven't seen anything quite like this, have you? A short, draped blazer-style dress with a pair of bold red pumps is your way to go.
3. Informal Blazer With Skinny Jeans/Leggings
If you are all about flaunting your legs in a skinny pair of jeans and pairing that with a blazer, go for a plain shirt, preferably white, and go all out with a casual blazer. Swap your jeans with a pair of leggings or jeggings to take the look a notch higher.
4. Turtle Neck T-Shirt, Blazer, And Converse Shoes
Turtleneck T-shirts are uber cute and effortlessly stylish. So, how do you up this already stylish game? Just throw on a blazer of your choice. Completing this look with converse shoes will make the outfit quite the charmer.
5. Black Sequin Blazer
A crop top style-sequin blazer with a pair of printed pants will take your party look to a whole new level. If the blazer comes with a simple sequin bordering, go with a sequin tank top; or, just stick to basics like a tube or spaghetti top. Put your hair up in a chignon updo, and wear lipstick, wedges, and a sling bag.
6. Pink Blazer And A White Shirt
Throw on a muted pink blazer over your classic blue jeans-white shirt pairing and make it look like the world is your runway. Wear matching footwear and fine jewelry to complete the look.
7. Black Striped Oversize Blazer And A V-Neck T-Shirt
A pair of mommy jeans, a V-neck T-shirt, ankle strap transparent pumps, deep red lipstick, a high bun, and an oversized black and white blazer will set your mood right for a retro night.
8. White Blazer And Matching Set
Bored of wearing one piece long or short dresses for weddings? Try the matching suit sets that have taken over the clothing lines over the last few seasons. The draped, tieable, waterfall style blazers look cute over a pair of well fitted, ankle length pants. But, if you are wearing white, make sure you check with the host or choose another color in this style.
9. Chambray Blazer
Denim jackets don't pass off as blazers, but if you are a fan of the finish, chambray blazer is your way to go. They look stylish and go perfectly with denims, shorts, skirts or dresses alike. Fold the sleeves if you are a fan of quarter sleeves.
10. Shorts, Blazer, And A Scarf
Who says you cannot wear a blazer over shorts? Tuck in a plain V-neck T-shirt into light washed denim shorts, and wear a bandana or satin scarf. Finish the look with a pair of pumps, a small body bag, and tousled waves – slay it in style.
11. Formal Bodycon Dress With A Waterfall Style Blazer
Blazers with one piece dresses are increasingly becoming popular, and not just the formal kinds. Blazers in the waterfall style will make you look like someone who knows her dressing game.
12. Two-Button Blazer For Work
Your standard two-button blazer work look is the epitome of power dressing. If you are headed to an important meeting or an interview, invest in a formal blazer like this one and wear it on days like these. Gray, black, blue, and checkered blazers are versatile and can be played around with depending on the rest of your outfit. So, it depends on how creative you can get, and how to make it seem new every time.
[Read: How To Match Your Shoes With The Dress ]
13. Linen Blazer
Linen and pure cotton are making a comeback thanks to slow fashion and other fashion movements. If you are into sustainable clothing, cotton or prefer light cotton clothes in summer, a linen blazer will be a stylish addition.
14. Colored Blazer Over Culottes
The idea of wearing a blazer over something that is well fitted and body defining has been the norm for the longest time. But, you guessed it right, that's changing too. Adding a pop of contrast or coral colors to your culottes or palazzo pants is now considered cool.
15. Blazer With Sweater In Winters
How did we not think of this before? A sweater inside and a suit outside? Remember that as long as it's not outlandish and still stylish, power dressing has a lot of scope for you to explore.
If your blazers are gathering dust in your closet because you don't know how to wear them, it's time to take them out. Today, blazers come in different shapes, fabrics, and sizes. That is why it is essential to understand how to wear a blazer suitable to your body type. The good news is, a buttoned or double-breasted blazer can go with any outfit for any occasion. You can either style your blazers with a pair of leggings or blue denim and a set of accessories to up your fashion game.
Frequently Asked Questions
What is the difference between a blazer, a coat, and a suit?
Blazers are usually stand-alone jackets that are considered formal, but they swing both ways depending on the fabric, pattern, and print. A suit is more elaborate, almost always used for formal and semi-formal occasions, and comes in a trousers-blazer combo. A coat is more like a jacket that is used in cold weathers and comes in all shapes and lengths. It can sometimes look like a blazer, but it is not one.
The following two tabs change content below.