Easy And Simple Ways To Wear A Bucket Hat
Rock this versatile and trendy hat with every outfit and look like the diva you know you are!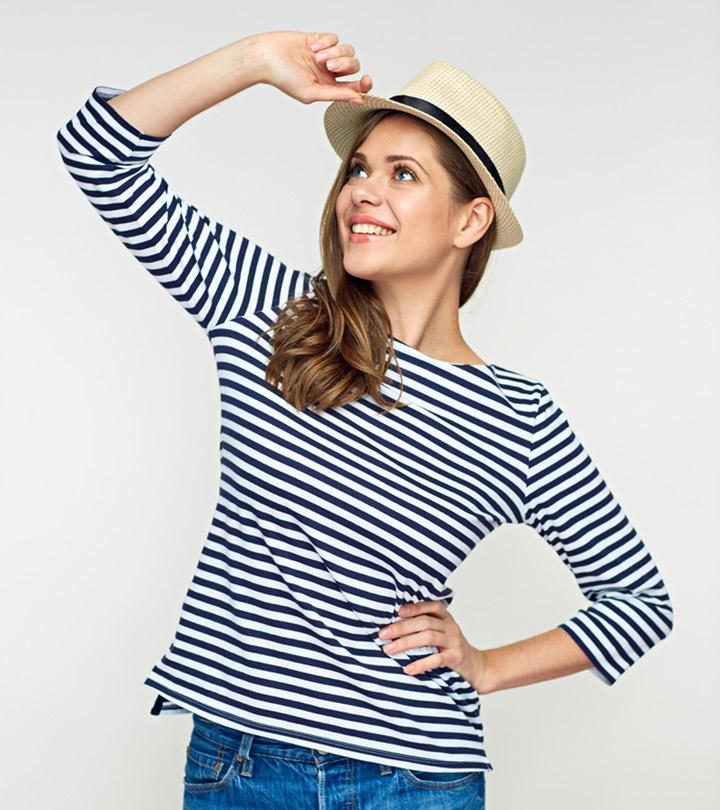 Fashion is retrograding to the fabulous '80s. And we are bowing our heads to the trendy bucket hats! It's time to learn how to wear a bucket hat without looking old-fashioned. You can learn from mainstream fashion experts like Rihanna! Heck, even fishermen and women at the beach are rocking the bucket hat.
Get your hands on this trendy accessory. It will help you make the best style statement this summer to fall season. If you want some inspiration, scroll down to get a few easy, simple, and unique ideas to style a bucket hat. Read on to flaunt it, girl!

Ace The Look
Size: Wear a bucket hat with a wider rim for sun protection. A snuggly-fitted hat with a not-so wide rim is ideal for a windy day.
Color: Go monochrome with a solid-colored jacket to match your hat for a cohesive and stylish look.
Texture: Play with fuzzy hat textures and clothing to add dimension to your outfit and make it eye-catching.
Pairing: Wear distressed jeans with a multicolored top paired with a muted bucket hat for a casual and edgy look.
Easy And Simple Ways To Wear A Bucket Hat
1. How To Wear A Bucket Hat With Curly Hair
If you are wondering if a bucket hat is only for the wavies or people with poking straight hair, well, you are happily wrong. A pastel-colored bucket hat sits beautifully on curls. Here's how you can style your look:
Style your curls and part them into three sections at the back and sides. Top it off with a bucket hat of your choice.
If you rock the short curls look, just let your hair free, all over the place, and adorn it with a denim, a tie, and a dye bucket hat. You can also pull off a few thin strands, braid them, and leave the rest of your curls open and free.
If your long curls are troubling you a lot, part your hair, make two low buns, and let a few strands loose in the front. Wear a bucket hat, and sweetie, you know you are a living trend already!

Quick Tip
You can attach a satin lining inside the hat or cover your head with a satin scarf before putting the hat on to protect your curls.
Here's a video that will help you explore more curly hairstyles with a bucket hat.
2. How To Wear A Bucket Hat With Braids
Braids never run out of fashion, and so does a bucket hat with braids. Twist your hair into two braids, multiple thin braids, or fishtail braids – the bucket hat will amp up your look easily. Wear wide-legged pants and your favorite T-shirt. Those braids scooped in a bucket hat are everything you need to feel street smart.
3. How To Wear A Bucket Hat With Long Hair
Long hair is the most hat-friendly. Leave your long hair naturally free, make loose braids, or tie a messy bun. Nothing can stop you from making the bucket hat look like your jam with those long tresses. So, buy your favorite printed or textured bucket hat and get ready to rock and roll.

Did You Know?
The bucket hat was first used in the early 1900s as a purely functional item worn by Irish farmers and fishermen as protection from the rain.
From denim, tie and dye, and color-blocked to snake skinned leathers, crochets, pastels, and blacks, bucket hats are a treat for every mood and occasion. Of course, this can get you wondering how to wear them, with what, and where? Well, we have got you covered. Name a season, think of a dress, choose your bucket hat, and nothing can stop you from turning heads wherever you go.
Bucket Hat Outfit Ideas
You can create a trailblazer look wearing leather, say a jacket and bottoms, and ace that look with a cheetah-print or snake-skin bucket hat. Get it to gel along with washed jeans, sleek boots, and a pair of classic black glasses.
Bucket Hat With Loungewear
Loungewear is the new streetwear of the town. It has slyly moved out of your bedrooms and is rocking the street style like never before. Yes, you are thinking right. You can move out wearing your favorite loungewear in your lazy, messy braids, and top it with a bucket hat, easily acing a fashionable look.
Bucket Hat With Bathing Suits
Bucket hats are a great way to pop up that extra to your beachwear or bathing robes. So, if you are going out for a swim or lazing around on the beach, grab a sand-colored bucket hat. It saves you from the sun, adds to your style, and is easy to carry around. What else? Great photos!
Bucket Hat With Knitted Wear
Winters are about wide-legged denim bottoms with oversized knits on top or a knitted dress with long puffed sleeves. Pull on a bucket hat, and you will be surprised how chic it makes you look overall. This look serves not only as a statement but also defines how comfort meets style.
Bucket Hat With Printed Clothes
Pattern mixing is an art that very few know to master. If done rightly, an accessory might be difficult to pick. Try wearing a patterned skirt or pants with a small, printed top and a bucket hat. You will find colors creating a beautiful symphony with so many prints and mixing and matching.
Bucket Hat With Summer Florals
Bucket hats were originally designed to provide sun protection for your eyes and face. So, use them the right way. After all, summer isn't just weather but a mood. Wear your overdressed summer dress adorned with floral prints or just specks of lively colors, and grab a bucket hat. It will make your summer appearance chic, fresh, and casual.
Bucket Hat With Layered Clothing
If you thought your layered clothing was too much for anything else to be added, well, no. A bucket hat will simplify your layered look, making it appear classy and appealing. Whether layering multiple overcoats, tank tops, or hoodies, a bright color bucket hat can complete your look and provide you with the finesse. Pair your bright bucket hat with something more structured, like a long trench coat. And don't forget the basics underneath—a plain white t-shirt or black tank top will look amazing underneath that awesome new bucket hat!
Bucket Hat With Biker Shorts Or Oversized Tops
Biker shorts and oversized sweatshirts, layered with a casual soft blazer and a bucket hat – mamma mia! This look is a treat to ace. The cozy, casual appearance is so addictive that you would want to stay in this outfit all day. Try it soon, and you will realize running errands had never looked so effortlessly pretty.
A bucket hat also looks great when paired with short skirts. Wear a turtle neck sweater, skater skirt of your choice, knee-length boots, and get hold of a classy bucket hat. Tie your hair in a bun or two simple braids. Or just let your hair flow with the wind. Nobody can walk past without staring at you in awe.
Bucket hats are meant for all weathers, moods, and clothing. The 80s trend is back again, and you must make the most of it. This staple headwear is here to stay. Just move out of your bed and style it as easy and chic as never before!
Infographic: Ways To Rock The Bucket Hat Look
Bucket hats are all the rage in the world of fashion. These hats can be made using materials that are suitable for all seasons. As it is a fashion essential, it makes sense to be aware of what it goes well with. We have summarized all the styling tips from this article into an infographic below. Save it for future reference.


Bucket hats are back in trend, so get your hands on this fashionable item without further delay. It will assist you in making the best style statement possible during the summer and fall seasons. The hat can be worn with various hairstyles and looks well with almost all outfits. So, irrespective of whether you are sporting loungewear, summer florals, or biker shorts, a bucket hat is one of those accessories that work with all three and more. Now that you know how to wear a bucket hat, grab yours and flaunt it in your unique style, taking inspiration from the above ideas.
Frequently Asked Questions
Do bucket hats look good on everyone?
Yes, bucket hats look good on everyone, and they are trending among the Gen Z crowd right now.
Should bucket hats be tight?
No, bucket hats shouldn't be too tight. They should be slightly loose and comfortable to wear.
Can you wear a bucket hat with a ponytail?
Yes, there are specific bucket hats that are designed to accommodate high ponytails and buns.
What face shape suits a bucket hat?
The bucket hat is ideal for anyone with a square face.
Key Takeaways
The bucket hat was trendy during the 80s but they have made a string comeback today.
Bucket hats can be teamed with curly hair, braids, long hair and more. They can be worn with leather outfits, loungewear, knitted clothes, summer floral apparels, layered clothing, skirts, oversized tops and biker shorts.
A bucket hat can be worn in any season at any time if styled the right way.

Looking for some awesome bucket hat outfit ideas? From casual to dressy, we've got you covered. Check out this video now!

The following two tabs change content below.