How To Wear A Dupatta – Different Types & Draping Style Ideas
Long gone are the days when it was cute to wear dupattas that were short because the focus was on the remaining part of the dress. Now, it is the 'dupatta' that's in focus, period. Because come to think of it, most of us do not even wear full blown suits with dupattas anymore; but when we do, it's a value-add and probably the center of attraction. And, thanks to ever-changing designs, your dupatta choices are practically endless. Plus you can wear them in several different ways!
What Is A Dupatta?
A dupatta – also known as 'chunari,' 'odni' or 'chunni' is an equivalent of a scarf if you have to compare it to a contemporary or Western form of dressing, except this is much longer. It used to be a piece of clothing that symbolized a woman's modesty in the olden days. However, if you dig a little deeper, it was apparently worn by both men and women, only differently. Anyway, that has changed and so has the dupatta. From why and how it's worn to many variants, these have come a long way.
Types Of Dupattas
1. Phulkari Dupatta
Phulkari dupattas are an accurate representation of the liveliness of Punjab. The highly intricate multi-colored embroidery done on either jute, khadi or georgette fabrics are popular everywhere. From street styles to big designer labels, all have suddenly picked this style up. The best part about these dupattas is that you do not need a set pattern, you can mix and match them. Just keep the outfit simple.
2. Bandhani/Bandhej Dupatta
Bandhani style dupattas go way back in time, and the technique is known to be as old as the Indus Valley Civilization. These are knotted and dyed dupattas that come in a variety of fabrics. Rajasthan and Gujarat are famous for their authentic bandhani or bandhej dupattas. Bandhani style sarees, dupattas or suits never really go out of style. You can simply wear a bandhani dupatta with a black or a white kurta and pair them with tribal jewelry to look effortless.
3. Chanderi Silk Dupatta
Just a Chanderi dupatta can add sheen and luxury to your outfit and is one of the classiest dupattas you can own. They originate from a small town called Chanderi in Madhya Pradesh and are known for their elegance and simplicity. Chanderi dupattas come in a mix of fabrics and have variants like chanderi silk, cotton, etc. These are lightweight yet celebratory because of the golden zari work. You can wear these with dresses made from cotton, linen, zari, tussar silk, etc.
4. Banarasi Silk Dupatta
Banarasi dupattas, as the name suggests, originates from Varanasi, UP – a place known for its many wonders. The Banarasi brocade saree was always popular for its rich and heavy duty zari work that exudes grandeur. But the Banarasi style dupatta suddenly found its way back into Indian couture line. If you have not tried one of these, you should. Keep the rest of your outfit simple. A floor length Anarkali dress will be a perfect match.
5. Georgette Dupatta
We all have them, love them, and cannot do without them. Your average everyday dupatta will more often than not come in georgette because it is light, elegant, and comfortable to work with. There's nothing more classy than a georgette dupatta if dealt with well.
6. Mirror Work Dupatta
Mirror work is another style that is equal part contemporary and vintage. It is not specific to a particular fabric; you would typically find these in cotton, georgette, chiffon, etc., which are easy to work with and can hold the mirrors. You can dress up or down when you wear this dupatta, based on the occasion.
7. Chiffon Dupatta
Chiffon is lightweight and flimsy, but an absolute delight to work with. It's also very common for both regular and party wear salwar suits. It is soft and smooth on the skin, making it easy to carry around. We all need dupattas in standard colors like black, white, blue, etc., pick them in chiffon and you are sorted.
8. Ikat Dupatta
We are all going back in time and bringing back all our old traditions again, especially with clothes. Just like the Banarasi and Kalamkari, Ikat is becoming increasingly popular. From sarees, blouses, dresses, one-piece dresses, and dupattas, Ikat is everywhere. It defines Bohemian fashion in the truest sense.
9. Kalamkari Dupatta
Kalamkari design depicts our culture and heritage like nothing else. Even though it is a technique adapted from Persian culture, the design has been an integral part of our culture for the longest time. It is a handpainted technique that needs a lot of time, precision, and patience – which is what the weavers are all about. Kalamkari dupattas are a classic example of the mix-and-match style. You can wear these with simple everyday kurtas to parties, and work with tribal jewelry to stand out.
10. Net Dupatta
Net dupattas are majorly used with party wear dresses, lehengas, etc. They are flimsy but hold heavy embroidery and have an inbuilt sheen in them that makes everything pop. They look great with dhoti style, Anarkali, floor-length dresses, and of course lehengas.
11. Zari Dupatta
Pattu/Zari or Silk dupattas are timeless and look great with traditional dresses. The biggest designers of our times have collections with just zari dupattas, and they are presenting them at fashion week, adding a whole new perspective to this age-old beauty.
Best Dupatta Draping Style Ideas
1. Drape Around
A dupatta draping technique that not only makes you look smart and but also keeps you warm. If you are dealing with big cotton or linen dupattas, here's something that takes the attention away from the dress.
2. Elbow Style
A style that makes us feel like a queen. This is something that we all grew up doing. You just need to throw the dupatta to the back of your body and bring it back up over your elbow or forearm. It is a signature style with lehengas.
3. One Arm
Works perfectly when you have a dupatta that is sheer but heavily worked upon. Place it on your shoulder and spread it a little to bring it onto one arm; it shows off the dupatta and looks stylish too.
4. High Neck Style
The typical 90s Punjabi style draping that we can never get enough of. In fact, since most of us resort to dupattas because they work as a cool prop, and not for its functional use, this is quite famous and not news to any of us.
5. One-Sided Shoulder
Just put it on either side of your shoulders, pin it up, and spread it over your arm. It is prim, neat, and shows off your dupatta too. I prefer to wear it on my left because I like that profile better, but you can suit yourself. A style that goes well with plain dresses and phulkari, kalamkari, Bandhini, and Banarasi dupattas.
6. Two Sided
A style all mothers love. It can sometimes look great, and that's why you see a lot of celebrities on the runway being spotted in this style. It's a great technique to camouflage sleeveless dresses, or when you want to highlight your dupatta.
[ Read: 7 Stylish And Unique Ways To Wear A Scarf ]
8. One Shoulder-One Arm
Give your one-sided shoulder style a little twist and bring it to the front to give your outfit a fuller look while highlighting the dupatta. Floor length dresses with Banarasi or phulkari dupattas or lehengas look great.
9. Full Open
Spreading your dupatta seems like a boring idea and old school, but it's not. In fact, it can look smart and classy, and a little vintage.
10. Saree Style
Yes, take your saree story to another level with this contemporary denim style saree, except you do not need a saree for this. Your regular kalamkari dupatta will do.
11. Pleated Style
Pleat it all and pin up your dupatta for a neat and polished look. Put up your hair and go with chunky statement pieces to slay it in style.
12. Gujarati Style
Here's another way to use your dupatta to ring in the Gujarati way of draping a saree – I mean, your dupatta!
13. Wrap Around
Wrap it around like a shawl on days you feel a little earthy and rooted.
14. Over The Head
Over the head is a standard look for brides and is something that will never go out of fashion. If you are in a mood for a little nakhre, you know how to style your dupatta, don't you?
15. Cape Style
We all love capes and wear them invisibly all the time. Jokes apart, spread it over your shoulders and leave it like a cape or fold it and bring it to the front.
How To Drape A Lehenga Dupatta To Look Slim
Dupatta, as we all know, is an integral part of our ethnic clothing and is used in ways that we never thought were possible. However, you can also use it your advantage and cover up any of those unflattering curves you are not comfortable showing, especially when wearing a lehenga. But, you can work with your dupatta in a way that it works to your advantage and look slightly slimmer.
Dark colored lehengas are your go-to. Spread your dupatta and use something that is profoundly embroidered to make this even better.
Wear lehenga skirts that are high-waisted; this makes a lot of difference. It shows just enough skin and creates an illusion and makes you look slimmer.
Handle your dupatta well. Spread it entirely and steer the attention away from the bulges.
Take care of other details like the sleeves, hemline, and of course the dupatta. Full sleeves and cold shoulder are entirely in right now and will do the job for you.
There's not one right or wrong way to wear a dupatta because it is one of the most versatile pieces of clothing you can have in your ethnic wardrobe. It's a great idea to get a few of these at least – you never know when they will come in handy.
Recommended Articles:
The following two tabs change content below.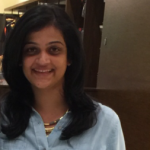 Latest posts by Pratima Ati (see all)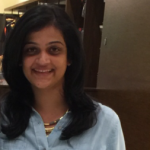 Pratima Ati
After working in Marketing and Business Development for a few years, Pratima Ati jumped ship to pursue two things she loved – fashion and writing. She's now a full-time Fashion & Lifestyle writer and has never looked back ever since. She sleeps early, reads often, and when she can't, she finally gives a closure to all the characters living in her drafts. Sometimes, they pass off as poetry too! That, and her training in Indian classical music and playing (learning) the veena keep her sane, civil, and bearable.