How To Wear Leggings The Right Way? Everything You Need To Know
Your wholesome guide to looking smart, chic, and sassy in this super versatile garment.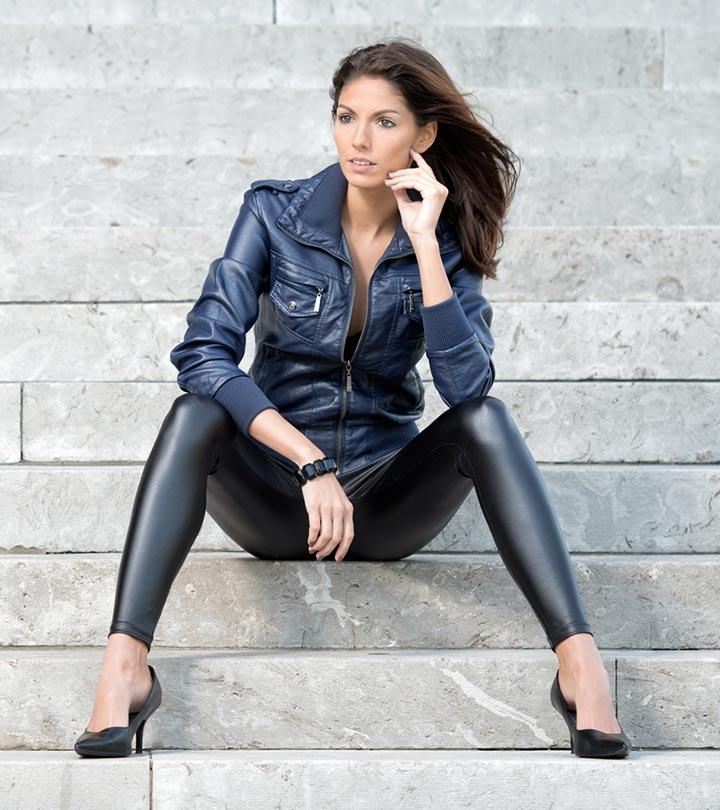 It is really undeniable that leggings are a blessing to the world of fashion. They are comfortable and can be worn with everything. However, while comfort is an important factor, knowing how to wear leggings the right way, also plays a major role in your style quotient. There are new fashion trends popping up every now and then which involve leggings and creative, new ways of styling them for remarkable outfit looks.
Fashion Expert, Sandhya Garg, says, "From a comfort standpoint, leggings are hard to beat. They are stretchy, lightweight, and provide a full range of motion, making them perfect for activities like yoga, running, or simply lounging around the house. Many women also find leggings to be more flattering than other types of pants, as they hug the body and accentuate curves."
So if you want to know how to wear leggings in a way that your personality is brought out perfectly, then you will be glad to know that we are here to help. Today, in this article, we are going to offer you some practical, easy, and effective tips and ideas to style your leggings. All you have to do is scroll down and give this article a read. So, go on and get started. Come on!
How To Choose The Right Leggings
Choosing leggings might sound frivolous because it is the most versatile piece of clothing in our closet we can comfortably wear throughout the year. Yes, if you know the basics, it's not such a big deal, but if you do not wear them correctly, you might just end up with a camel toe. Most of us forget that leggings are not pants.
1. Size
Wearing the right legging size is the most important part of this puzzle. Leggings can either be too tight or too loose. Make sure they fit your body perfectly and around your waist because leggings cannot be worn with a belt, it's imperative that the leggings fit correctly. They should not be so loose that you end up with leggings that you continually need to pull up throughout the day, which may impact your confidence level. It will also not flatter your legs either. You can get away with ill-fitted leggings if you pair them with a long top or skirt that stretches well below the hips. Otherwise, it is quite an unpleasant sight. They can also be too tight, and this is when you can end up with a camel toe or a bulging muffin top when you sit down. To avoid any embarrassment related to incorrect legging sizes, ensure you have your sizes right. Either measure it yourself by holding up and checking the waist size of the leggings, try it on in the changing room, or ask a sales associate which size would best fit you. It is important because the sizes differ from brand to brand and knowing your actual waist and hip measurements will always help. Also, remember if you are an 'in-between' of two sizes based on your measurements, try them on to see which one is more flattering. For example, if you are somewhere in between M and L, go with L – or try both of them first before you buy the smaller size. Try a couple of brands just to be sure which is best for your height and size.
2. Length
As we already know, leggings come in various lengths. How and what you choose to wear them with is entirely a personal choice. However, just make sure the outfit looks like it has been put together well.
They extend a little below your ankle, and most of them will give you soft pleats near the shins, depending on your height. These are usually worn under long Indian kurtis, skirts, longer tops, or in fall/winter looks (paired with boots).
These go well with sports bras and crop tops as an easy option. Might not be a great choice for a formal dress up, but perfect for everything else. They stop at the calf muscle and the focus shifts there, so if you are not very confident about it, then ankle length might be your best bet.


Trivia
Celebs Nicole Richie and Lindsay Lohan popularized this capri version of leggings in the early 2000s.
These are the sexiest of them all. Goes with almost any outfit – tops, slip dresses, tunics, jackets, coats, capes – you name it. Also, any or all kinds of footwear look equally good with these. You can dress down in an ankle-length leggings with a white crop top for a casual outing.
Mostly used as workout apparel – gym, yoga, walking, hiking, running or even for travel.
Stir up leggings are back in trend, and we could not have been happier. Because we can never get enough of leggings, can we? You can practically mix and match these with everything in your wardrobe.
Printed leggings can add more personality to your wardrobe and a little creativity to your outfit to make a fashion statement. However, just make sure you try them on before you pick them up because most printed leggings look great on the hanger but fall flat when stretched on the body. A lot of this depends on your body size and type. Also, remember this fashion advice – if the leggings are printed, the top needs to be plain. You can experiment with bold and contrast colors, but as far as prints are concerned, let the top be monotone.
Stockings are meant for covering your legs while wearing skirts and dresses. They are, by no means, a replacement for leggings, as they can range from being very sheer to solid. Stockings, pantyhose, leggings, and tights are all similar yet different in their own way; do not get confused or bogged down by them.
Athleisure – the choices are limitless. And, workout leggings are yet another addition to this clothesline. Gone are the days when annoying sweats were your only option. Workout leggings are designed with breathable and durable fabrics to provide optimum mobility for your body during any type of fitness activity.
3. Fabric
Cotton and lycra are the most common fabrics for leggings, but leather and suede are other interesting choices you may try. These are extremely stylish and make for a stylish outfit.


Trivia
Lycra (Spandex) was first produced in 1958 by chemist Joseph Shivers, and the first Lycra leggings were manufactured in 1959. With the popularity of aerobics growing, lycra leggings gained popularity in the 1970s and 1980s.
4. Colors
Initially, leggings were all white, black or gray. Then came the colored, contrasted, and later, the neon-colored ones. You can make it fun as long as they are not over-the-top and outlandish. When wearing bright-colored leggings, styling it with a solid white or black top is the most flattering.
Infographic: Dos And Don'ts Of Wearing Leggings
Leggings are comfortable, practical, and perfect for everyday wear. You can wear them to the gym or a formal meeting, depending on how well you style them. However, there are some cardinal rules to wearing leggings, breaking which can make you look unkempt and commit some major fashion faux pas. Check out the infographic below for the dos and don'ts of wearing these bottoms.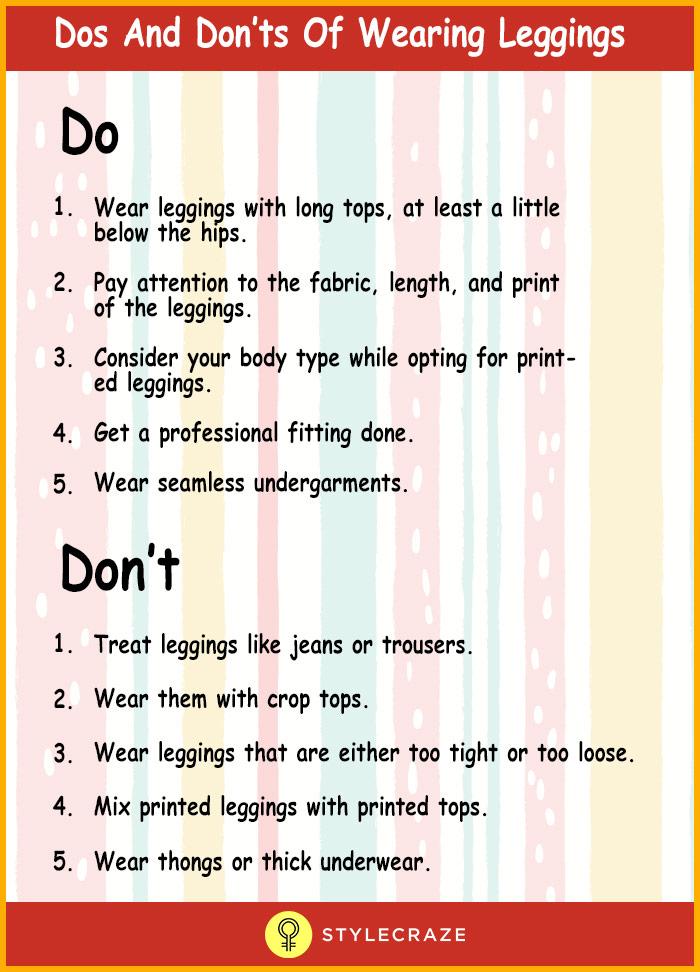 We cannot emphasize the versatility of leggings enough. If you know how to wear a legging the right way, you can team it up with any piece of clothing. Use the fashion tips for the leggings mentioned above to create fashionable looks with leggings. For example, you can wear it with a kurti, and you shall flaunt your desi side, or add a pair of shorts for a sporty and chic look. Also, make sure that the fabric allows your skin to breathe. Do not let your leggings suffocate you. So, what are you waiting for, then? Get yourself these beautiful bottom wears and enjoy their vast utility.
Frequently Asked Questions
How to wear leggings to work?
Some offices have a strict dress code, while some of them are more lenient. For the former, you can try something called treggings – trousers+leggings and pair them with your work shirts, tops, etc. For those of you with a more relaxed set-up, you can do the same with leggings. But, ensure that your tops are flowing, below the hip, and do not drive any unnecessary attention to the lower part of the body. Also, if you are choosing printed leggings, the prints have to be small, subtle, and negligible.
What shoes to wear with leggings?
The best part about leggings is that you can sport them with all types of footwear. From flip-flops and pumps to winter boots and ballerinas, all of them look equally good. The only exception to this is gladiators and strap sandals, which might look awkward.
How to wear leggings for workouts?
You now get leggings specially made for workouts. However, you could also wear regular knee-length leggings. Either way, just make sure they are of good quality and not see-through. It can otherwise look very awkward with you being sweaty and doing all those physical activities. You know what I mean?
How to style leggings in winter?
Leggings are a blessing in winters. You can wear them with hoodies, cashmere sweaters or jackets, or pair them with boots. Also, if you live in one of the cold countries, you must have heard of fleece leggings. Get your hands on those beauties and stay stylish yet warm this winter.
How to style leggings in summer?
In summer, opt for leggings with softer fabrics like lycra or cotton. You can wear them under dresses, skirts, or even shorts if they are full-length. For the ankle and knee-length leggings, wear them with sleeveless tops or just about anything, but again, make sure there is no camel toe peeping.
How to wear leggings – for plus-sized women?
If you are curvy or come under the plus size category, there's nothing you have to fret about. You just have to make sure that the top covers the problem area, which is usually down below the abdomen till the thighs. This way, you can camouflage the unnecessary cellulitei  XA collection of fat under the skin that pushes against the connective tissues and makes the skin look dimpled and lumpy. while keeping it chic and stylish. You could also do a lot with layering and adding definition to the top or whatever else you are pairing it with.
How to style leggings for women over 50?
You can be mature and elegant while being stylish with the right kind of clothing paired with the right accessories. There is no age limit for wearing leggings. However, stick to dark colors. Black is your safest best.
How do I make my legs look good in leggings?
Leggings are not like shapewears and cannot tone your legs. However, to create the illusion of slimmer legs, go for dark colors.
Do leggings get bigger over time?
Yes. Leggings are made of fabrics that have elasticity to them, like spandex. And over time, they will stretch out and loosen.
Why are leggings better than jeans?
Leggings are better than jeans in terms of comfort and unrestricted movement. In terms of styling, you can pick up fashion inspiration, and both can be styled in multiple ways to pull off fashionable looks.
Key Takeaways
Your body type determines the type of leggings you should wear.
Seamless undergarments help conceal panty lines.
Printed leggings should not be paired with printed tops.
If your size measures between two size options, go for the larger one to avoid a sloppy look.