How To Wear A Maxi Skirt – 20 Best Outfits
The ultimate guide to style that maxi skirt in ways that will make you look spectacular.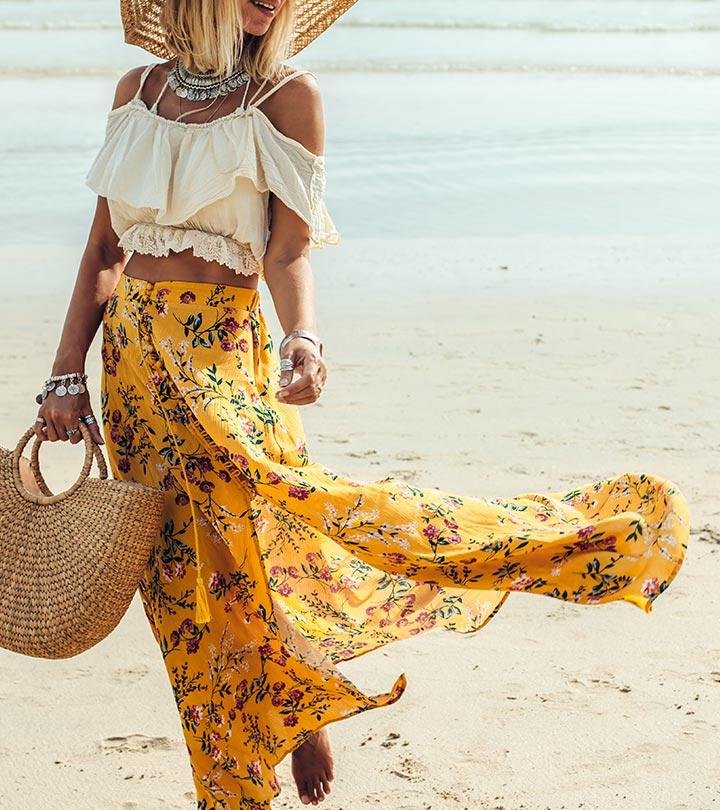 Just like maxi dresses, maxi skirts made an incredible comeback, too, and obviously, for all the right reasons – they are easy to wear, comfortable, and always look flawlessly trendy. So if you want to know how to wear a maxi skirt, then be glad to know that you have brought yourself to the right page. Today, in this article, we will teach you how to wear them in a way that you appear as a showstopper. You can team these skirts with literally anything – from a casual tee to an elegant top, from sneakers and sports shoes to chic heels. So, get ready to steal the show because we have got you covered. Now, go ahead and read this article. Come on!
Quick Tip
The length of a maxi skirt can range from lower calf to ground length. Skirts reaching the upper-calf lengths are called midi.
Different Ways To Wear A Maxi Skirt
There's no right or wrong way of doing this, so if we need to address the big question – "How To Wear A Maxi Skirt?", I might give you more than one answer, more like 20! Yes, 20 ways of wearing a maxi dress! And, there's one that's meant for each of us. Something to lean on and build upon.
1. Vertical Striped Maxi Skirt With Jacket And Boots
Vertical stripes are a staple for maxis. You could go with a similar design in any color and match it with a contrast plain tank top, and throw on a leather jacket, fedora hat, and either boots or shoes (both look equally good). And it also makes for a perfect winter/fall evening dress.
2. Chiffon Maxi Skirt With A Center Split
An outfit that screams summer – airy, breezy, and chic. A simple white tank top, wedges, and a pair of shades are all you need to add oomph to your summer day out.
3. Black Printed Maxi Skirt With A White Shirt
We can never have too many maxi skirts, can we? There are so many ways of styling your maxi skirt, yet, when you look at a new style, it feels fresh. Here's one such effortless outfit idea you must try if you have not already.
4. Blue Printed Maxi Skirt With A Belt
An outfit idea that is slightly offbeat, but a lot of fun. Just tuck in your printed T-shirt and bump it up with a belt, peep toes or platform heels during spring and summers. You can match the outfit with boots if it's fall.
5. Burgundy Maxi Skirt With An Off Shoulder Top
You thought you could not wear a maxi skirt to a slightly formal set up, didn't you? A beautiful burgundy skirt matched with an off shoulder lace top makes for a classy outfit.
6. Pastel Pleated Maxi Skirt With A White Tank Top
Pleated maxi skirts in pastel colors with undertones of peach, pink, mint green, olive green, etc. give you an elegant silhouette. Either wear a plain top or a floral one, and a chunky piece of necklace or a string of pearls – anyway, it's a total win-win.
7. Gray Cotton Maxi Skirt With A Printed Sleeveless Top
If you do not have a gray maxi skirt yet, just get one already. There is just something about the color that makes it go fabulously with almost everything.
8. High Waisted Maxi Skirt With A Plain White Top
A high waisted maxi skirt needs no other accessories. Just the skirt and a crop top will complete the look. Minimalistic, yet stylish.

Quick Tip
If you have a short build, high-waisted maxi skirts can help create the illusion of height. Wear a pair of heels to complement the effect.
9. Indian Ethnic Maxi Skirt With White Shirt And Tribal Jewelry
The best part about the ethnic maxi skirts is that they swing both ways. A simple ikat long skirt can be paired with a crop top, an off shoulder, a tank, whatever, for a Bohemian theme. Go with chunky pieces of oxidized silver jewelry to take it to the next level. Or, you could wear it with traditional tops made with Banaras or raw silk material to make it work for special occasions. Women with just about any body type can wear these skirts. If you fall under the pear or apple shaped body type and have apprehensions, just drop it all and go with this maxi skirt style.
10. Black Pleated Maxi Skirt In Sheer Fabric
If you have a petite body and think long, overarching maxi skirts fall flat, here's something that is meant for you. The sheer fabric gives definition to the inner skirt, and it goes with almost any kind of top.
11. Floral Maxi Skirt With Denim Shirt/Jacket
Keep up with the spring vibes in this floral maxi skirt, but add an extra layer with a denim jacket or shirt to look urbane and chic. You can opt out of it too, but floral with denim is an eclectic choice of outfit.
12. Long Blue Maxi Skirt With A Plain Top
Are you struggling to style your printed maxi skirt? Hang on for a second. Just pick that plain black T-shirt, tuck it in, pull up your pumps, and add some junk jewelry if you please. In fact, high neck T-shirts work both ways – with or without neck pieces.
13. Light Maxi Skirt In Chiffon Fabric With A Side Split
Wondering what to wear to a date night? Is a maxi skirt one of your options? You should go with it. It looks effortless and totally fitting.
14. Knotted Maxi Skirt
Just like knotted maxi dresses, knotted maxi skirts are so in. See the difference a simple design element can make to an outfit.
15. Tulle Maxi Skirt With Frills And A Plain Top
A tulle or lace maxi skirt by itself is an accessory that needs nothing else. Be it an evening soiree you have planned or a date night, this outfit is dreamy and whimsical.
16. Pleated Maxi Skirt With A White Lace Top
Here's another way to style your pleated maxi skirt. Because we can never get enough of off shoulder tops.
17. Black Cotton Maxi Skirt With A Side Split
You know what is better than a long black cotton skirt? A long, black, cotton skirt with slits. Yes, that with a crop top will make you look like a diva. If you are not comfortable with crop tops and have a curvy body type, just go with any top of your choice. That's the thing with maxi skirts – people with all body types can wear them.
18. Lularoe Maxi Skirt Converted Into A Tube Top
I'm not sure if you have heard of this, but the Lularoe maxi skirt has been a rage since its inception. The concept is to take one piece of garment and convert it into many styles. Like a maxi style skirt can be styled as a tube top, a high waisted skirt, or a low waisted skirt, etc. It's also perfect for pregnant women because it stretches and takes your body shape.
19.  Black Horizontal Striped Maxi Skirt
Another design option for the hourglass and petite body types. You can pair this skirt with simple tank tops, shirts or loose and flowing tops. Accessories like belt, boots, hats, and statement jewelry are other interesting ways to customize your look.

Quick Tip
As a general rule horizontal stripes have a widening effect, therefore, they do not go well with plus-size body types. Vertical stripes on flowy cuts are a better option for a slimming effect.
20. Plain Black Maxi Skirt With A Tie & Dye Top
An uber chic way of styling your plain black maxi skirt is to pair it up with a tie and dye top. Looks like a maxi dress from the front and a maxi skirt from behind. Style your hair into some beachy waves, and you're well on your way to your next beach vacation.
How To Wear A Maxi Skirt In Summer
Keep your summer maxi skirts airy, flowy, soft, and breezy. Make it all about tanks and asymmetrical maxi skirts. Pair it with spaghetti tops, go for cotton skirts with tank tops, or convert maxi skirts into tube tops. Style your hair in a messy bun or beachy waves, strut around in flip flops, throw on statement jewelry, and enjoy the weather. Don't worry if you were not able to crack the summer body this season, you can still have a work around.
How To Wear A Maxi Skirt In Winter
In winters, it is all about layers. So, do a lot of denim, leather jackets, sweaters, and scarves. Like we discussed, boots are welcome too!
How To Wear A Maxi Skirt In Spring
Add a lot of floral, colour and fun while styling your maxi skirt. Because that is what spring is all about, isn't it?
Frequently Asked Questions
How to wear a maxi skirt without looking fat?
Avoid a head to toe figure hugging outfit. The idea is to leave either the top or the bottom part of your outfit more flowing. So, the fabrics you choose and the tops you pair them with will make all the difference, meaning, make you look slimmer. Another way is to add subtle layers like a half denim jacket, plaid shirts tied at the waist, etc., to steer the focus away.
How to wear a maxi skirt if you're short?
Do not go for long and billowed upskirt models. Go with straight cuts, and preferably with vertical stripes. The design makes you look taller by creating an illusion. Of course, always go for platform heels, wedges or pumps; otherwise, you might topple over your skirt.
How to wear long skirts without looking frumpy?
Pair prints with plain and do not go overboard with the colors, design, layers, etc. Too much of anything is not good.
What shoes to wear with a maxi dress?
Usually, anything elevated should be your choice of footwear for maxi dresses. Even if you are tall, a little elevation adds to the silhouette. For shorter women, it will prevent your skirt from falling under your feet. Having said that, gladiators, flip-flops, pumps, boots, shoes, and just about anything goes with maxi skirts.
Infographic: 8 Stylish Summer Maxi Skirt Looks
Fashion trends may come and go, but a maxi skirt has a charm of its own. Most of us prefer maxi skirts for cooler and breezier weather. However, you should know that maxi skirts are just as amazing for summer. We have listed a round-up of maxi skirt combos that are perfect for the summers. Check them out in the infographic below.


The types of maxi skirts are endless. We are spoilt for choice, and we cannot blame ourselves for it, can we? And now that you know how to style a maxi skirt with different tops, it is time for you to flaunt it on all your outings. So get yourself a maxi skirt, and experiment with it to create different looks. But as you look for one, make sure that the fabric is of supreme quality. Your body deserves love. Do not suffocate it with an unbreathable fabric that irritates the skin.
Frequently Asked Questions
Are maxi skirts out of style in 2022?
Not at all. With new creative ways of styling old outfits being a constant trend, the maxi skirt is thriving and fits perfectly with spring and fall styling options.
Do maxi skirts look good on everyone?
Yes, there is a maxi skirt out there for everyone. Maxi skirts are versatile in terms of styling. Therefore, as long as one knows their body type, they can find a maxi skirt style that would suit them.
Do you tuck the shirt into a maxi skirt?
You can tuck your shirts into your maxi skirt for casual, party, and semi-formal looks.
Are maxi skirts practical?
Maxi skirts are a perfect combination of comfort, practicality, and grace. Flowy maxi skirts allow much room for movement and are airy.
What is the difference between a maxi skirt and a midi skirt?
A maxi skirt is ankle or floor-length. The midi skirt falls between the knees and calves in length.
Can you wear a maxi skirt as a dress?
You can wear certain types of maxi skirts as a dress. Many fashion influencers on the internet share wonderful tips to pair maxi skirts with belts, shirts, and jackets to make super stylish dresses out of them.
Key Takeaways
You can style your maxi skirts for every season with different kinds of tops, shoes, and accessories.
Maxi skirts with bright colors, floral prints, and flowy fabrics are ideal for summer and spring.
You can pair your breezy maxi skirts with spaghetti, tube, cotton, and lace tops and throw on a piece of statement jewelry for added style.
Pair up dark-colored maxi skirts with leather jackets, sweaters, and scarves to look uber cool and chic during the winter.
The following two tabs change content below.