How To Wear Boyfriend Jeans – Outfit Ideas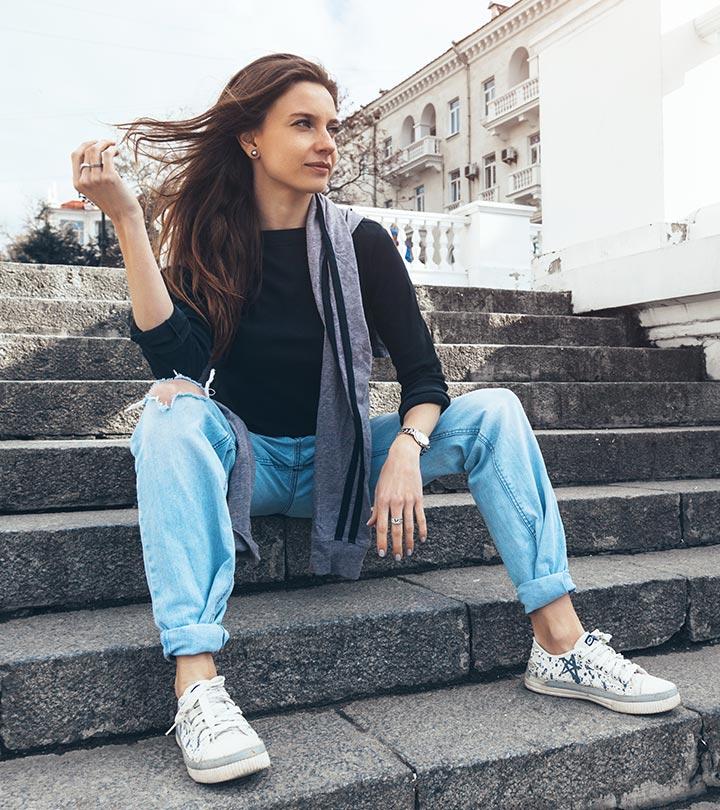 Boyfriend jeans are a boon. If I can speak for some of us out here, skinny jeans are not particularly exciting or comfortable to wear for more reasons than I (we) want to admit. This is where the boyfriend jeans can come to our rescue. Thankfully, they are trending too. From actually wearing your boyfriend's jeans for convenience actually becoming a style in itself – these have come a really long way!
Do you plan to buy one in this style or you already have one and are not sure of how to style it? You have come to the right place, and we won't let you go empty-handed. Scroll away!
How To Wear Boyfriend Jeans
Boyfriend jeans hit a sweet spot between being slightly tomboyish and casually feminine. They are not too tight nor too loose. They are straight, well-defined, suit any body type, and are easy to style. Check out these outfit ideas for some inspiration.
1. With An Off Shoulder Top
Of course, off shoulder tops are an obvious first choice for any jeans, and so is the case with boyfriend jeans. When you pair them with ruffled tops like these and throw on a pair of sexy stilettos, you are party-ready. You can play around with it by pairing it with an off-shoulder shirt, white keds, and a body bag to exude funkiness.
2. Loose Checkered Shirt
Sucker for checkered? Especially the loose ones? A perfect and comfortable look for the tomboy in you. A pair of shoes, a messy bun, retro sunglasses, and a baseball cup, if you please. I can never get enough of this!
3. Layer It Up
Instead of the regular rolled up boyfriend jeans, try one with a straight hemline and add loose layers to your outfit. A flimsy sweater, an oversized shirt, kimono or a cape with a tank inside. Easy, subtle, and stylish. Ballerinas, sandals, shoes or even wedges complement this style perfectly. Needless to say, flip-flops for people like me who practically live in them.
4. Jumpsuit
Unlike your regular fit, jumpsuits with boyfriend jeans cut add definition to your lower body. If legs and below your hip parts are not your strongest contenders, these might be perfect for your body type. It's not skin hugging and helps you camouflage anything that you might think is unflattering.
[ Read: Latest Jumpsuits For Women ]
5. Distressed Boyfriend Jeans With A Plain Top
I'm sure by now all of us have distressed jeans in our closet. If you don't already and are considering buying one – try the boyfriend jeans style. The folded hemline adds to the rustic charm of the distressed jeans and adds oomph instantly.
6. Distressed Boyfriend Jeans With A Blazer
Have a formal event that can pass off as a not-so-formal one? Or, if you are in a mood to add a little sophistication to your lunch date, pair a distressed boyfriend jeans with a sleeveless top and throw on a blazer. And yes, while at it, add red lipstick plus pumps too!
7. Plain Shirt
Half tuck a loose white shirt, put your hair up in a man bun, sport the smoky eyed look, and wear your loafers. You're sorted! Try this statement look with black, dark blue or any plain shirt for that matter.
8. With A Crop Top
We just need a reason to wear crop tops, don't we? Pair up your boyfriend jeans and crop top, perfect for a summer day out – airy, stylish, and chic. Style your hair with a bandana, and show off your aviators too!
9. Tuck It In
Boyfriend jeans are a lift-off from men's style! Let's stay true to it by going with a full blown tuck. It can be as simple as a plain T-shirt or a shirt. Spruce up the look with a dark lipstick shade of your choice and beachy curls.
10. With A Striped Top
A black and white striped T-shirt is absolutely classy and goes with just about anything. It should probably be at the top of Easy Dressing 101 list.
11. Denim Shirt And Patchwork Jeans
Just like a lot of other 90s trends, patch work jeans are coming back. And, if you want to try something different for a party this time around, pair it with a sequined or plain chiffon top. Wear bold colored pumps and lipstick and keep the other details minimal. If it's yet another Sunday brunch, just a tank top and a denim shirt with a messy bun will do.
12. Rolled Up Sleeves
If it were up to me, I would buy all the 'Beatles' and 'Rolling Stones' T-shirts out there (oversized, mind you), and wear my boyfriend jeans and a pair of loafers or sneakers. My hair would be up (always up), my lips fuchsia pink, and I would live happily ever after. There's nothing sexier than a woman who's killing it in a tomboyish attire (I guess)!
13. Distressed Boyfriend Jeans With A Tank Top
One pair of jeans lasts us a few decades and works in a million ways. They go both ways – you can wear a sequined top, pumps, red lipstick, and dangles, or just a simple tank top with a flannel shirt around your waist (or not), a body bag, messy hair updo, shades, and sneakers (like this one).
14. With A Kimono
Kimonos are a saving grace and look classy with both jeans and shorts. They not only camouflage flabby areas but also add dimension to your outfit. Add a statement necklace and ankle length gladiator sandals for a boho-chic look.
15. With A Hip Length Top
Contrary to the notion that you can only wear long tops with skinny jeans, hip length tops go quite well with boyfriend jeans too. Even peplum and corset tops look classy and stylish. Go with a pair of pastel loafers peep-toes or flats if you're not a stilettos kind of person.
Now that you now how to wear boyfriend jeans, what are you waiting for? This fit is so much easier to style than you think. And, I hope we are on the same page now, no? Feel free to drop in a text in the comments section below with any questions you might have. Until then, happy shopping!
Recommended Articles
The following two tabs change content below.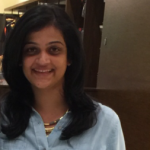 After working in Marketing and Business Development for a few years, Pratima Ati jumped ship to pursue two things she loved – fashion and writing. She's now a full-time Fashion & Lifestyle writer and has never looked back ever since. She sleeps early, reads often, and when she can't, she finally gives a closure to all the characters living in her drafts. Sometimes, they pass off as poetry too! That, and her training in Indian classical music and playing (learning) the veena keep her sane, civil, and bearable.