How To Wear Culottes
Make a great style statement with these pants and learn to pair them up to look trendy.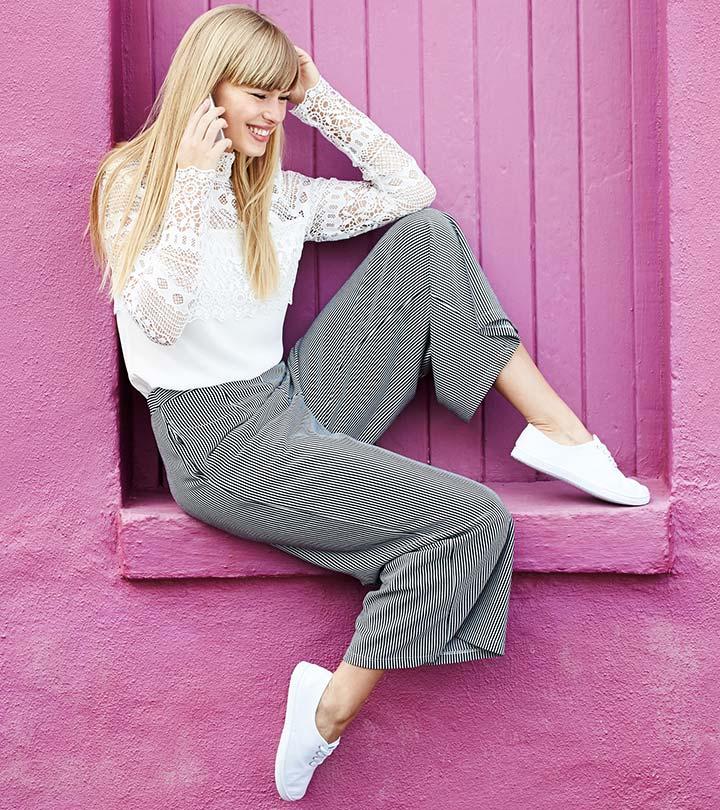 Welcome aboard as today, in this article, we will give you all the deets about how to wear culottes and make the whole dressing process easier. Though it looks like these pants just sprung out of absolutely nowhere, they were a trend in the 70s. For all the right reasons, these pants made an excellent back and are loved by the current generation a lot. The most practical reason behind these pants being famous is that they are super comfortable. And it is not just the comfort that these pants provide; they look super chic if carried well and paired with the right pieces of clothing. So if you want to try out culottes, you are definitely in the right place because below are some styling ideas that are so worth trying. So go ahead and check them out.
How To Wear Culottes – 20 Styling Ideas
1. Pleated Culottes With A Shirt
Ditch your regular pants to work or an event that demands formal wear and choose these pleated culottes instead. Pair them with a chic shirt like this one, which is both stylish and elegant. You can just wear flat ballerinas or sandals if you are not the kind who can do pumps.


Trivia
From the late Middle Ages or Renaissance period to the early nineteenth century, gentlemen of the European upper classes wore knee-breeches that were the precursors to culottes in English-speaking history.
2. Black Striped Culottes With A Bold Colored Top
Monsoons can be quite tricky because it's easy to step on puddles and wet the bottom of your pants. So, how do you deal with it? You guessed it right, a pair of striped culottes with a cold shoulder top or an off-shoulder one can keep it functional, chic and airy.
3. With A Loose Checkered Shirt, Cap And Sneakers
For a sunny afternoon brunch, throw in a pair of bright culotte pants. Team it up with a loose checkered shirt, sneakers, sunglasses and a hat. You can just keep the pants plain and play around with other details.
4. With A Leather Jacket And Floral Top
When you first imagine a culotte, it's hard to visualize and put things together in your head. But, sometimes it's just a mix of clothes from your wardrobe and marry it all together. Wear a floral tank, a vibrant pair of culotte pants and throw in a leather jacket. You could wear wedges or just sneakers too.
5. With A Captioned T-Shirt
Of course, a captioned T-shirt, something we all practically live in these days. Instead of your regular denim, wear it with a funky pair of culotte pants. Comfortable and trendy!
6. With A Sweater, Scarf And Stockings
Who says winters should only be about pants and boots? I think we should try and avoid them as long as we can. Next time around, try a formal pair of culotte pants and wear it with an elegant blue sweater, scarf and also stockings if you can pull it off.
7. Floral Culotte Pants With A Plain Black Top
Reverse your floral top, and plain culotte looks like this one. There's something about this that makes you look like someone who knows her fashion game. If you look at it, there's hardly anything here, but it's just the outfit that works like magic.
8. Sequin Culotte Pants And A Silk Top
I know what you are thinking. Yes, who would have thought of this? Stand out in the crowd with these sequin culotte pants and an elegant silk top while keeping everything else simple. You don't need to wear anything extraordinary to get attention, an attractive attire like this is enough to get heads turning.
9. With A Plain Shirt
You think blending dull white pants with a plain shirt is not such a great idea? I thought so too. But have another close look at it. An easy, yet classy way to style those culottes, isn't it? The midi-length, flared culottes look absolutely stunning when paired with the humble shirt to creat a crisp and clean look.
10. With A Sweater Tucked In
Fall is one of the most beautiful seasons. Everything around you is vibrant, colorful and it's best just before winter enters making it all gloomy. Enjoy your last few days of manageable weather with a pair of culottes and a warm yellow sweater tucked in. Team it up with a choker or preppy accessories.


Quick Tip
A light gray or white turtleneck will look equally stylish and comfortable with your dark culottes.
11. With A Trench Coat Or Jacket
Culotte pants are definitely not the first thing that comes to your mind when you want to wear a trench coat or a long jacket. But, it's the next big thing right now. So, you should try this too, it looks uber chic and is functional too!
12. With An Oversized Sweater And Sneakers
Oversized sweaters, shirts, and T-shirts are like comfort food to most of us. Plus, it is a rage now and considered kind of cool if you can pull it off. I'm sure we all can do it in style. That and a pair of those big white sneakers that are all over the place right now. You are all set to go take on the world girl!
13. With A Crop Top And Boots
Let's face it, we don't need a reason to wear crop tops, just more ideas to pair them up with will do, right? So, here's yet another set of pants that will look just as dapper with crop tops. Complete this look with a pair of ankle length boots!
14. With A Hip Length Top And Shrug
If you have been assuming that only short tops go with your culotte pants, you are mistaken. Pair those striped culotte pants with a plain top that goes beyond your hips and layer it up with a shrug of the same size. You could add a thick waist belt if you want to take it to the next level. A contrast pair of heels will make this interesting.
15. With An Off-Shoulder Bell Sleeves Sweater
If you have used the regular culotte pants, try the slit pants and team it up with an off-shoulder sweater with bell sleeves. Pair it up with pumps and a side body bag to get you party ready.
16. Get The Monochrome Look With Black Culotte Pants
Monochromes are so in right now. So, here's another way to try this look. A simple way would be to team up culotte pants with a black T-shirt or spruce up the look with a cold shoulder, tank or off-shoulder. Follow it up with black pumps or change gears with red shoes, accessories and smoking hot lipstick.
17. Camel Colored Culotte Pants With A Lace Bodysuits
If you've been living under the rock and had no clue about the bodysuits yet, these are fitted shirts that are to be worn like onesies. They give you a great fit and sit like a perfectly tucked in shirt. Wear a high-waisted pair of camel culottes with a lace or chiffon bodysuit.
18. Leather Culotte Pants With A Well Fitted Top
Okay, we've done a lot of talking and styling ideas with regular and striped culotte pants. If you are someone who likes to explore it further, try the leather culotte pants and pair it with a well-fitted top. It makes you look stylish instantly and effortlessly!
19. Striped Culotte Pants With A Blazer
Yes. Of course, you can wear it with a blazer! And, your pants do not necessarily have to be prim. You can still wear loose culottes, a plain tank and blazer with stilettos still look ravishing.
20. Culotte Style Jumpsuits
It is established by now that jumpsuits are not going anywhere, plus we welcome them in any form they come back to us in. The culotte style jumpsuits are taking over right now, and we could not have been thankful. For women like me who are conscious about wearing tight fitted bottoms, this is a blessing.
Infographic: 6 Uber Stylish Ways To Wear Culottes
Whether you adore understated minimalism or are a sartorial risk taker, culottes are just the 'it pieces' that can go with every style. When heading to the office, toss on that blazer and pair it with neutral-toned culottes. Or, add some jazz to your look with sequin pants for a party. Still unsure of how to style them? Check out the infographic below for some ideas.


We cannot deny that culottes are crowd favorites and in trend nowadays. But even then, fashion faux pas can happen to the best of fashionistas, and everyone needs to have multiple pairing options with culottes. Long gone are the days when you would spend ages thinking about different ways to wear culottes and how to pair them up. The versatile garment complements all looks and can be donned in all seasons, be it scorching summer, breezy autumn and spring, or chill winters. You can easily elevate the look with accessories like handbags, clutch, or minimalist jewelry. Go with a leather jacket, humble sweater vest, or with a block top — they do the trick just perfectly. Remember this; if you are unsure of what to wear to the party, culottes are there to save you!
Frequently Asked Questions
Where should culottes fall on the leg?
It depends on your height. If you are short and curvy, your culottes shouldn't be lower than 2-4 inches from your knees to look flattering. Taller people can wear slightly longer culottes that fall on the lower half of their calves.
Are culottes slimming?
It depends on the fabric and the stitch. If your culottes are heavily pleated, they can make you look curvier than you are. However, the ones with no pleats and a vertical zipper can be slimming.
What is the difference between palazzo and culottes?
Palazzo and culottes differ in their lengths. Palazzos are full-length, wide-legged pants, while culottes always end above the ankles.
Key Takeaways
For a revamped office look, wear pleated culottes with a shirt that exudes formal elegance, while also being stylish and trendy.
Pair solid color culottes with floral tank tops and a leather jacket for the perfect fall season outfit style that oozes endless oomph.
Level up your classic T-shirt by ditching the denims and pairing it with a pair of stylish culottes.
Go beyond the boring by styling sequin culottes with a chic silk blouse and bring the spotlight on you.