How To Wear High Waisted Jeans – 20 Outfit Ideas And Tips
Should you pair high-waisted jeans with a shirt or a crop top? Not sure? We can help!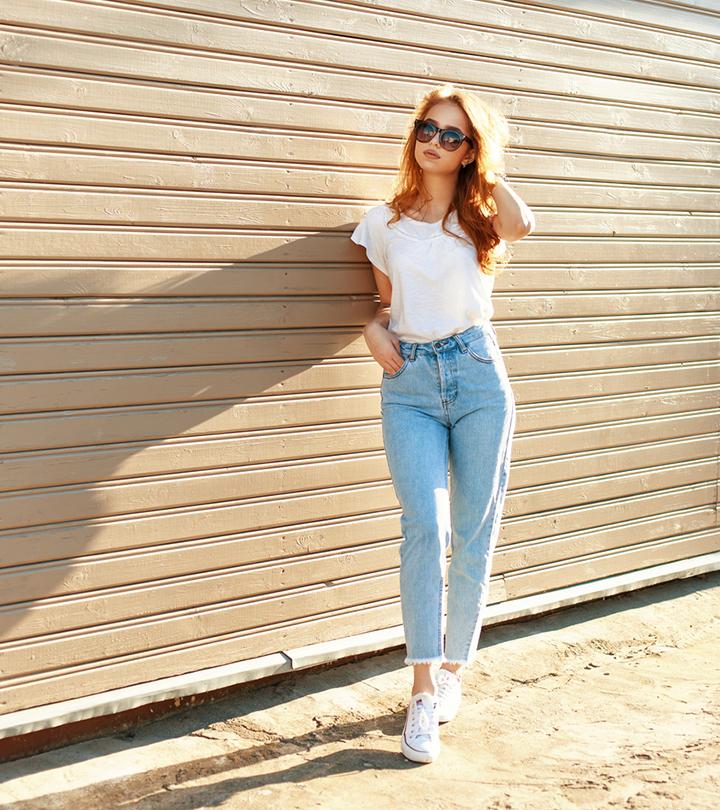 High-waisted jeans are sheer love. They can never go out of trend. To this end, we want to teach you how to wear high-waisted jeans perfectly so that you can look like a showstopper every time you put them on. It really does not matter what type of body you have; these jeans will always look great on you if they are styled the right way. Today, they are also available in many different variants, from boyfriend jeans to distressed, and from bell-bottoms to mom jeans! So, all you need to do now is scroll down and give this piece a read.


Ace The Look
Body Type: High-waisted jeans are suitable for an hourglass figure as it emphasizes the curves. They also look good on apple and pear-shaped bodies as they create the illusion of a slimmer waist.
Accessories: Pair your jeans with a delicate necklace, statement earrings, hat, and sunglasses for a casual chic outfit.
Bags: Pair your jeans with a crossbody bag, belt bag, or fanny pack for a simple yet stylish look.
Hairstyles: A high ponytail, messy bun, half do, or leaving your hair in simple loose waves looks best with high-waisted jeans.
Makeup: Go for natural dewy makeup with softly defined brows, winged eyeliner, and soft lip shades like pink or nude to complete your look.
20 Best Outfit Ideas For High Waisted Jeans
High-waisted jeans can improve one's confidence by accentuating the waistline and flattering your silhouette and body shape. Focus on color coordination, comfort, the texture and pattern of fabrics, and the current season to create stunning looks with this apparel. Try pairing it with feminine accessories for a classic or vintage look or masculine ones for a modern and edgy appearance. Balance your outfit by double belting or half-tucking your blouses to create a casual yet chic vibe. Choose trendy flats, sandals, or boots that go with your attire. Here are some outfits with high-waisted jeans to inspire you:
1. Ripped High Waisted Jeans With A Bodysuit And Kimono
Ripped and high-waisted jeans; yes, if you have not tried this yet – you should. It amps up your style instantly. If you have a party to attend, throw in a sequin bodysuit and a kimono. An outfit that is well put-together can slay any occasion. Pair this with a sleek body bag and platform heels.


Did You Know?
The popular denim manufacturer, Levi's, introduced the high waisted jeans for women working on lands or in factories during the 1940s.
2. With A Crop-Top Style Sweatshirt
We all love our crop tops and assume that they go with something low-waisted, but do try it with high-waisted skinny jeans. Grey colored ones are a big hit, so get one of those and try the monochrome look.
3. With A Hoodie Sweater And Suede Boots
Our winter closets are full of hoodies, sweaters, etc., so pair one of them with a simple pair of black jeans and sweater, and finish the look with suede boots. You can wear this to office too if they do not have a strict dress code.
4. Printed High Waisted Jeans With A Chunky Fur Sweater
These printed denims are incredibly cute, aren't they? Tuck in a bold colored tank and doll up in a candy pink colored chunky fur sweater. It makes me want to go to a unicorn island, if one exists.
5. With A Leather Jacket And Scarf
Tank tops are functional pieces of clothing in both winters and summers alike. Wear one of those with high-waisted jeans, and top it up with a leather jacket, scarf, and a pair of knee-high boots if your jeans are skinny. Ankle lengths look great too. It does not matter if you are curvy or thin, just try this.
6. With A Plain White T-Shirt, Tucked In
Just wear it with your regular plain white or black V-neck T-shirts for an everyday chic look.
7. With A Caption T-Shirt And Bold Color Long Sweater
Wear your regular colored tank tops or T-shirts, and add a bold colored sweater. Color block your accessories too. Cute outfit to beat your Monday blues.


Quick Tip
You can pair your high waisted jeans with a long jacket or a regular length jacket to play with the proportions.
8. With A Turtle Neck Sweater Or Top
Turtleneck tucked into a high-waisted skinny or boyfriend jeans looks is so on point. Add a puffy sleeveless jacket to spruce up this look.
9. With A Black Ruffle Top
Have a party to attend? Ditch those one-piece dresses or pencil skirts for your ripped high waisted jeans and a fancy ruffle top that gives you a party look instantly. Don't forget to pull up those red pumps though.
10. With A Backless Top
If you think about it, backless tops look better with high waisted jeans. This is probably because those jeans elevate your booty more than your regular jeans do, thus amping up the overall outfit.
11. With A Bralette And Plaid Shirt
Plaid shirts have come and conquered, and I'm sure there's one in your closet. And, of course, the bralettes that are our new found muse. So, wear a bralette over your boyfriend jeans and put on your converse shoes. You can either wear your plaid shirt on top or tie it at your waist for a tomboyish look. Another variation of this is white high waisted jeans with a white crop top and a denim shirt.
12. With A Plunge V-Neck Floral Blouse
To pull this matured yet stylish look off, go for a darker shade of denim and club it with leather boots. You can also add a casual blazer.
13. With A Loose Formal Coat And Red Sweater
Get some heads to turn by flaunting a skinny pair of high waisted, faded denim; a red sweater; and a loose camel colored formal blazer. Finish this with a pair of ankle length red boots and strut around looking no less than a diva.
14. With A Race Back Or Deep Neck Tank Or Crop Top
Like we already discussed, deep-necked bold-colored tanks or crop tops are the most natural choices for high waisted jeans. You can tuck them in or layer them with just about anything that suits your mood. Tie your hair up in a bandana, put on some Ray-Ban shades, and flaunt red lips.
15. With An Off-Shoulder Shirt
Off-shoulder and cold shoulder shirts with high waisted boyfriend style jeans can never go wrong.
16. With An Animal Print Top
Are you an animal print person? If your closet is filled with all kinds of prints, then you are going to love this. These look great with high-waisted jeans. If you don't trust me, check this look out.
17. With A Button Down Shirt And A Jute Jacket
Button down shirts, when tucked in, look great with high waisted jeans. The next time you have an informal meeting, event or a luncheon, try layering it with a jute or a checkered woolen jacket. You will come across as someone who knows her fashion game.
18. With A Bell Sleeved Striped Shirt
Give your outfit a little twist with this fleek striped shirt with bell sleeves and skinny high waisted jeans. Wear stilettos or at least platforms to keep up with the sexiness of the ensemble.
19. High Waisted Bootcut Jeans With A Crop Top
Yes, like I said, high waisted jeans come in all cuts, shapes, and variants. And, here's yet another option for you, especially if you are a fan of the Southern or cowboy dressing style.
20. Red High Waisted Jeans With A Stripe Shirt
Bold colors for tops is one thing, but wearing it on the bottom takes everything to the next level. Plus, you don't have to be an Instagram model to do this. Just get those red-colored high-waisted denims already.
Infographic: Interesting Facts About High-Waisted Jeans
High-waisted jeans will never go out of style. They not only give an instant twist to your look, but you can also team them up with a wide variety of clothing pieces. No wonder they are a must-have in almost every woman's wardrobe. So, as you roll up your sleeves to try these above-discussed looks, we would like you to know some amazing facts about these jeans. Check out the infographic below.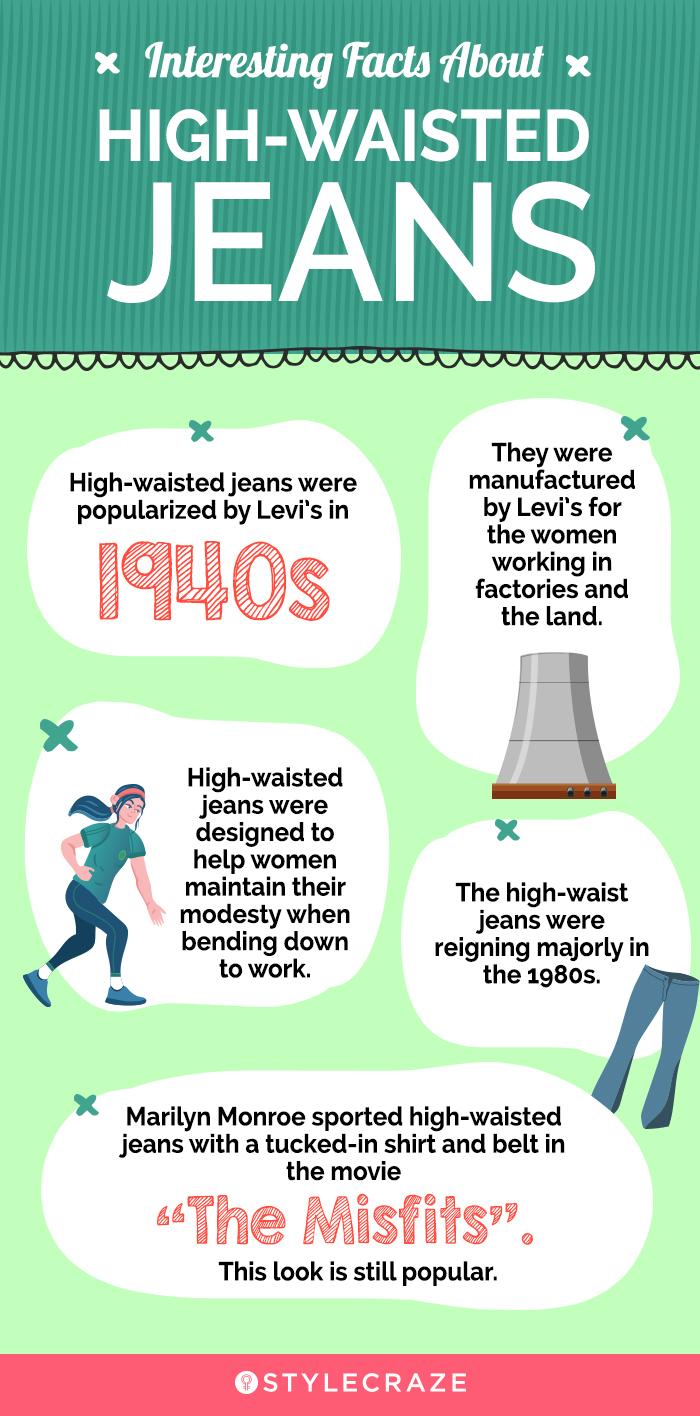 High-waisted jeans have taken us back in time, and we thank them for their major comeback. You can never go wrong with a pair of high waist jeans. They make you look elegant, cool, and classy, all at the same time. Team it with a bodysuit or a crop-top style sweatshirt, and you are good to go. You can also wear suede boots with high waist jeans. The point is to look confident and comfortable. So, take your pick from the styles listed above and flaunt your look.
Frequently Asked Questions
Difference between high rise and high waisted jeans?
High-rise and high-waisted jeans are practically the same thing. While high-rise is a word commonly used to describe men's jeans, we use the word high waisted jeans for women's jeans.
How to cut high waisted jeans into shorts?
Pick a pair of your used and well-fitted high-waisted jeans, and mark the length you want the short to be as short as. With tailor scissors, cut the extra length off the denim. Always mark it in a way that you have space for errors. You can make them distressed or frayed to add definition and funk. Sew the ends for a neat finish. High-waisted shorts are quite easily the sexiest looking shorts you can wear.
Do high-rise jeans go above the belly button?
Yes, most high-rise jeans sit above the belly button to accentuate the waist.
Can high-waisted jeans cause back pain?
Unless a pair of jeans restricts your mobility, it shouldn't cause any back pain. Opt for stretchable jeans for a better fit.
Key Takeaways
High-waisted jeans are versatile and flatter different body types.
Pick the right fit, length, and waistband according to your body type and preference
High-waist jeans are paired well with crop tops, tuck-in blouses, plain t-shirts, and bold-colored long sweaters.
Team them up with suede boots or converse.

Learn how to style high-waisted jeans in 3 easy ways. Get ready to look and feel confident in your outfit with the help of the video. Check it out now!

The following two tabs change content below.