How To Wear Lehenga – 15 Different Styles And Outfit Ideas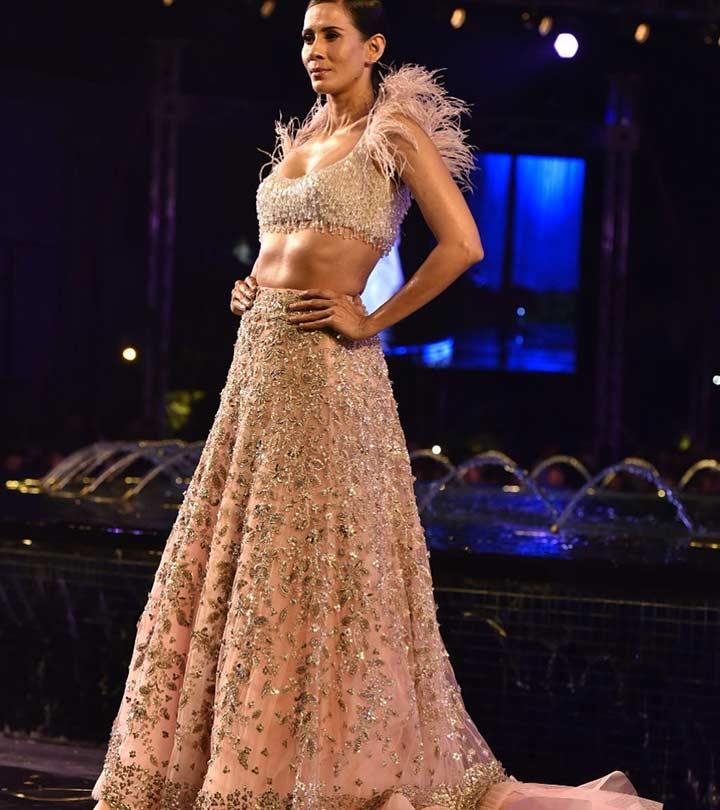 From the bride to the bridesmaids, kids to friends – the first thing that comes to our mind when we think of wedding shopping is the 'lehenga'. What started as traditional bridal wear has seen a dramatic transformation, and thanks to designers, it still continues to be highly popular. You can transform your look and mood just by draping a lehenga dupatta in a different way, and if that's not enough, you just have  a million variants in lehengas – you can never have too many of them! So today, I've created a lookbook with lehengas for anyone who is looking for options on how to wear a lehenga. Let's see what they are!
1. Raw Silk Couture Lehenga And Blouse
The couture versions have brought back the short choli with lehenga skirt. Go with a heavily embroidered raw silk skirt, and a short saree blouse kind of a choli. You can keep them both heavy, and go with a bare neck, big earrings, and a maang tikka. If you are a little conscious, wear a flimsy net or organza dupatta, and let it cover you from the neck to the belly.
2. Backless Lehenga Choli
If you have not had a backless blouse for your saree or lehenga, it means your traditional closet is still incomplete. Go all out with a plain raw silk lehenga skirt, and a backless blouse with embellishments. Keep it simple on the front. You can drape a plain saree style dupatta if you don't want to scandalize your family.
3. One Sided Floral Couture Lehenga
As we discussed, we can never have too many lehengas, and thanks to designers like Manish Malhotra who make any number of them feel inadequate. A one side sleeve choli and floral combination is a perfect balance of contemporary and traditional elements. It's ideal for destination weddings or sangeet parties.
4. Gold And Black Lehenga For The Bride
When we say bride, we think of a red Sabyasachi-style lehenga, which is great, but what about all the other functions that we have to be a part of? Break the stereotype with a black sleeveless blouse, golden threaded skirt, and choli. A contrast choker and earrings with  smokey eyed makeup will be a perfect combination.
5. Lehenga Choli For The Bride
Lehenga for the bride is the epitome of all lehenga styles. If you are a sucker for old-school traditions, go with a heavily embroidered red lehenga and drape the dupatta like a saree, or go with a skirt and short blouse, and put your dupatta over your head and look like a million bucks.
6. Anarkali Lehenga
How about mixing our all-time favorite Anarkali with the timeless lehenga? How did we not think of this earlier? You could mix and match a long, Anarkali style raw silk kurta with a plain lehenga skirt. Choose a kurta that comes with a center or side slit so that it brings the look out completely and does not look too consuming.
7. Crop Top Style Blouse And Golden Tulle Lehenga Skirt
Designers like Manish Malhotra are endlessly innovating with the lehenga and are spoiling us for choice. A crop top style noodle-strap-gold blouse and a heavily embellished tulle skirt without a dupatta or accessories are a great Sangeet look for the bride or her tribe. Put up your hair in a chignon updo and let the dress do the talking.
8. Long Skirt Lehenga Bottom And Contrast Blouse
If you are headed to a friend's bridal party, or something less casual, mix and match your lehenga to bring about a contemporary look. Pick one of your plain long skirts, and pair it with a contrast-colored choli. Keep one of them plain. Perfect lehenga style for millennials.
9. Princess Cut Choli And Skirt
Marry the traditional green Banarasi long sleeved blouse with a mellow pastel skirt and wear a chiffon or tulle dupatta over your head to look like a bride who knows it all. Go for a nude or no-makeup style look and keep everything else muted.
10. Off-Shoulder Blouse And Threadwork Embroidered Tulle Skirt
If you are petite or short, or both – go with an off-shoulder blouse. Since lehengas tend to look overpowering, petite women feel like it is too consuming. Off-shoulder style blouse opens up your shoulders a little, and a dreamy tulle skirt is entirely fitting for this look.
11. Pink Ghagra With Butterfly Sleeves
When we say ghagra, we imagine something a little more traditional – a red colored silk outfit that fully encompasses you in the conventional element. You can keep all of that intact by experimenting with milder colors and blouse patterns like this one to keep up with the contemporary game.
12. Full Sleeves Plain Choli With Raw Silk Skirt
Raw silk and tulle are lehenga staples, but the embroidery makes a lot of difference to the outfit. So, the next time you are headed to Mehendi or other bridal parties, go for a plain full sleeve choli for your floral or printed raw silk skirt. Full sleeve blouses look impeccably stylish and wearing this with a plain tulle dupatta is just going to take the look to the next level.
13. Saree Style Lehenga Draping
Combine the goodness of the lehenga with the traditional saree style draping technique and have the best of both the worlds. If you don't want the fully wrapped saree style, just gather your dupatta into thin pleats and wrap it just the way you would wrap a saree.
14. One Piece Anarkali Style Full Blouse Lehenga
Most of the lehengas that we see today come with a cropped top style choli, unlike the old times. If you still want to be that and combine it with a modern touch, go for a choli that runs below your belly button and has full sleeves, but with an illusion bodice and a full-blown embroidered skirt.
15. Purple Zardozi Choli With A Backless Blouse
Are you the bride-to-be? Even better, the bride's sister? You are totally allowed to wear a backless choli. Go with a single color and fabric for the entire outfit, but let them both steal the show. The perfectly pleated lehenga skirt will be a perfect match for the oomph-oozing choli.
I wasn't kidding when I said that we could never have too many lehengas – and if you are smart enough, you will wear that one set (lehenga skirt and choli) in more ways than one. It's purely up to you. What is your go-to lehenga style? What do you like about wearing a lehenga? Did this article on how to wear a lehenga help you? Let us know by dropping in a text in the comments section below.
Banner Image Credits: Instagram
Recommended Articles:
The following two tabs change content below.