How To Style Mom Jeans – 27 Outfit Ideas
Mom jeans – something that the world is practically living in. Beyonce, JLo, Taylor Swift, Kendall Jenner, Gigi Hadid – and every other fashion icon you can think of from Hollywood to Milan, Paris or your Instagram influencers, fashion bloggers, etc., all of them are spotted wearing these and how? We are glad that the mom jeans regaled it's way back into the clothing lines and that it's not something we are pointlessly raving over all things 90s fashion. The best part of these jeans you ask? It does not matter what size you are; it goes with every, body type be it curvy, petite, skinny, plus or broad. So if you have been shying away from these, you have no reason to. Now, shoo-away the mind-block already, let's explore some interesting and fun outfit ideas to style your mom jeans.
What Are Mom Jeans And How Different Are These?
First things first, if you are slightly confused on how different the mom jeans are from anything else. Here's what these are. The old school not-so-great-fitting-mom-jeans are inspired quite literally from the jeans our mothers would wear – just like the name goes. They are always high-waisted, usually medium-washed, slightly off-shaped and forever sexy, plus thanks to other variations we have this time around. You are going to see it soon and believe it too.
How To Style Your Mom Jeans?
Styling your mom jeans is no rocket science, just wear how you style your regular jeans however just like every other madness, there is a method to this also if you want to ace it.  So, the smartest way to boost your look instantly is always to wear it with a shirt fully or half- tucked in, that just takes care of everything. Here are other things you could use from your closet, that work just as great and are entirely in vogue.
White sneakers – with ripped jeans.
Ankle length boots – with frayed bottoms.
Bomber or leather jackets, kimonos, plaid shirt or any other funky layers.
Trench coats, cropped hoodies, turtleneck T-shirts in winters.
Crop tops, cold or off shoulders in summers.
Plain, striped or ruffle shirts – anytime.
Now, let's go ahead and see how the world is styling these.
Mom Jeans Outfit Ideas – 27 Ways To Style Your Mom Jeans
1. The Vintage Look
Are feeling a little retro today? Or, want to bring in a tinge of a vintage vibe to your attire, wear a silk shirt over your medium-washed mom jeans. Carry a retro-inspired leather body bag and platform heels with big straps just like old times.
2. With Sweater, Neck Bandana And Animal Print Jacket
As they say, beauty is in those subtle details, and in this case, the roughly frayed edges, a neck bandana and of course, the animal printed thick fur jacket, that I cannot get over. Anyway, just, just imagine this with closed eyes. CANNOT WAIT to try.
3. An All Black Monochrome-Look
Black jeans are a wardrobe staple, but if you don't have one in this design, you should consider this. An all black monochrome look with monochrome style is tried, tested and all things sexy. Here's proof.
4. With Ripped Skinny Mom Jeans And A Woolen Cardigan
Come winters; our outfits are all about different cardigans, sweaters, and layers. Pump up a plain white shirt with a bold statement neckpiece and a throw in a cardigan to go with your mom jeans.
5. White Wash Jeans With A Blazer
Does your work give you the liberty to wear semi-formal outfits, jeans maybe? Try this whitewash skinny mom jeans with a white shirt and finish it with a semi-formal or a formal blazer. Finish the look with nude colored stilettos. Chic, uptown and entirely on point.
6. Old School Striped Baggy Jeans
What made me cringe sometime ago is getting me all excited, and I promise Project Runway is not rubbing off on me. I genuinely think that if you can pull off a style like, consider yourself a fashionista. Keep the top simple and plain, to avoid looking like you are about to gate crash a 90s themed party.
7. With A Puffy Jacket, Boots And A Belt
If mommy jeans are not old school enough, add a puffy jacket and a thick waist belt to look badass. Any plain color T-shirt will do, and oh, don't forget the boots though.
8. With A Ruffled Shirt, Baseball Cap And Hoops
Are you headed to watch a game with your girlfriends? And, you guys probably will pull an all-nighter. Here's attire that fits the bill. The side-striped mom jeans are casual and keep the old vibe intact, the baseball cap that instantly makes you look cute, and of course, the hoops that are a mandate off-late.
9. Rolled Up Blue Jeans With White Boots
Blue jeans, black shirt, and white heels or boots? God's must be crazy you think. But, I'm glad someone disagrees and get this look going anyway. I mean, how much hotter can it get, for you to start exploring these?
[ Read: 9 Different Types Of Jeans For Women – The Style Guide ]
10. The White-Wash Look
Just like an all black, all white looks just as sexy and appealing. In fact, I think an all white-look is a tad bit better than all black looks when it comes to mom jeans. And, it's not an unbiased opinion, except it could be (you figure it out)!
11. Knee Clear Ripped Jeans WIth A Loose Shirt
Invest in a ripped mom jeans or even DIY one, and you can do so much with it. Pair it with a loose striped or checkered shirt and tuck it in. Take it one step ahead, fold the hemline and wear a pair of ankle boots.
12. With A Black Turtleneck And A Jacket
Here's an interesting outfit for your next informal business luncheon or a meeting. The turtleneck instead of your regular V-necks shifts gears and gives you a more mature look. And, the belt marries it all together.
13. Tapered Mom Jeans With A Bodycon Top And Boots
Wear this outfit to your next summer concert and get all heads turning. The figure-defining bodycon top, with a stylish pair of mom jeans and electric blue boots, is beyond sexy and airy of course to keep up with summers. The denim jacket protects you from the heat, but tying it at the waist is equally stylish. And, a baseball cap like we know makes everything appealing.
14. With White Converse Shoes Or Sneakers
Turn around and every second girl who is into fashion is flashing those white shoes and stylishly so. They look particularly great with mom jeans if you roll up the hemline a little, because of how it is shaped.
15. With A Pastel Colored Top
Pastels and anything mellowed down go well with your medium washed mom jeans. You can just throw in your everyday ballerinas, a body bag, and a choker in a neutral color to bring it all together.
16. With A Crop Top
We need no reasons or zero excuses to wear a crop top. Just wear it, already!
17. With An Oversized Jacket, Tank And Combat Boots
Are you in a mood for some grunge attire today? Pair your mom jeans and a black tank with a huge-oversized jacket, combat boots and even get a crazy hair-color using one of those temporary hair colors.
18. With A Plaid Shirt Or Jacket
We all have plaid shirts, and yes, you guessed it right. Checkered or plaid shirts look the best with mom jeans.
[ Read: 19 Cute Denim Shirt Outfits Ideas ]
19. With A Off Shoulder
This fall swap your flowing skirts or palazzos with a mom jeans and doll up in warm winter florals. Pair it with boots, drink pumpkin spice latte and look pretty.
20. Oversized Sweater And Jeweled Boots
Bling up your winter outfit with an oversized sweater, a skinny mommy jeans, and bejeweled boots. The boots will take care of the bling, while the jeans keep the style intact.
21. With A Trench Coat
Trench coats are timeless, eternal and all things precious. They match any body type, are versatile and just plain classy. Also, who says that they go only with skinny jeans. Time to up our fashion game, y'all!
22. Buttoned Up Mom Jeans
Buttoned up floral jeans with a denim jacket, crop top or a tucked in the shirt are all interesting choices. If you haven't tried this variant yet, you should.
23. Rolled Up Mom Jeans
Mom jeans look the best when they are rolled up at the shins and of course when the top is tucked in, even better when it is both.
24. With A Red Sweater
Feel like a fashionista head-to-toe and dress like one with this holed-up red sweater, funky shades, a blingy body bag and white-sneakers.
25. With A Pink Striped Shirt
You are a pink shirt and embroidered mom jeans away from your fashion moment. The boots and the bag add it up to a hundred.
26. With A Floral Biker Jacket
Suit yourself with this floral jacket and mom jeans combination, biker girl. You are unstoppable.
[ Read: Cute Denim Skirt Outfit Ideas – 18 Different Ways To Style It ]
27. With A Jacket Style Shirt
We've tried jackets, we've tried shirts; here's two in one and that looks dapper with mom jeans!
I wish this list never ended. While there is not one right way to style your mom jeans, there are always those subtle details that the fashionistas play around with to get you the finesse, almost effortlessly. Make this your weekend project and start strutting in style. If you have any more questions, feel free to drop in a text in the comments section below.
Banner Image Credits: Instagram
Recommended Articles:

The following two tabs change content below.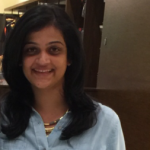 Latest posts by Pratima Ati (see all)