How To Wear An Oversized T-shirt – 15 Outfit Ideas
Style your oversized T-shirts in multiple ways without compromising on fashion or comfort.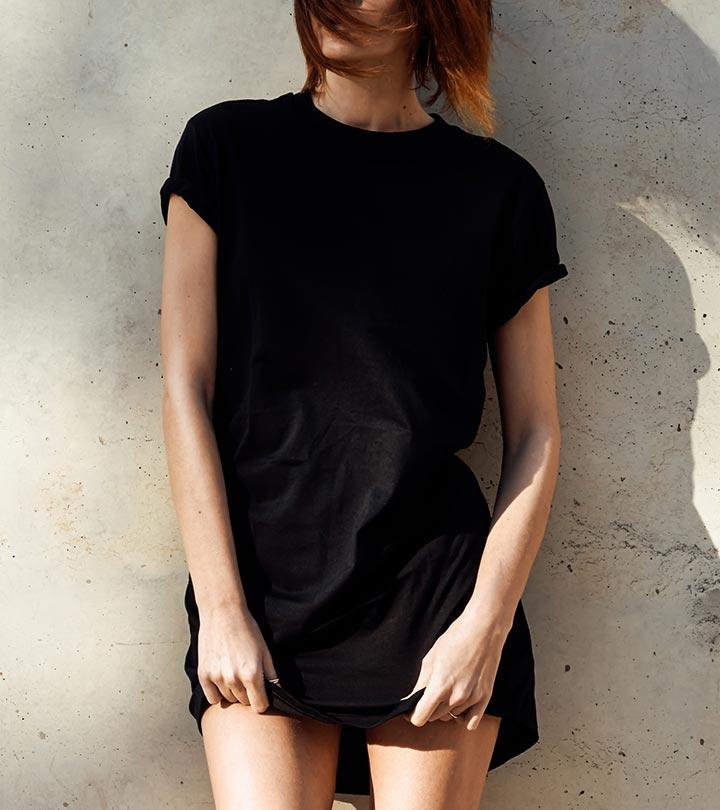 Oversized T-shirts are trending these days. They are super cozy and comfortable too! But knowing how to wear an oversized T-shirt the right way is a must. Otherwise, you may stand out, and not in a good way! Learn how to wear an oversized T-shirt to make a casual statement and look effortlessly stylish on days you're too lazy to dress up.
Here are a few oversized T-shirt outfit ideas for you to take inspiration from. Scroll down to check out all the styling ideas!

Fun Fact
Oversized fashion picked up during the 80s-90s, thanks to the growth in hip-hop culture. Over the years, oversized T-shirts have also been called the boyfriend tee.
1. Oversized T-shirt With Blazer
Wearing an oversized T-shirt with a blazer is classy, gives a laid back but professional appeal. To keep your look stylish, set off the blazer with a contrasting shade, like an oversized white T-shirt with a black blazer. You can tuck the shirt in and wear a tight belt around your waist to give it a more stylish look. You can wear this outfit for semi-formal occasions or events, such as weekend client meetings and casual Fridays at the office. It is smart and casual, yet the blazer lends it a formal vibe.
2. Off-Shoulder Look
Off-shoulder oversized T-shirts are super cool and fashionable right now. They are loose fitted and hang loosely below your shoulders. Women who have a lean physique can pull this off effortlessly with any pair of pants, trousers, or shorts. This outfit makes your shoulders and collarbone look attractive. You can accessorize it with a corset belt to create some shape. All you need is some confidence, and this off-shoulder oversized T-shirt will look posh!
3. Tucked Oversized T-shirt
Tucked oversized T-shirts are super cute and casual. You can give a laid back appeal while looking stylish as ever. An oversized T-shirt paired with denim pants will definitely turn heads. This can be your go-to outfit on a lazy day or when you just want to hang out with friends. It's so comfortable and easy to wear yet super trendy.
4. Rolled Up Sleeves
On an oversized T-shirt, rolling up the sleeves can make quite the fashion statement. Since the T-shirt is loose, the long loose fitted sleeves can make it look sloppy. To give that fashionable vibe, roll up your sleeves to a length you desire. You can also tie the front ends of the T-shirt to create a crop top like look. This looks casual yet stylish.
5. Belt It Up
Belts are the perfect accessory to wear over oversized T shirts. They give shape to your waistline and look very elegant. Bold black belts are often what girls wear on oversized T-shirts. If you have a lean physique opt for a small thin belt, and if you are on the curvy side, opt for a wider belt. You can even opt for vibrant colors like cherry red. You can wear this outfit day or night.
6. Oversized T-shirt With Shorts
Oversized T-shirts with shorts are so much fun and cool to wear. They are casual yet make a bold fashion statement. You could pair them with blue, black, or even white denims and look absolutely great. This outfit can be worn to a brunch or a casual day out while you're shopping or running errands. It is comfy, stylish, and easy to wear. Oversized T-shirts with shorts are all things goals. Just slay the outfit with confidence!
7. Knot It
This style is most loved by fashionistas and glam queens. It is casual, but the knot at the front gives a chic vibe that looks stylish. The knot-styled oversized T-shirt can be worn with a ruched skirt, wide leg denim pants or bermuda shorts. You can accessorize it accordingly, depending on the occasion. Day or night, these knot-style oversized T-shirts will look just perfect. They are the best combination of comfortable and stylish.


Stylecraze Says
A recent oversized T-shirt trend is to chop it midway to make a crop top. Edgier versions have choppy strips hanging from the T-shirt at the waistline. These can be paired with shorts, dungarees, and denims.
8. Oversized T-shirt With Dungarees
Oversized T-shirts with dungarees look effortlessly stylish. They are fun, casual, and sporty. The outfit gives out a chic vibe. Dungarees are a laid-back attire, and pairing them with oversized outfits just makes everything more comfortable and trendy. Often, the color combination is an oversized white T-shirt along with blue denim dungarees. You can wear your best pair of white sneakers on this outfit.
9. Oversized T-shirt With Denim Skirts
Oversized T-shirts with denim skirts are all things fashion and glam. They are comfortable and effortlessly make a style statement. You can wear this outfit for a fun brunch or birthday parties. Wear a belt with the outfit to make it look more trendy. Accessories like shades will also look pretty cool. Boots, sneakers, or platform shoes will look amazing on these. However, if you want a more feminine appeal, you could wear ballerinas.
10. Oversized T-shirt With Track Pants
Oversized t-shirts with track pants are super cozy, comfortable, and easy to wear. On days where you want to just laze around in baggy clothes, this outfit is your best bud. You can accessorize these with caps or shades. Sneakers are most apt for this outfit. You can even wear this to your workouts on cold days.
11. Oversized T-shirt Over A Slip Dress
Wearing an oversized T-shirt over a slip dress can look quite avant-garde. It adds more character to the dress and makes it more interesting. You can wear a denim jacket over it to create a glam attire. Platform sneakers would work flawlessly over these.
12. Oversized T-shirt With A Leather Jacket
This outfit looks simple and casual yet stylish. This can be your go-to look this fall. Pair an oversized white T-shirt with over the knee boots and a leather jacket, and you are ready to slay. Whether you are hanging out in your farmhouse or backyard or running errands, this outfit is perfect. Comfortable, casual, and trendy are the best words to describe this look.
13. Keep It Casual
The main aim of an oversized T-shirt is to keep it casual while being comfortable and stylish. You can dress up your oversized T-shirt in any way you desire. Keep it simple and wear it over pants and tuck it in or make it look a tad bit more stylish by pairing it with a bold belt.
14. Dress It Up
Though oversized T-shirts look quite casual, there are plenty of ways to dress them up to make them look stylish. Belts are a great accessory to make this happen. Apart from that, layering them with denims looks downright stunning. You could tie a knot at the front and give more shape to your outfit. It's all about improvising and being confident.
15. Wear It As A Dress
Wearing an oversized T-shirt as a dress is the easiest way to look good on a day when you don't have the time or don't feel like dressing up. It is casual, comfortable, and looks effortlessly stylish. You can add a corset belt in case you want to look chic. Boots or sneakers would be perfect for this.
Infographic: Trending Oversized T-shirt Outfit Ideas
Aren't these oversized T-shirt styling ideas simply a stroke of genius? You can add your own little twists to make these styles uniquely yours. If you don't know where to start, we can help you out. Check out the infographic below for a round-up of styles that are currently trending all over the world.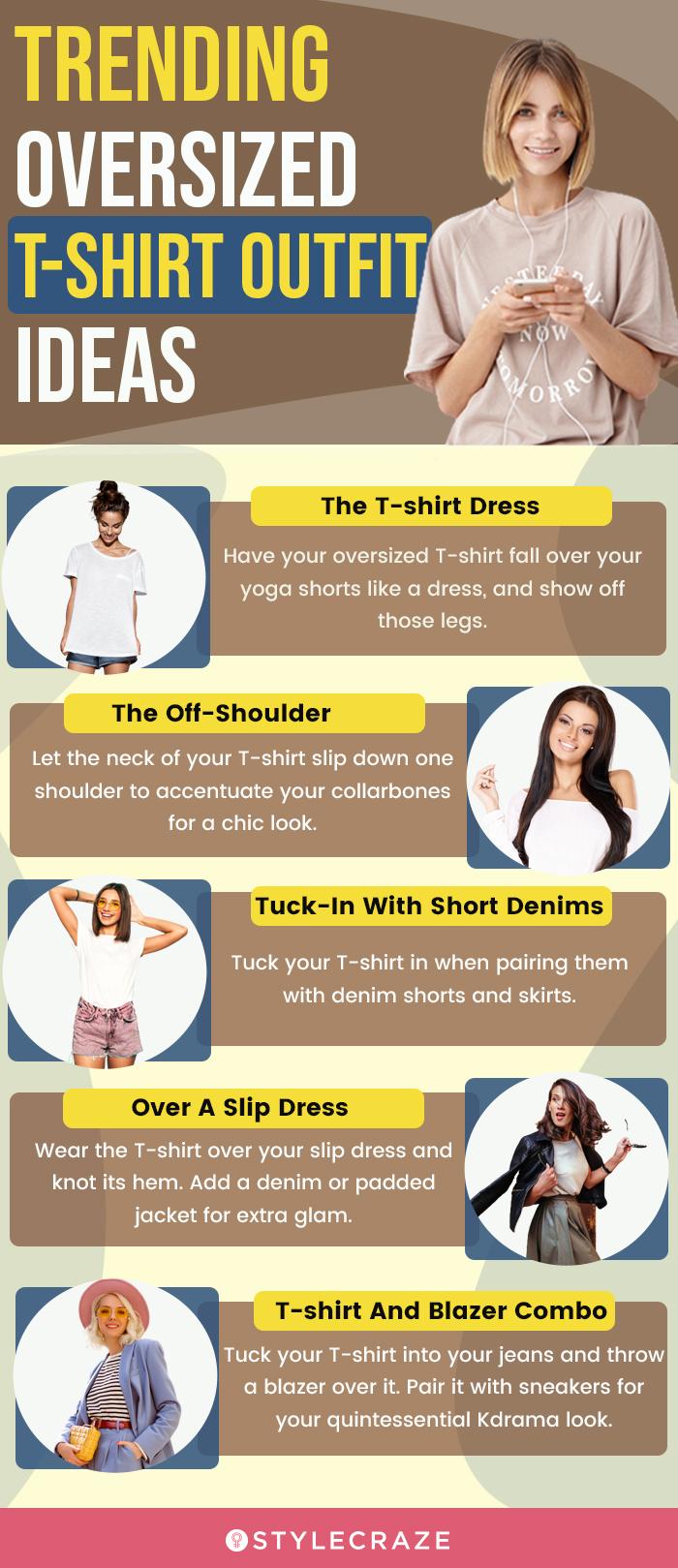 We cannot thank the creators of oversized T-shirts enough. They considered our comfort and style and delivered this amazing piece of trendy upper garment. And now that you know how to style oversized T-shirts for different looks, you might as well prep yourself for the endless compliments that shall come your way once you wear them. Whether you tuck your T-shirt in or roll up the sleeves, throw a blazer on it, or add a belt, you will surely steal the show wherever you go!
Frequently Asked Questions
How should an oversized t-shirt fit?
An oversized t-shirt should fall loosely around the torso and mid-length to your thighs. It should be large but not baggy. When you are buying an oversized t-shirt, it should be two or three sizes bigger.
Do oversized shirts look good?
Yes, oversized shirts can make anyone look good. With the right styling tips, you can rock the oversized shirt look with style and class.
How do you style an oversized shirt with jeans?
One of the best ways to style an oversized shirt is to tuck it into your skinny jeans for a super casual look.
Do oversized clothes make you look bigger?
Yes, oversized clothes can make you look bigger. The key is to style your clothes in a way that is fashionable and highlights your best features.
Key Takeaways
Oversized t-shirts are super comfortable and look stylish when paired with blazers and track pants.
To create a sophisticated look, tuck in the T-shirt and pair it with a denim skirt or shorts.
Wear it as a dress or with a belt for a chic modern look.
Form a knot with your oversized T-shirt and accessorize it accordingly, as per the occasion.
The following two tabs change content below.