Why Should You Add Huckleberries To Your Diet?
Boost your immunity and keep various illnesses at bay by consuming these nutritious berries.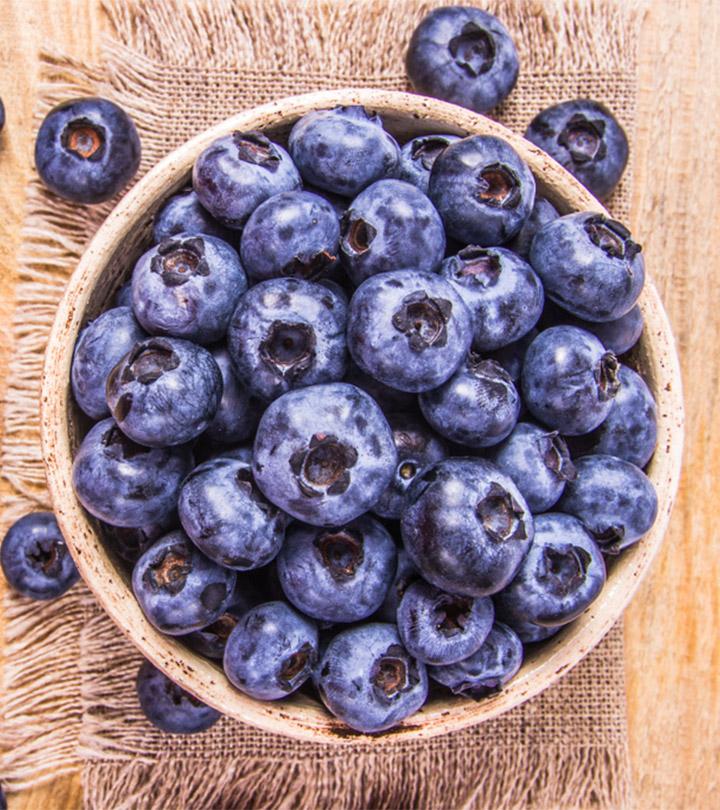 Huckleberry is the state fruit of Idaho and is found in the North American and European continents. It is a small, round berry replete with nutrients that are responsible for the benefits of huckleberry. These berries are packed with fiber and flavonoids and can be used in making jams, jellies, liquor, and dyes. Moreover, the antioxidants and phytochemicalsi  XChemical compounds found in plants that help them fight various bacteria. They may decrease the risk of cancer and diabetes. in huckleberries may help reduce the risk of cardiovascular disease, and cholesterol levels, help with cancer prevention, and improve your immune system.
This article explores the types of huckleberry, its nutrition, health benefits, how it differs from blueberry, and the simple huckleberry recipes you can try at home. Keep reading.

Know Your Ingredient: Huckleberry
What Is It?
A small edible fruit that resembles a currant.
What Are Its Benefits?
It helps boost immunity and may help reduce cardiovascular disease and cancer risk, lower cholesterol levels, and protect against diabetes, osteoporosis, and neurodegenerative diseases.
Who Can Use It?
Anyone except individuals who are allergic to berries.
How Often?
You can consume these berries fresh or have jams, puddings, beverages, and other foods containing these berries daily.
Caution
Excess consumption of these berries can cause adverse effects like skin sensitivity and indigestion. Limit consumption and seek medical advice if you experience any side effects.
What Is Huckleberry?
Huckleberry is a member of the Ericaceae family and is closely related to the Gaylussacia and Vaccinium genera. These berries are 5 mm to 10 mm in diameter and contain 10 large seeds. They have a tart taste and flavor similar to that of blueberries, and their colors range from bright red to dark purple to blue. They are used in various foods and beverages.
Andrea, a blogger, found huckleberries to be a great addition to desserts and shared her experience of having them the first time: "They look like tiny blueberries but have a much more intense flavor — delicious! Miss E loved them, especially in the huckleberry pancakes she had for breakfast (i)."

Trivia
The name "huckleberry" was the result of a plain error. When early American colonists encountered a native American berry, they mistakenly thought it was the European blueberry known as the "hurtleberry." This was how they knew it until it was distorted to become known as the "huckleberry" around 1670.
Huckleberries are available in different varieties whose taste and color differ. They are region-specific and have many applications in the food and beverages industry. Continue reading to know the most common types of huckleberries.
Types Of Huckleberries
Red Huckleberry (Vaccinium parvifolium)
It is native to Western North America, and the shrub grows from 6 feet to 12 feet. The berry has a tart and sour taste and is used to make pies, jellies, and jams.
Oval Leaf Huckleberry (Vaccinium ovalifolium)
The shrub grows from 1.3 ft to 12 ft and the leaves are oval. The fruit is a blue‐black berry with a whitish bloom and is used in jellies, jams, liquors, and dyes (Russia).
Cascade Huckleberry (Vaccinium deliciosum)
This berry has an intensely sweet flavor and can be eaten fresh, dried, or cooked. The shrub cannot grow more than 1.5 ft.
Evergreen Huckleberry (Vaccinium ovatum)
Also known as winter huckleberry or California huckleberry, this fruit is found in coastal forests at low elevations from central California to British Columbia. These berries are sweeter than blueberries and can be eaten raw, dried, and used in jellies and jams.
Big Huckleberry (Vaccinium membranaceum)
This fruit is also popular as thin leaf, mountain, or tall huckleberry. It is found in coniferous forests at mid‐to‐high elevations from California to Alaska and east to the Rockies. The shrub can grow up to 1.5 m, and the berry can be eaten raw, dried, frozen, canned, or made into jam.


Trivia
In Montana, huckleberries have developed a cult-like following, and some towns even hold huckleberry festivals yearly. A Huckleberry Festival has been hosted in Trout Creek, a small community in northwest Montana, for the past 30 years.
These are low fat fruits that are also low in calories. Keep reading to know more about the nutritional breakdown of huckleberries.
Nutritional Profile Of Huckleberries
According to the U.S. Department of Agriculture, 100g of huckleberries (raw) contain (1):
| | |
| --- | --- |
| Calories | 37 |
| Protein | 0.4g |
| Fat | 0.1g |
| Carbohydrate | 8.7g |
| Calcium | 15 mg |
| Iron | 0.3 mg |
| Sodium | 10 mg |
| Vitamin C | 2.8 mg |
Huckleberries are also rich in plant polyphenols and anthocyanins that benefit your health in many ways. We will explore some of the important benefits of huckleberries in the following section.
Health Benefits Of Huckleberry
The high polyphenolic and phytonutrient content in huckleberries help reduce the risk of heart problems. A study conducted by the Medical University of Lodz (Poland) found that plant polyphenols may help improve endothelial functioni  XEndothelium (central cell inside the lining of blood vessels and the heart) regulates platelet collection and maintains blood fluidity. and prevent clumping of platelets and blood clots. These antithrombotic (anti-blood clotting) and anti-inflammatory properties of polyphenols may reduce cardiovascular disease (CVD) risk (2).
A review published in Advances in Nutrition also suggests that increased intake of anthocyanins may improve endothelial functioni  XEndothelium (central cell inside the lining of blood vessels and the heart) regulates platelet collection and maintains blood fluidity. and pro-inflammatory biomarkers. This may help lower CVD risk. However, more studies are warranted to understand this benefit of anthocyanins (3). Besides, many species of Vaccinium were found effective in decreasing high blood pressure, which is one of the main causes of heart disease (4).
Moreover, anthocyanins in berries act as an antioxidant and may suppress and reduce the risk of cancer (5). These compounds may also improve neuronal and cognitive brain functions besides protecting genomic DNA integrity (6). Moreover, epidemiological studies strongly suggest that long-term intake of diets rich in polyphenols may also protect against cancers, diabetes, osteoporosisi  XA medical condition in which the loss of density and minerals in bones causes them to become frail and prone to fractures. (weak and brittle bones), and neurodegenerative diseasesi  XA group of diseases that adversely affects the nervous system connections, causing diseases like Parkinson's and Alzheimer's. (7).
The high vitamin C content of huckleberries also helps improve immune health. This potent antioxidant helps act against oxidative stress and pathogens and prevents excess call damage (8).
Berries from the Vaccinium family have the potential to prevent and treat urinary tract infections (9). Besides, anecdotal evidence suggests that huckleberries may help relieve back pain.
Ripe huckleberries are sweet with a little tartness. But how do you eat them? Let us find out.
How To Eat Huckleberries?
Though huckleberries can be eaten fresh, they are often made into tasty beverages, jams, puddings, candies, syrups, and other foods.
Use huckleberries to make delicious muffins, pies, or cobblers.
You can even use them for savory dishes like lemony quinoa with chickpeas and huckleberries.
Some find huckleberries unpleasant when eaten raw because of their meaty texture. Hence, it is best to cook them instead.
You can even preserve their tart/sweet flavor with jams and jellies.
Are huckleberries and blueberries the same? If no, how do they differ? Keep scrolling to know the answer.
Huckleberries Vs. Blueberries
The two berries are closely related and belong to the same family. However, huckleberries grow in small clusters and blueberries in large ones. Blueberries are white inside while huckleberries are either deep purple or red. Moreover, blueberries are soft inside with softer seeds while huckleberries have larger seeds that give the fruit a slight crunch.
Low calorie huckleberries are a perfect addition to your diet. Here, we bring to you three delicious huckleberries to try at home.
Huckleberries Recipes To Try
1. Huckleberry Jam
What You Need
Wild huckleberries – 1 cup
Fresh lemon juice – 2 teaspoons
Cane sugar – 1 cup
Classic powdered pectin – 2 teaspoons
Process
Add the washed and rinsed huckleberries in a pot with the sugar and about two tablespoons of water.
Bring it to a boil. Reduce the heat and simmer until the berries soften. Mash them.
You can thicken the jam in two different ways. You can use pectin or slow simmer the jam.
For the pectin route: Add about two teaspoons of powdered pectin to the boiling jam and boil for another minute. Remove from heat and let it cool until set.
For the non-pectin route: Stir in about one teaspoon of fresh lemon juice for every cup of huckleberries and simmer the jam over low heat for about an hour or until an instant-read thermometer shows 220°F. Follow the same instructions as with the pectin route for canning.
Canning: To can this for long-term storage, make sure the jars are sterilized and the lids are washed. Screw on the rims, ladle the hot jam into the hot jars, and process them in a water bath for five minutes. Carefully remove and let it sit undisturbed for 24 hours before removing the rings and storing.
2. Huckleberry Buckle
What You Need
Huckleberries – 2½ cups
Butter – ¼ cup and 1 tablespoon
All-purpose flour – 1 cup
White sugar – ½ cup and ¾ cup
Baking powder – 1 teaspoon
Salt – ¼ teaspoon
Milk – ½ cup
Boiling water – ½ cup
Process
Preheat the oven to 375°F (190° C). Grease the bottom of a 9-inch square pan.
Cream ¼ cup of butter and ½ a cup of sugar in a large bowl. Combine flour, baking powder, and salt in a separate small bowl. Stir into the butter mixture and add milk. The mixture will be thick and lumpy. Spread batter into the prepared pan.
Combine berries, ¾ cup of sugar, and the boiling water in a large bowl. Pour over the batter in the pan. Dot the top with one tablespoon of butter.
Bake for 45 to 50 minutes.
3. Huckleberry Cheese Pie
What You Need
For Butter Crunch Crust
Brown sugar – ¼ cup
All-purpose flour – 1 cup
Cold butter – ½ cup
Finely chopped nuts – ½ cup
For Cheese Filling
Whipped cream – 1 cup
Cream cheese – 1 package (8 ounces)
Vanilla extract – 1 teaspoon
Confectioners' sugar – ¾ cup
For Fruit Topping
Fresh huckleberries – 2 cups
Sugar – ½ cup
Corn starch – 4½ teaspoons
Water – ½ cup
Butter – 1½ teaspoons
Dash salt
Process
Combine the flour, brown sugar, and nuts in a bowl.
Cut in butter until the mixture resembles coarse crumbs.
Spread on a baking sheet and bake at 400°F for 20 minutes, stirring occasionally.
Remove from the oven. Press into a 9-inch pie plate while the mixture is still hot, forming a pie shell. Cool completely.
For cheese filling: Beat the cream cheese, sugar, and vanilla until smooth. Gently fold in the whipped cream. Pour or spoon fill into the cooled crust. Refrigerate.
For the topping: Combine the sugar, cornstarch, and salt in a saucepan.
Stir in water until smooth. Add 1 cup of berries and bring to a boil. Cook and stir for 1 to 2 minutes or until thickened. Add butter and remaining berries.
Let it cool and pour over the cheese filling. Top with additional whipped cream if desired.
Note: Huckleberries have no recorded side effects. Practice caution if you are allergic to blueberries.
You can savor huckleberries throughout the year by preserving them. But it's important you do that right. Learn more in the section below.
How To Store Huckleberries?
Huckleberries can be kept fresh for up to 7-14 days or stored in a freezer for up to a year. Remember to wash them gently before storage.
For shorter-term storage (up to 14 days):
Keep them in the refrigerator in an airtight container.
You can also turn them into delicious treats such as jams and pies that may last up to a month.
For long-term storage (up to a year):
Rinse them and remove any leaves or sticks.
Place them in a layer on a baking sheet and put them in the freezer until they become hard.
Store the frozen huckleberries in an airtight container or a ziploc bag.
These steps will keep them from getting clumped together and preserve their freshness in the freezer for up to a year.
Huckleberries are a great addition to any gluten-free, vegan, and organic diet, and they provide numerous benefits that go beyond their delectable flavors, such as weight management, improved vision and skin health, and increased energy. They are frequently featured in many confectioneries, liquors, and also as a natural colorant. Huckleberries are loaded with potent antioxidants such as anthocyanins and polyphenols, vitamins, and minerals that help promote overall health. They can help promote brain, bone, and heart health. Huckleberries may help reduce the harmful free radicals present in your body and reduce inflammation. They may also aid in digestion and blood pressure management. However, when used in excess, these berries can cause problems. If you experience any adverse effects, limit its use and seek medical advice.
Frequently Asked Questions
Are huckleberries a superfood?
Yes, huckleberries can be considered a superfood. They are loaded with many beneficial nutrients that help reduce the risk of oral diseases, ocular diseasesi  XDiseases that affect overall eye health and cause impaired vision. Examples include astigmatism, cataracts, and color blindness. , and arthritisi  XA condition in which one or more joints becomes inflamed, causing pain and stiffness due to bone deterioration. .
When should you eat huckleberries?
Huckleberries should be eaten when they are entirely ripe. They should be dark black and must have a slightly soft texture.
Do huckleberries have vitamin K?
Yes, huckleberries have a decent amount of vitamin K.
Are huckleberries poisonous?
Huckleberries are not poisonous. However, garden huckleberries can be toxic if consumed raw.
Does huckleberry tea have caffeine?
No, huckleberry tea does not contain caffeine.
Key Takeaways
Huckleberries are available in different varieties, like red, oval leaf, cascade, evergreen, and big huckleberries.
These berries are rich in plant polyphenols and anthocyanins that are good for your health.
Consuming huckleberries may help reduce the risk of cardiovascular diseases, improve cognitive functions, and protect you from diabetes and cancer.
You can eat huckleberries raw or make pies or muffins with them.
The remarkable huckleberry, with its unique blend of sweet and tart flavors, often gets mistaken for blueberries. However, it possesses distinctive qualities in terms of size, texture, and taste that set it apart. Explore more in this engaging video!
Personal Experiences: Source
i. Black worm incident | Huckleberries | Lentil stew
https://cookeasyvegan.blogspot.com/2010/09/black-worm-incident-huckleberries.html
References:
Articles on StyleCraze are backed by verified information from peer-reviewed and academic research papers, reputed organizations, research institutions, and medical associations to ensure accuracy and relevance. Read our editorial policy to learn more.
The following two tabs change content below.