61 Best Quotes For Your Husband To Make Him Feel Special
With the best things to say at the tip of your tongue, you'll be a box of surprises for your man.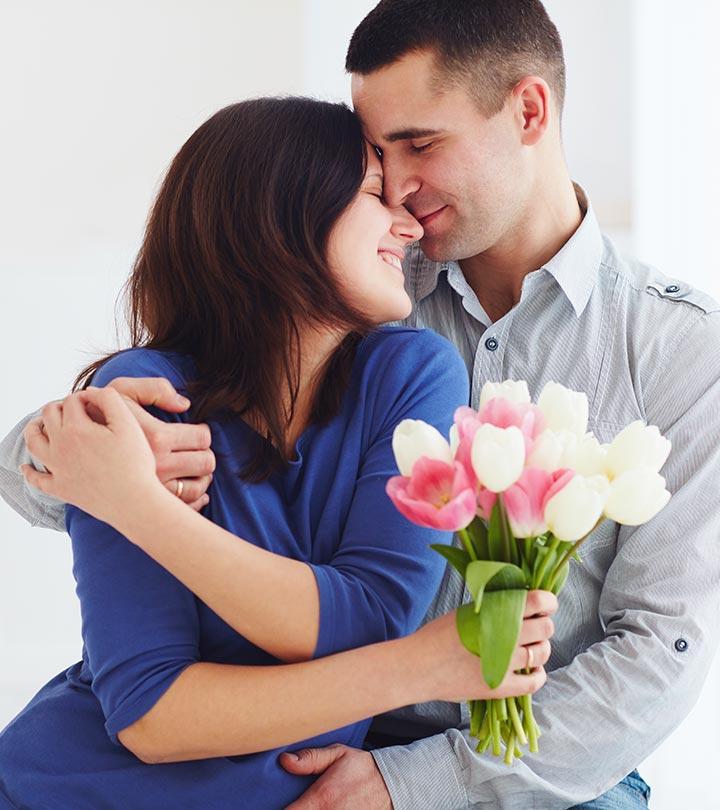 Sometimes, the three magical words "I love you" may not be enough to express all your emotions. Instead, try penning a few heartfelt quotes for your husband that can unlock different emotions like appreciation, fun, and thankfulness. Trust us, this works perfectly fine. Of course, not everyone can dish out a quote in a jiffy, while some are completely alien to writing them. Well, we have got your back! In this article, we have listed the 61 best quotes you can dedicate to your husband.
You may not be very expressive with your husband about how much you love him and what he means to you. But if you change your mind and want to give it a try, use these quotes and witness the smile on your husband's face. All the best!
Some Mushy Love Quotes For Your Husband If You Are Looking To Woo Him
The word 'husband' is very special only because you are mine!
When God made husbands, he made sure that the best one was reserved for me.
I never believed in destiny until I came to know that I was destined for you.
One word that says what you are to me is 'everything.'
I googled "my happy place" and the only result that it fetched was my husband's photograph.
The best day of my life was the day I decided to marry you!
No matter what my mood, my husband is my go-to place!
Although there's nothing called a perfect marriage, everything seems so perfect because I married you!
I am the most beautiful person in the whole universe, but only when seen through the eyes of my husband.
The word 'soulmate' sounded meaningless until I met you.
The only time I want to be yours is forever.
I want to go back in time, meet you sooner, fall in love, and spend more time with you.
I love my best friend, my boyfriend, and the fact that both of them is my husband!
Some Funny Husband Quotes If You Are In A Playful Mood
My husband has the best wife ever!
When God created wives, he gave the best one to my husband.
When my husband says, "I'm the boss," it means he has my permission to say that.
Three words that you can tell me to light up my life: "Okay, buy it."
I wanted to slap you the very first time we met for coming into my life so late.
Whenever you try to criticize your wife's choice, do not forget that you are one of them!
A wonderful wife always forgives her husband even when she's wrong!
Pro tip for the husband for a happy marriage: Keep your mouth shut and your wallet open.
In every marriage, one person is always right and the other one is the husband.
I can tell my husband anything under the sun not because he is not judgmental, but because he barely ever listens!
My husband is my priority. Yes, his in-laws are more important than mine!
Happiness is realizing you love your husband even though he snores!
My husband and I lived happily for more than two decades, and then we met!
Men are totally incomplete until they get married. After that, they are completely over!
I want my husband beside me every single moment in my life – except when my online order deliveries arrive.
Dear Future Husband, thank you for learning to cook.
Quotes That Convey You Miss Him
Had I known I would miss you this bad, I wouldn't have let you go!
Although I know you are going to be back tomorrow, today seems like an eternity.
Missing you isn't all that bad after all. It has made me realize how much I love you!
Unable to KEEP CALM because I miss my husband.
I miss annoying you. Please come back sooner!
Your absence makes it feel like I am losing a part of myself, the best part.
I want to believe in the afterlife because I want to love you even after I die.
Quotes To Thank Him
I cannot thank you enough for the big and small ways you bring joy into my life.
Thank you for just being there!
Thank you for bringing out the best in me and tolerating the worst in me.
Thank you for showing me what unconditional love is. Only you can love me even when I'm annoying.
Thank you for letting me be my crazy, mad self and loving me for the same
Quotes That Convey An Apology
I do not apologize to my husband to imply I was wrong but to convey how important our relationship is to me more than my ego.
I'm sorry for doubting you. It is only because I'm way too possessive about you.
Sometimes, the best way to apologize does not involve words. I just have to look at you and you know I mean it.
I'm sorry for not being the perfect wife you want me to be. But all I can really do is try.
I can wait forever if that's what it will take for you to forgive me.
Hurting you is the last thing I would want to do in my life. Trust me, I'm sorry, I didn't mean to hurt you!
I know you will do anything for me. But all I want from you is to hear me out and accept my apology.
Quotes To Wish Him On Your Anniversary
Thank you for choosing me to spend the rest of your life with. Happy anniversary!
Dearest partner in health, sickness, and crime, cannot wait to celebrate a zillion more anniversaries with you.
Another year to annoy you, create precious moments, and discover more things about each other. Happy anniversary, love!
Even after all these years, you are the only one who can give me butterflies in my stomach. Anniversary wishes to the most romantic husband in the world!
To the guy who stole my heart, makes me smile, and completes me – a very happy anniversary!
Quotes From Famous Personalities
Our separation from each other is an optical illusion. – Albert Einstein
You must allow me to tell you how ardently I admire and love you. – Jane Austen
If I loved you less, I might be able to talk about it more. – Jane Austen
The goal in marriage is not to think alike, but to think together. – Robert C. Dodds
A successful marriage requires falling in love many times, always with the same person. – Mignon McLaughlin
By all means, marry. If you get a good wife, you'll become happy. If you get a bad one, you'll become a philosopher. – Socrates
It is not a lack of love, but a lack of friendship that makes unhappy marriages. – Friedrich Nietzsche
When you realize you want to spend the rest of your life with somebody, you want the rest of your life to start as soon as possible. – Nora Ephron (for When Harry met Sally)
Infographic: Top 10 Quotes To Make Your Husband Feel Special
They say gratitude and communication are the keys to any relationship. No one can be eloquent with words every time, and the regular thank you and sorry won't do. In times like this, you need to go out of your way to appreciate your partners. Check out the infographic below to find the best quotes to thank your husband for everything they do.


Marriages often get caught in the monotony of routines, and the initial spark of romance gets diminished or extinguished. One way to make your partner feel loved and wanted is to show it to them through your actions. However, words can be your best friend if you run out of date ideas or romantic gestures. These simple and heartwarming quotes for your husband will make them blush and bask in the beauty of the early love-filled days. So, pick those that resonate with you and send them to your husband and see their eyes light up!
Frequently Asked Questions
What is a meaningful quote that you can use to express your love for your husband?
A meaningful quote to express your love for your husband best describes what he means to you. You can use something like, "You are my rock, my shelter, my anchor. I am so grateful to have you in my life and to call you my husband."
What is a quote that perfectly captures the bond between you and your husband?
Look for quotes based on love that encapsulate the relationship between you and your partner, like "Together is my favorite place to be".
What are some uplifting quotes that you can share with your husband?
Some uplifting quotes that you can share with your husband include:
"The greatest happiness you can have is knowing that you do not necessarily require happiness." – William Saroyan
"Success is not final, failure is not fatal: It is the courage to continue that counts." – Winston Churchill
"Life is 10% what happens to you and 90% how you react to it." – Charles R. Swindoll.
The following two tabs change content below.