Hyperpigmentation Around Mouth: Causes, Remedies, And More
Simple remedies to help you prevent the condition and get an even-toned skin.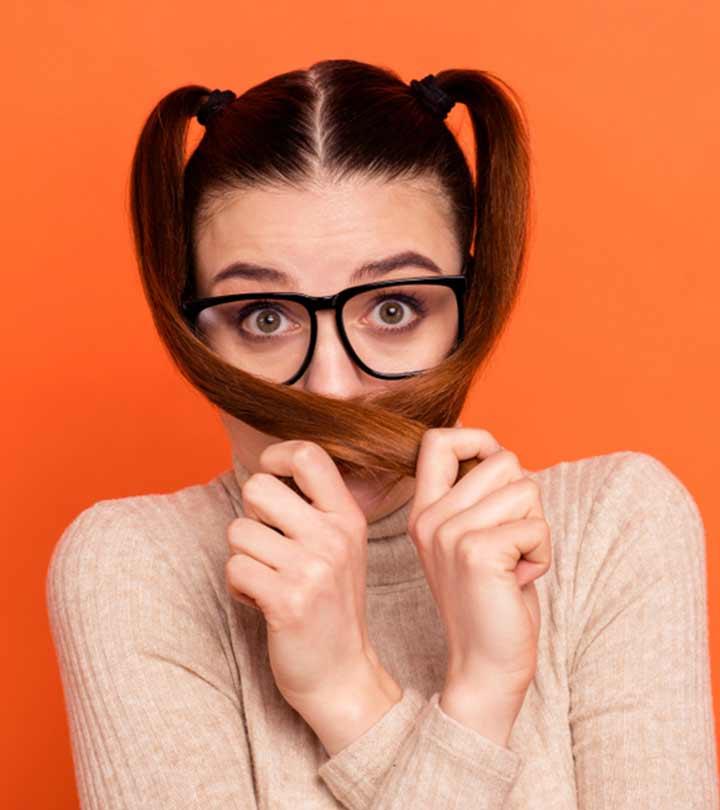 Hyperpigmentation around your mouth is not uncommon. However, it can make people self-conscious about their appearance. Most of us try to cover the dark skin around our mouth with makeup. However, you no longer need to conceal it as we have the solution.
Hyperpigmentation around the mouth is caused by excess melanini  XA pigment found in the skin, eyes, and hair that provides coloration and offers protection against intense sunlight. . This condition can occur anywhere on the body.
If you have already tried and tested so many products and yet found no solution, this article might help. This article discusses natural remedies to manage hyperpigmentation around the mouth, the exact causes, and prevention tips. Keep reading to learn more about it.

Did You Know?
Melasma, post-inflammatory trauma, and age spots are the three types of hyperpigmentation.
Why Is The Skin Around Your Mouth Darkening?
The general causes of perioral pigmentationi  XA condition that causes discoloration of the lips and mouth, usually in the form of melasma or sun spots, caused by excess sun exposure. include:
These are the major causes of hyperpigmentation around the mouth. We will now see how you can reduce this condition.
How To Reduce Hyperpigmentation Around Mouth?
Speak to your dermatologist before you try any new cream or home treatment. The course of treatment should factor in your genes, skincare routine, or beauty routine, and the level of sun exposure, among others.
Sunscreen
Spending long hours in direct sunlight can cause sun damage to your skin and may cause dark marks around the mouth. Hence, it is advisable to wear sunscreen and cover your body with hats, gloves, and sunglasses whenever you step out. Use sunscreens containing titanium dioxide or zinc oxide on all sun-exposed skin on a daily basis (3). Reapply every four hours if you are out in the sun.


Quick Tip
Hyperpigmentation around the mouth is asymptomatic and primarily found in the lower vermillion border.
Exfoliation And Chemical Peels
Engage in a gentle exfoliation ritual or use chemical peels such as salicylic acid to lighten the skin (4). These methods work by getting rid of the dead skin cells and unwanted melanin (5). Make sure to not scrape your skin while exfoliating or using a chemical peel. Scraping can worsen the condition. You should also stay away from the sun and apply sunscreen for further protection.
Skin-Lightening Creams
Investing in high-quality skin lightening creams with specific ingredients can combat pigmentation around the mouth.
Glabridini  XA component of licorice oil that is believed to reduce skin inflammation and regulate melanin production. supposedly has whitening properties, as does kojic acid (6), (17). Other ingredients known for their skin-lightening effects include grape seed extract, arbutin, vitamins C and E, soy, mulberry, and coffee extract (8).
OTC Ointments
OTC medicines containing hydroquinone can help treat hyperpigmentation. Hydroquinone restricts melanin production and allows the dark spots to fade with time (8). Please note that hydroquinone must be used under the supervision of a doctor and not for longer than six months at any given time.
Laser Treatment
Fractional laser treatments can lighten the skin. It also can be used to treat certain signs of skin aging (9).
In addition to these conventional treatment methods, you may also opt for home remedies to fight uneven skin tone. We have listed them below.
6 Natural Remedies To Treat Darken Skin Around Mouth
The best part about these ingredients is you can find them in your kitchen. Do a patch test to check if you are allergic to any of the ingredients.
1. Turmeric
Turmeric contains curcumin, an antioxidant, anti-inflammatory, and anti-carcinogenic agent that can lighten skin over time. Topical application of turmeric can reduce fine lines and wrinkles as well (10).
You Will Need
A few drops of water/milk ½ a teaspoon of turmeric
2 teaspoons of gram flour, for better consistency
What To Do
Mix the ingredients and form a thick paste.
Apply this mixture to the affected area.
Let it sit for about 10 to 15 minutes and rinse with cool water.
2. Potato Juice
Potato contains azelaic acid that may help reduce pigmentation spotting related to breakouts. This chemical can also lower itching and skin inflammation (11).
You Will Need
What To Do
Grate the potato.
Squeeze it to extract the juice.
Apply this juice around your mouth and massage in a gentle circular motion.
Let it sit for 20 minutes and rinse with cold water.
3. Honey And Lemon Scrub
Lemon juice or lemon extract acts as a potent skin bleaching agent and can help lighten the skin (12). Honey is also useful in the treatment of skin wounds and burns (13).
You Will Need
Juice of 1 lemon
1 tablespoon of honey
What To Do
Squeeze the juice of a lemon. Mix the honey with it to make a paste.
Gently massage this paste on the dark patch around your lips for about 10 to 15 minutes. Alternatively, you can leave it on overnight too.
Rinse with cool water.
Apply this pack in the evening to avoid sun exposure (as exposing to the sun with lemon on your skin may cause burns). Plus, always follow up with a moisturizer as lemon can dry your skin out. Do a patch test before applying lemon if you have sensitive skin.
4. Aloe Vera
Aloe vera contains aloesin, which can help lighten the skin around the mouth (14).
You Will Need
What To Do
Apply pure aloe vera gel to the dark areas around your mouth before bedtime.
Rinse with cool water the next morning.
Alternatively, you can also consume aloe vera gel in capsule form. But make sure you speak to your dermatologist first.
5. Glycerin And Rose Water
Anecdotal evidence suggests that glycerin may help reduce the appearance of hyperpigmentation, dark rings, and dryness. Consult your doctor for further information.
You Will Need
1 tablespoon of glycerin
1 tablespoon of rose water
What To Do
Mix the two ingredients.
Gently massage onto the affected area.
Leave it on overnight and wash in the morning with cool water.
6. Oatmeal
Oatmeal possesses antioxidants and anti-inflammatory properties (15). Some believe it may help reduce pigmentation, though more research is warranted.
You Will Need
1 teaspoon of oatmeal
The pulp of ½ a tomato
A few drops of olive oil
What To Do
Take the oatmeal and grind it.
Add the olive oil and tomato pulp to the powder to make a paste.
Apply the paste to the affected areas and let it sit for 10 to 15 minutes.
Once it has dried, dampen the face a little and gently scrub it off.
Repeat this twice a week for best results.
These were some effective home remedies you could try to potentially reduce the dark circles around your mouth. Let us now look at some useful, time-tested hacks that may possibly help prevent hyperpigmentation or reduce its risk.
Expert Tips To Reduce The Risk Of Darkness Around The Mouth
Include acai berry, green tea, pomegranate, strawberry, and soy into your daily diet. These foods possess antioxidant and anti-inflammatory properties and are rich in

flavonoids

i

  X

Plant-based chemicals with antioxidant properties that help reduce inflammation and boost immunity.

(8), (15).
If you are deficient in vitamin B3, opt for a topical cream that contains 2%

niacinamide

i

  X

A form of vitamin B3 found in many moisturizers and foods that helps form proteins in the skin and guard against skin damage.

. It can significantly reduce the total area of hyperpigmentation and increase skin lightness after 4 weeks of treatment (8).
Try to avoid ultraviolet (UV) exposure by wearing hats and clothing when you are in the sun. Use a high-quality sunscreen and reapply every four hours.
If natural treatments do not show results, try topical treatment options such as retinoids, azelaic acid, hydroquinone, chemical peels, and cosmetics after speaking to an expert in dermatology (3). As mentioned earlier, do a patch test to check for any allergic reactions.
Keep tracking the treatment progress by capturing high-quality photographs of the darkened area.
Infographic: A Simple Guide To Treating Hyperpigmentation Around The Mouth
Excess melanin around the mouth causes hyperpigmentation. While it is not uncommon, many might try to conceal it using makeup. Understanding the root cause and addressing it is key to treating this condition. We have compiled a simple guide on the causes of dark patches around the mouth and the simple home remedies you can use to treat them. Check out the infographic below to know more!


Hyperpigmentation is not uncommon, and it can appear anywhere on your body. But, people become more conscious when they have hyperpigmentation around the mouth or somewhere on the face. Several factors contribute to hyperpigmentation like hormonal changes, medications, exposure to heavy metals, aging, injuries, vitamin deficiencies, etc. You may use sunscreens, chemical peels, OTC ointments, and laser therapies to get rid of this condition. There are also natural remedies to help you treat this. You may follow the tips discussed in the article. However, if the condition does not improve, consult a doctor immediately.
Frequently Asked Questions
Can vitamin B12 cure hyperpigmentation?
Supplementation with vitamin B12 has been shown to resolve issues with hyperpigmentation, especially in individuals with vitamin B12 deficiency (16).
Can certain foods cause hyperpigmentation?
Inflammation may result in post-inflammatory hyperpigmentation, which can be exacerbated by inflammatory foods like spicy and fried foods (17). However, there is no scientific date on all the foods that may lead to hyperpigmentation of the skin.
Does vitamin C treat hyperpigmentation?
Yes, vitamin C is a well-studied ingredient in the treatment of hyperpigmentation. It has strong antioxidant properties that protect your skin against photoaging. It also promotes collagen formation and inhibits melanin formation – actions that help reduce dark spots and hyperpigmentation (18).
Key Takeaways
Excess melanin causes hyperpigmentation around the mouth.
Oral contraceptives, antimalarials, hormone replacement medications, tobacco, passive or active smoking, and aging are major reasons behind oral pigmentation.
Use sunscreen, chemical peels, skin-lightening creams, OTC ointments, or opt for laser treatment to reduce hyperpigmentation around the mouth.
Are you struggling with hyperpigmentation around your mouth? Get the latest update on oral tranexamic acid, products, and diet to help reduce the discoloration.
References:
Articles on StyleCraze are backed by verified information from peer-reviewed and academic research papers, reputed organizations, research institutions, and medical associations to ensure accuracy and relevance. Read our editorial policy to learn more.
The following two tabs change content below.