What Is The Difference Between Melasma And Hyperpigmentation? Melasma and hyperpigmentation are often used interchangeably, but there is a subtle difference between them. Hyperpigmentation is an umbrella term to describe all conditions that cause skin discoloration, including melasma. However, melasma is different from the other forms of hyperpigmentation. This article explains the differences between both, along with treatments and prevention tips. Keep reading for more information.
Hyperpigmentation Vs. Melasma: The Differences
Hyperpigmentation
Hyperpigmentation is a blanket term used to describe skin conditions that cause discoloration. It may include conditions like freckles, liver spots, and melasma. Hyperpigmentation is caused by various factors that may include:
Vitamin deficiencies
UV damage
Malignancy
Scarring
Side effects of medications
Sun exposure and UV damage are the most common reasons for hyperpigmentation. However, different underlying conditions may also cause dark patches and spots on the skin. Therefore, it is best to consult a doctor for proper diagnosis and treatment.
Treatments
The doctor often suggests topical creams with depigmenting agents, such as hydroquinone, alpha-hydroxy acids, licorice extract, and retinoids. They can be effective alone or in combination with other agents. The doctor may also suggest procedures like chemexfoliation and laser therapy, depending on the severity of your condition.
If you want, you may try a DIY remedy and follow prevention tips.
DIY Home Remedy
1. ACV And Aloe Vera
Apple cider vinegar contains acetic acid that can decrease melanin content and act as an exfoliant. Aloe vera contains aloin, a natural depigmenting agent.
How To Use
Mix equal parts of apple cider vinegar and water.
Apply it to the dark patches and leave it on for two to three minutes.
Rinse with lukewarm water.
Repeat twice daily.
Apply pure aloe vera gel to pigmented areas before bedtime.
Wash off the next morning.
Repeat once daily.
Prevention Tips
Consult a dermatologist to identify the underlying reasons for hyperpigmentation and follow the prescribed treatment.
Wear sunscreen and sun protection accessories (hats, scarves, etc.) to protect your skin from UV rays.
Follow a regular skin care regimen to keep your skin healthy and avoid sun damage.
Melasma
Melasma is a type of hyperpigmentation characterized by dark patches on the skin. It is mainly caused by hormonal changes in the body and commonly noticed in pregnant women. Other than hormonal changes, factors that may worsen melasma include:
Melasma is commonly noticed on the face, specifically on the cheeks, nose, upper lip, and other cranial areas. It also affects exposed areas on the body, like the shoulders. It is a harmless condition and resolves when the hormone levels normalize after childbirth.
The next sections explain treatment, home remedies, and preventions tips to minimize its appearance.
Treatments
Most dermatologists recommend a combination of treatments, including strong sunblocks, vitamins, and topical brightening agents like hydroquinone. However, the treatment mostly depends on the skin type and tolerance levels as the skin may react differently to the creams due to hormonal changes.
DIY Home Remedy
1. Aloe Vera
A study involving pregnant women found that topical aloe vera preparation could reduce melasma.
How To Use
Apply pure aloe vera gel to the affected areas before bedtime.
Wash off the next morning.
Repeat once daily.
Prevention Tips
Do not use any topical products without consulting the dermatologist.
Wear sunscreen and cover your skin while going out.
Follow a regular skin care regimen.
Here is a brief overview of the two conditions:
| Hyperpigmentation | Melasma |
| --- | --- |
| A blanket term for all issues that cause skin disoloration. | A type of hyperpigmentation. |
| Mostly caused by UV exposure. However, there could be underlying reasons. | Caused by hormonal changes or fluctuations. |
| May affect all body parts like the chest, shoulders, face, and back. | Mainly affects the face and may appear on the shoulders. |
If you have any forms of hyperpigmentation, consult a dermatologist before trying any topical treatments.
When To See A Dermatologist
If you do not notice any improvement in your condition after two weeks, consult a dermatologist to determine the underlying cause of hyperpigmentation.  Follow the prescribed treatment and preventive measures to care for your skin.
To Conclude
Melasma and hyperpigmentation may look similar, but there is a subtle difference between them. If you notice dark patches on your skin, it is hard to determine what exactly it is. The best way is to consult a dermatologist and follow the prescribed treatment rather than trying out topical medicines on your own. This will help avoid adverse reactions.
Sources
The following two tabs change content below.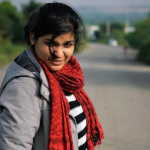 Anjali Sayee is a writer and an introvert. From studying Aeronautical Engineering and wanting to design her own airplane to writing articles on hairstyles, she has been on quite a journey. She believes that hair is one of the key factors that define a woman's personality. To quote her, "What's the first thing they do in the movies to show a personality change? Change the hair – because it has a life of its own." She's here to help you find the hairstyle you need. This bookworm is a self-professed Wholocker, a talented drummer, and an amateur photographer.