Hypochlorous Acid For Skin – Benefits And How To Use
From coronaviruses to acne, learn how you can use this acid to fight these issues and more.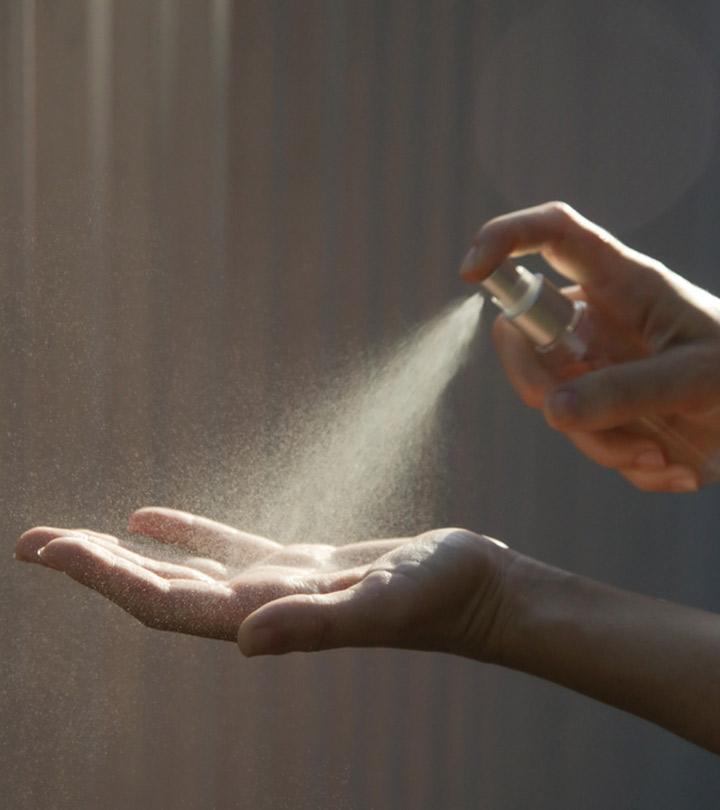 Hypochlorous acid is now one of the much sought-after ingredients in the skin care, health, and beauty industry, thanks to its anti-inflammatory and disinfectant properties. The US Environmental Protection Agency recommends hypochlorous acid (HOCL) against the coronaviruses (including Covid 19) as it can destroy the cell walls of microbes and viruses and inactivate them. However, this ingredient can also help heal numerous other skin conditions. This article explores why the hype regarding hypochlorous acid is real and what it can do for your skin. Keep reading.

Know Your Ingredient: Hypochlorous Acid
What Is It?
An acid that forms when chlorine is dissolved in water. Also found in human white cells.
What Are Its Benefits?
Contains antimicrobial and anti-inflammatory properties, heals wounds, helps treat acne, fights viruses, and reduces inflammation.
Who Can Use It?
Safe to use for all skin types.
How Often?
As recommended by a healthcare professional.
Caution
Ingestion or contact with the eyes can cause adverse reactions. Those with sensitive skin should consult a dermatologist before use.
What Is Hypochlorous Acid?
Hypochlorous acid (HOCl) is a naturally occurring antibacterial and oxidizing agent produced naturally produced in the cells of all mammals and is a part of the body's immune response. The neutrophils, eosinophils, mononuclear phagocytes, and B lymphocytes (parts of the immune system and white blood cells) produce hypochlorous acid, the first line of defense against infections, injury, and irritation. It promotes wound healing and manages inflammatory skin conditions (such as seborrheic and atopic dermatitis) and diabetic ulcers.


Did You Know?
French chemist Antoine Jérôme Balard discovered hypochlorous acid in 1834 and used it for wound care. It was widely used during both World Wars for wound healing.
Topical use of hypochlorous acid has therapeutic, antimicrobial, and immunomodulatory effects on the skin.
Let's understand how it may benefit your skin.
Benefits Of Hypochlorous Acid For Skin
1. Promotes Wound Healing
Clinical studies have shown that HOCl acts as an effective agent to reduce bacterial count in open wounds and promote healing. This disinfectant is active against bacteria like S.aureus, A. baumannii, and P. aeruginosa, preventing the further degradation of skin tissues in wounds. It also eliminates wound odor and is not painful.
2. Can Inactivate Viruses
Hypochlorous acid can inactivate several species of viruses, including the coronaviruses. This antiviral ingredient destroys the viruses by chlorination. It forms chloramines and nitrogen-centered radicals, breaking the DNA in the virus (both single and double-stranded) and making it harmless. That is why it is commonly used in sanitizers and disinfectant sprays.
3. Reduces Inflammation
Hypochlorous acid can decrease skin inflammation and soothe conditions like eczema and atopic dermatitis. It can relieve itching and skin discomfort associated with these conditions. It eliminates S. aureus bacteria from the skin. These bacteria produce superantigens that stimulate the T cells, causing itching and rashes.
4. Prevents Acne
S. aureus also aggravates acne. Hence, applying hypochlorous acid can reduce bacterial infection, calm irritation, redness, and inflammation of the acne lesions. It may also prevent further breakouts. That is why hypochlorous acid is commonly used in acne creams and lotions.
5. Promotes Post-Procedure Healing
Hypochlorous acid can promote post-procedure healing from the skin and cosmetic procedures. It has anti-inflammatory properties and can help reduce itching, redness, swelling, and irritation related to cosmetic skin procedures.
Hypochlorous acid is popularly used in medical settings by doctors for cleaning surgery sites and post-surgery healing. However, it has slowly made its way into the consumer market and is available in various forms.


Trivia
US Food and Drug Administration (FDA) approves the use of hypochlorous acid for topical wound management (
5
).
How To Use Hypochlorous Acid
You will find serums, cleansers, lotions, and creams containing hypochlorous acid. It is also available as OTC facial sprays and mists suitable for on-the-go use to rejuvenate and soothe the skin and prevent acne. It is also found in sanitizers and disinfectant sprays that you can use to sanitize your hands and other body parts.
Infographic: Is There A Risk In Using Hypochlorous Acid?
When it comes to killing bacteria, hypochlorous acid is 100 times more potent than bleach. So, is it safe to sprinkle the acid on your face without harming your skin? Check out the infographic below to find out.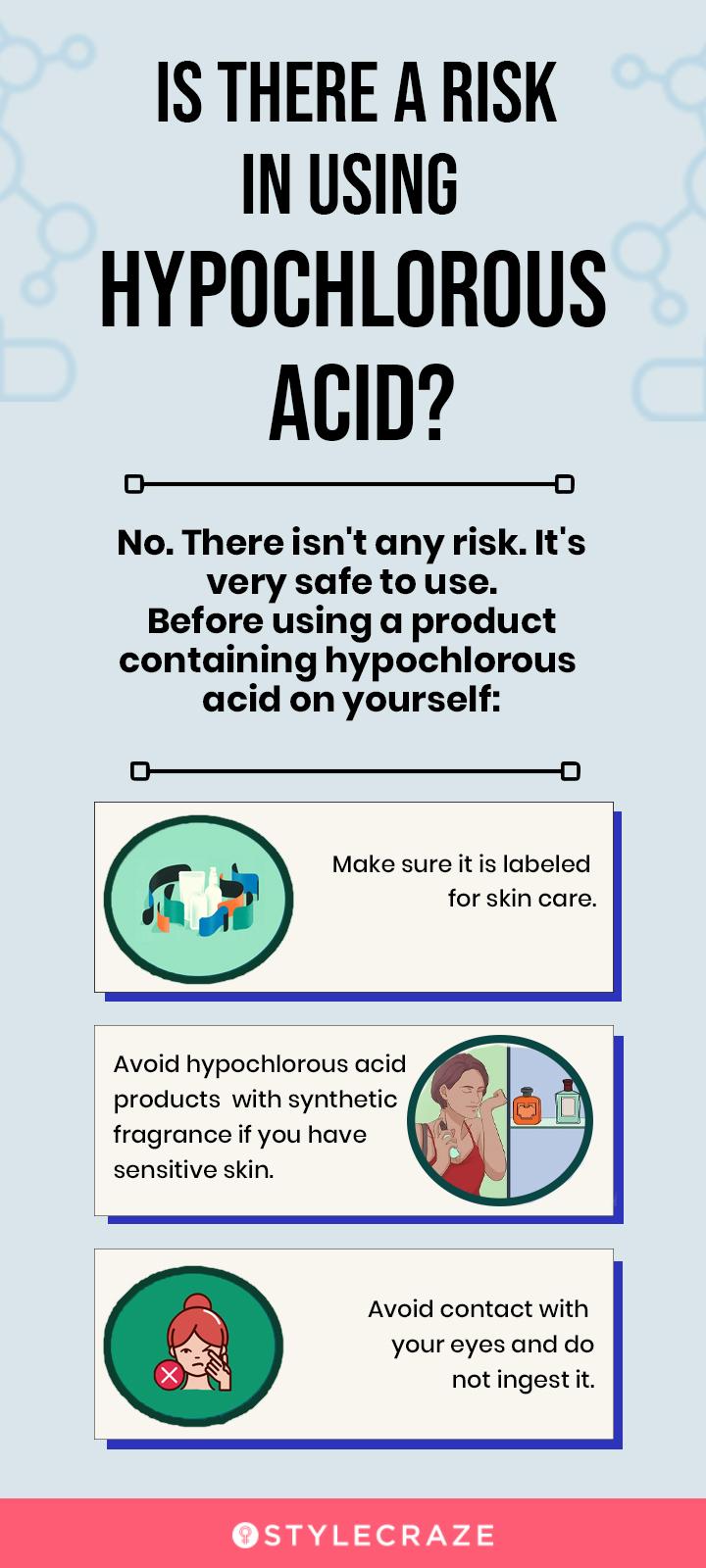 Hypochlorous acid (HOCL) is widely used to disinfect wounds and promote healing and is as an effective acne treatment. Our body naturally produces it as a part of the immune response system. However, you can use hypochlorous acid for skin and find it in many skin care products. It helps prevent skin infection, minimize inflammation, and shield the skin from common viruses. You can use creams and serums containing hypochlorous acid to maintain your skin health. However, consult a doctor before using it on your skin and learn the right ways to incorporate it into your skin care routine.
Frequently Asked Questions
Does hypochlorous acid help wrinkles?
Yes. Anecdotal evidence suggests hypochlorous acid may help minimize wrinkles, fine lines, and other aging signs. It also protects the skin from environmental damage.
Is hypochlorous acid the same as bleach?
No. They are different. However, both are effective at killing pathogens.
Can hypochlorous acid cause a rash?
Yes. Excessive and frequent use of hypochlorous acid can irritate the skin and cause irritant contact dermatitis.
Is hypochlorous acid the same as chlorine?
No, hypochlorous acid is not the same as chlorine, although they are related chemically. Chlorine is a highly reactive, toxic gas that is used as a disinfectant in swimming pools and drinking water. Hypochlorous acid is a much weaker acid that is safe for topical application.
Key Takeaways
Hypochlorous acid is a weak acid that can help safeguard against germs, infections, and irritation.
It is an active ingredient in sanitizers and disinfectant sprays that breaks down cell membranes of viruses and germs.
The acid is available as serums, cleansers, lotions, creams, facial sprays, and mists.
Sources
Articles on StyleCraze are backed by verified information from peer-reviewed and academic research papers, reputed organizations, research institutions, and medical associations to ensure accuracy and relevance. Read our editorial policy to learn more.