30 Breathtaking Ideas For Styling Your Caramel Highlights
Caramel…just the mention of this word renders images of rich, golden brown syrup dripping out of a chunk of delicious chocolate… *snaps back to reality * Anyway. Caramel is a luscious shade that lies somewhere between gold and brown. It's understated, yet sexy, and has a luxurious appeal to it. Highlighting your hair in this gorgeous shade is bound to make you look polished and sophisticated (even if you're totally grunge and bohemian on the inside). And the best part? Caramel is one shade that flatters every natural hair color out there – black, brown, red, AND blonde. That means there is no dearth of ways to style this beautiful shade as highlights in your hair. So, OF COURSE, we had to compile our top picks of ways to style your caramel highlights.
But wait! Before we jump into our list, let's look at how you can give yourself caramel highlights at home. After all, not everyone has a pretty penny to drop at a salon every time hair inspiration strikes.
What You Need
Old towel
Box of caramel hair color
Hair brush
Bowl
Thin hair tint brush
Fine toothed comb
Shampoo
Conditioner
Timer
What To Do
Mix and prepare your caramel hair color in a bowl according to the instructions given on the box.
Brush your hair to remove all knots and tangles.
Drap an old towel around your shoulders to avoid staining your clothes.
Part your hair down the middle.
Starting from near your face, pick up thin 1/2 inch sections of hair that you want to highlight and apply the caramel dye to them from the roots to the ends with the thin hair tint brush. When choosing which sections to highlight, think of where the light would naturally hit your hair.
When highlighting the hair on the sides and the back of your head, apply the dye only from the mid-lengths of your hair and pull it down till the ends with the help of a fine-toothed comb.
Leave the color on for the time duration indicated on the box. It should be around 25-30 minutes.
Check the dyed hair every 15 minutes to see what shade your hair has reached.
Wash off the caramel dye with water until it runs clear.
Shampoo and condition your hair.
Well, now that you've successfully highlighted your hair with a beautiful caramel shade, let's look at the many gorgeous ways you can style it.
30 Stunning Ideas For Styling Your Caramel Highlights
1. Caramel Highlights On Jet Black Hair
If you have naturally jet black hair, let me start off by saying that I envy you. Because the beauty of jet black hair is elevated by highlights, no matter what color they are in. The caramel highlights in this style look like they are just melting down her coal black hair.
2. Caramel Sunset
Paint your hair in the colors of the sky at dusk by going for this gorgeous hair look. Caramel highlights have been handpainted at the mid-lengths of her chocolate brown hair that add some beautiful depth and dimension to it. Style this look in some curls to create the illusion of movement in your hair.
3. Golden Caramel Balayage
If you haven't hopped onto the balayage train already, what are you even doing with your hair? Try out this stunning balayage done with streaks of golden blonde and caramel. With these rich hues of gold and caramel running through a dark base, this is a look that is fit for royalty.
4. Soft Caramel Babylights
Don't you just envy babies for the delicate and natural way their hair is light in some places and dark in others? Well, you can recreate that effect by going for some babylights in your hair. Soft caramel babylights can give your hair that perfect sunkissed look that you're looking for.
5. Sandy Caramel Balayage
When shades of brown, gold, and blonde come together, the look they create is one for the ages. This magnificent sandy brown and caramel balayage is proof of the same. The shades come together to create a truly multidimensional hair look.
6. Dark Caramel Balayage Ombre
Why decide between a balayage and an ombre when you can get both? This balayage ombre is exactly what you need to get the best of both worlds. The cool-toned caramel highlights start halfway down her dark brown hair and make for a gorgeous hair color look.
7. Caramel Face Framing Balayage
Isn't it great that we live in a day and age when we can use certain hair coloring techniques to contour the shape of our face? These stunning caramel highlights with gray undertones have been done in a way that they frame her face and streamline her round face shape.
8. Mahogany Caramel Highlights
When you mix two luscious shades together, the resulting color is bound to be absolutely opulent. This mahogany tinted shade of caramel is so vivid that you need only a few subtle highlights of this shade in your dark brown hair to create a look that is fit to be sported by a queen.
9. Caramel Color Melt
Imagine molten caramel dripping down a bar of chocolate. Isn't that a stunning visual? You can recreate that effect on your hair by going for this handpainted color melt in a rich shade of golden caramel on your medium brown hair. The dip dyed look of this style is simple yet chic.
10. Caramel Highlights On Light Blonde
Whoever said that highlights are meant only for dark hair was tragically wrong. Bump up the beauty of your light golden blonde hair by highlighting them with a rich caramel shade to lend it some dimension and movement. This color look is even more stunning when hit by sunlight.
11. Caramel On Chocolate
Everyone knows that caramel and chocolate are a match made in food heaven. So, how about trying out this heavenly pairing on your hair? Bump up the look of your rich chocolate brown hair by complementing it with some robust caramel highlights.
12. Intense Caramel Balayage
Well, there's balayage and then there's BALAYAGE. This particular look falls in the latter category.  This full blown balayage covers the lower half of her deep brown hair almost entirely with a rich caramel shade. You could pair this color job with some shaggy waves and straight cut bangs to give it a more hipster vibe.
13. Copper And Caramel Highlights
When shades of red and caramel come together, you best believe there's some magic that's about to happen. Check out this look, for instance. The metallic copper and caramel highlights pop and fizzle on the vivid auburn base. Styled in curls, this style is perfect to be sported at a wedding.
14. Rose Gold And Caramel Highlights
Be it bags, shoes, jewelry or clothes, rose gold seems to be ruling the roost in the fashion industry. So, of course, the hair industry needed to get onto the bandwagon and come up with a rose gold hair color. This rose gold and caramel highlights on dark brown hair is the stuff dreams are made of.
15. Sunkissed Caramel Highlights
Transform into the bohemian beach bum of your dreams by trying out this chic hair color look. These super subtle caramel highlights on dark hair pop gorgeously when hit by natural sunlight, thus giving your hair that perfect sunkissed look.
16. Metallic Caramel Highlights
Thanks to a sudden onslaught of gold, copper, and silver liquid lipsticks and eyeshadows in drugstores and all over Instagram, metallics have become a huge fashion trend. So, it's no surprise that they managed to sneak their way into the hair color industry as well. These caramel highlights have a metallic sheen to them that make them look ultra reflective and mesmerizing.
17. Caramel Opulence
Add a dash of color to your boring brown hair with the help of some bright caramel highlights. You don't need to go full balayage with this look. Simply scatter a few caramel highlights where the light would naturally hit and reflect off your hair to create a truly opulent hair look.
18. Caramel Eclipting Highlights
If you peruse the Explore feed on your Instagram on a regular basis, you must've noticed the words 'hair eclipting' starting to pop up quite often. This new hair coloring technique uses the highlights in your hair to alter the shape of your face in the most flattering way possible. Here, you can see her face framed by soft caramel highlights that enhance her cheekbones and jawline.
19. 50 Shades Of Caramel
Please don't hate me for giving this beautiful hair look such a cringeworthy name. It just fits the look perfectly! Her naturally dark brown hair have been highlighted in various shades of caramel and blonde to give her hair some stunning dynamic and dimension. With her hair straightened out and left loose, the effect created by the various colors blending together is breathtaking.
20. Deep Caramel Balayage
Give yourself that perfect East Coast Princess look by sporting this posh hair color look. Get your hair colored in a rich mahogany shade and then highlight it with streaks of robust caramel to create a sophisticated hair look. Straighten your hair and throw on a bodycon to party the night away in style.
21. Caramel Face Framers
Does your style lean more towards 'natural' and 'minimalist' as opposed to 'flamboyant' and 'out there'? Then, this style of highlights will suit your taste perfectly. Go for just a few caramel highlights around your face to flatter its structure and give you an understated yet sexy look.
22. Dusty Pink And Caramel Highlights
Walk into any store or open any shopping website and you'll see them flooded with all things dusty pink. The best part is that this gorgeous shade looks great as a hair color as well. Dusty pink and caramel highlights on blonde hair work amazingly well together to give you that perfect feminine and flirty look.
23. Thick Caramel Highlights
You don't always have to go for that "naturally" sunkissed look with those subtle highlights. Thick, prominent highlights that really pop have a beauty all their own. These copper tinted caramel highlights have been done in thick streaks all over her auburn hair to create a bright and bold hair look.
24. Luxurious Caramel Highlights
Now, not all of us can be a part of the top 1% and move around in high society circles. But that doesn't mean you can't look the part! These luscious caramel highlights on deep brown hair are the epitome of luxury and style. All you need are some diamond earrings and a ridiculously huge ball gown to complete the look.
25. Brownie Caramel Highlights
Who doesn't love a brownie to get their quick sugar fix? Show off your love for this sinful sweet treatby sporting this stunning hair look. The subtle caramel highlights running through a rich chocolate brown base make for a rich and delightful color job.
26. Ultra Glossy Caramel Highlights
Ever envied those celebrities with their ultra-glossy hair that you see in shampoo ads? Well, you can get their look too by trying out this hair color! These super glossy caramel highlights done on beautiful dusty brown hair will make you look like you've just stepped out of a movie set.
27. Cool Toned Caramel Highlights
Just because you want to get caramel highlights doesn't mean that they have to be warm toned. Cool toned caramel highlights with a slight gray undertone to them also look fabulous on dark brown or ash blonde hair. Style this color in waves to complete your rock chick look.
28. Intense Caramel Highlights
Caramel highlights don't always have to be light and flirty. You could also create a dark and mysterious hair look with them. You could use a deep caramel shade to highlight the bottom half of your jet black hair to give off some seriously sexy and sinister vibes.
29. Caramel Zebra Highlights
OK, I know even the thought of getting zebra highlights may make you want to run in the opposite direction. But, I'm not talking about zebra highlights the (awful) way they were done in the early 2000s. The 2017 variation of this hair color technique is much more subtle and elegant. Get them done in a rich caramel shade on your naturally brown hair to give yourself a sophisticated look.
30. Caramel On Fire Highlights
Set your hair game on fire by sporting these magnificent caramel highlights in a myriad of different shades. The milk chocolate brown of the base really pops with the golden, caramel, and light brown highlights that are blending with it. Style this look in curls to get the full effect of these gorgeous colors.
So, now that you have a fair idea of how to style them, go forth with courage and get some caramel highlights in your hair ASAP! And don't forget to comment below and let us know which of these styles blew you away and stole your heart.
Recommended Articles

The following two tabs change content below.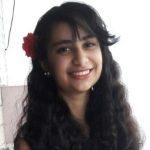 Latest posts by Arshiya Syeda (see all)